In the charming German District not far from downtown Columbus, Ohio, Christa Kimble Photography captured soonlyweds Morgan and Jessica's engagement photos with their adorable dogs. "We chose outdoor locations around Columbus because we wanted to include our dogs and also highlight the beautiful architecture of historic German Village," Jess says. "We then moved to Bicentennial Park along the river in downtown Columbus so we could capture the beautiful city views." The views were stunning but nothing in comparison to seeing the way these two light up when they look into each other's eyes.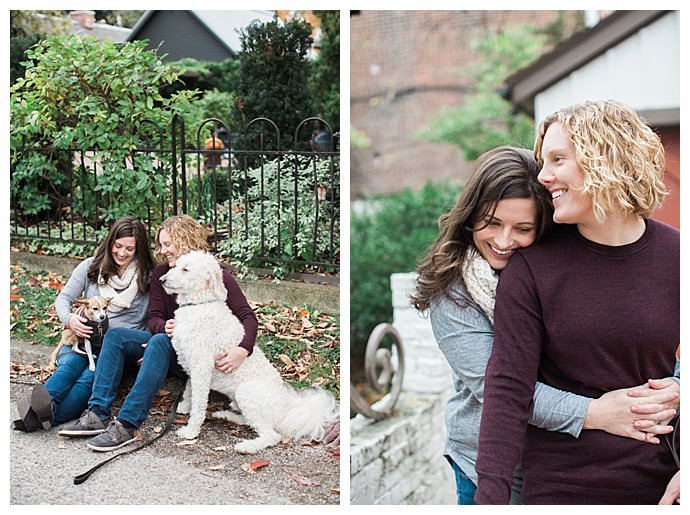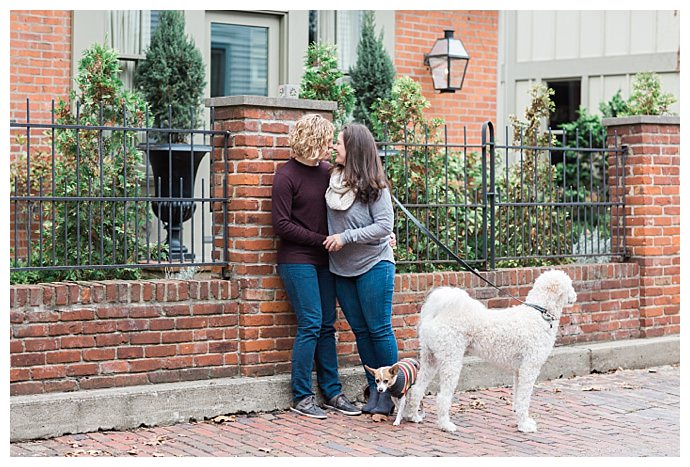 The Love Story
As Morgan and Jessica put it, they are an OkCupid success story. After they connected online, Jess had a feeling from early on that Morgan was someone special. "I knew that she was the one after the second date," she says. "I realized that I couldn't think of a single thing that I was looking for in a partner that she didn't have." For Morgan, meeting Jess changed her life in more ways than one. "I realized that she was the one when I finally came out to my family for her," Morgan says. "She was so important to me that I was able to be my true self."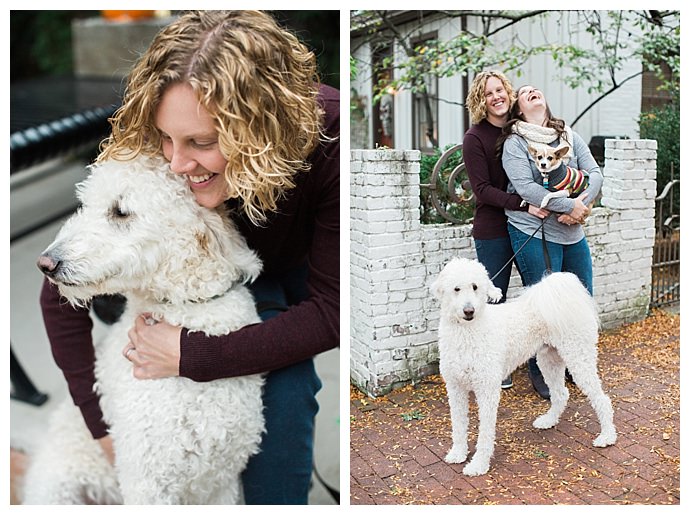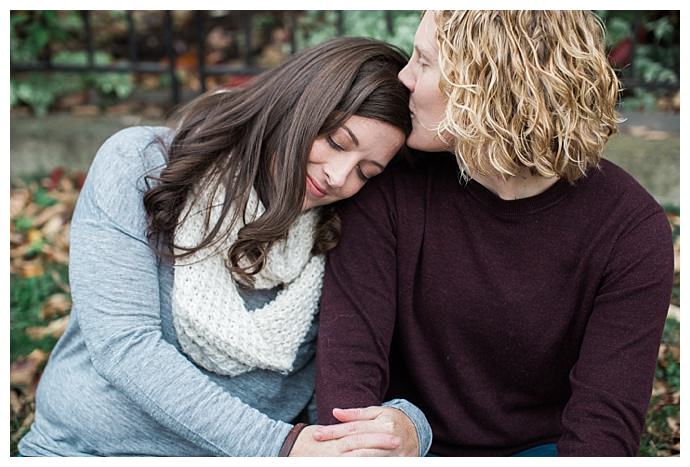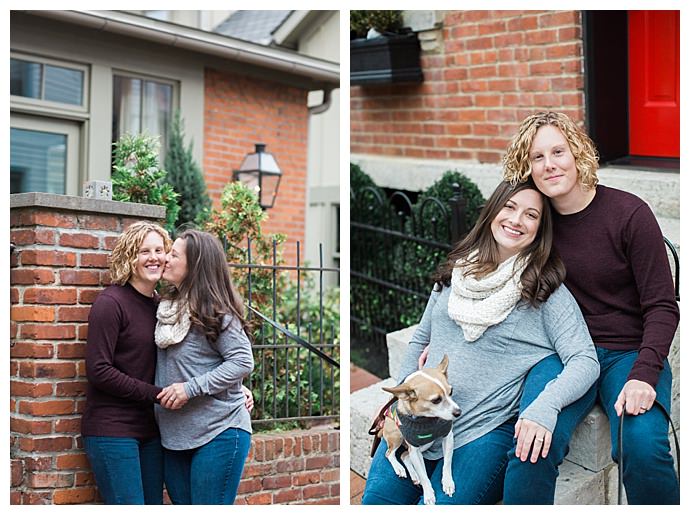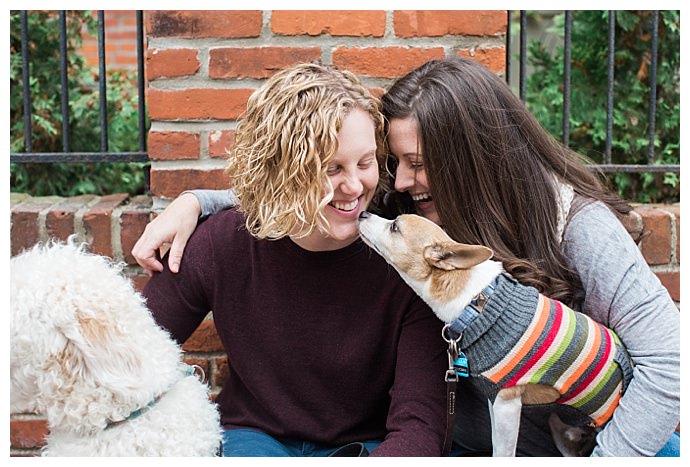 The Proposal
After two wonderful years together, Jess was getting ready to join her family and Morgan on a vacation in the Outer Banks. Jess' hectic work schedule prevented her from being there the whole week, but Morgan went along without her and had a surprise in store for her when she finally arrived. After getting pulled into an emergency surgery, Jess nearly missed her flight but ended up getting there just before the doors closed. She got to North Carolina in time to join Morgan for a walk at sunset on the beach, but because she was so tired, she needed some convincing.
"Once we got to the beach we argued about which way to go because I wanted to walk toward the pier, and Morgan kept saying we should walk the other direction," Jess says. She finally agreed to walk in the direction Morgan suggested, and only a short distance away, she spotted writing in the sand that said: Jess, will you marry me? "I immediately started crying as Morgan got down on one knee" she says. "My family was hidden in the sand dunes and on the balcony so they could watch and photograph the whole thing! It was super sweet and I am so thankful that I made my flight!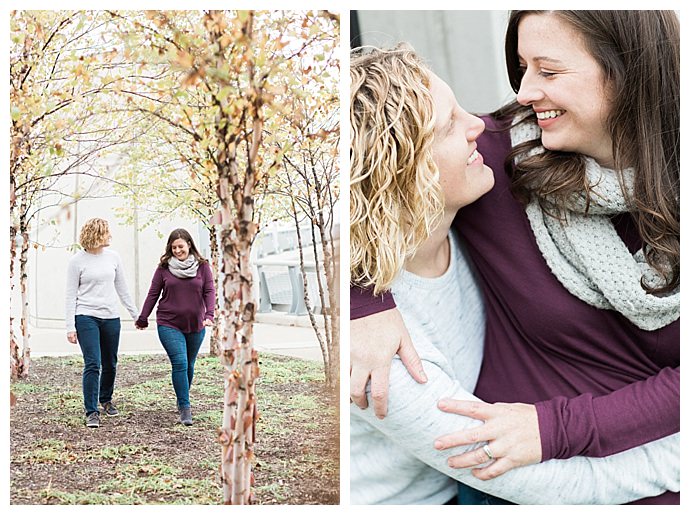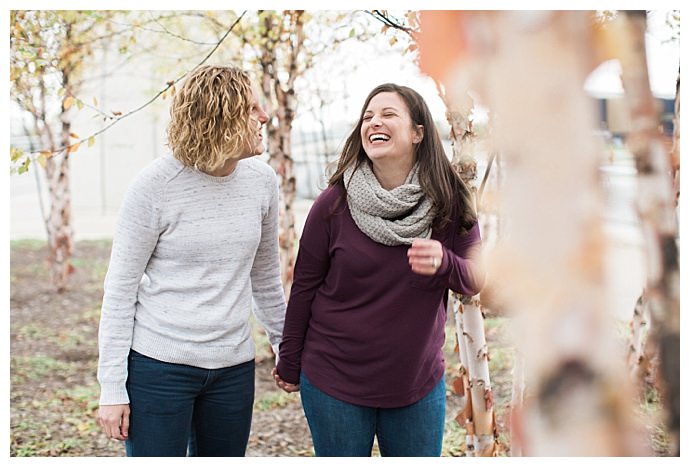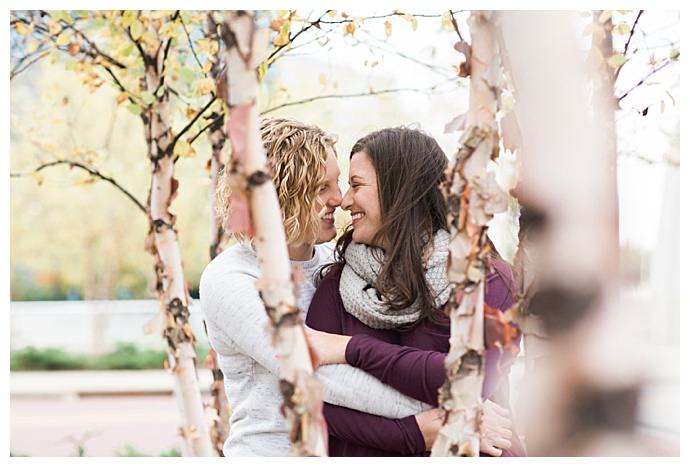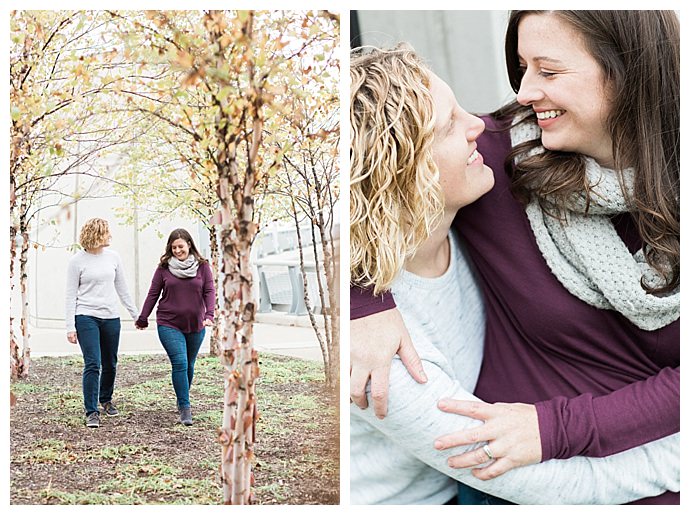 The Ring
Jessica's grandma had left diamonds for each of the women in her family, so while they were visiting Jessica's parents for Thanksgiving, Morgan picked up Jessica's. "I adore my ring," Jessica says. "Morgan picked the ring out herself without any help from my friends or family. She picked out a vintage-style setting and smaller diamonds to accompany my Grandmother's diamond."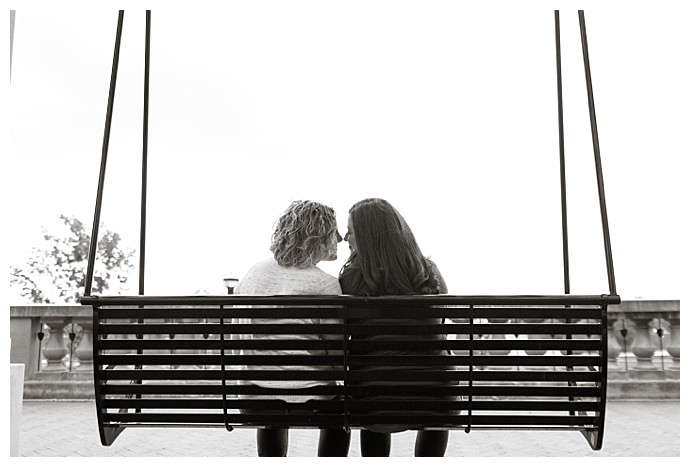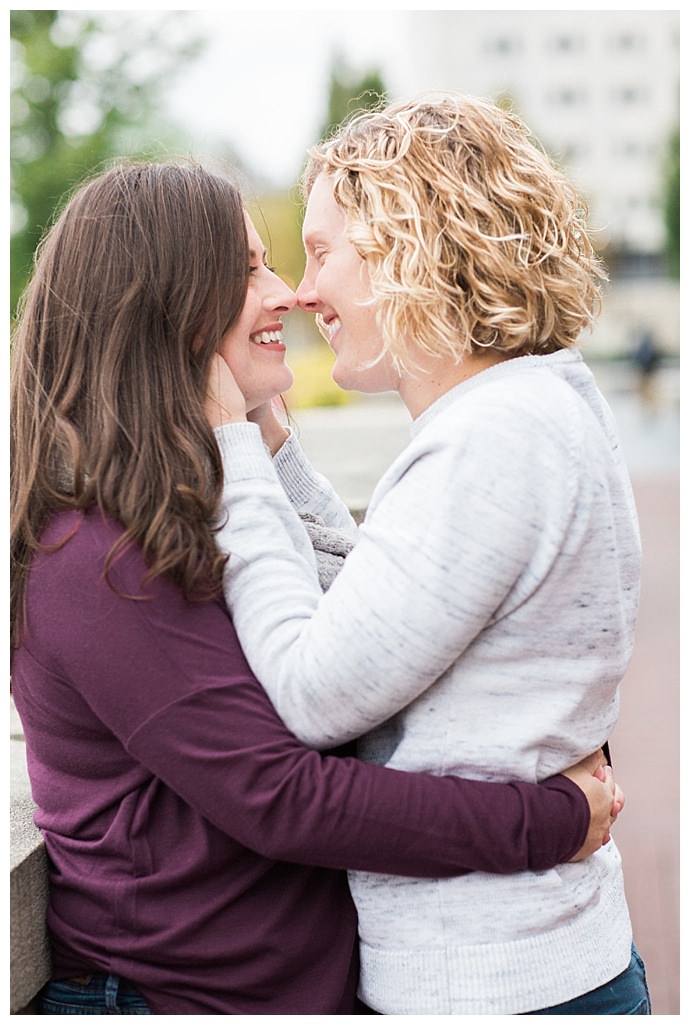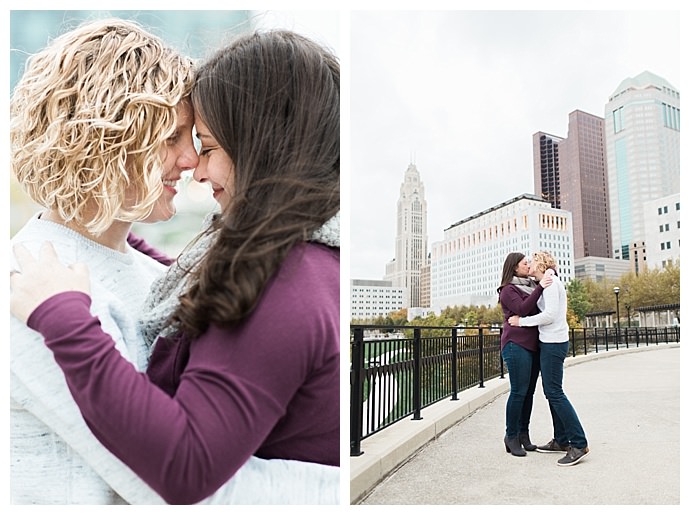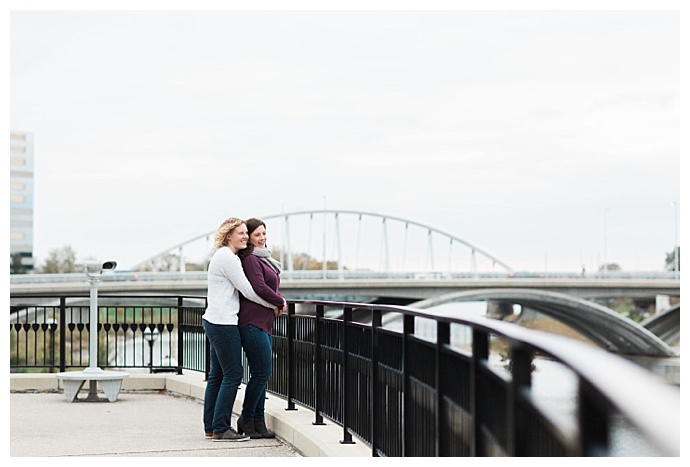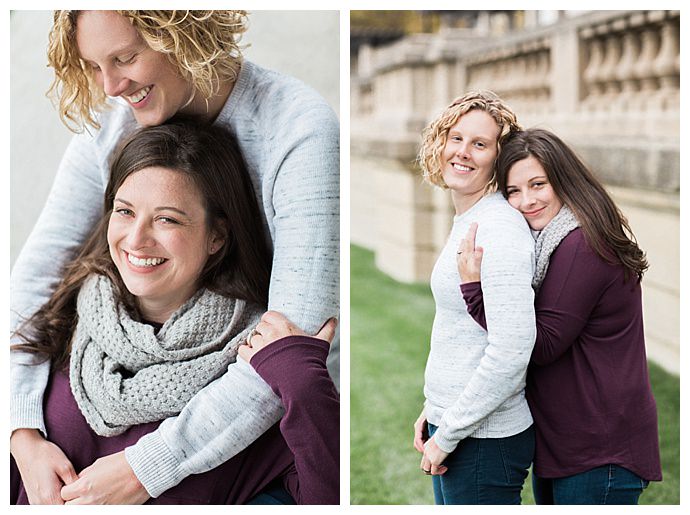 Memorable Moment
For Jess, one of the best parts of the proposal was that she got to share it with the people she loves most. "I loved having my family around to be part of my proposal!" she says.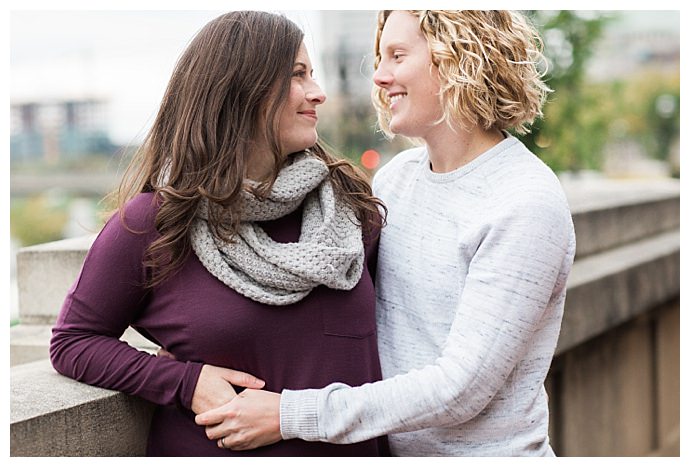 The Wedding Date: September 29, 2018
Written by: