Whether you have an oenophile on your list to shop for, hosting loved ones for a meal or just want a great wine to cozy up by the fire with, I encourage to seek out and support labels that are minority-owned.
The wine industry is still sadly one without much diversity, but these eight BIPOC- and LGBTQ-owned brands are receiving serious recognition. So put your money where your mouth is — quite literally! — and fill your wine glasses with some of these amazing vinos from talented minority makers.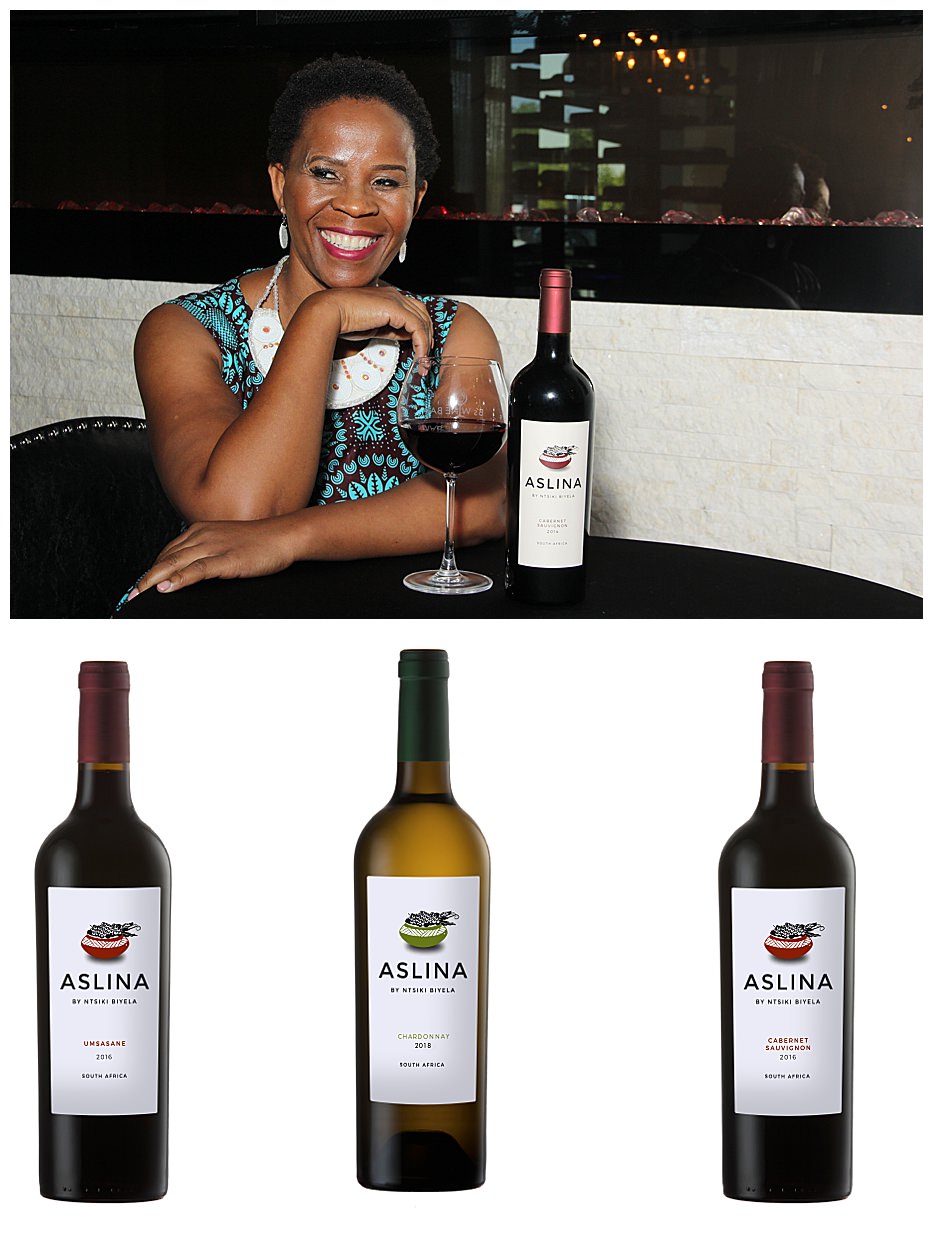 South Africa's first Black female winemaker, Ntsiki has established herself as one of the top winemakers in the world, decorated with a number of accolades such as Woman Winemaker of the Year in 2009, listed in the world's top 10 most Innovative Women in Food and Drink by Fortune's Food & Wine, and most recently, she has been nominated as Winemaker of the Year for Wine Enthusiast's Wine Star Awards.
What to pour:
Cabernet Sauvignon: A full-bodied wine with hints of minty characters, cigar box and lots of dark fruits. Bold palate with chewy tannins. $29.99
Umsasane: This wine is a blend of Cabernet Sauvignon, Cabernet Franc and Petit Verdot. Umsasane is the umbrella tree (Acacia tortilis) that shades and protects and was the nickname of Ntsiki's grandmother. The bold structure, smoothness and complexity of this wine reflects the characteristics of Aslina, the matriarch of the family. $32
Chardonnay: A complex, fruity Chardonnay, creamy and full. Partial wooding gives this wine the edge and shows a beautiful tropical fruit and limy character. Good acidity balancing the fruit and wood. $21.99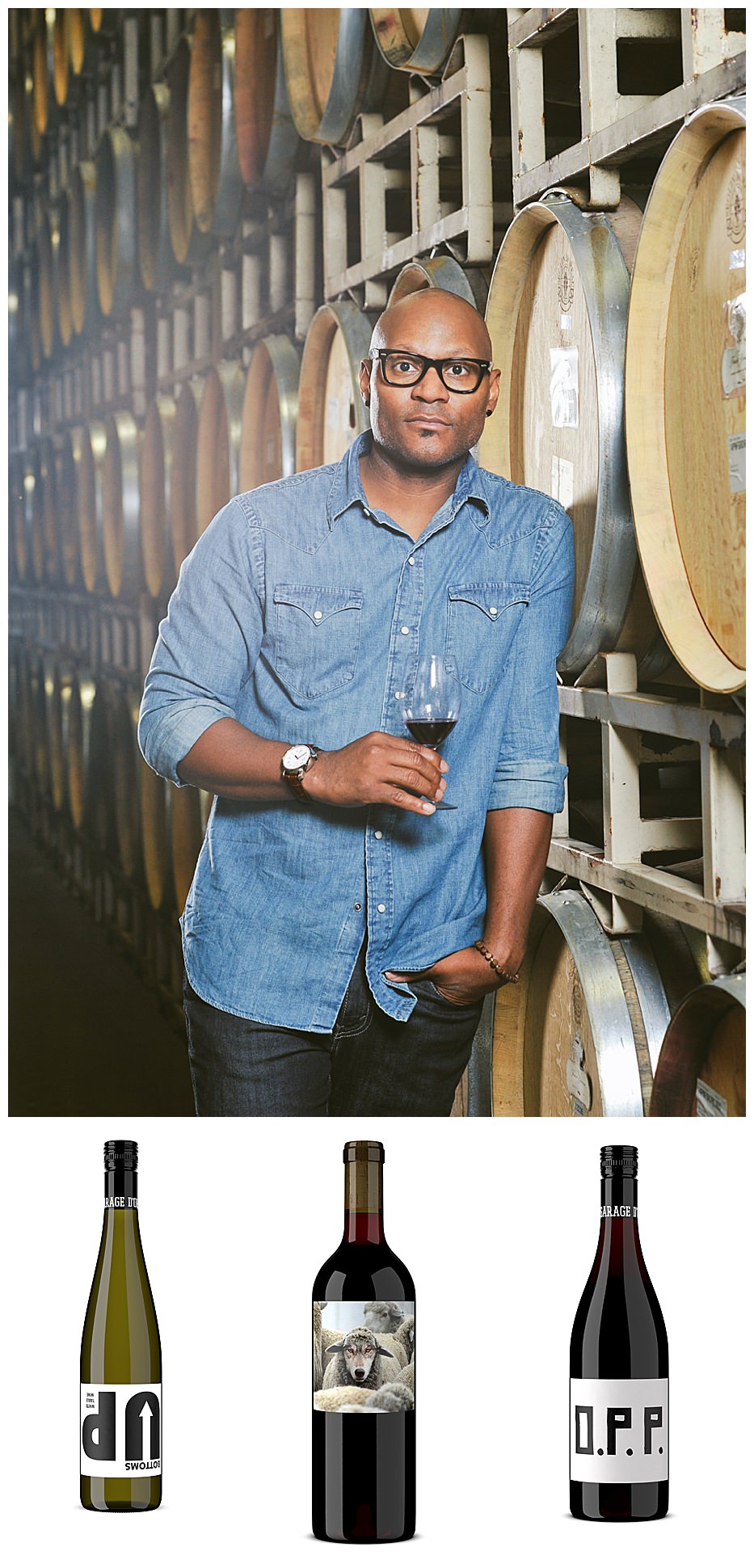 As a prestigious young sommelier, André had a hand in building the wine lists of the world-renowned Thomas Keller restaurants French Laundry in California's wine country and Per Se in New York City. After several successful years, he took the plunge in 2007 and launched his own wine brand, incorporating his trademark attitude and personal perspective on wine subculture. The wines are unique and distinctive garage wines (micro-négociant), sourcing the best fruit possible in the Willamette Valley region of Oregon to produce wine which show the individuality of their respective sites and terroirs.
What to pour:
'Bottoms Up' Blend: The 2018 Bottoms Up is predominantly Riesling with Pinot Blanc and Viognier playing a small supporting role. Chin-dripping peaches, aromatic citrus, great acidity, and just a kiss of sweetness. $25/bottle
'In Sheep's Clothing' Cabernet Sauvignon: In Sheep's Clothing delivers a ripeness of fruit flavors while preserving the acidity that gives the medium to full body wine a slice of freshness. Layers of cassis, blueberries, and black cherries lend to New World-style fruit with more of an Old World-structure, with a hint of wood smoke. This wine fully embraces an integral part of classic Cabernet Sauvignon by highlighting a complex blend of dried herbs: anise, thyme and bay leaf. $54 for a three pack
'Other People's Pinot Noir': The 2019 Other People's Pinot is classic Oregon Pinot—earmark Willamette Valley. It is accessible, a great value, and stays true to the character of the vineyards from which it was born. Earthy, spicy, floral, herb-framed flavors of cherry with gingery wood spice tones. $25/bottle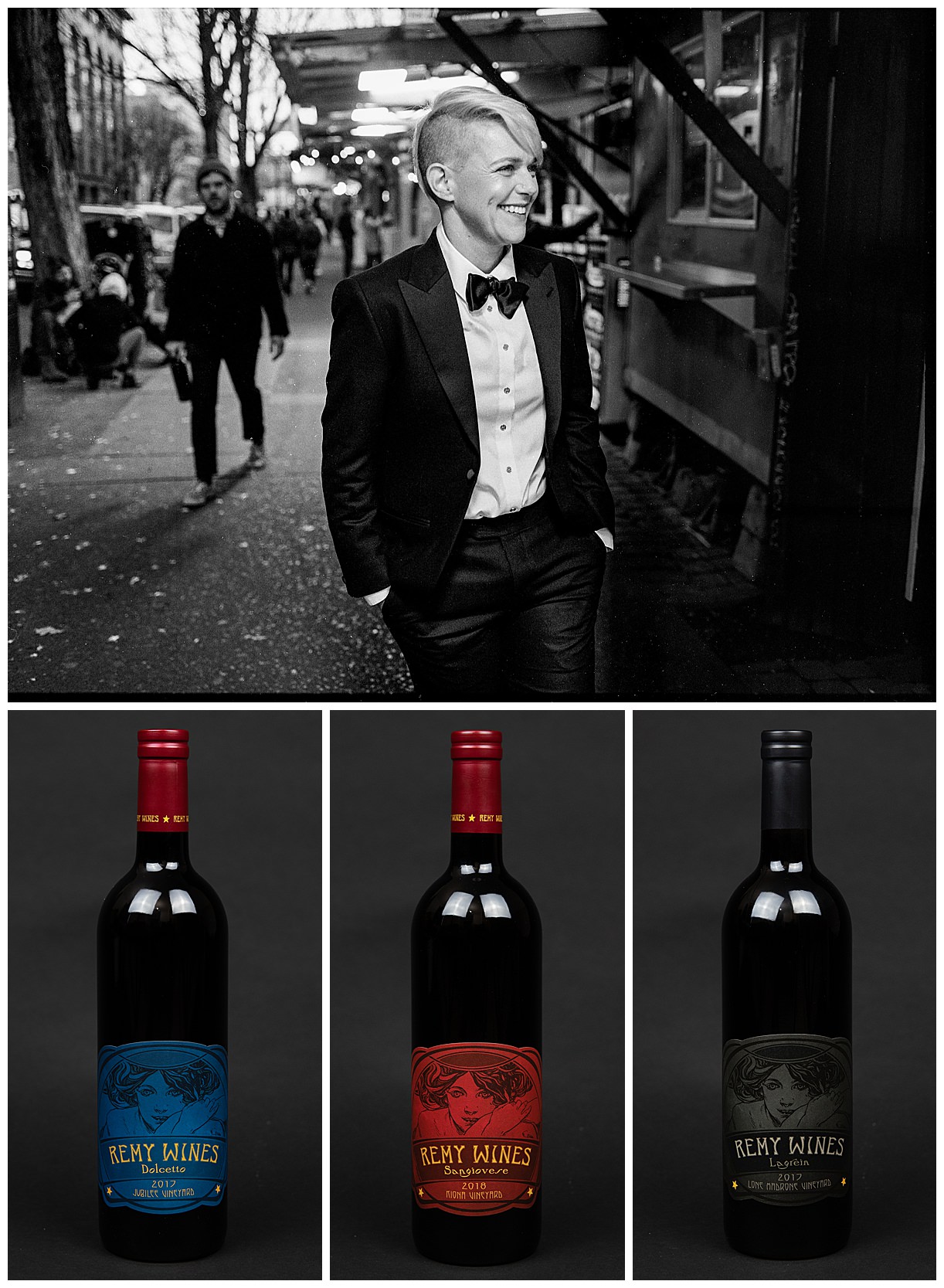 Photo credit: Zachary Goff
At the age of 14, Remy was already working her first grape harvest and by 17, she was studying winemaking abroad, bringing back an Old World-style philosophy that she now incorporates into her varietals in Oregon wine country.
And beyond the vines, she's a fierce force in activism as well, co-founding Oregon wine country's first Pride parade, and being named Junior Citizen of the Year for Distinguished Service in the City of McMinnville, the wine-industry town she was raised in and lives now, due to her work in creating pathways for the chronically homeless to achieve housing and dismantling institutional racism at a local level.
What to pour:
Jubilee Dolcetto: A beautifully structured, feminine Dolcetto with notes of rose hips, bing cherries and sage. Grown at Jubilee Vineyard in the Northern part of the Eola-Amity Hills AVA in the Willamette Valley, Oregon. Barrl aged 14 months. $35
Kiona Sangiovese: One hundred percent Sangiovese from Kiona Vineyard in the Red Mountain AVA in eastern Washington. In barrel for 14 months. Shows bright red fruit with soft tannins.
Lagrein: Violets on the nose, black licorice, red fruit, fennel and mint. Velvety and textured. From the family vineyard in the Dundee Hills, barrel aged two years in 50% new American oak. $58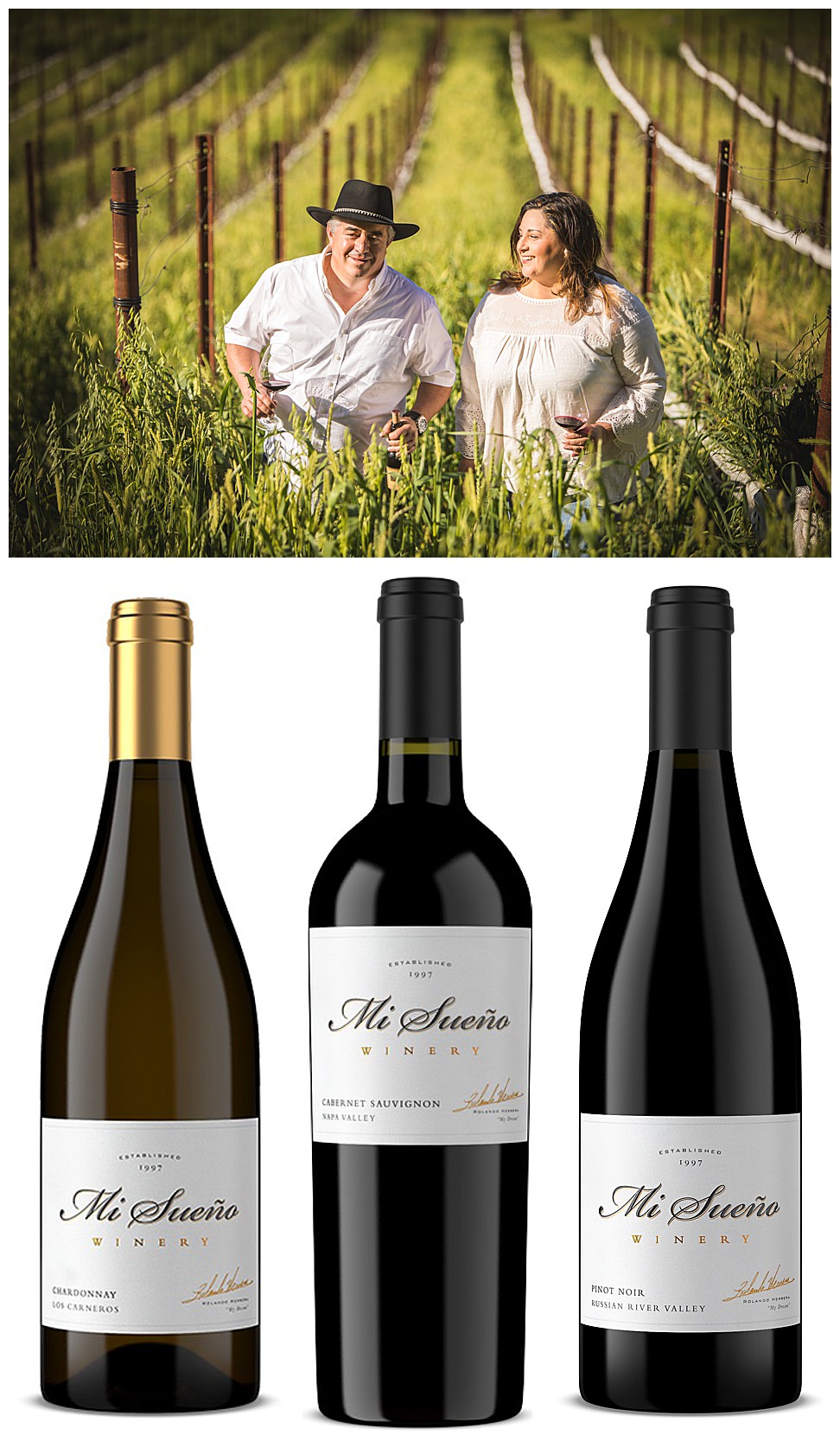 The origin of Mi Sueño Winery is one that is built on grit, raw talent and love. A Mexican immigrant, Rolando started his career as a modest dishwasher at an exclusive Napa Valley restaurant. Over the span of 15 years, he had worked his way up, learning everything there was to know about winemaking along the way from some of the best in the industry.
Along with his wife, Lorena, whose family has deep roots in Napa and Sonoma counties as migrant grape growers, the two founded Mi Sueño Winery in 1997, the year of their marriage, and still control 100 percent of their winemaking, from farming to bottle.
What to pour:
Los Carneros Chardonnay: A platinum-hued color begins the experience and follows with aromas of guava, white peach, lemon zest and wet stone. The flavor echoes the nose and reveals additional flavors of pineapple, lemon custard and green apple delivered with a mouthwatering, bright acidity. The finish reveals a luscious, well-integrated sweet kiss of oak. Enjoy now or up to 8 years. $42/bottle
2016 Napa Valley Cabernet Sauvignon: The deep, dark garnet hue of this wine reveals the beauty and power to follow. Enticing dark plum, boysenberry, cinnamon, maple syrup, and the fragrance of clean, wet earth all beckon from the glass. Showing a beautiful harmony on the palate, notes of ripe berry and cherry fruit are accented by hints of black pepper and dark chocolate. Firmly structured yet silky tannins are incredibly well-integrated, and the finish is long, luscious, and mouth-watering. $75/bottle
2018 Russian River Pinot Noir: A vibrant deep ruby in color, this Old World-style wine has alluring aromas of dark cherry, blackberry, cranberry, vanilla and wet clean earth. The compelling flavors of juicy red fruit kissed with oak are delivered with refreshing acidity and ripe tannins followed by an exceptionally long and persistent finish. $55/bottle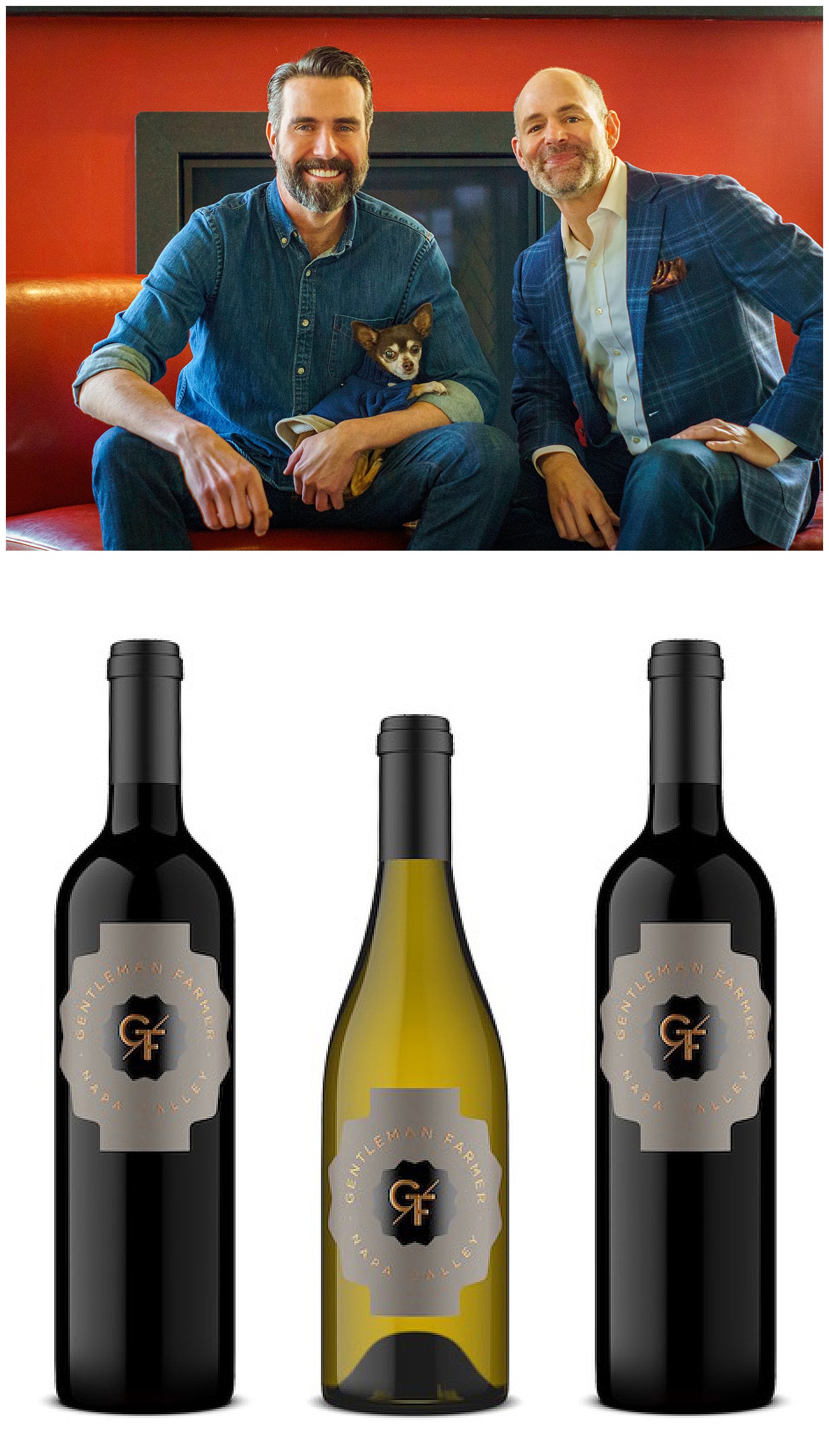 Joe and Jeff started making wine together in 1999, in a St. Helena garage with a half-ton of fruit. Their production has since grown, but not too much, maintaining the simplistic charm of small-batch making and the idea of quality over quantity. The California natives both have a background in food, travel and hospitality, and that expertise lends itself to creating wine that is meant to be enjoyed over an amazing meal with great friends.
What to pour:
Napa Valley Cabernet Sauvignon: The wine is medium bodied with soft and fine grained tannins lingering on a long, juicy finish. The wine is drinking well now. The rich texture, tannic structure, good acidity, and the complexity of aromas tell this wine will age for 15 to 20 years developing more complex tertiary flavors. $97/bottle
Napa Valley Chardonnay: The nose is generous with citrus aromas of lemon zest, lime, bitter lemon, and sweet orange blossom with a scent of honeydew melon. $45/bottle
Napa Valley Red Wine: A blend of Merlot and Cabernet Sauvignon, both from the cooler Oak Knoll District. The initial impression is concentrated aromas of fermented blackberry, pie cherries, and cracked black pepper. The palate is lush with ripe, dark fruit notes of Japanese black plums and a glow of sour cherry and hibiscus tea. $65/bottle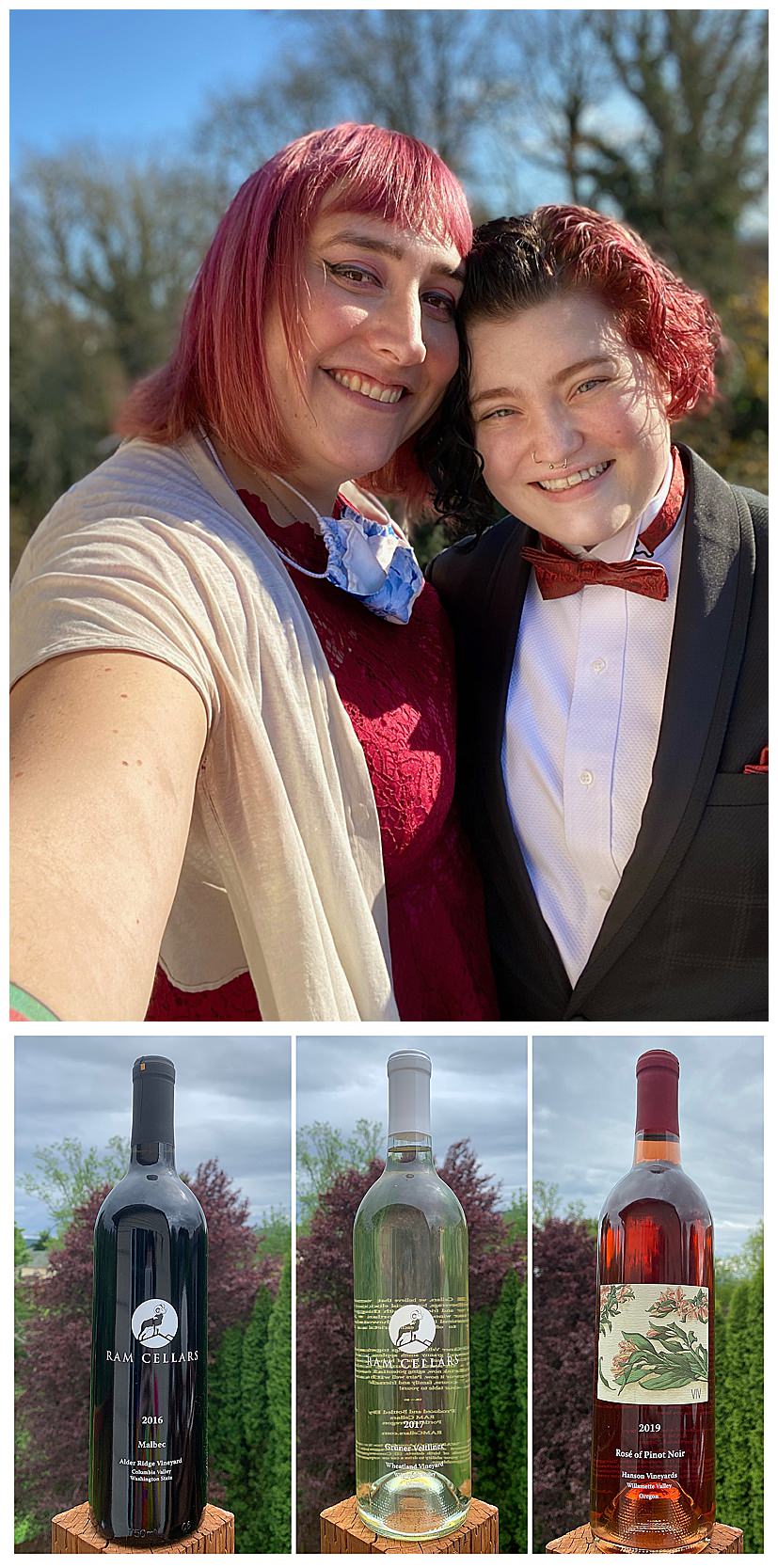 Winemaker (and newlywed!) Vivianne creates small batch wines utilizing often under-hyped Bordeaux varietals in Cabernet Franc, Malbec, and Petit Verdot, as well with Tempranillo, Pinot Noir, Riesling, Pinot Gris, Gewurztraminer and Gruner Veltliner. The finished products tend to be more acid-forward and dry, authentic and straightforward.
Their new "Viv" label raises money for organizations that provide support to queer and transgender people through a $5 donation for every bottle sale. Although the name of this label is the shorthand of Vivianne's winemaker's full first name, it's poetically named 'Viv' for the French root word that means "To live, to be alive" and, as Viv will tell you as a transgender woman, making the choice to come into the light and live fully as herself meant that she too gets to live, and be alive, for a long time to come.
What to pour:
2016 Malbec: Their 2016 Malbec brings intrigue to your glass right from the start. Earth and spice greet the nose, with just a hint of smoke leading to subtle green peppercorn and white pepper notes in glass. Fig jam abounds en route to a balanced finish. Pairs well with steak, charcuterie and dark chocolate. $25/bottle
2017 Grüner Veltliner: Their 2017 Grüner Veltliner brings together nuances of asian pears and granny smith apples, balanced by a grapefruit-citrus zest. A hint of honey fades to white pepper on a dazzling finish. While it's tempting to drink now, aging potential abounds! Save it for later or savor it now. Pairs well with seafood, hearty meats, and of course, family and friends! $18/bottle
2019 Rosé of Pinot Noir: One hundred percent Pinot noir — think cherry cola, mango black tea, raspberry and slate! Pairs well with seafood, soft cheeses, and the ones you love. $23/bottle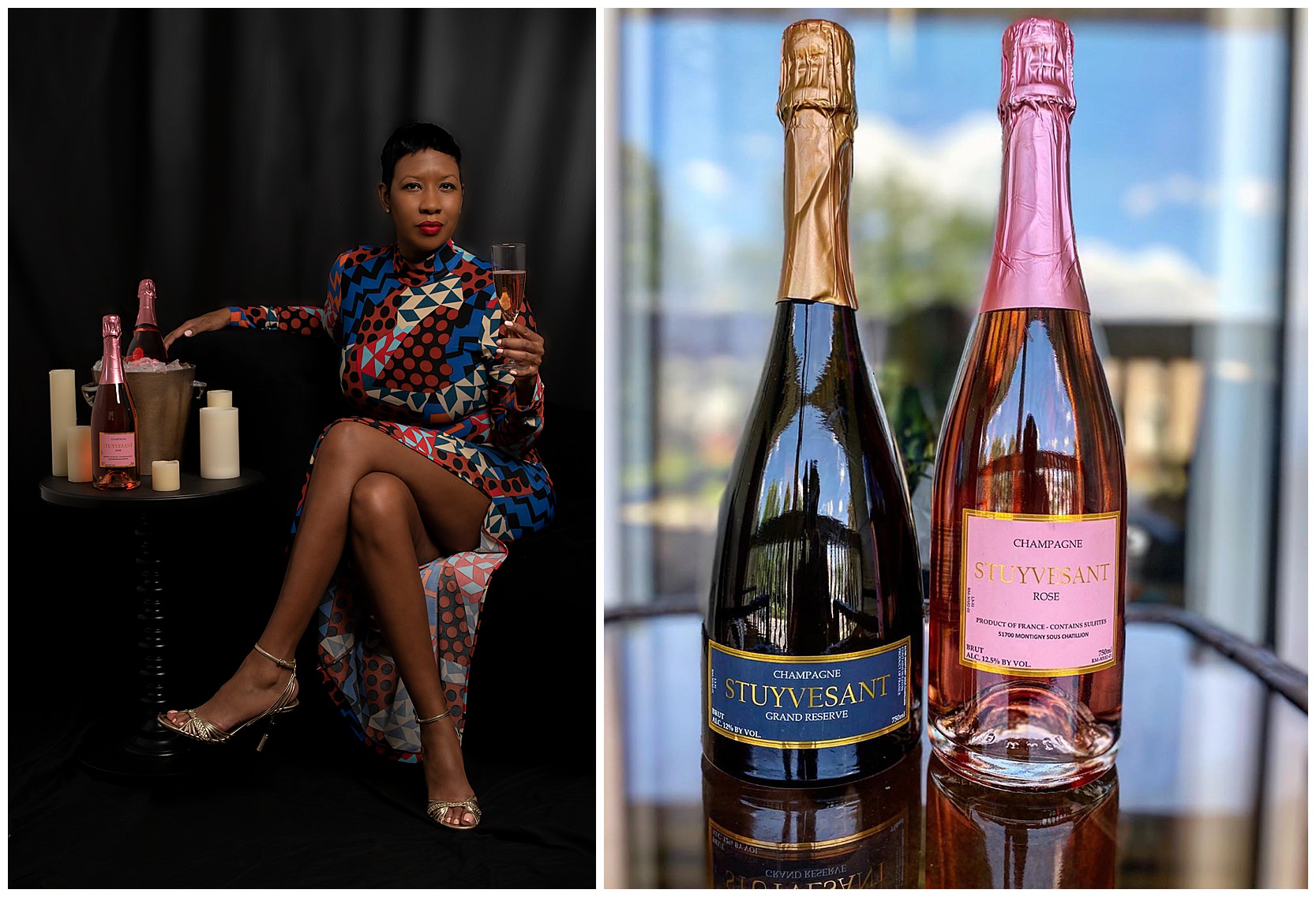 Marvina's love for Champagne has humble beginnings, toasting bubbles in plastic cups with college friends in the Brooklyn neighborhood of Bedford-Stuyvesant, for which her company is named. She has now created one of the very few Black women-owned Champagne brands, after working with vineyards in France to come up with the perfect pours for her upcoming Champagne bar. The two varietals in her brand — the rose and the brut — were the winning duo from a blind tasting she hosted with selected attendees in Brooklyn.
What to pour:
Rose: This generous bouquet evolves toward notes of raspberry and redcurrant, developing into a fleshy cherry taste. $67.95/bottle
Grand Reserve Brut: The generous, spicy palate picks up the flavors of apple and gingerbread.
Working as a lawyer in San Francisco, Theodora first planted a five-acre vineyard in 2003, and has since turned it into an award-winning vineyard, most notable for their Petite Syrahs. And while she still practices law, she's certainly found success from the vines, having been featured in national publications and recognized as a 2020 Industry Leader.
What to pour:
2016 Petite Sirah: This Estate Grown Petite Sirah has a bouquet of delicious and ripe black fruit. The wine is full-bodied, rich and flavorful on the palate with hints of black pepper, lavender, wild cherry, and black tea. It has fine tannins with a lovely depth and texture, creating a pure and smooth finish. $39/bottle
Theopatra's Cuvée Cerise: This complex cuvée of Mourvèdre, Syrah, and Petite Sirah is delightful from first smell to last sip. Rich cranberry, dried plum, and elegant spice create a beautiful potpourri on the nose. Bursts of soft baking spice give way to notes of blueberry jam and sweet vanilla that transcend to a long, juicy finish. A perfect glass on its own, this wine also pairs beautifully with warm, comforting cuisine. $36/bottle
2017 Petite Sirah: This Estate Grown Petite Sirah is full-bodied, flavorful and fruit forward. On the palate, this wine has lots of raspberry, chocolate, cola, and some toasty oak. It has very round tannins, and the acidity is well-balanced, creating a pure and smooth finish. $39/bottle
Written by Brittny Drye