For instant inspiration, we like to browse Maggie Austin Cake's online portfolio—her beautifully hand-painted couture cakes and ruffled confections are pure eye candy. Unfortunately, her edible art, made in her Alexandria, Va., studio, is out of reach for most … until now.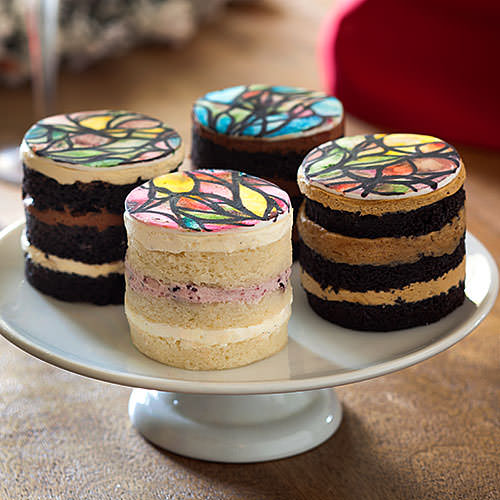 Maggie has partnered with the gourmet food market Dean & Deluca and has debuted her Stained Glass Cake Collection. For $95, you can get six hand-painted cakelets delivered to your home, anywhere in the country, in decadent flavors such as Pear Cake with Blackberry and White Chocolate Buttercream, Lemon Cake with Blueberry and Vanilla Buttercream and Vanilla and Sour Cream Cake with Peach Apricot Preserves and Milk Chocolate-Earl Grey Buttercream.
Clocking in at around $15 a piece, we love the idea of giving these as wedding party gifts, wedding or shower favors or just a little self-indulgence.