If there's one way to ensure your wedding decor is reflective of your personality, it's to do it all yourself. That's what Lucas and Adam did in the quick six months that they planned their wedding. An intimate, backyard wedding with rustic details in Florida was the perfect way to celebrate these two, who have been together for more than six years. With sunflowers, a lakeside ceremony and a dance floor nestled between a canopy of oak trees, this wedding was nothing short of stunning. Behind the lens, Stacy Paul Photography beautifully documented the grooms' special Earth Day wedding, which was overflowing with love and inspiration.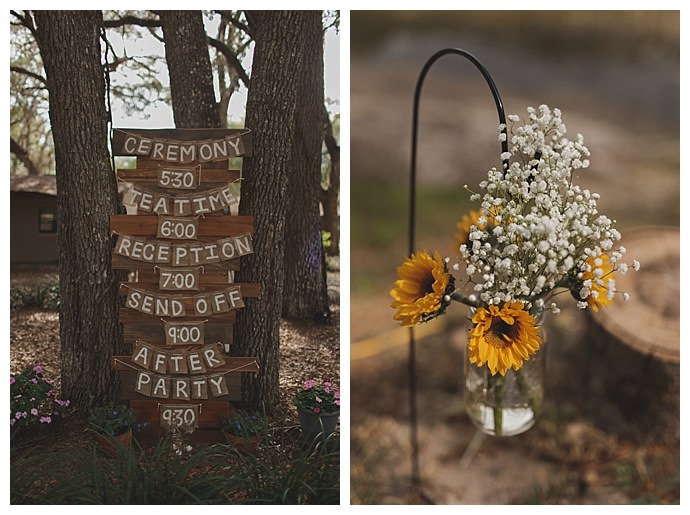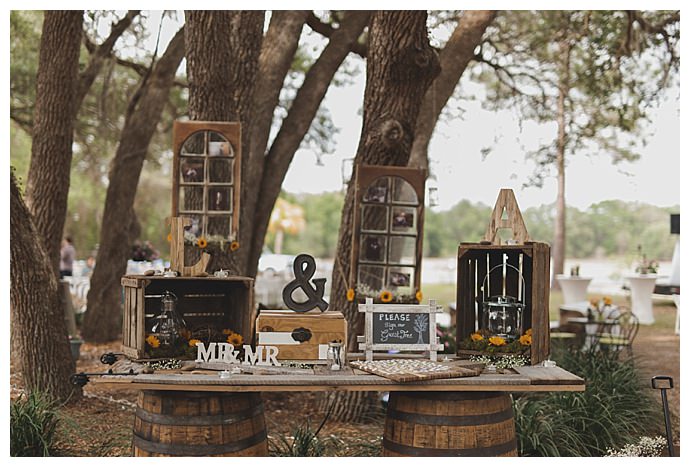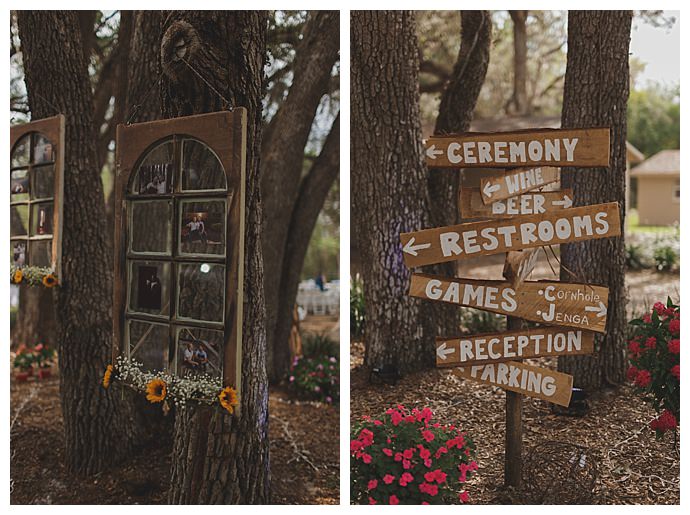 The Love Story
Lucas and Adam will tell you they met the old fashioned way: at a bar out with friends where they hit it off immediately. But they nearly missed the opportunity for something more when the night had come to an end, and they both hopped in their cars and headed their separate ways. As Adam rolled up to a red light not far from the bar, he realized their connection might be once in a lifetime, and he spontaneously jumped out of his car and ran back to Lucas's car to exchange numbers. "From that moment six years ago," Adam says, "we've kind of been inseparable ever since."
The happy couple moved in together and quickly outgrew their condo in south Tampa that they shared with Paisley, a shih tzu maltese, and Adacus Bentley, a French bulldog. So they purchased a home in the suburbs and added another fur baby to the family, a Pomeranian named Diesel. Moving out to the suburbs brought them closer to family and allowed them to host get togethers and holidays in their home. On New Year's Eve, they were surrounded by family when Adam decided to give new meaning to the phrase "ring in the New Year," and when the clock struck midnight, he got down on one knee and proposed.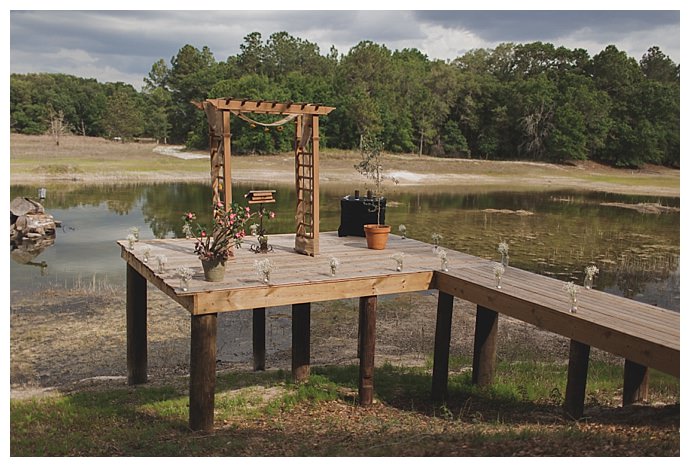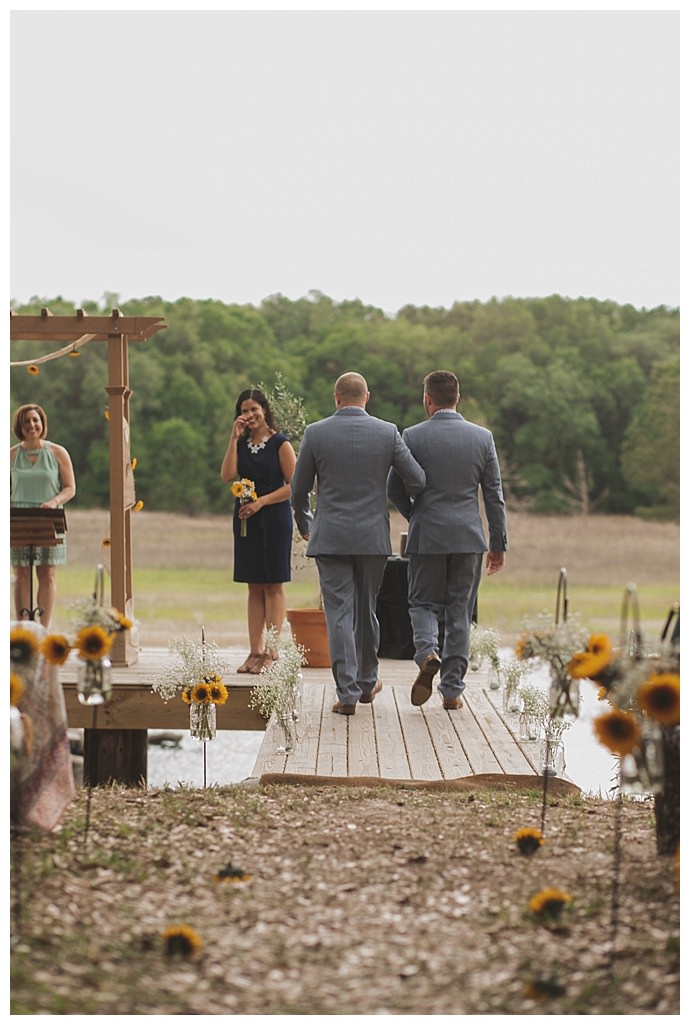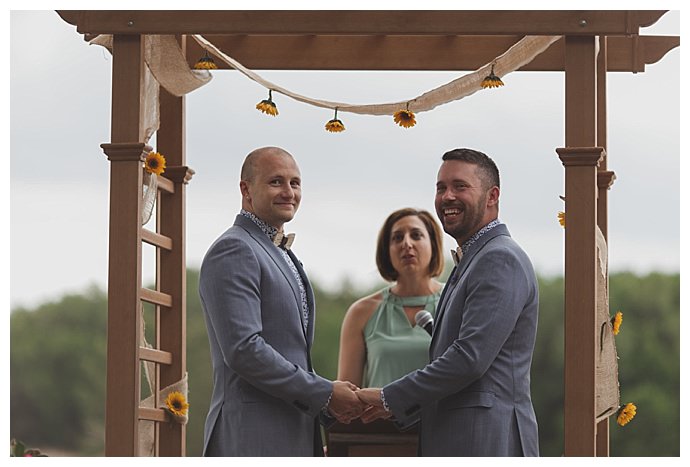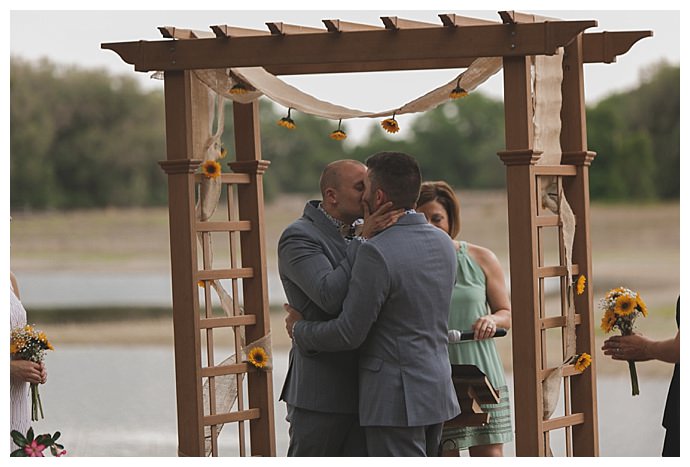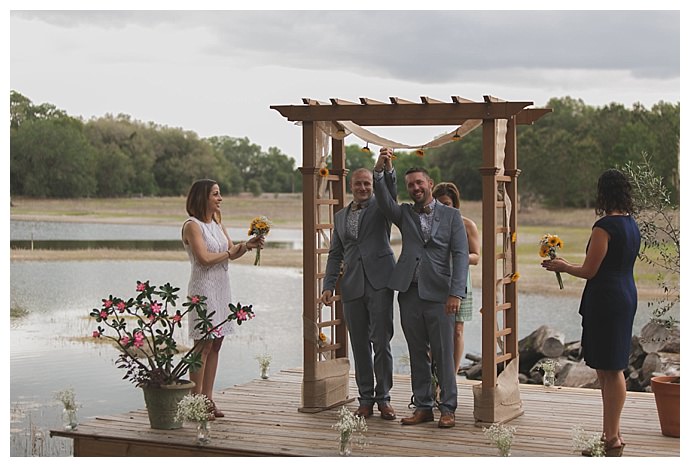 The Ceremony
Adam and Lucas envisioned an intimate outdoor affair for their wedding day and were lucky enough to find the perfect place close to home. "There's something truly intimate about a backyard wedding that's difficult to recreate at a venue," Lucas says. "We chose the site location of a family friend who just so happened to have the acreage to support our 145 guests."
The ceremony began with a violin rendition of Train's heartwarming tune, "Marry Me." The grooms were then escorted down the aisle by their mothers and walked hand-in-hand the rest of the way up the dock to exchange vows in a ceremony officiated by their close friend. Lucas and Adam's wedding date fell on Earth Day, so for a unity ceremony, they chose to plant an olive tree as a symbol of peace. "Our family brought soil from our birth states, Illinois and Indiana, as a symbol of our beginnings," Adam says. "We mixed the soil in the pot with the tree as a means to become one."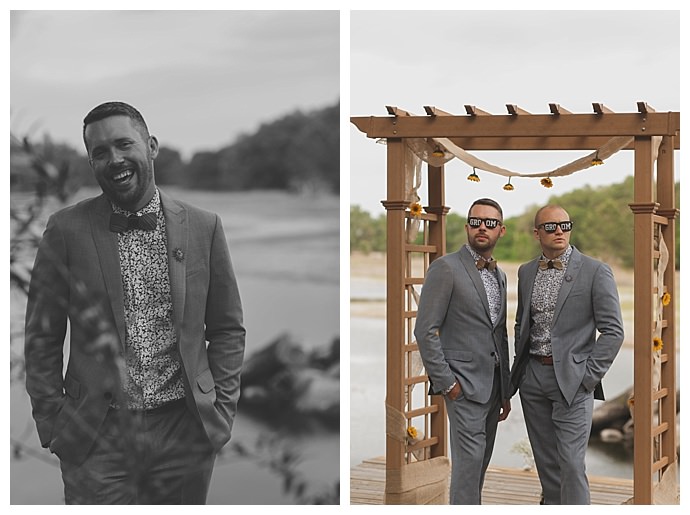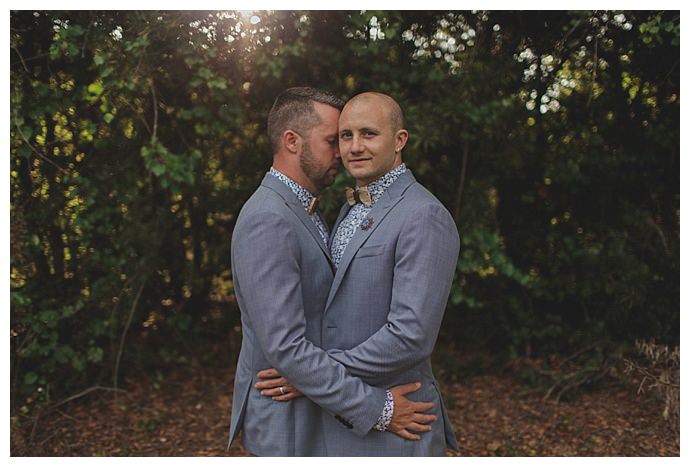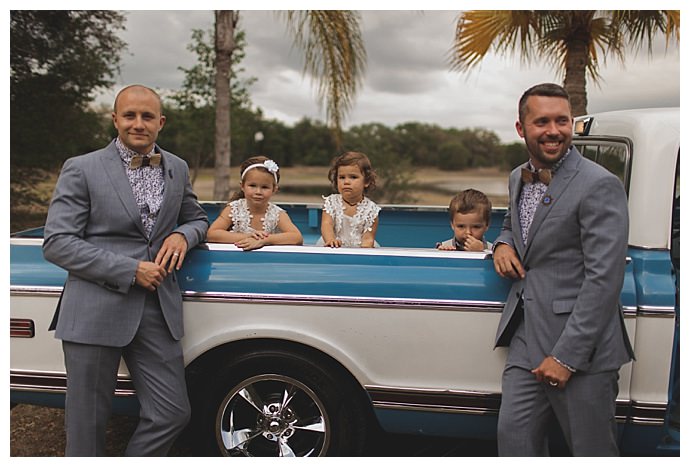 The Party
Lucas and Adam undertook the daunting task of DIY-ing most of their wedding in only six months. Luckily with the help of friends and family and some serious craft nights, they pulled it off. An array of rustic signage denoting everything from the schedule of events to the food and beverage offerings were scattered throughout the backyard. We especially love the wine and beer signs constructed out of wine corks and bottle caps. Among many different stations, offering finger foods, appetizers and s'mores for after sunset, an aluminum Jon boat filled with ice and stocked with craft beer bottles and a keg of a beach blonde brew served as an epic beer station. "Plants were naturally a part of our Earth Day wedding," Lucas says. "Pretty much every flat surface had succulents, sunflowers and baby's breath. There's nothing like the combination of a bold sunflower when paired with dainty and delicate baby's breath; it's perfection."
The grooms rented a 20-by-20 dance floor and centered it under a handmade window-pane chandelier. They used hay covered in white linen, burlap and adorned with decorative pillows to create a rustic lounge space surrounding the dance floor. Mirroring the theme of their wedding perfectly, their three-tier birchwood-inspired wedding cake made a serious statement. It was decorated with twigs, fondant magnolias and a custom cake wood cake topper with the silhouette of a tree with a swing. And as the night wrapped up, they sent their guests home with stemless wine glasses and a card that said, "Thanks for your time, your love and best wishes. To show our thanks, we are adding to your dishes. Inside you will find a keepsake to remember, the earth, this day and us celebrating together!"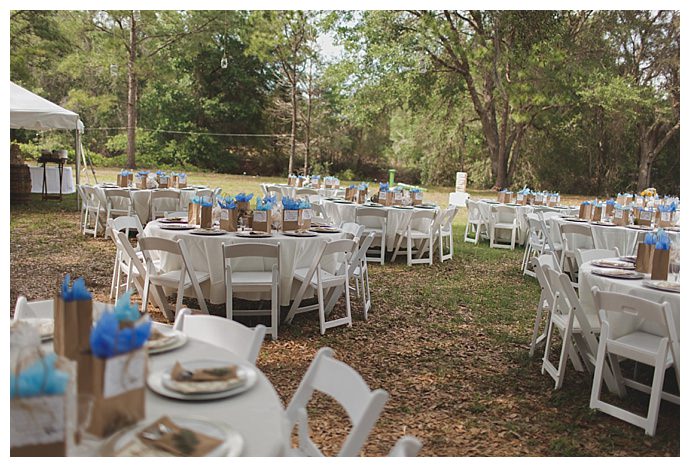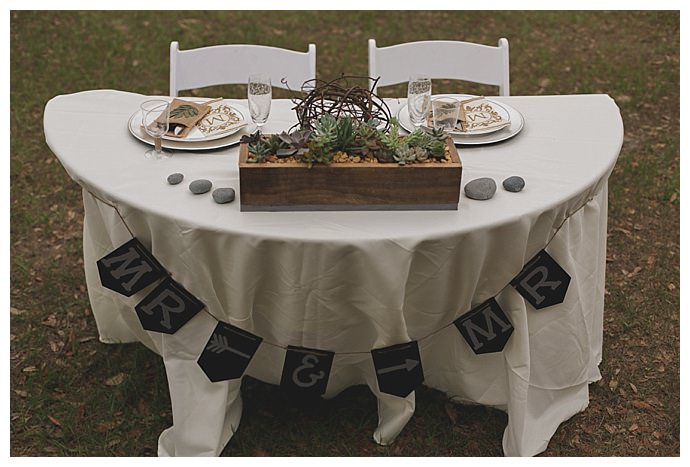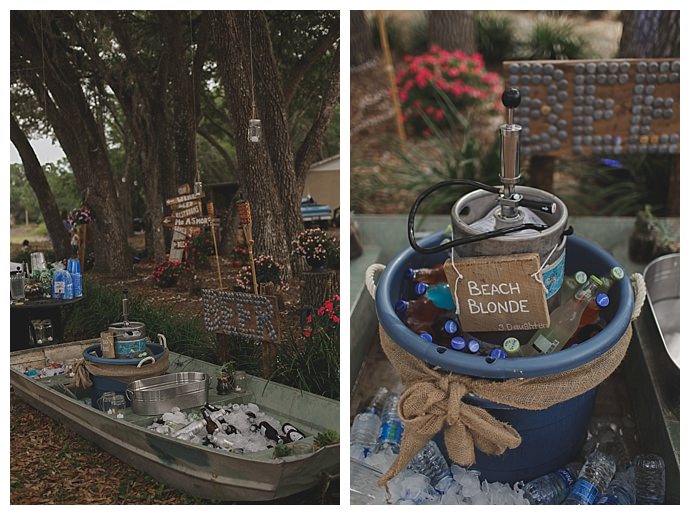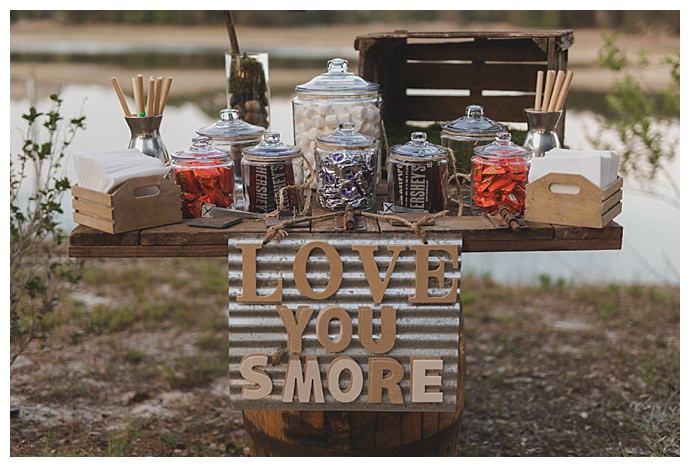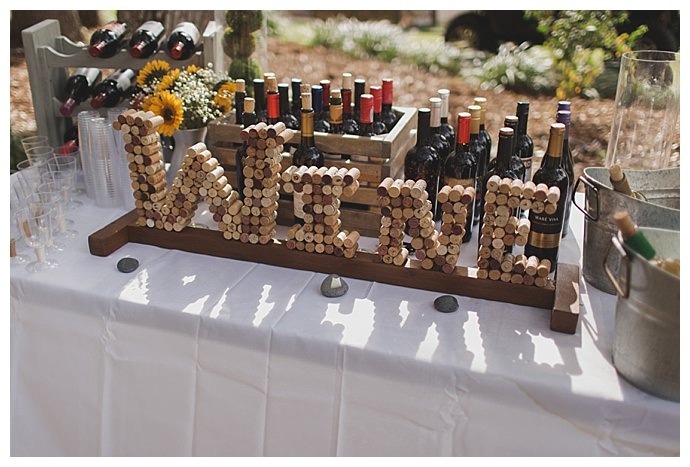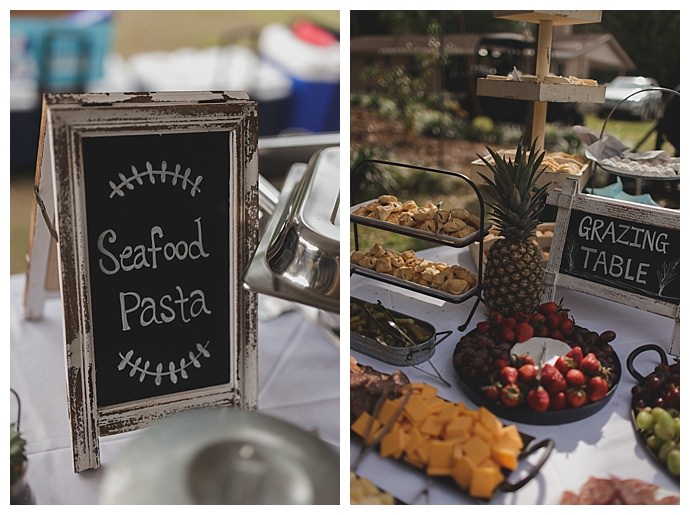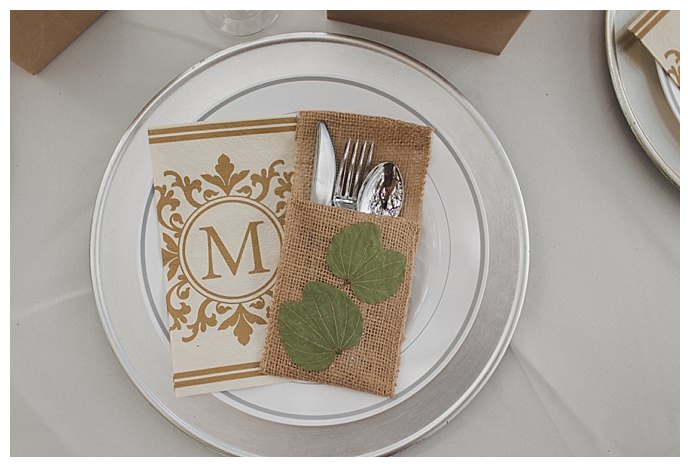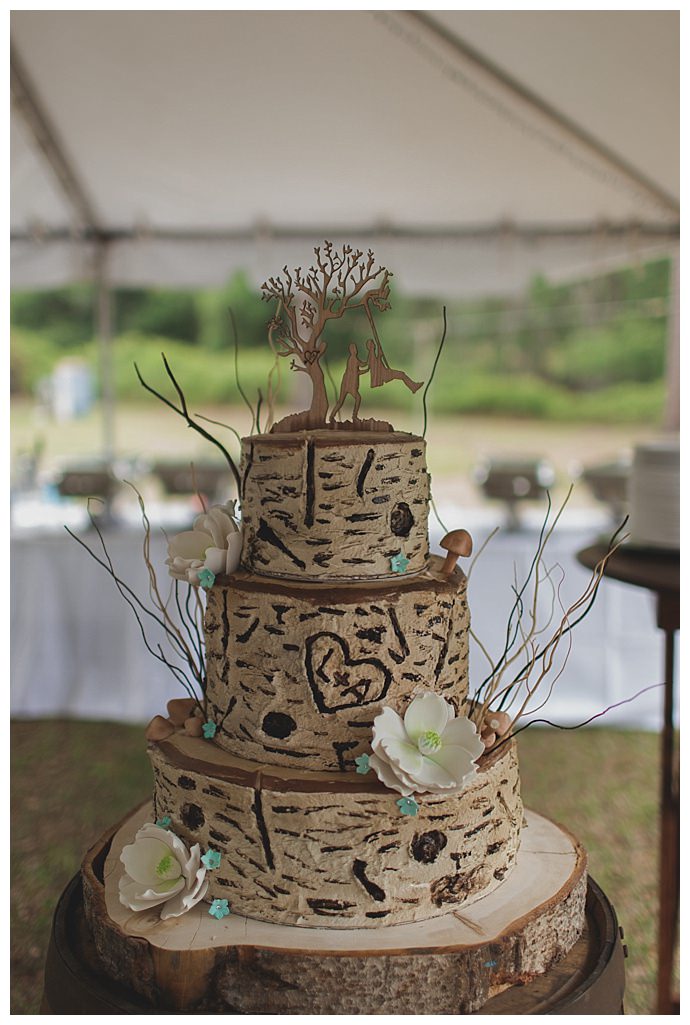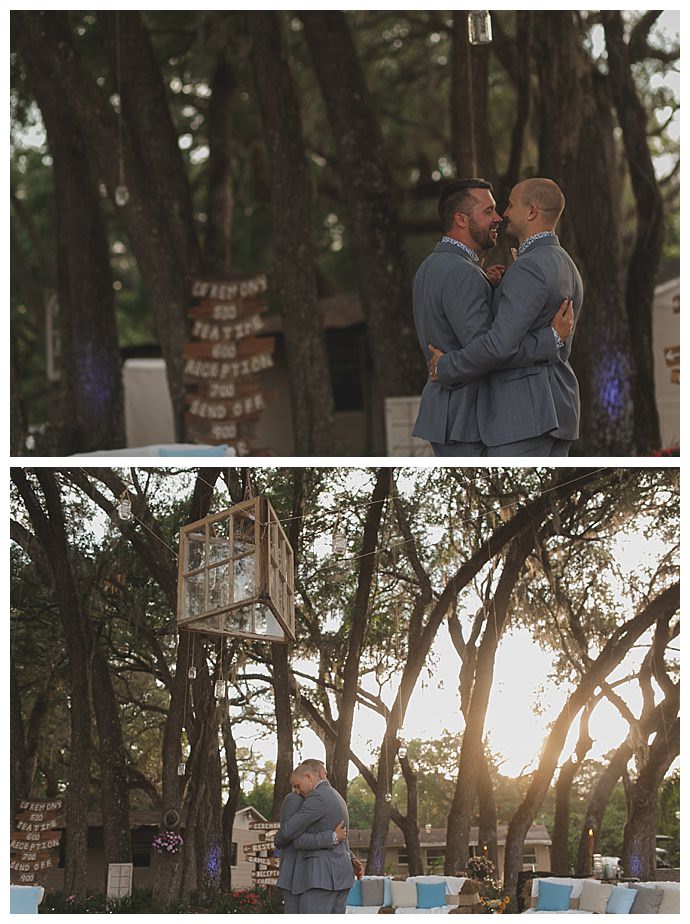 Memorable Moment
"Standing about to do our vows and looking at each other and mouthing 'I love you,' and then looking out at our guests and feeling the love and support," the grooms say.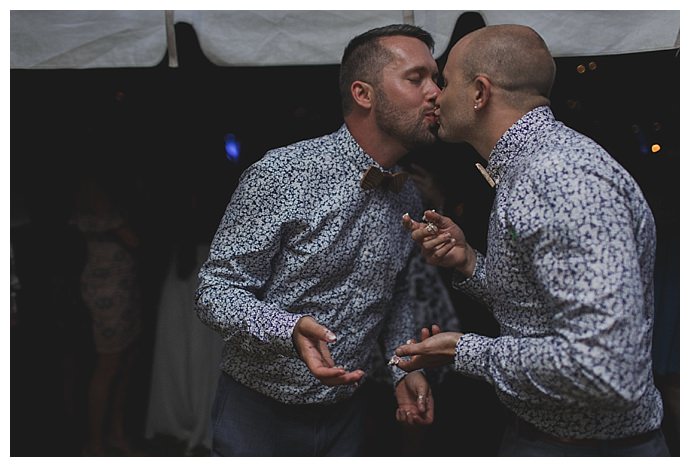 Team of Talents
Photography: Stacy Paul Photography
Stationery: Vista Print
Floral Design: Duncheon's Nursery
Wedding Suit: Banana Republic
Wedding Shoes: DSW
Bow Ties: Exotic Wooden Bow Tie Company
Boutonnieres: Two Guys Bowties
Wedding Rings: B&D Wholesale Jewelry 
Cake Design: Publix
DJ: 2 Tone Events & Entertainment
Rentals: West Coast Events and Rentals
*Editor's Note: This post contains affiliate links. Each time you purchase an item via our affiliate links, Love Inc. is receiving a small percentage of the sale, thus you are helping our small, equality-minded business grow and allowing us to provide more content for YOU! Isn't that just fantastic?