Knitted ties are often passed over for weddings due to their "informal" stereotype. And sure, their loose fibers might give off a fun-time vibe, but why is that such a bad thing for a wedding?! My now-husband went the knitted tie route for our wedding last year, and, I gotta say, it really did elevate his overall look. So if you're the type of individual who wants to add a splash of personality into your wedding day wardrobe, take a cue from your college professor and reach for the knit.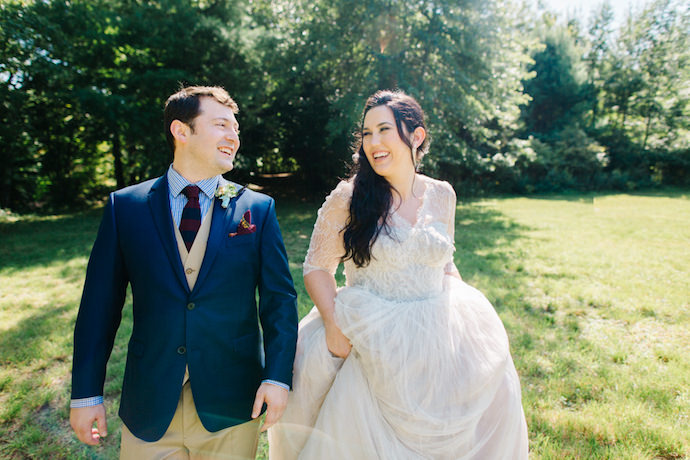 What are the qualities of a knit tie?
People are often drawn to knit ties for their textured, loosely woven look. They give off a more casual vibe, but paired with the right suit, can certainly be wedding-worthy. They range in quality from soft knit to the more luxe and stiff version, which is called cri de la soie, translated to "the cry of silk," labeled for the crunch the fibers makes when squeezed.
Which type of knot should you use?
Because of their bulkiness, knit ties work best with the basic four-in-hand knot (which is likely the style that you learned how to tie ties with). Here is a great step-by-step tutorial on the four-in-hand knot if you need one.
How wide should a knit tie be?
Unfortunately, knit ties don't have the quite the flexibility in width as their regular tie counterparts. Knit ties look best between 2- and 2.75-inch width and it's important to ensure that your lapels (if you've opted to wear a suit) are of proper proportion.
How long should a knit tie be?
Knit ties often have a blunted end and can therefore be worn shorter than your regular silk tie. Additionally, because of their informality, the back blade can hang lower for a fashion-forward look.
What materials are knit ties made from?
Knit ties are most commonly made from silk, which enables them to be worn year-round. Wool and cashmere are also very common but because of their texture, are best suited for fall and winter looks.
How should knit ties be stored?
Knit ties are made with an open weave, which leaves them susceptible to stretching. To keep stretching at bay, instead of hanging the ties, we recommend rolling them up and placing in a drawer.
Photo credit: Allan Zepeda Photography, suit by Robbie & Co.