When it comes to your wedding registry, many lists will tell you to register for necessities: a new coffee maker, a vacuum, a mixer. And yes, while I completely agree with that, I also highly recommend using your wedding registry as an opportunity to create the everyday life you want to live. Once the newlywed shine has worn off, items that you register for can help bring a bit more sparkle into your daily routine.
I'm very much of the opinion that you shouldn't save your fancy glassware for a special occasion. Because, truly, every day is special when you get to spend it with the love of your life. And that's worth celebrating, no?
We teamed up with Waterford—a brand that is synonymous with luxury, and has an incredible wedding registry program for couples who are looking to elevate their newlywed life— and interviewed real-life couples in this three-part series, to get tips on how they elevate their everyday.
ELEVATING IDEA: DAY DATE WITH GABI AND SHANNA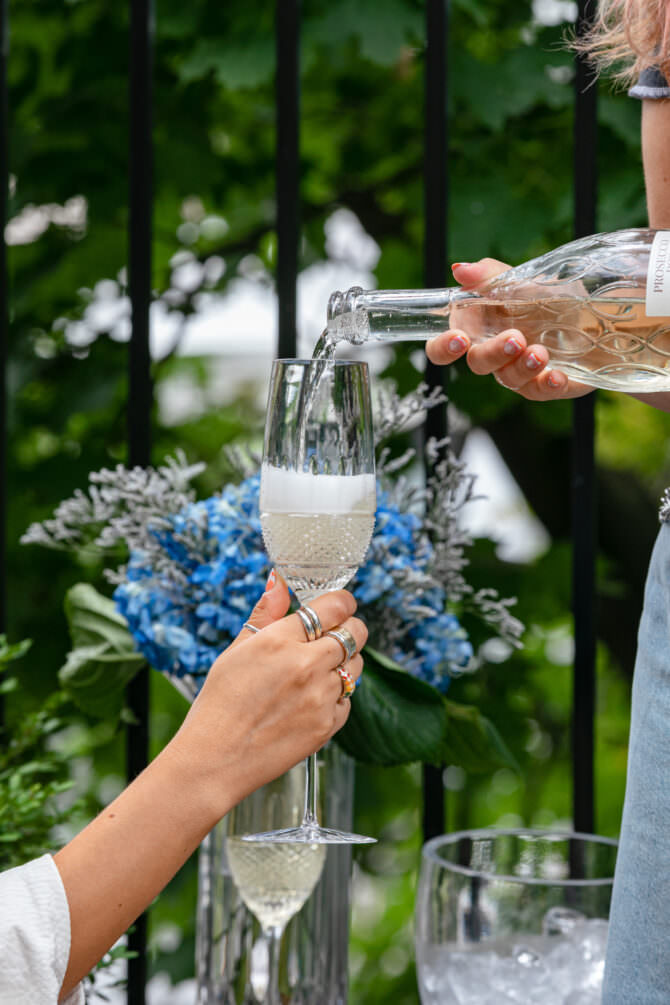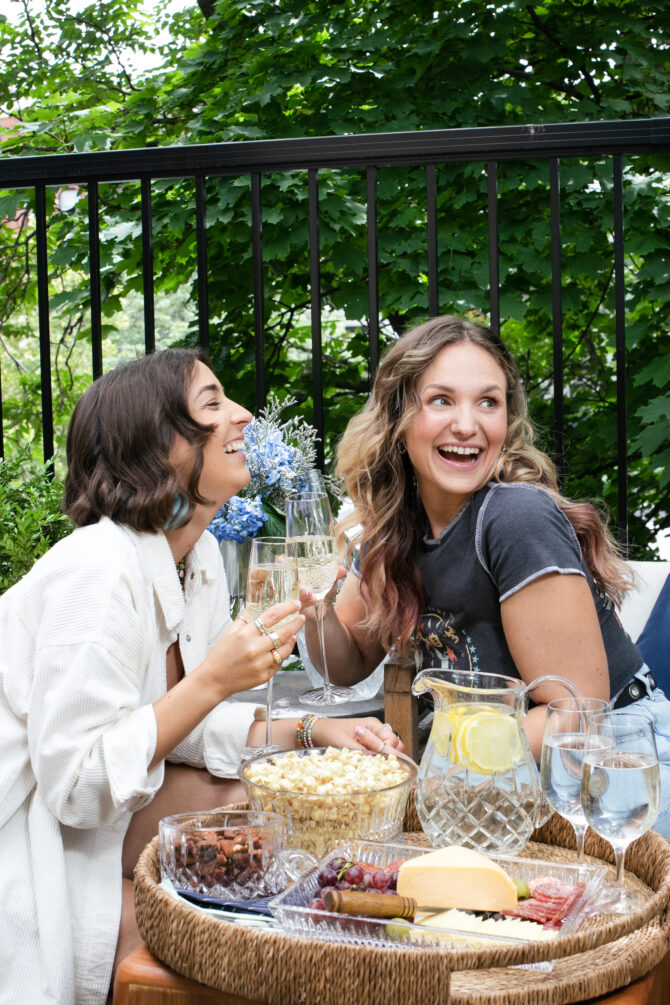 Who said that dates have to be at night? Weekend errands can wait — toss that to-do list aside and take the day to spend with your S.O.
"My number one tip is to carve out time for each other. If you want to have a fun date at home, make sure there aren't any distractions like phones or other people and take the time to plan out something that just feels special," says Gabi and Shanna, who met during NYC Pride in 2015 and now run a travel blog/Instagram together. "We love getting the house all clean before a date day, lighting some candles, and just making the atmosphere feel special."
Start the day with a picnic (indoors or outdoors!), sipping Champagne from handcrafted toasting flutes and build the perfect cheeseboard on a crystal tray (which absolutely makes the cheese taste better). Then head to the kitchen to whip up something sweet to proudly display on a crystal cake stand. (Don't forget to safeguard your wedding rings on a ring holder!)
"I am always the one cooking in the kitchen, and Shanna is always my taste tester! I love making things for her, and us," exclaims Gabi. "Not only do I love cooking and baking things in the kitchen, but making something for Shanna always makes me happy!"
"The vibe completely changes when you use Waterford in these type of scenarios!" continues the couple. "When you use something that's really nice, it helps to set the mood and make any ordinary day feel like a special memorable event."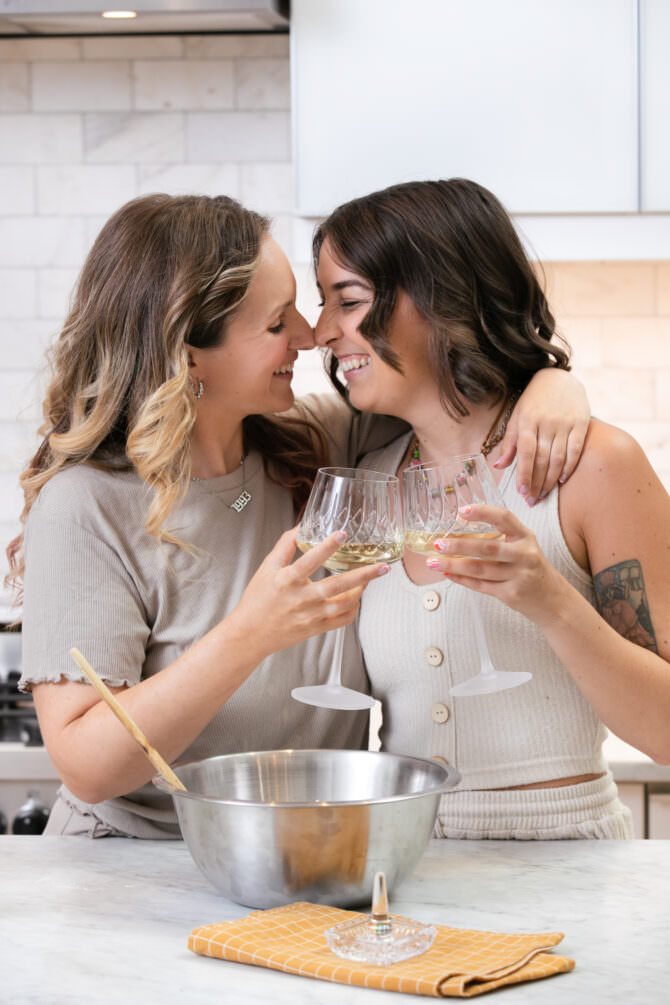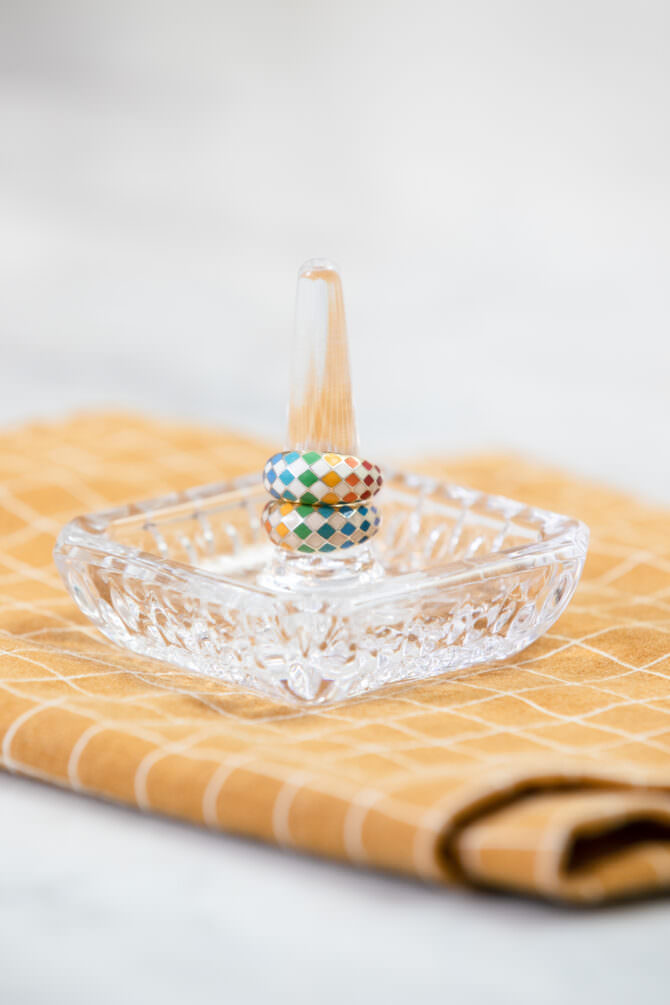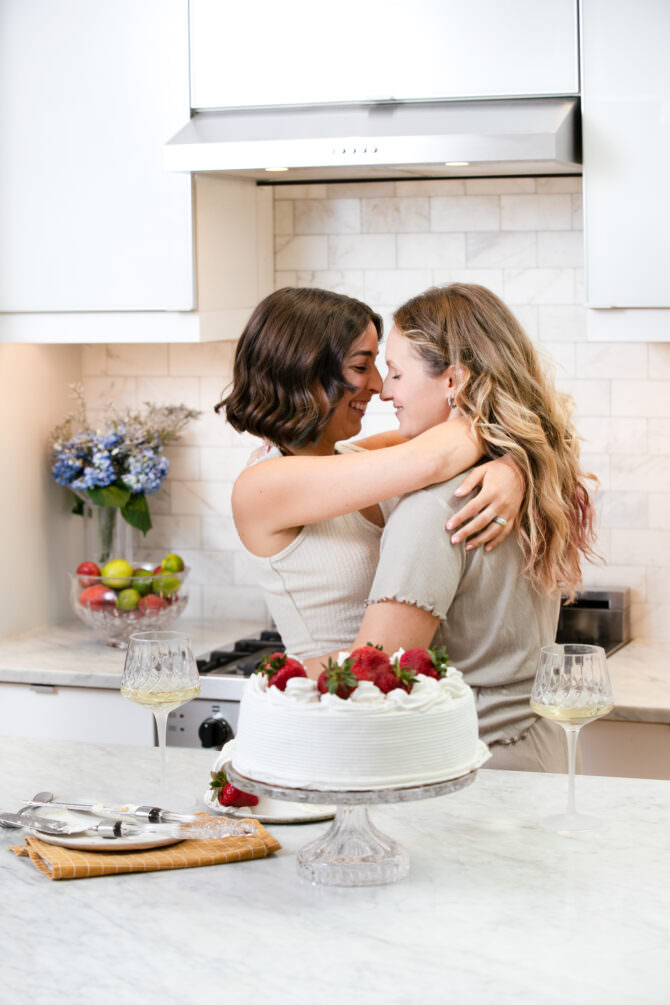 REGISTER FOR DAY-DATE AT HOME ITEMS
Lismore Cake Plate, Knife and Server Set, $650: This gorgeous set, featuring Waterford's iconic Lismore pattern, will bring a level of sophistication to your cakes (even if they're store-bought!). It can also be engraved, making it the perfect wedding gift.
Lismore Diamond Square Serving Tray, $300: Serve up charcuterie on this timeless tray, characterized by intricate diamond cuts rendered in fine crystal.
Lismore Arcus Wine Glasses (set of 2), $200: For the 70th Anniversary of the Lismore pattern, Waterford introduced the Lismore Arcus pattern, featuring a modern twist to the classic. The frosted stems of this pair also bring an unexpected design element.
Lismore Nouveau Ice Bucket, $395: No matter the contents of the bottle, it instantly feels like you're drinking something fancy when you have it resting in this gorgeous vessel, which can also be engraved.
Lismore Square Ring Holder, $100: If you're cooking in the kitchen, keep those brand-new wedding bands safeguarded with this stunning ring holder.
Lismore Arcus Statement Vase, $675: Fresh blooms are an easy way to add beauty to your home, and this two-piece statement vase offers two very different styles. Use the top part for a tighter bouquet, or just the bottom for a more voluminous look.
Irish Lace Flute (set of 2), $350: The Irish lace pattern on this pair of flutes was inspired by bobbin used to sew Irish lace, bringing a taste of heritage and fine detailing to your sips.
Lismore 10in Footed Bowl, $550: Whether it's holding fruit, snacks, potpourri or flowers, this crystal vessel adds instant elegance.
DISCOVER WATERFORD CRYSTAL
Waterford is a renowned company known for its high-quality crystal and glassware. Established in 1783 in the city of Waterford, Ireland, the company has a long-standing history of craftsmanship and design excellence.
Famous for its exquisite crystal stemware, barware, and home decor items, Waterford's collections are often associated with luxury and elegance.
[EDITOR NOTE] This is a sponsored post. We only partner and recommend brands that value inclusivity and offer products that we genuinely love and would recommend to our friends! Interested in having your brand spotlighted to our engaged-couple audience? Send us an email at [email protected].