By Brittny Drye | Photography by Sally Gupton Photography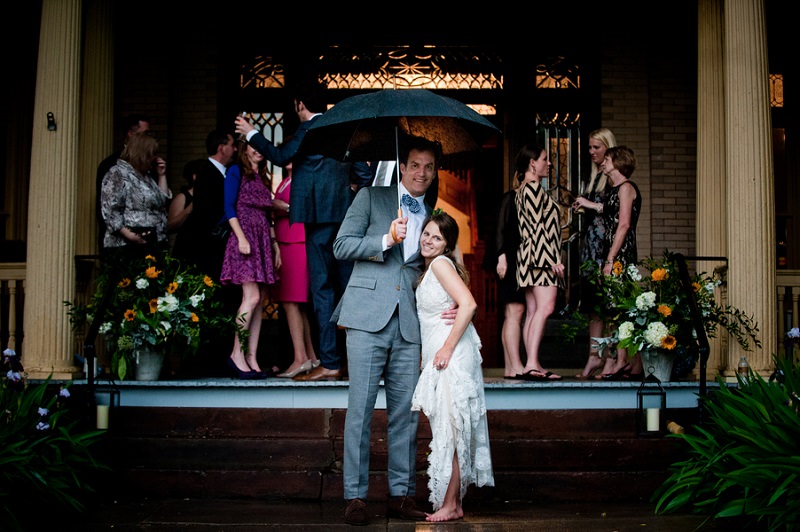 Home is certainly where the heart is for Amy and John, who had fallen in love with an abandoned house across the street from their church and, after getting engaged, they purchased it and began renovations on the historic Southern property complete with a wraparound porch. Those renovations coincided directly with their wedding planning and the first night in their new home ended up being their wedding night, but they first hosted their 75 guests for an intimate celebration after their church ceremony. "I was able to get ready in our new house and walk across the street to the church," says Amy. "And [for the reception] I was barefoot and comfortable in my own home."
The Inspiration
They kept the decor simple and classic with vintage elements. Amy's sister designed the invitations with a logo of the house and the bride, being from Kansas, made sure to incorporate the state flower—the sunflower—into the floral design. "I tried to let the house speak for itself," says Amy. "It's a work in progress but, I hope everyone was able to appreciate its beauty as I do."
The Fashion
Amy looked beautiful in an Elizabeth Fillmore wedding dress while John was a true Southern gentleman in his gray suit and gingham bow tie. They had versions of their invitations printed onto vintage handkerchiefs, which John wore as a pocket square and Amy had tied into her bouquet.
The Party
After the heartfelt ceremony, guests walked across the street to Amy and John's home for a shrimp boil and heavy passed hors d'oeuvres by Holly Tate Fine Catering while a band played.Their two-tier wedding cake was white and metallic gold and topped with a lavender sprig. "I have the pleasure of knowing the owner of Maxie Bs in Greensboro personally and professionally, it was a no brainer to have the cake from there," explains Amy. "The owner, Robin Davis, delivered the cake herself!"
As the evening wore on, they re-energized guests with an evening snack of brick oven pizza made by Forno Moto, which pulled their brick oven right to the front entrance for fresh, piping hot pies. For favors, they wrapped Maxie B's famous oatmeal sandwiches in muslin bags printed with their house logo.
Memorable Moment
Seeing John towards the end of the night dancing with a cigar in his mouth … he looked so happy and was having the best time!
Vendors
Photography: Sally Gupton Photography
Ceremony: St. Paul's Episcopal Church in Winston-Salem, NC
Floral design: Amy Lynne Originals
Catering: Holly Tate Fine Catering; Forno Moto
Cake/Favors: Maxie B's
Band: Stephen Legree Band
Hair/Makeup: Grassroots Salon