By Brittny Drye | Photography by Kaitlin Noel Photography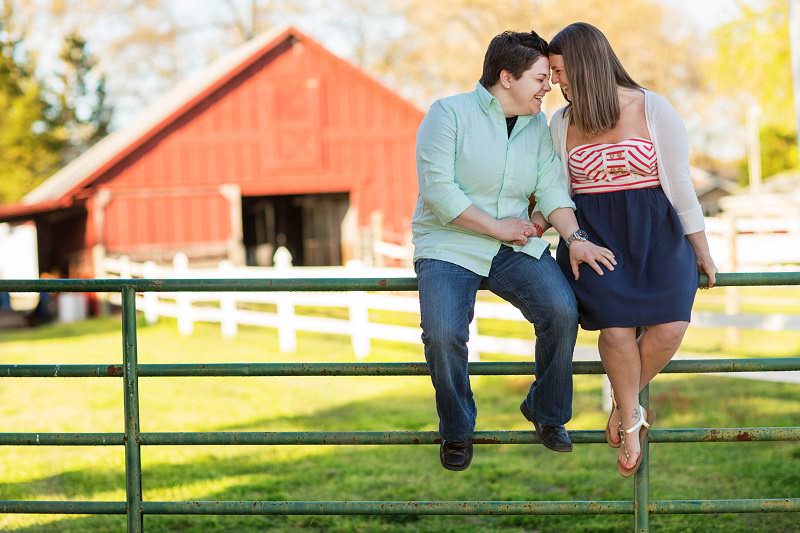 When you see a couple grinning as wide and as often as Amy and Heather did during their engagement shoot, you know it's a forever-kind-of-love. And with Kaitlin Noel Photography behind the lens, you can be rest assured that all of those sweet moments were captured whether it was snuggles on a fence, kisses inside a barn or cozied up on a blanket in a field.
As a nod to their rustic winery wedding in May, Amy and Heather chose a barn property for their engagement shoot filled with farm equipment, hidden nooks and industrial backdrops that made for the perfect setting and resulted in gorgeous sun-kissed photos of their love. "We are a very casual and easygoing couple and this engagement shoot was able to show our colors accurately," says Amy of their choice.
The Love Story
While they knew of each other in high school, it wasn't until they were attending a mutual friend's graduation party in the summer of 2010 that they crossed paths. "Heather's guy cousin who was visiting from Louisiana was talking to me and I purposely stated 'I'm sort of interested in women' the moment Heather was passing us," says Amy. Amy's wily ways worked, as Heather overheard and they officially began dating a month later.
"It wasn't too long after we began dating that I realized that I would much rather spend all my moments with her than away from her," says Amy. "She can make me laugh without even trying. She listens so closely when I need it the most. And she is my absolute best friend who I can go to for anything and everything."
"The moment I realized Amy was The One was when she first met my mom," says Heather. "They got along so well, I wasn't expecting them to hit it off so fast. My mom is sometimes a hard woman to please, so when I saw my mom truly accept Amy, I knew I couldn't find anyone better. I didn't want to find anyone better. Amy continues to make me a better person. With that being said, she is and always will be 'the one' who makes me the person I am and will be."
The Engagement
For their proposal, Heather made time literally stand still. They were celebrating Amy's birthday in her New Jersey hometown. While she was having dinner with her immediate family, Heather organized the rest of the family and friends at one of their favorite bars. After dinner, Amy headed to the bar to continue her birthday celebration but when she entered, everyone was standing in a circle, with Heather in the middle and yelled "Surprise!"
"We hugged and as she was letting go, I snapped my fingers in the air for all to see. Everyone froze where they stood. Amy looked around confused as to why everyone stopped talking, clapping, moving, everything. She then looked at me, I began to tell the girl of my dreams how deeply I felt about her, and if she would give me the incredible honor of sharing her life with me. She said yes! We hugged, kissed and enjoyed the moment. Everyone around us was still frozen. Amy had wondered why a huge moment like that that nobody cheered or seemed happy for us. They weren't doing anything! I explained that I had to snap my fingers in the air once more to unfreeze them. Once I did so, everyone cheered and celebrated! We then had a little engagement party. It was definitely one of the most defining moments in my life," says Heather.
"The concept was when I snapped my fingers that moment in time would freeze. Time itself seemed to freeze. Everything in that moment was non- existent. The only thing that mattered was Amy and I. And although, it was less than three  minutes, that moment in time was only ours. For everyone to go 'back to life' I had to snap again to unfreeze them."
Memorable Moments
Amy: The first would be reliving the touching proposal speech Heather prepared for the special night. The words she wrote specifically to me were beyond moving and memorable. The second most memorable part of the proposal was being able to celebrate our wonderful news with all of our friends and family. It basically turned into one big engagement party right then and there!
Heather: Everything honestly. I remember anxiously waiting for Amy to arrive. We all practiced a few times, so everyone knew how to freeze and react when I proposed. When Amy walked in, I didn't realize how nervous I was until I went to put her ring on and I noticed my hands were shaking. It wasn't a bad nervous, it was more adrenaline, I should say. I knew she would say yes.
Wedding Date: May 3, 2014