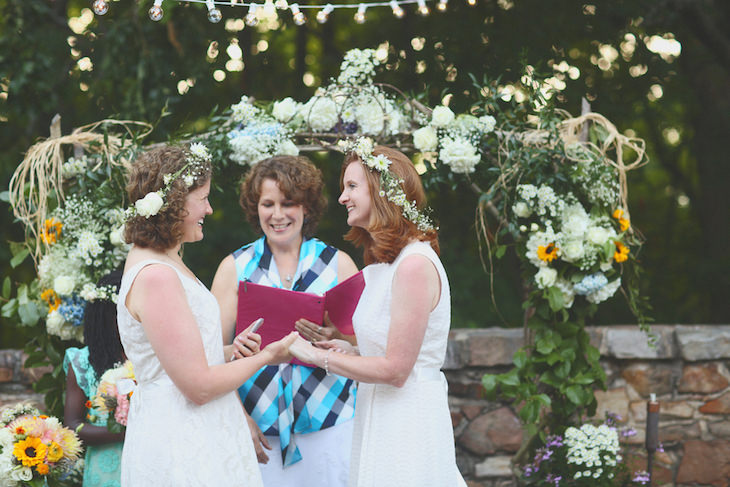 Alabama Supreme Court Chief Justice Roy Moore has issued an administrative order to all county probate judges to stop issuing marriage licenses to same-sex couples, citing that the recent SCOTUS decision only pertained to bans in the four states — Kentucky, Michigan, Ohio and Tennessee — that were part of the Obergefell v. Hodges case that led to the ruling.
There exists "an elementary principle of federal jurisdiction," Moore wrote: "[A] judgment only binds the parties to the case before the court."
"Until further decision by the Alabama Supreme Court, the existing orders of the Alabama Supreme Court that Alabama probate judges have a ministerial duty not to issue any marriage license contrary to the Alabama Sanctity of Marriage Amendment or the Alabama Marriage Protection Act remain in full force and effect," Moore wrote.
Chris Stoll, senior attorney at the National Center for Lesbian Rights (NCLR) shed light to MSNBC on the legal weight Moore's declaration holds. "In terms of what the probate judges ought to be doing, there really is no conflict. They should be following the federal court order," Stoll told MSNBC. "The state order from Roy Moore has no legal effect."
Outrightly going against the federal law could put them in hot water (Kentucky Clerk Kim Davis ring a bell?) and if they were to uphold the Chief Justice's demands, it would likely have serious consequences.
This isn't the first, and unfortunately, it probably won't be the last time that the national marriage equality ruling is challenged on a state level.
Photo from Jodi and Kenzi's Birmingham Ceremony, photographed by J.Woodbery Photography