We've fallen head over heels for acrylic wedding decor and love seeing the creative ways couples incorporate it into their big day. And when acrylic is so versatile and easy to use (not to mention safer!), it's not hard to see why plexiglass is one of the hottest trends of the year. Small touches of acrylic can go a long way in creating modern, chic decor with a hint of whimsy. From welcome signs and place cards to invitation suites and seating charts, acrylic is the perfect blank canvas for striking calligraphy or bold colors. And we've rounded up nine of our favorite ways to use acrylic that prove it's a trend that isn't going anywhere anytime soon!
Card Box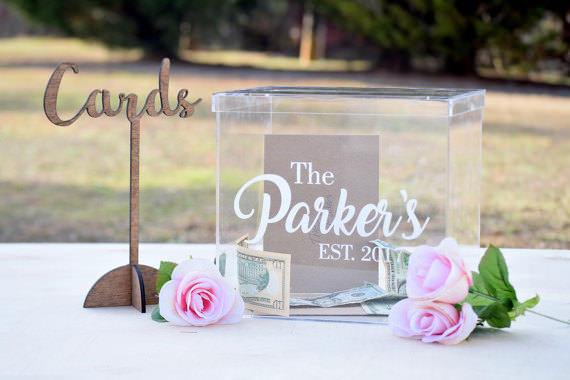 Now that online registries conveniently allow gifts to be sent directly to the couple, gift tables at the wedding tend to be smaller in size. But as a cardinal-rule, most guests hate the thought of showing up empty handed and still want the chance to offer well wishes for the happy couple, which is why a card box is a must for every wedding! This sleek, personalized acrylic card box fits right into any wedding theme and can become a memorable keepsake in your home for years to come.
Escort Cards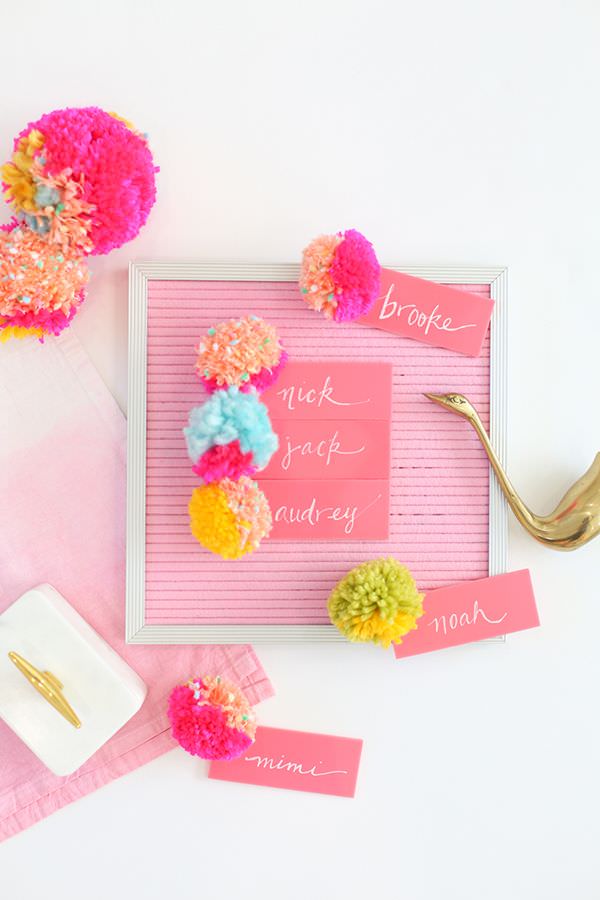 These acrylic escort cards with colorful pompoms are as vibrant and fun as they are easy to make thanks to Swooned Magazine's easy DIY tutorial! Clear often first comes to mind at the mention of acrylic, but as evidenced here, acrylic comes in a variety of colors, making it suitable for a variety of wedding color palettes.
Invitations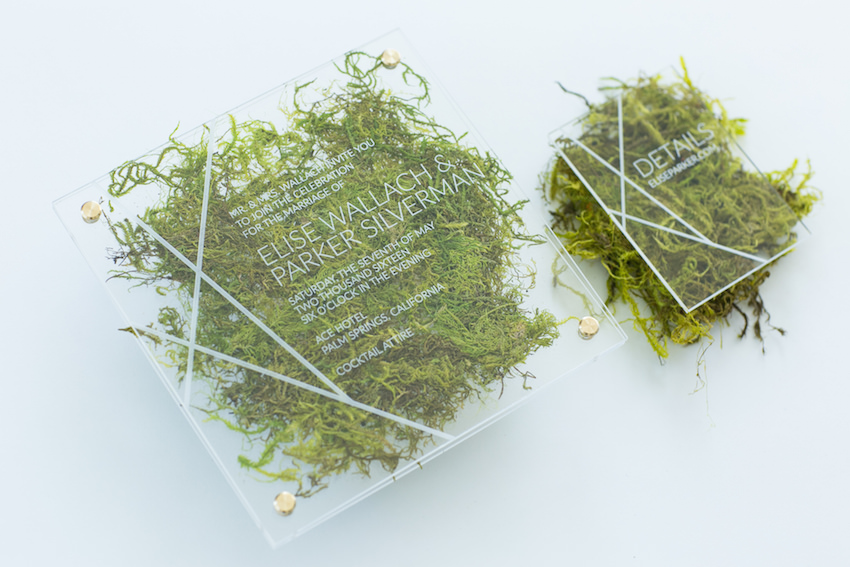 We could not be more on board with the acrylic wedding invitation trend. Late last year we wrote about Yonder Design, a design house revolutionizing wedding stationery, and we fell in love with their wild moss and acrylic wedding invitations. Since then, we've seen beautiful acrylic invites dusted with calligraphy and covered in color that offer a unique paper alternative that will leave your guests in awe.
Welcome Sign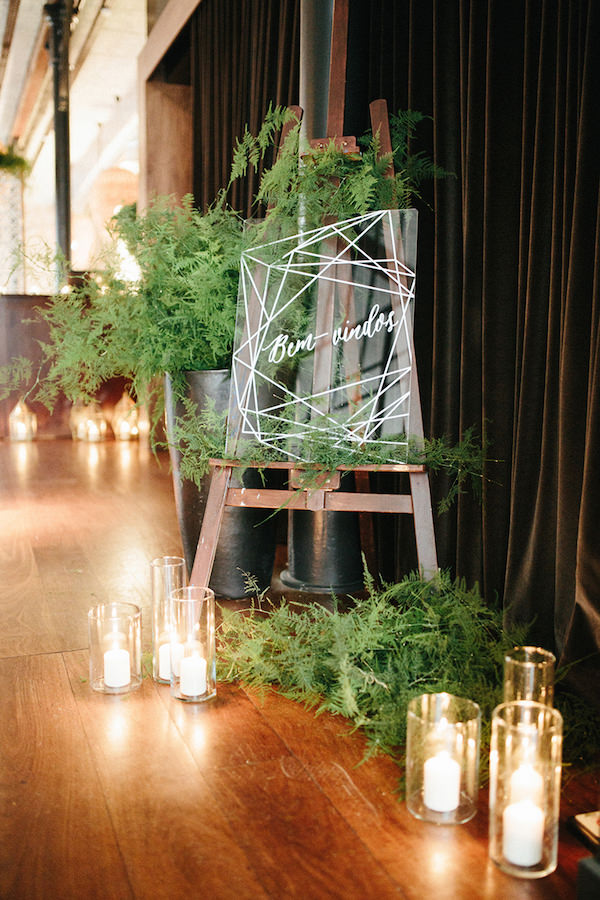 When you're busy getting ready for the big ceremony, your guests deserve a warm welcome as they arrive, and a beautiful welcome sign can do just that! We're obsessed with the blend of geometric lines and modern calligraphy on this gorgeous Portuguese wedding sign found on BLOVED that's accented by pillar candles, green ferns and a striking rustic easel. If you're looking for an acrylic wedding sign just like this one, check out this beautiful find on Etsy!
Table Numbers
Table Numbers are the perfect place to incorporate acrylic, as evidenced by this simple yet stunning tablescape found on Every Last Detail! Whether you're looking for laser cut acrylic numbers that stand on their own or beautiful calligraphed signs, acrylic provides a blank canvas for you to bring your tabletop dreams to life.
Seating Chart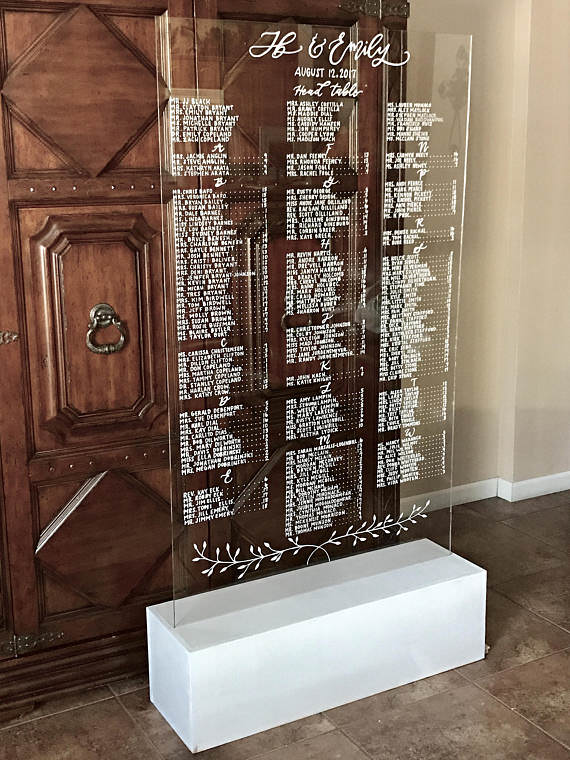 This seating chart is the thing of dreams! We love the modern design and the simple way acrylic transforms a simple seating chart into a piece of art. Whether you opt for an easel or a sturdy stand to display your seating chart, guests will love finding their name on this acrylic masterpiece.
Dinner Menu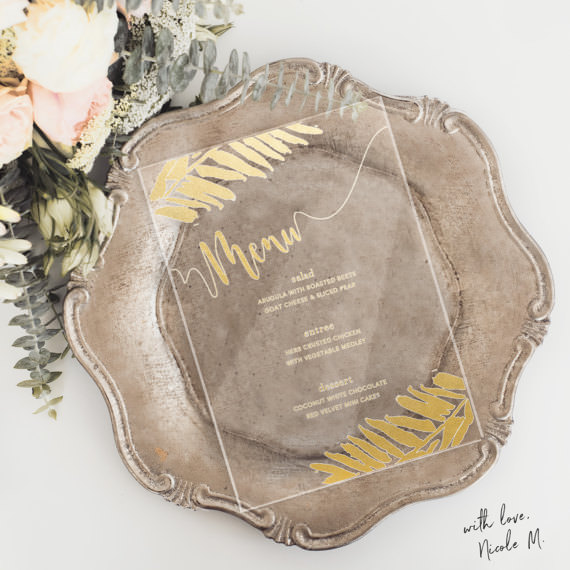 How dreamy is the gold detailing on this modern tropical-themed wedding menu? Whether you're looking for a stylish menu to complete your place settings or a practical display of the delicious meal offerings, an acrylic menu is the perfect choice to work up an appetite for your guests at any reception!
Cake Topper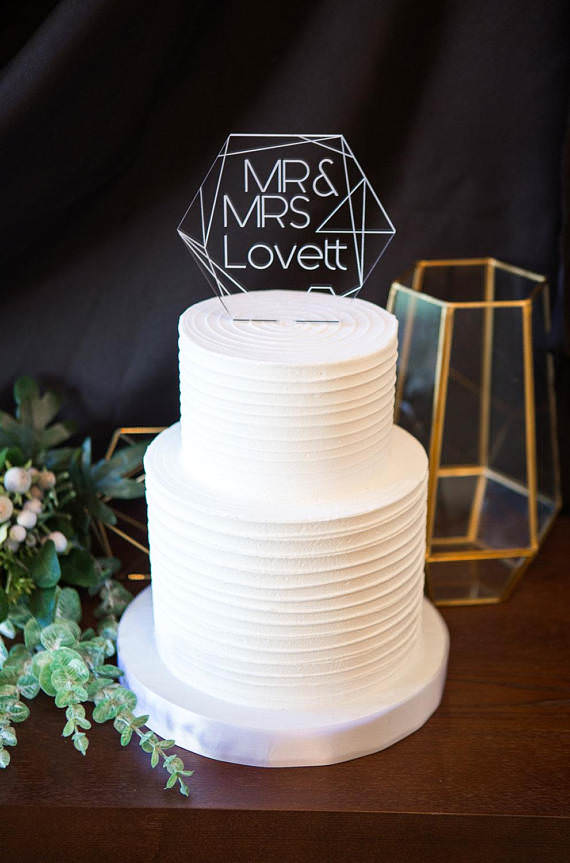 When it comes to cake toppers, many are already made out of acrylic, so the options are endless! But if you're seeking that crisp, clean acrylic look, this modern cake topper marries geometric details with clear acrylic for a stunning personalized touch to any wedding cake.
Cake Stand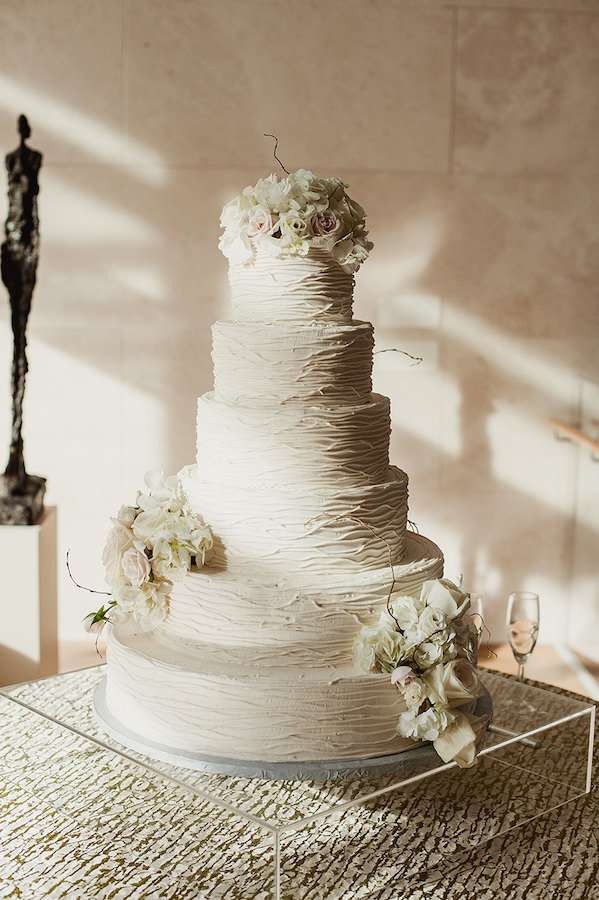 This isn't your traditional cake stand! Eliciting a vision of floating tiers of confections, this acrylic cake stand is modern and layered with possibility. As seen in Style Me Pretty, for a clean, understated look that lets the cake shine, simply rest your cake on the acrylic stand. But if you're looking for something with a little more frill, fill the inside of the stand with flowers or fairy string lights for an epic display that will guarantee all eyes are on you when it's time to cut the cake! And if you're skipping cake altogether, check out this acrylic donut stand!
*Editor's Note: This post contains affiliate links. Each time you purchase an item via our affiliate links, Love Inc. is receiving a small percentage of the sale, thus you are helping our small, equality-minded business grow and allowing us to provide more content for YOU! Isn't that just fantastic?