As we decorate for the holidays, there's no better way to spread holiday cheer than decking your nails with merry colors. From Christmas and Hanukkah color pairings to bright glittery polishes for a sparkly New Year's Eve, get your nails into the holiday spirit with these five mani-pedi combos for festive fingers and twinkly toes.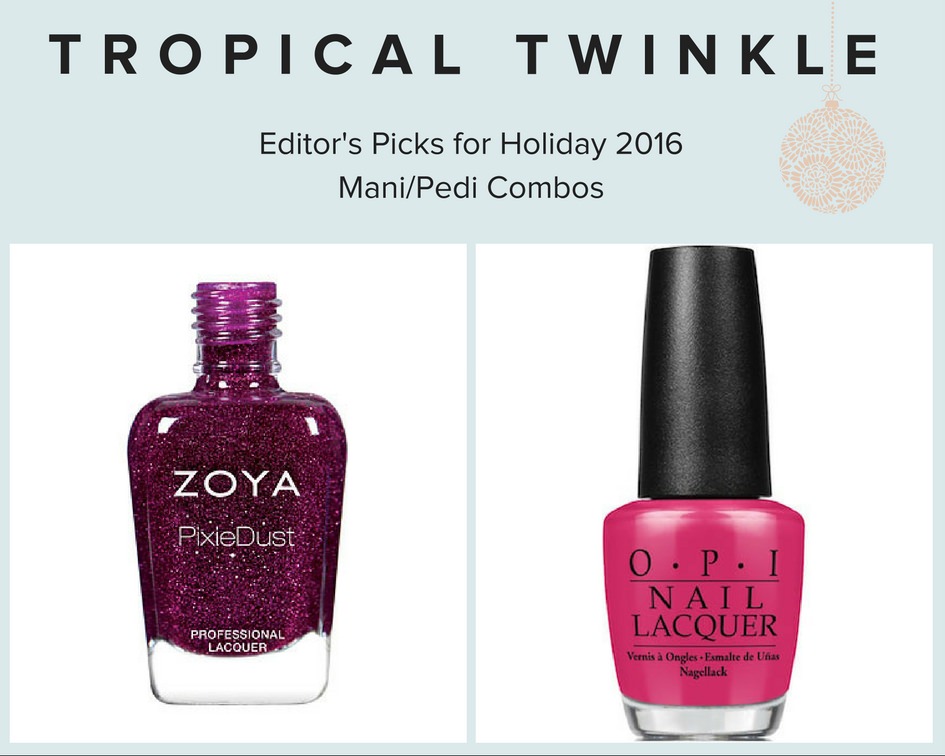 Fingers
Lorna by Zoya: This extravagant berry shade packs the punch when it comes to glitter! For those spending the holidays on the beach, this polish with a matte finish that doesn't diminish any sparkle, will leave you feeling jovial and relaxed throughout the holiday season.
Toes
Apartment for Two by O.P.I: Who says pink can't be worn in the winter? The holidays are filled with lights and color, and while most reserve pink for summer, this bright bold color is as festive as ever!

Fingers
I Believe in Manicures by O.P.I: From the Breakfast at Tiffany's collection, this gorgeous Tiffany blue polish is one-of-a-kind. Even if you don't get that small blue box by the eighth night of Hanukkah, you can still show off your gorgeous Tiffany's nails!
Toes
Girls Love Pearls by O.P.I.: Before you rush off to all those holiday parties, coat your fingers in pearls with this unique and lustrous color. Channel your inner Audrey Hepburn and ultimate fashionista with this frosty sheen, which exudes class and will amp up your holiday style.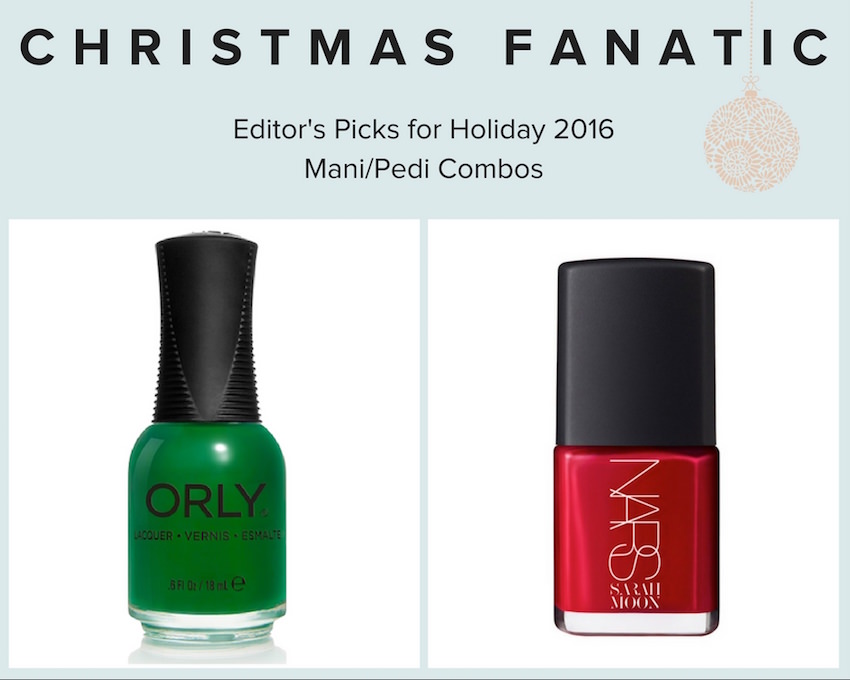 Fingers
Invite Only by ORLY: Hanging mistletoe, lush garland and, of course, beautifully decorated Christmas trees come to mind with this gorgeous hue of green. Paired with a bright red, your fingers will be ready to tear into holiday wrapping when Christmas morning rolls around.
Toes
Never Tamed by Nars: Don't be afraid to bare your toes this holiday season when wearing this bright creamy red. For the enthusiast who starts playing Christmas tunes in November, this Christmas-staple is the color for you!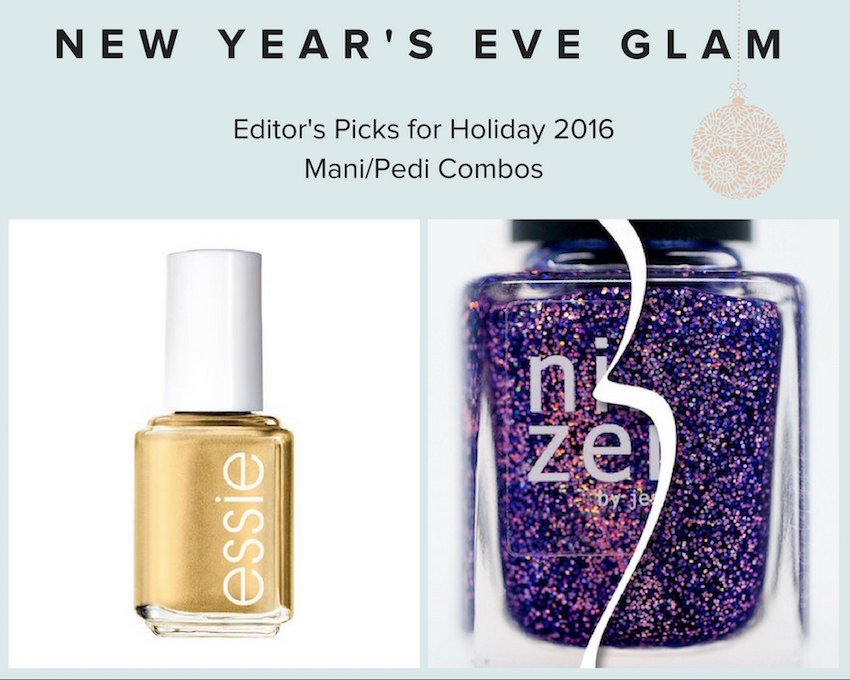 Fingers
Getting Groovy by Essie: New Year's Eve is a night filled with gold: champagne bubbles, glitter confetti poppers and blazing fireworks. Ring in the New Year in style with this bright, shimmering gold that will keep you out on the dance floor all night long.
Toes
Midnight by Nine Zero Lacquer: Aptly named Midnight, this bright purple polish with flakes of holographic microglitter is the only accessory you'll need this New Year's Eve!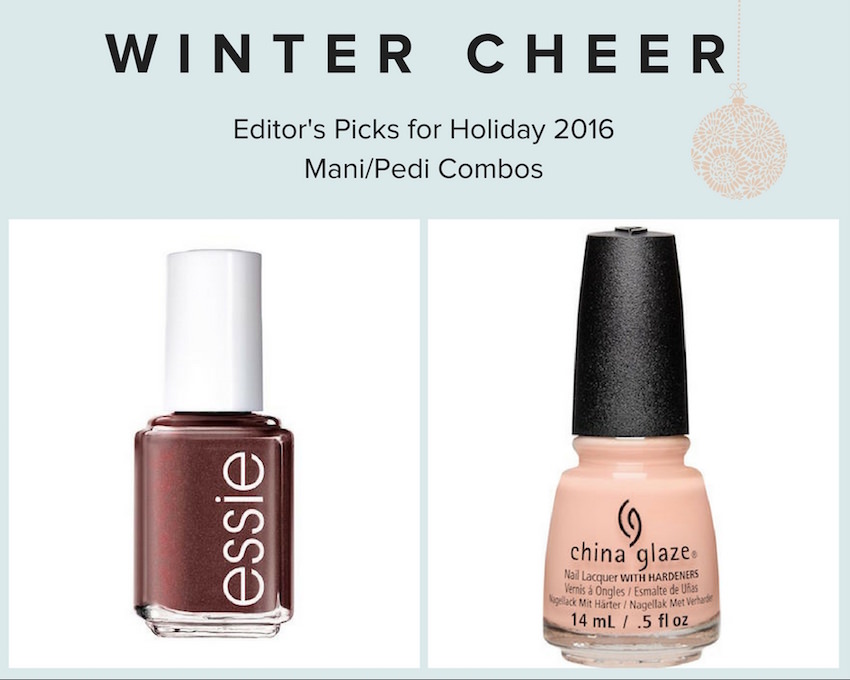 Fingers
Ready to Boa by Essie: Wear this warm, glistening burgundy on your fingers as you sit by the fire enjoying a delicious hot chocolate with close friends and family this holiday season. With a beautiful golden shimmer, this color is reminiscent of crackling embers shooting up your chimney and is perfect for a cozy night in.
Toes
Sand in my Mistletoes by China Glaze: Nude is a color that never goes out of style, and even during the holidays, we're loving this pale, peachy nude from China Glaze. Just as our cheeks turn pink in the cold winter air, this polish has the perfect amount of pink undertones to keep your toes warm.
*Editor's Note: This post contains affiliate links. Each time you purchase an item via our affiliate links, Love Inc. is receiving a small percentage of the sale, thus you are helping our small, equality-minded business grow and allowing us to provide more content for YOU! Isn't that just fantastic?