With the legalization expanding around the United States, the trend of cannabis weddings is budding.
While incorporating cannabis into your wedding day is not a new idea, it's one that grows significantly in popularity each time a state approves recreational cannabis use. Currently, cannabis is recreationally legal and decriminalized in 23 states, plus the District of Columbia.
Incorporating cannabis into your wedding looks different to every couple. For some, it's the infusion of CBD into cocktails, food, beauty products and so much more. For others, it's the use of THC in floral arrangements, bud bars and even the wedding ceremony.
CBD vs. THC
THC (Tetrahydrocannabinol): Just one of the hundreds of chemical compounds in a cannabis plant, it's certainly the most popular due to its psychoactive side effects.
CBD (Cannabidiol): Now legal on a federal level, the chemical compounds will not leave you feeling high. In fact, CBD has properties that can bring down the effects of a high in someone who has overconsumed THC.
Dani Geen, CEO of Agris Farms, a cannabis farm in California, celebrated her marriage to Zak Walton in August of 2017 on a beach sealing their vows with a dab during their ceremony. Their bridesmaids held bud bouquets and the groomsmen wore bud boutonnieres. Guests enjoyed a hash bar with a dab set up during the ceremony and were gifted a vape pen, concentrate and a pre-roll. "I wanted to change the stigma about cannabis," shares Geen. "People always have to run off into their car or go off into the side bushes at weddings and that's not okay. You want to be able to enjoy yourself and be able to smoke and not have to worry about hiding from people."
Even hemp is making its way into the wedding world. Hemp is a fiber of the cannabis plant that has 0.3 percent or less of THC and a high CBD concentration making it non-intoxicating. The strength of the fibers give it industrial properties allowing it to be made into textiles, paper, rope and so much more. Some soonlyweds wear wedding dresses made from silk and hemp blends while others choose to send out invitations printed on hemp paper.
The rise in cannabis weddings is best seen in the growth of the Cannabis Wedding Expo, created in 2015 by Philip Wolf, founder of Cultivating Spirits. Wolf created the expo after a friend with a cannabis bouquet company was being denied the opportunity to exhibit at traditional wedding shows, with one show even attempting to charge her double for having cannabis. From there, the Cannabis Wedding Expo was born with the first event in January 2016 in Denver, Colorado and expanding since to San Francisco, Los Angeles, Boston, Las Vegas and Toronto, bringing in cannabis professionals of all kinds to help couples plan their wedding.
In prohibition states that have yet to legalize cannabis use, the idea of cannabis weddings is still new and farfetched. The biggest misconception about them? "That they're a big hip-hop party" says Rudy Sta Ana, founder of Cannabis Catered Events.
"Look for reputable companies that have business licenses they can show you," recommends Andrew Mieure, founder of Top Shelf Budtending. "At a minimum, that company should be able to show you some type of business structure paperwork or a proof of good standing in the state that they operate in." If you want to go the extra mile, look for proof of insurance, though Mieure says this may be tough for companies to send since it's not often provided. "I would always recommend if you're looking to throw a cannabis wedding, make sure, at a minimum, you have at least one million dollars in general liability for your budtending staff, just for any mishaps."
Celebrating a cannabis wedding is a privilege for couples in legalized states since doing so can still leave you locked up in prohibition states. Weddings are an excellent time to educate guests about cannabis, especially when you may have guests traveling from states that have yet to legalize. There is so much more to cannabis than just the high that people associate with it, and consumption has been known to replace pain killers to prevent opiod addiction, ease nausea in cancer patients, reduce feelings of anxiety and much more.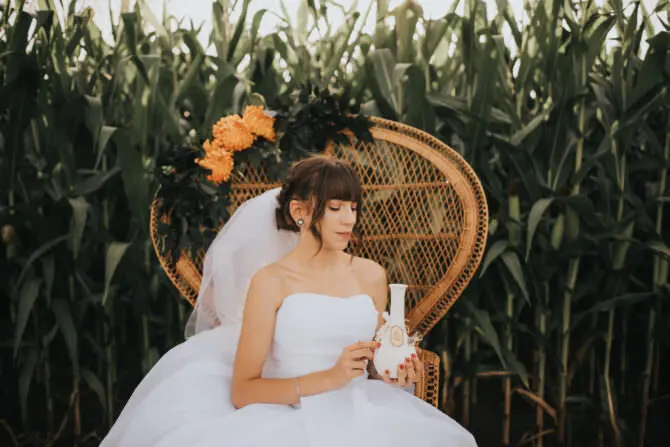 The possibilities for incorporating cannabis into your wedding day are endless, but it will take planning, and there are some challenges you may need to be prepared to face. Cannabis wedding professionals recommend choosing your venue as the first part of planning so you are familiar with each venue's specific rules. Some venues are cannabis-friendly but not smoke-friendly, which may work for your wedding if you are only planning to serve in edible form, but not if you want to offer vaping. Venues also have guidelines when it comes to liquor licenses and whether cannabis can be served at the same time as alcohol, which can put the venue in jeopardy of losing their license.
"Make sure that every single vendor you book knows you're having cannabis," encourages Bec Koop, co-owner of Irie Weddings and Events. For example, catering companies will need this information so they know not to send staff that are under the age of 21. Koop also shares the story of every couple's worst nightmare when a Colorado photographer walked out on a couple's wedding minutes before their ceremony because he was not comfortable with cannabis and walked in on the groomsmen smoking.
You will also want to let all of your guests know that cannabis will be present at your wedding, even if you're sure they will be on board. Print it on your save-the-dates and publish it on your wedding website. This not only allows guests to make an informed decision about whether or not they feel comfortable attending, but also gives advanced notice for guests with invited children to decide if they want to find a babysitter, as well as for active military guests who are prohibited from using cannabis both recreationally and medically.
If you are unsure of who will be partaking and therefore how much cannabis to budget for, Koop recommends putting it on your RSVP card, right next to where guests may choose what type of plated meal they want. Add on a few more once you get your count as you never know who may be canna-curious and decide they are willing to try for the first time at your wedding, knowing they have the comfort of a safe, controlled environment.
Cannabis couples are not finding as much pushback from their guests as one might often think. When Jordon and Etai Rahmil tied the knot in 2016, the majority of their guests took part in consuming. "We had a cannabis bar with three different strains rolled into joints," recalls Jordon. "Our guests had access to a private tent with 80 joints hand-rolled by Etai, along with lighters and a space away from the hustle and bustle of the wedding."
Cannabis lounges are a growing trend at wedding receptions, allowing budtenders to set up in an area that is not in the middle of the party, especially if you are having guests under the age of 21, but also not in a completely different room which helps to eliminate the stereotype that smoking is something that needs to be done while hidden.
Providing guests with transportation offerings after the wedding is highly recommended, whether you offer shuttle bussing to your hotels or give out rideshare discount codes, to help keep guests safe who may have been consuming THC or alcohol.
With countless ways to incorporate cannabis at your wedding, it can seem impossible to even know where to begin, or how big of a part you want it to play in your day. Whether you just want a small nugget of cannabis tucked away in your boutonniere as an homage to your interest in consumption, or you want to work it into every aspect of your wedding decor, there are countless ways to integrate it into your big day and it's the perfect time to share cannabis with all your loved ones in a safe, responsible setting.
Ways to Use Cannabis in Your Wedding
Pre-wedding Primp
CBD skincare products have anti-inflammatory properties that can help balance oil production and calm down redness. Look for CBD skincare products that list the number of milligrams included and its source.
Wedding Party Gifts
Give a special keepsake that your besties will always remember your wedding by. My Bud Vase combines the beauty of a floral vase with the functionality of a bong for a piece of art you'll love forever. Gift them to your wedding party or as a favor at your bach party. My Bud Vase can even double as centerpieces or the perfect bong for your ceremonial toke.
Unity Ceremony
Seal your marriage with a dab. More and more couples are lighting up during their ceremony. Right after Geen and Walton said, "I do," the newlyweds had their best man and maid of honor light the torch and heat up the rig. They even got their guests in on the unity, with everyone simultaneously lighting up a pre-rolled joint they received when they arrived.
Floral Arrangements
Cannabis can be included anywhere that flowers are, from centerpieces to bouquets and boutonnieres. The best part is, you can consume them a few days later! Jamie McCormick, owner of The Flower Daddy, gives clients instructions on how to dry your arrangements so you can smoke the cannabis about five days later, perfect for lighting up on your honeymoon.
Bud Tending
Bud bars allow guests to enjoy cannabis in a variety of ways based on the couples choosing. Budtenders can serve a variety of products ranging from custom-rolled joints and edibles to vaporizers and more. Unlike just passing a bong around among guests, having a professional bud bar staff on hand not only helps walk guests through new flavors and experiences but also keeps all shared items clean and sanitary.
Favors
Share the love by giving cannabis-oriented favors to your guests. Sending everyone home with joints or edibles may not always be the best options, especially if guests are coming in from prohibition states. You can still give great favors with a nod to cannabis such as customized lighters, CBD products or hemp-based lip balms. If edible favors are more your thing, send guests home with individually packaged cotton candy from Pure Fluff Co., made with food-grade medicinal hemp oil, or bring them in to spin on-site and treat guests to a sweet late-night snack.
CBD Mocktails
CBD can be used to recreate some of your favorite alcoholic drinks, with CBD oil or CBD tinctures in place of hard liquor. If you are offering a budbar, mocktails are recommended as mixing alcohol and cannabis can have detrimental effects. THC remains in the system longer as the liver metabolizes alcohol first and there can be increased risk for alcohol poisoning and poor judgement. For guests not partaking in cannabis, you may want to offer a signature cocktail or beer and wine to save on the cost of an open bar.
5 Must-Dos When Throwing a Cannabis Wedding
DO confirm with all participating pros that you are having a cannabis event.
DO prominently display signage for any edibles or cocktails that contain CBD or THC ingredients.
DO set up a designated area for smoking/vaping.
DO hire experienced professionals.
DO keep edibles low-dosage (we recommend below 10mg).
BUD FACT: You'll find when planning your cannabis wedding that professionals are typically not using the term "marijuana." The word marijuana is known to have negative perceptions attached to it as well as racist roots. In the 1930s, Harry Anslinger, first commissioner of the U.S. Federal Bureau of Narcotics, was the man behind the prohibition of cannabis, citing racial arguments that only minority groups were using marijuana, that jazz musicians were creating "Satanic" music while under the influence and that the word "marihuana" had Spanish roots and that the drug would promote interracial relationships. Prior to that time, cannabis had been the more commonly used term, and is still the medically accepted term today.
Written by: Emily Rochotte | Photo credits: Forever Incredible Photography, Dog Daze Photography, Laura Shanahan Photography, Top Shelf Budtending | Originally featured in Love Inc. V7 issue