For Terry and Ian, there is nothing more special than when they get to spend time together at the park. And after remembering their first date at a park, they couldn't wait to have their wedding in a National Park at the D.C. War Memorial. With their adorable dog leading the way, the grooms tied the knot in an intimate ceremony before heading to an uptown restaurant to celebrate their union, and Chris Ferenzi Photography was there to capture all the memorable moments along the way!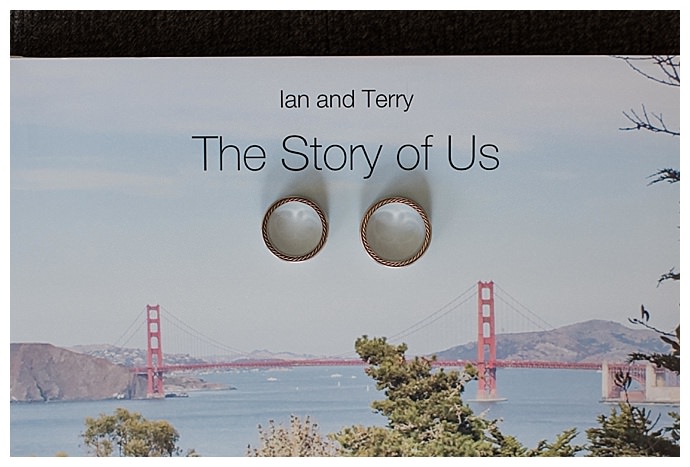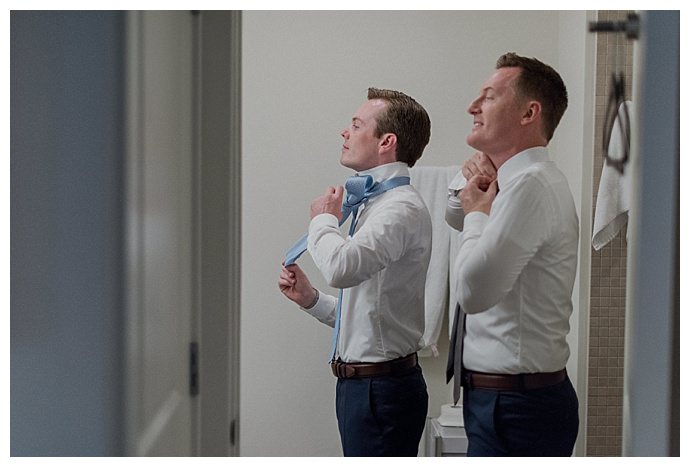 The Love Story
After Terry and Ian had spent weeks chatting online, they finally met up for a first date that neither of them will ever forget. They grabbed Sweetgreen for dinner and headed to Logan Circle in downtown D.C. to enjoy what they both recall was a perfect summer Friday. Not long after that, Ian and his adorable pup moved from Baltimore to live with Terry in D.C., and that was all it took for them both to start thinking about proposing.
Terry claims he nearly proposed while on a sailing trip in Thailand, but because the perfect moment never presented itself, Ian ended up beating him to the punch. They had just finished watching a particularly gruesome "Game of Thrones" episode at home in bed when Ian proposed, but Terry's first response was no. "He told me to get down on one knee and use his full name, which is quite long," Ian remembers. So after an eye roll, Ian kneeled down on the mattress and asked Terry to marry him using his full name, to which Terry promptly said yes!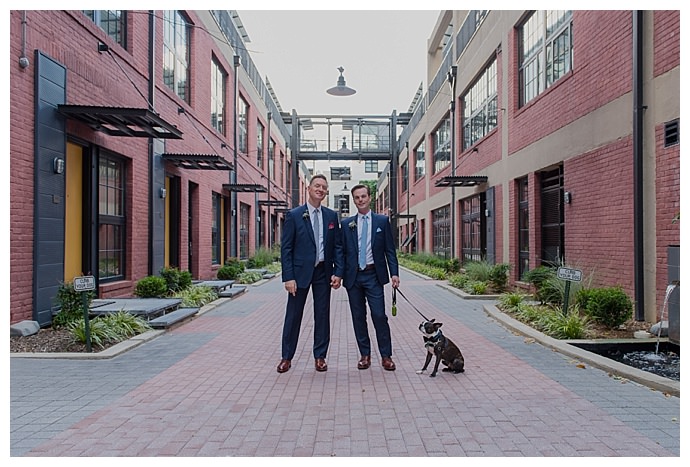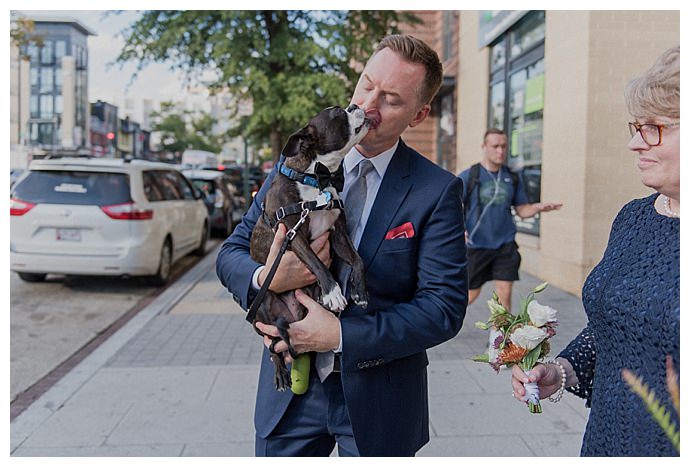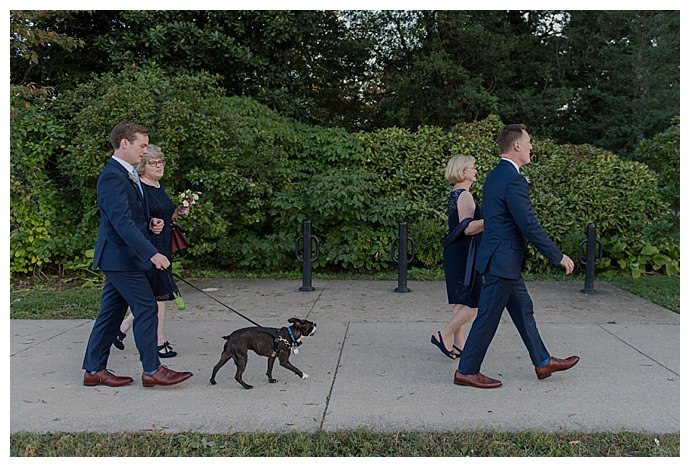 The Ceremony
"We had two criteria for our wedding ceremony," Ian says. "We wanted it to be in D.C., and we wanted it to be outside. As soon as we saw the D.C. War Memorial, the idea of being married in a national park took hold, and we knew we had to have it there!" Inside the marble memorial, Terry and Ian's guests sat in a circle and surrounded them during the ceremony. In addition to a hand fasting ritual, where the grooms's hands were bound together in colorful ropes as they exchanged vows, they also had a unique ring warming ceremony.
"Stealing an idea from friends whose wedding we attended the year before, we took a satin rope, had our guests hold it, and at the same time, had them push the ring along the rope," Ian says. "The rope in particular was our favorite part of the ceremony because it gave us an opportunity to bring each of the guests into the ceremony and watch them experience it."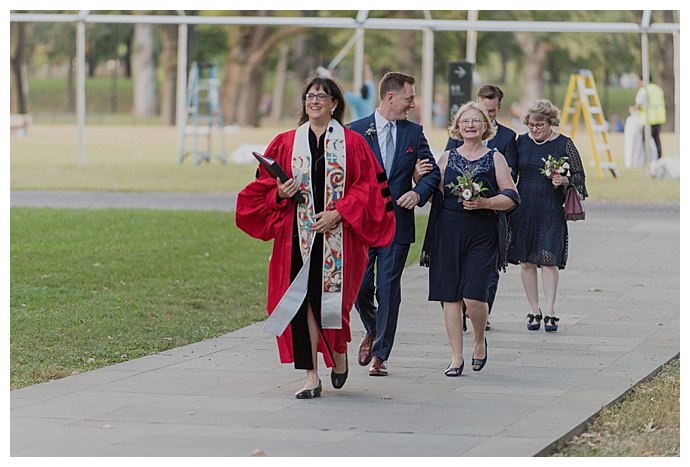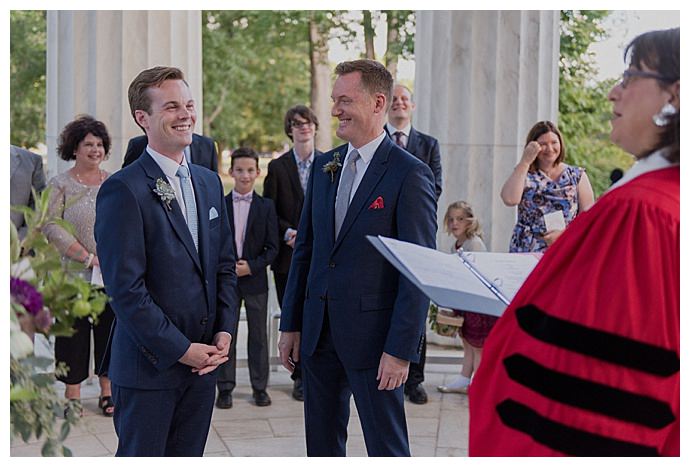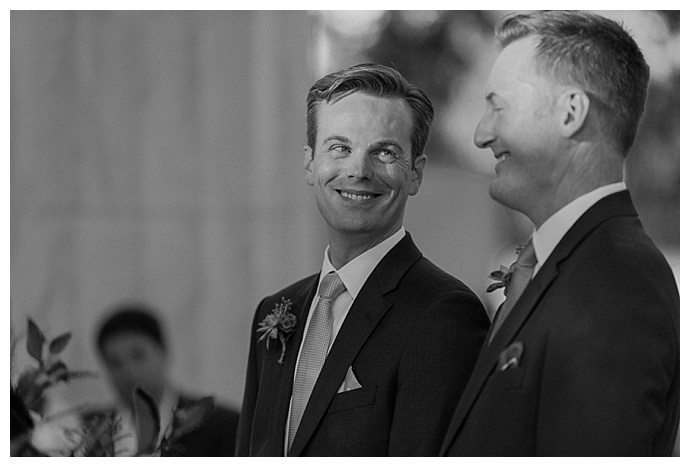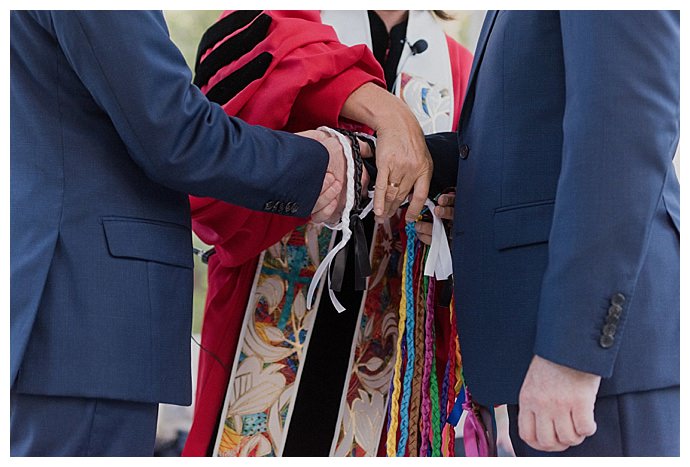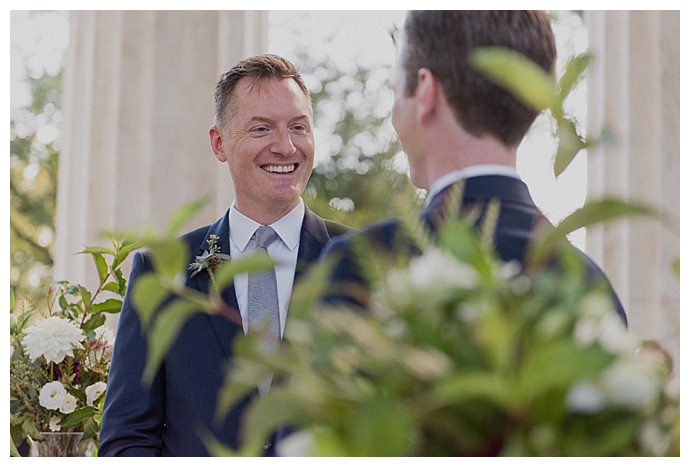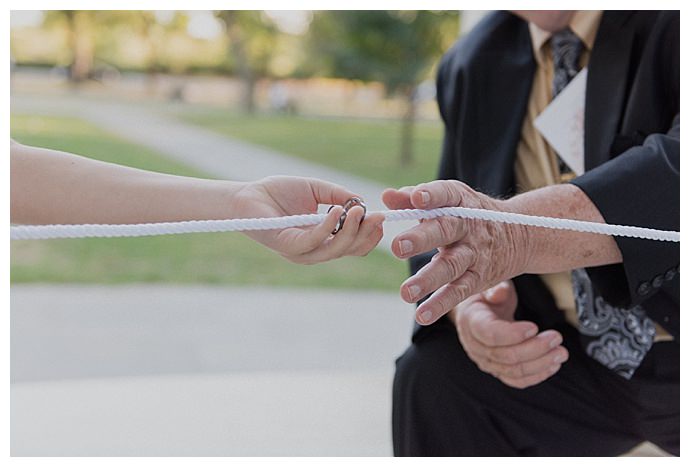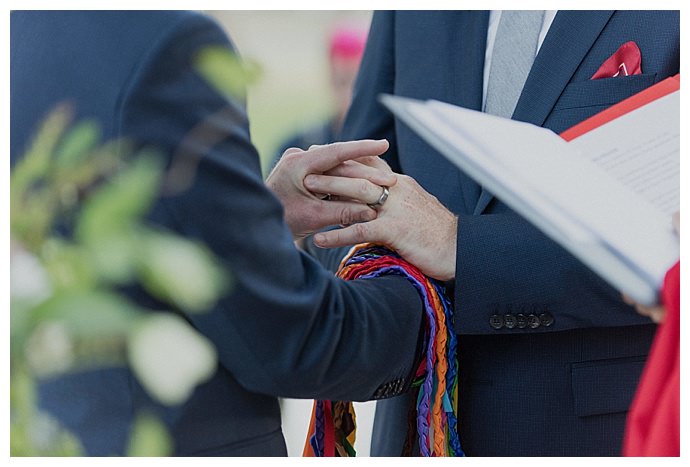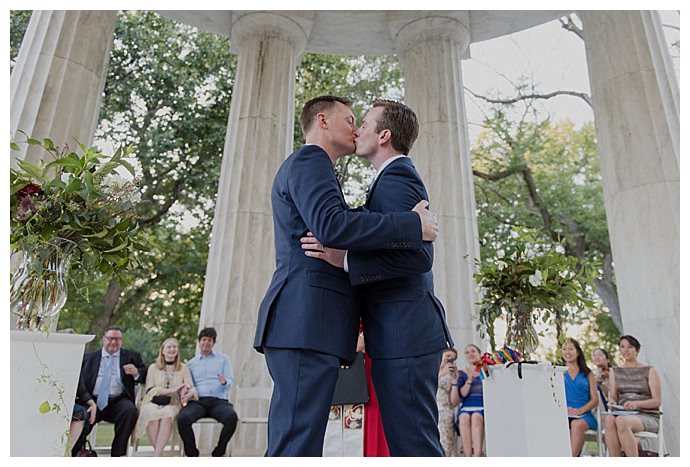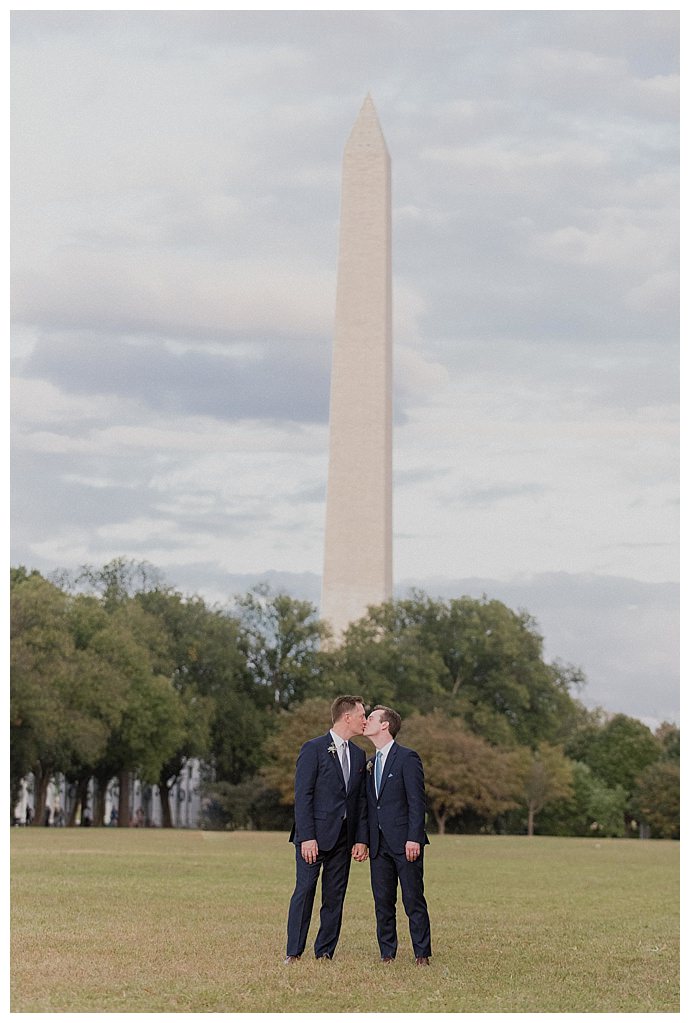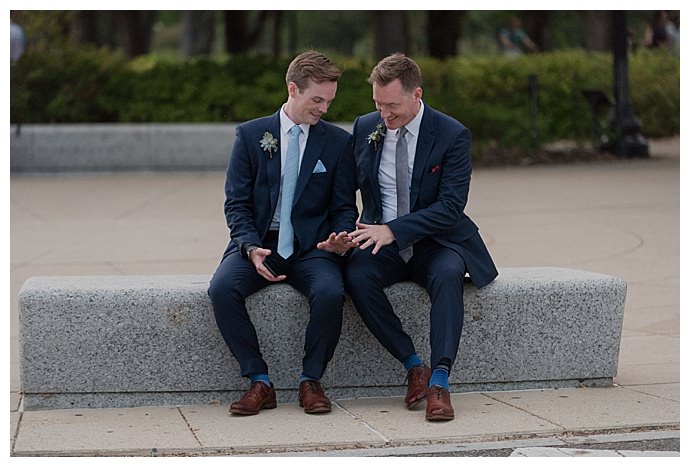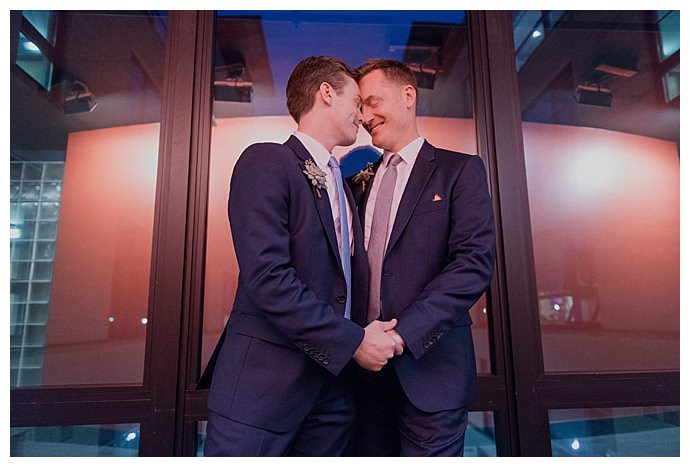 The Party
In the heart of Washington D.C., Ian and Terry had their reception at a cozy bistro with a roof deck bar called Marvin. After stopping at home to drop their pup off and sign the marriage certificate, the newylweds joined their guests for cocktail hour, which included signature drinks named after the couple of honor. "At the end of the cocktail hour, we and some of our guests all lit sparklers on the roof of the restaurant," Terry and Ian says. "Aside from looking amazing, it was a wonderful opportunity to reflect on the moment before heading downstairs for dinner."
Inside the restaurant, touches of greenery and chalkboard signs were used for decor. "White linen table cloths and floral accents were the primary components," Ian says. "We love the look of the restaurant, which has a funky, brasserie look to it, so we let the restaurant's decor shine through." For dinner, classic nouveau American dishes with some southern influences were served, and instead of a wedding cake, everyone enjoyed the restaurant's chocolate and caramel cakes for dessert. Ian compiled a playlist for the evening, and although they nearly missed their first dance, Ian and Terry had a moment toward the end of the night to take a romantic spin on the dance floor to "I Choose You" by Sarah Bareilles.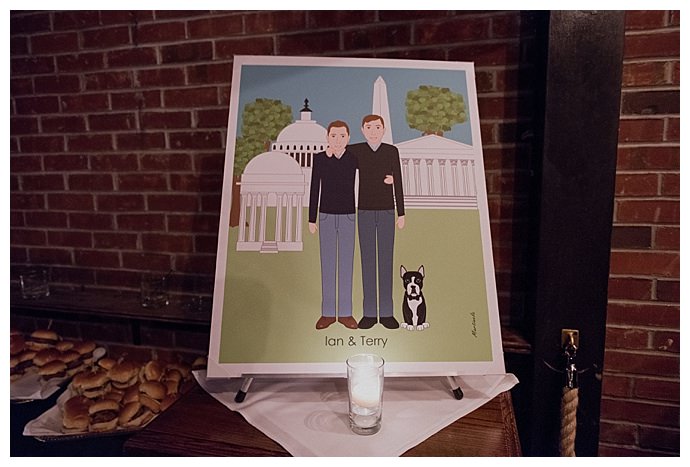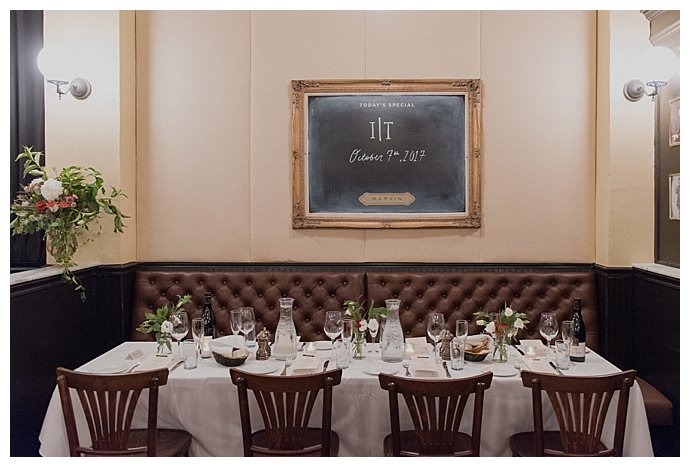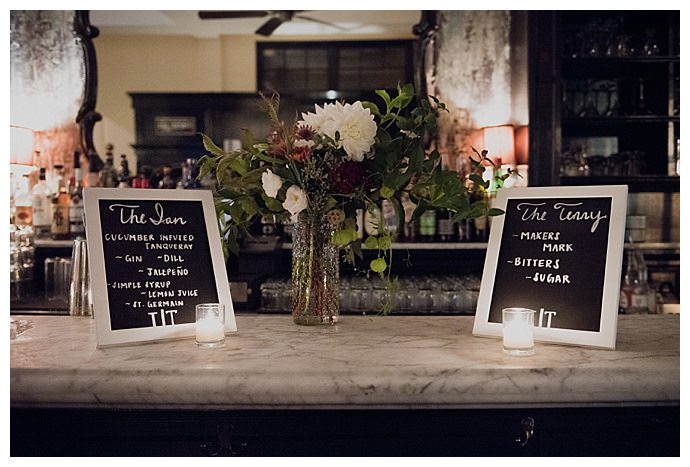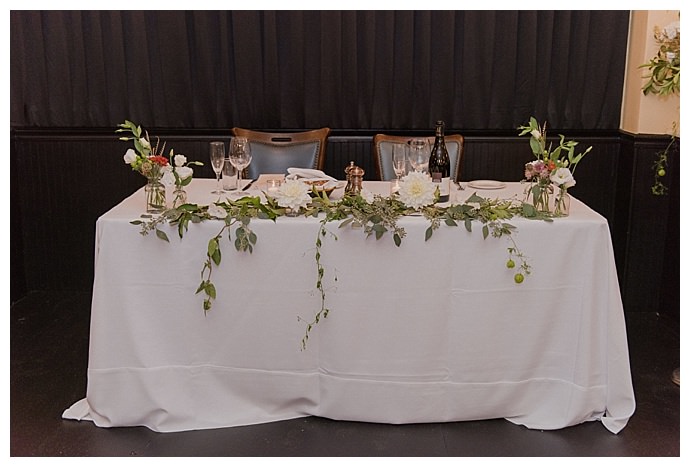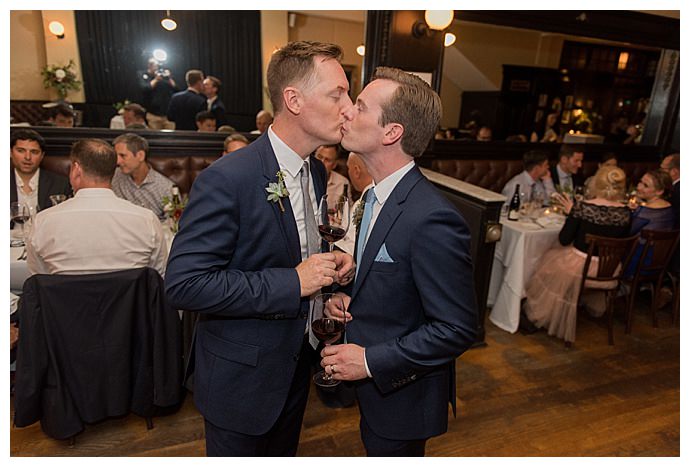 Memorable Moment
"One of the most memorable moments of the wedding was the first dance," the grooms agree. "We didn't do much planning, and we realized a bit late — like, on our wedding day — that our chosen song was difficult for us to dance to without significant practice. Since the dinner service ran longer than we were expecting, we had decided to forego it altogether. However, as the night wore on and guests peeled off, we were left with a small group of friends and the restaurant's event coordinator suggested that we close out the night with our first dance. We did, and the dance itself was great — it was a magical moment."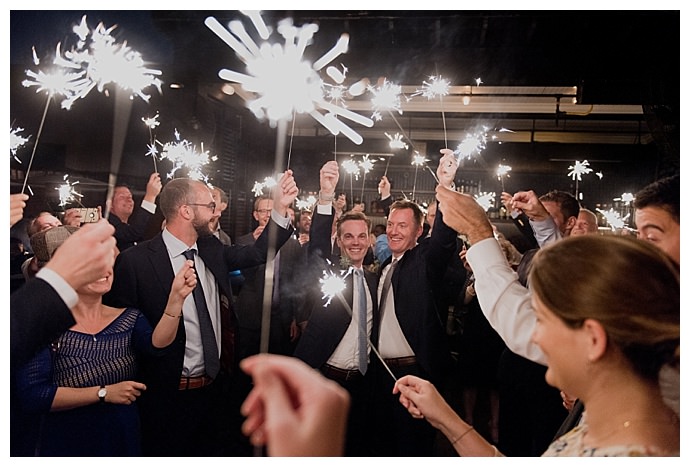 *Editor's Note: This post contains affiliate links. Each time you purchase an item via our affiliate links, Love Inc. is receiving a small percentage of the sale, thus you are helping our small, equality-minded business grow and allowing us to provide more content for YOU! Isn't that just fantastic?
Written By: