Thinking about proposing but your partner isn't the ring type? Engagement watches are a popular alternative because of their timeless appeal and practicality. There are endless designs, metals, and features to choose from and one trend that we're loving? Rainbow watches! Whether crystal-studded or understated, we've found the best rainbow watches on the market you can use when popping the big question.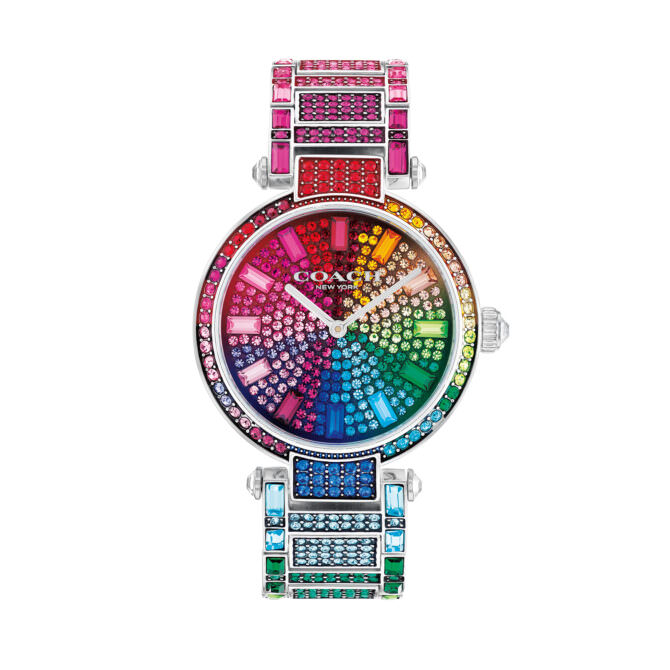 A crystal rainbow
You'll make a statement with this rainbow-inspired timepiece. The stainless steel watch is layered with so many colorful crystals you wouldn't even notice it's silver-toned at first glance. While the intricately laid crystals make this watch look delicate, Coach is known for its high-quality products, so you know it will last the test of time.
Multi-colored rainbow crystal accent watch by Coach, $595 at Zales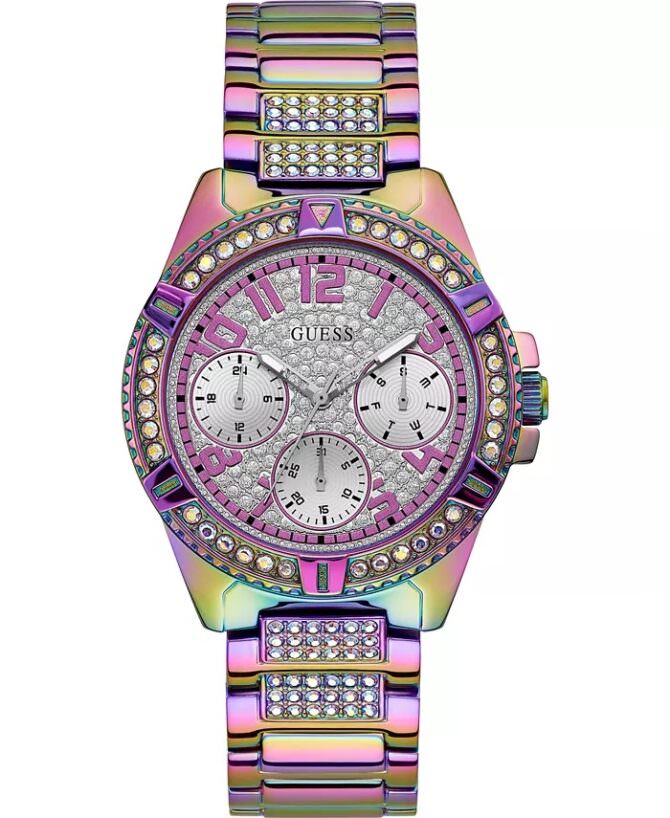 Shimmer and shine
It's not your traditional rainbow, but the iridescent rainbow-tone finish makes a colorful statement. In addition to the stunning color, the watch's face is covered in sparkling gems. The bold features all come together to make a fun and unique timepiece.
Rainbow stainless steel bracelet watch by Guess, $185 on Amazon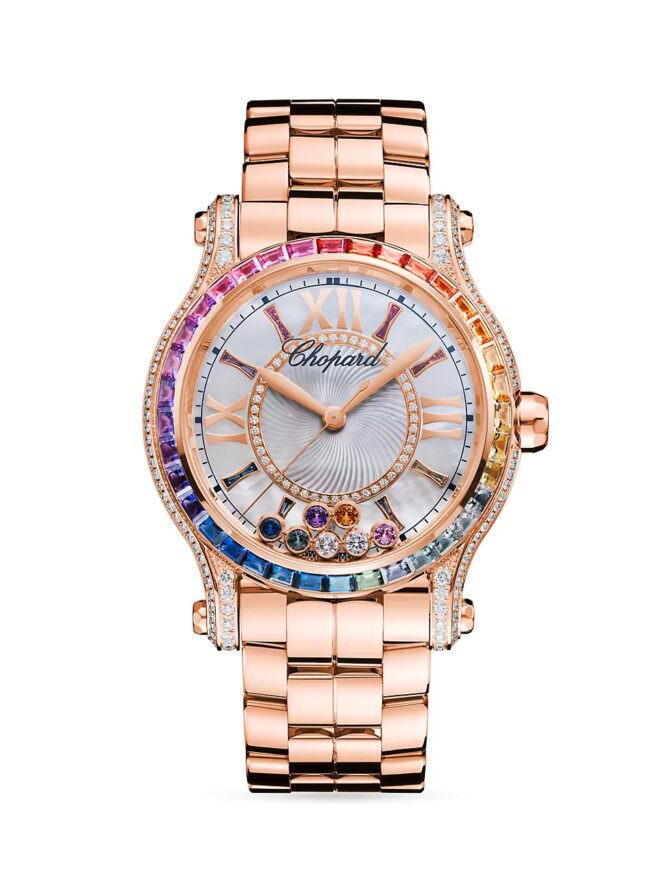 Live in luxury
Looking for something high-end? Expertly made in Switzerland with a rose gold band and sapphire crystals, this Chopard watch fits the bill. It's not only a watch, as the delicate diamond trim puts it in the category of fine jewelry.
Happy Sport Rose Gold, Diamond & Gemstone Watch by Chopard, $100,000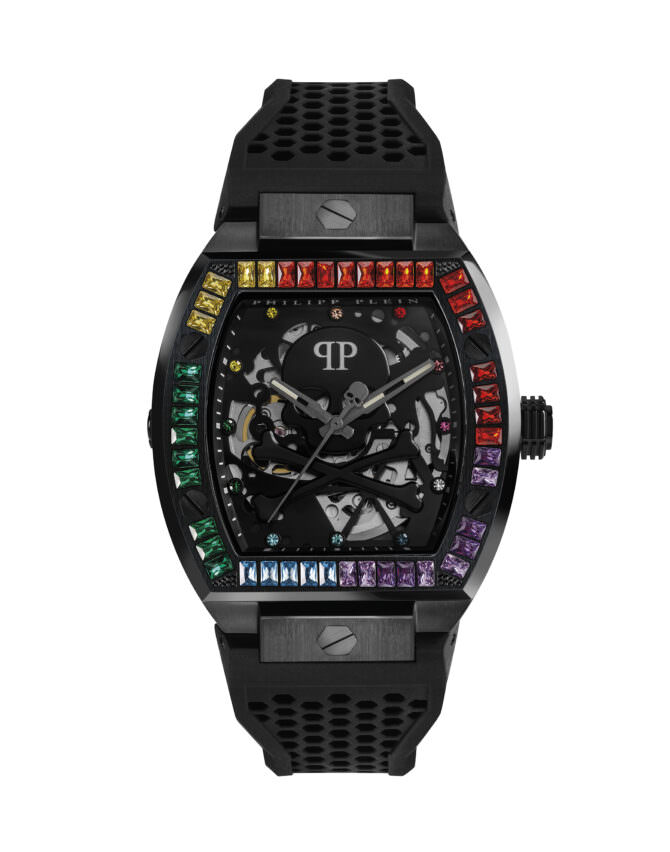 Come to the dark side
Wanting something a bit more toned down while still stylish? Consider the $keleton rainbow watch with its edgy skull design on the second hand. It's great for those with a more laid-back look because ,only upon closer inspection, do you notice the rainbow crystals border and unique details.
The $keleton rainbow watch by Philipp Plein, $872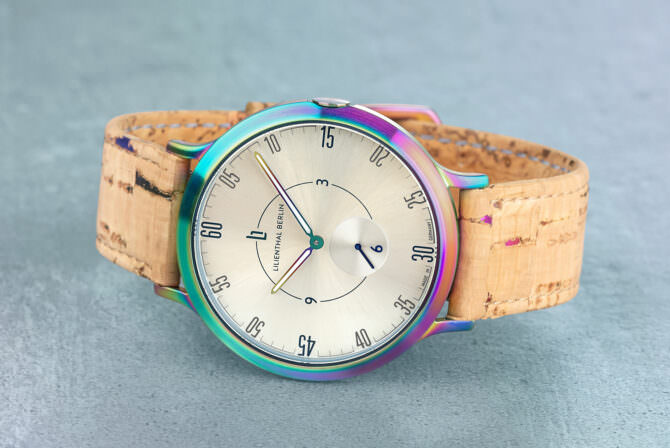 A touch of natural materials
Lilienthal Berlin created this one-of-a-kind watch to celebrate "diversity, individuality and free-spirited development." A rainbow gradient frame borders the watch face, and the cork straps with highlights of color make this piece stand out. The numbers are placed a bit differently from your traditional clock setup, but it's actually more user-friendly.
L1 rainbow watch by Lilienthal Berlin, $269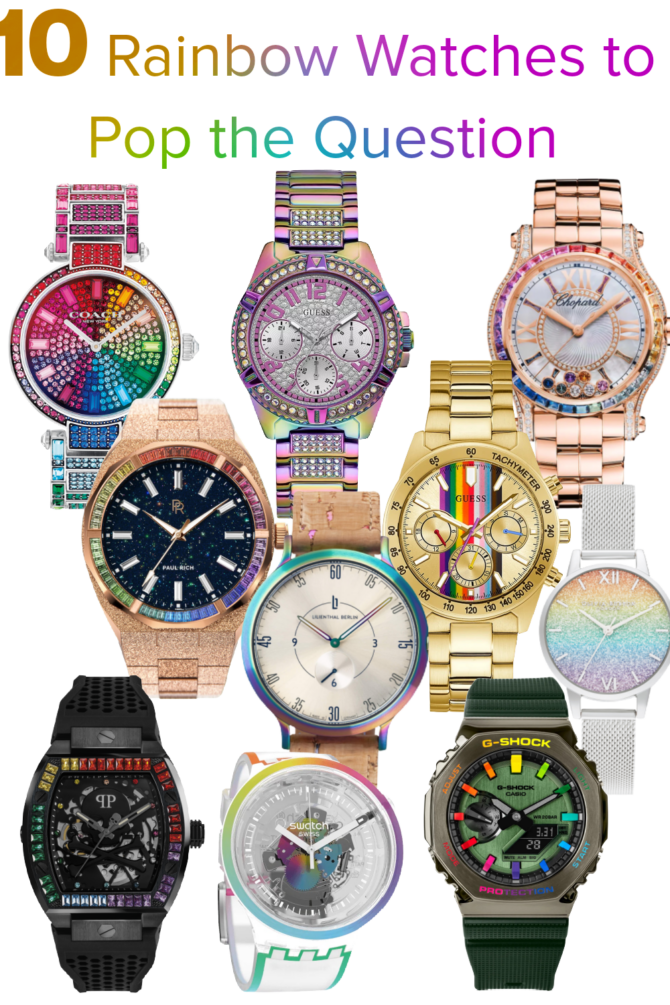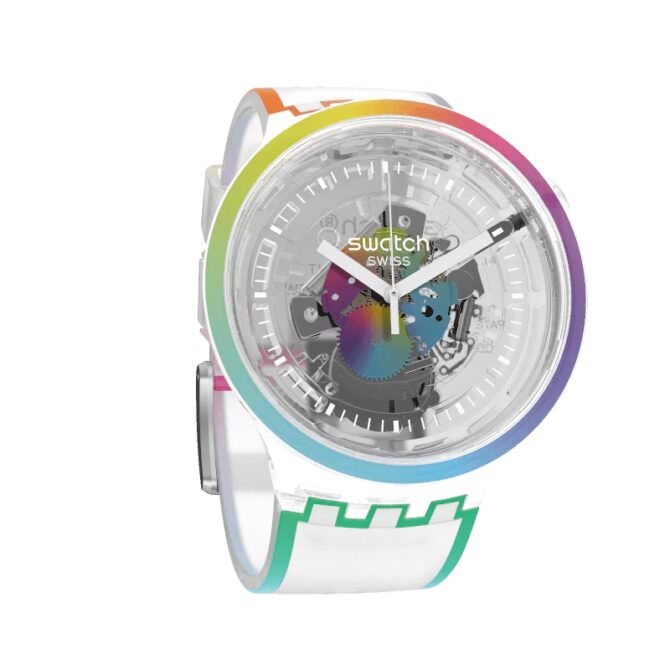 March to your beat
Does your future spouse have a unique style? Look no further than this Swatch watch with a clear band and watch face both outlined in a rainbow gradient. As an added layer of fun, because of the clear case, you can see the gears inside working in real time.
Let's parade by Swatch, $119.99 on Amazon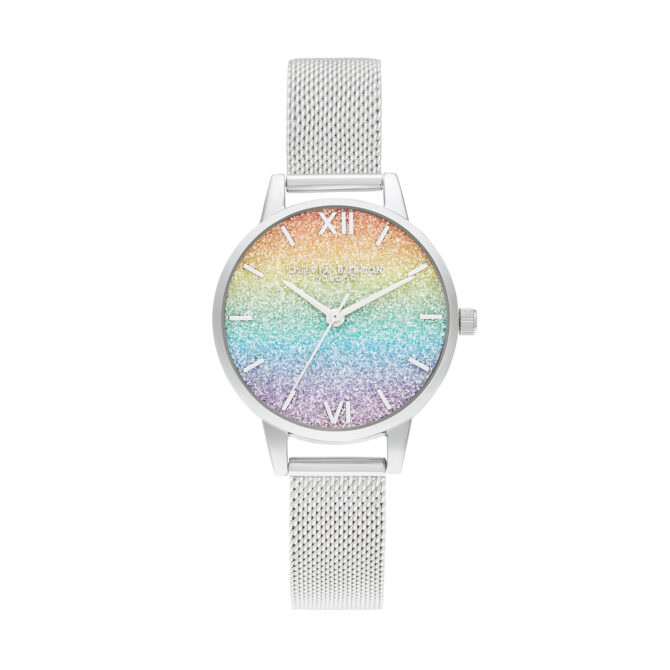 Choose a gradient
Perfect for lovers of silver-colored jewelry, this Olivia Burton watch is made with a stainless steel case. The pastel rainbow gradient face stands out without overwhelming other pieces of a person's wardrobe.
Rainbow mesh watch by Olivia Burton, $101 at Zales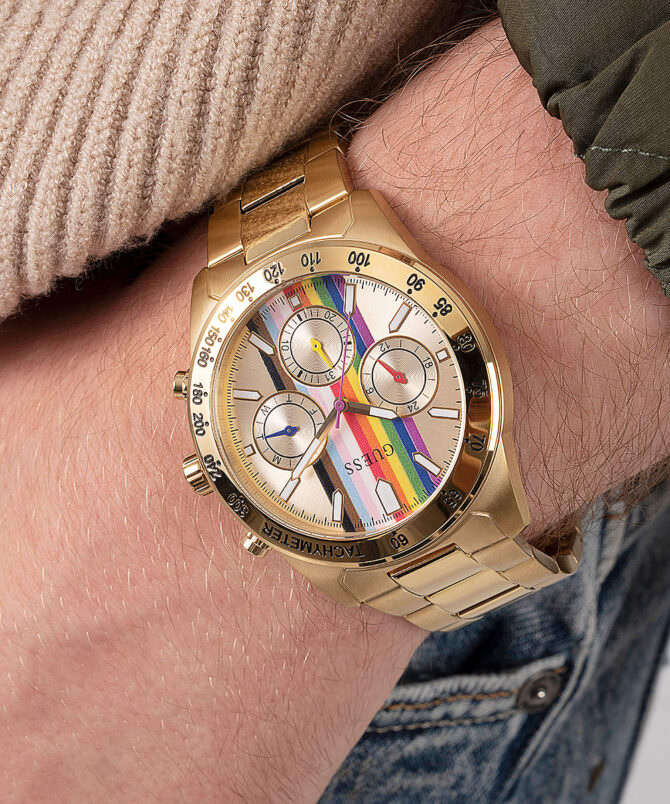 Go for the gold
It's your classic gold watch enhanced with a Pride stripe down the clock face. The clock face also has smaller clocks to set for different times worldwide, perfect for frequent travelers. It's also perfect for those that enjoy a day at the beach or on a boat since it's water resistant up to 50 meters.
Pride gold stainless steel watch by Guess, $130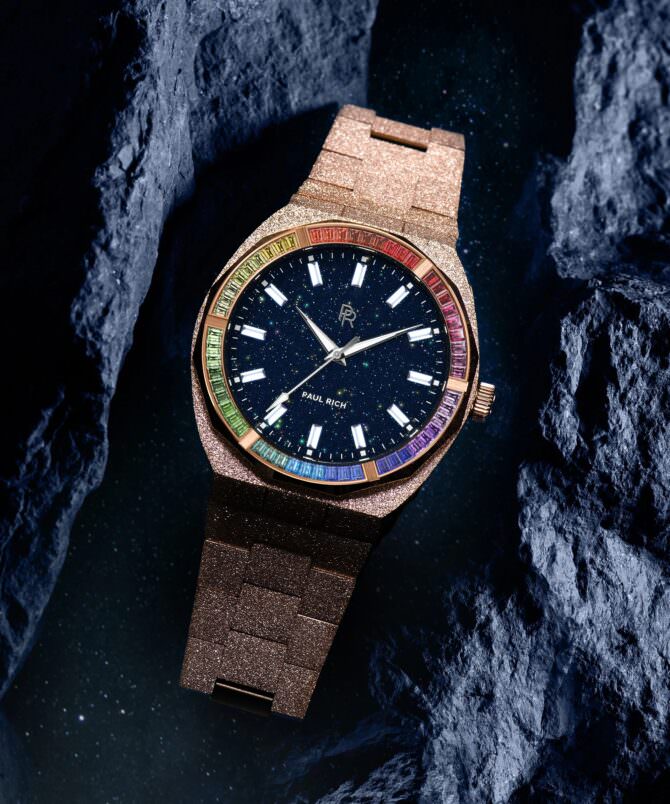 Try something different
This Paul Rich watch skips the traditional metal finish and goes for a textured frosted look. One of the best features of this watch is that you can pick from four different metal tones: gold, silver, black, or rose gold. And no matter which you choose, all include the rainbow jeweled dial and sparkling watch face.
Endgame rainbow frosted stardust by Paul Rich, $449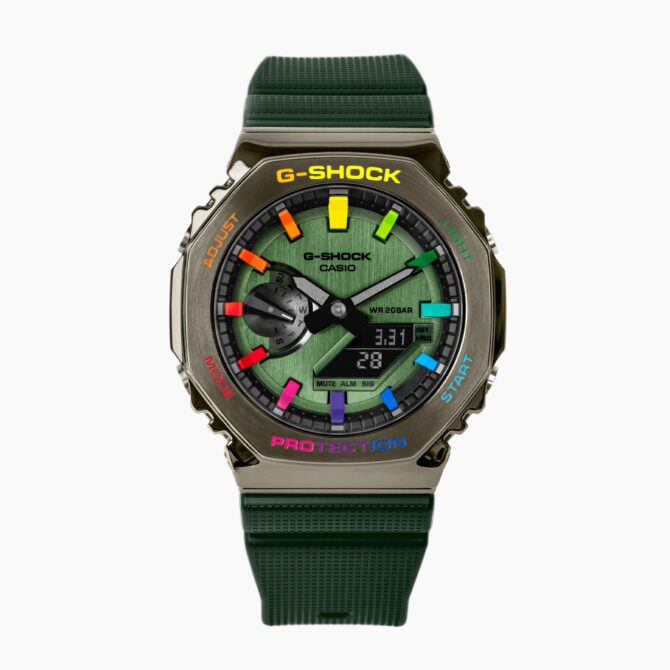 Something a bit sporty
Dark forest green and bright rainbow colors aren't typically shades that go together, but this watch will make you a believer. Not only does it have a super stylish design, but it also comes with a stopwatch, timer, and calendar.
G-Shock CasiOak green rainbow watch by Casio, $990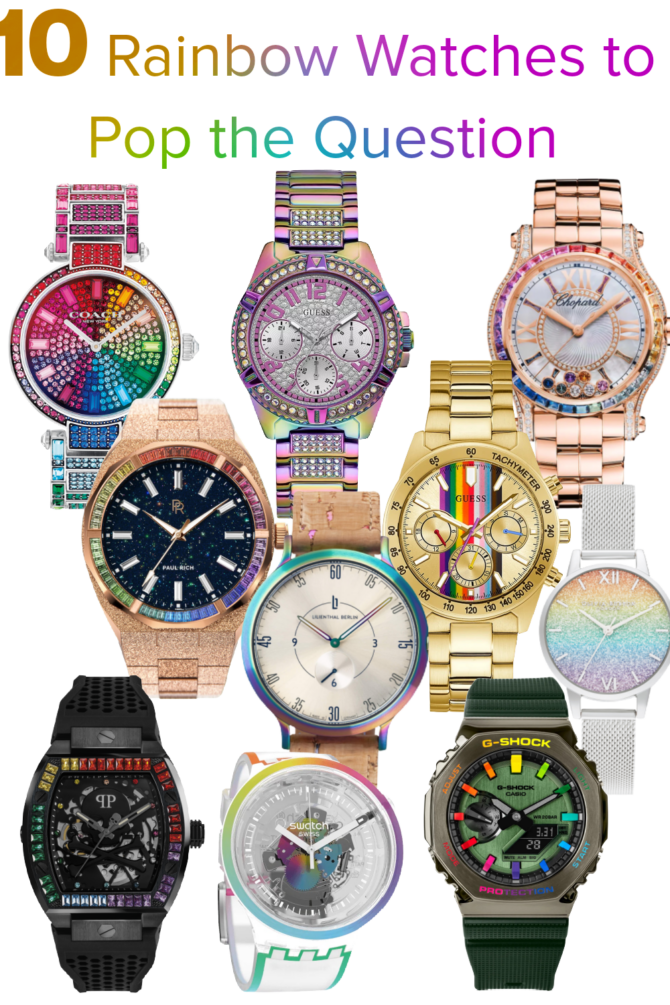 Editor's note: Some of these links are affiliate-based, which means we earn a small commission when you purchase from these links (and helps our small business keep providing free equality-minded® wedding content to you!)
Written by Rebecca Rovenstine