Written by Marissa Solini Photography
I've called Oregon home for the last 13 years and let me tell you: Pacific Northwest weather can change on a dime. You notice this kind of thing when you're a wedding and elopement photographer who regularly hikes to waterfalls for work.
Whether rain makes you say "Heck yes!" or "Oh no!" I've got tips for how to have an Oregon elopement or wedding that you'll love, whatever the weather.
WHERE RAIN FITS INTO YOUR WEDDING PLANNING
People often think of just two factors when it comes to rain and a wedding: location and time of year. But in my experience, there's a lesser-known third element: You and your partner's comfortability with the unknown.
Some couples prefer to throw their hands in the air and welcome whatever Mother Nature may throw their way. If this is you two, own that sense of adventure. Make a memorable (if slightly wet) experience for you two to share.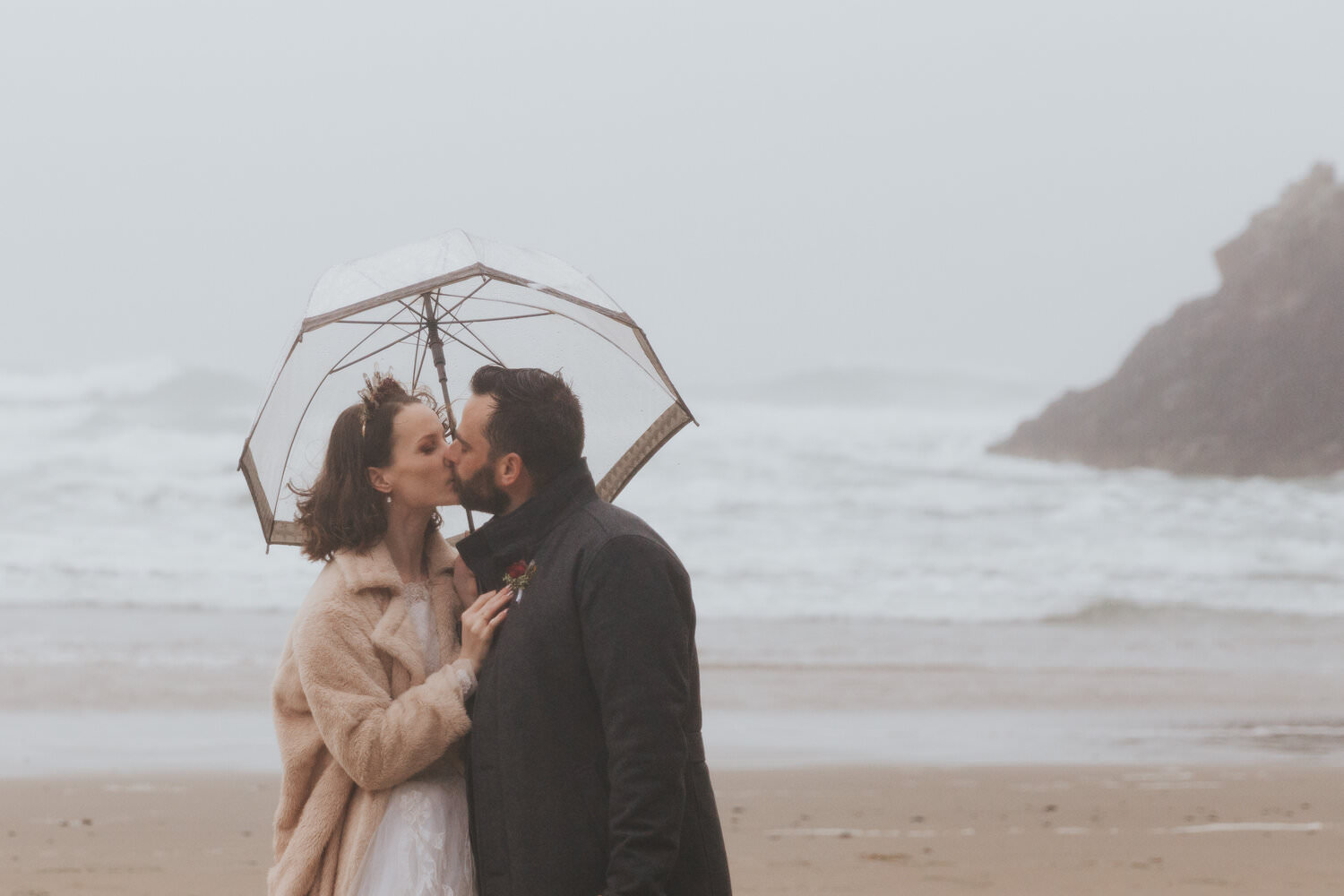 HOW TO FACTOR IN RAIN WHEN PICKING A WEDDING VENUE
There's a financial upside to all this wet. Some venues in Oregon will offer a discounted price if you book in the "off-season" (usually November through April, or when rain is more likely). Be sure to ask as you vet venues. You never know what they might offer.
Also ask about any venue's options for both indoor and outdoor settings. A few good questions to ask the venue:
What's the plan if it rains?

Does the venue have indoor and outdoor options for your ceremony and/or reception?

Does the venue have a tent on-site? If so, what's that tent look like? When does the venue need notice if they need to install that tent? Who puts it up?

Does the venue have any umbrellas on-site in case of rain? Towels to wipe down seats?
None of the questions are necessarily deal breakers but they will inform you and your partner about what exactly you're getting with any given venue.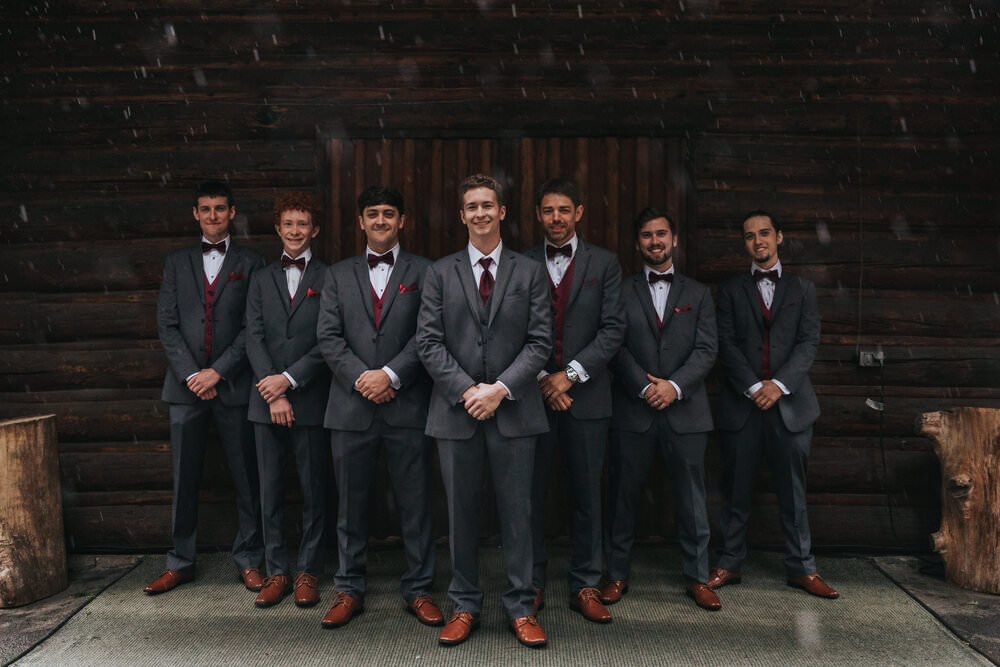 WHAT TO CONSIDER ONE TO TWO WEEKS BEFORE THE DAY
Checking the forecast for the day of your elopement or wedding can turn into a bit of an obsession as the date approaches. My advice: Check, plan, move on. My friend and fellow wedding vendor, the Portland-based wedding coordinator Elisabeth Kramer, agrees.
"Of all the things I can control on a wedding day, the weather isn't one of them," she says. "As such, I really encourage people not to worry about it. Of course, have some idea of a backup plan, particularly if your wedding is all outdoors with very limited to no access to a covered area, but thankfully, your marriage will still be just as valid even if it rains."
If your weather app of choice does predict rain, you and your partner can take some good steps to keep everyone a little drier day-of:
Pack a few towels. These are great to wipe off muddy shoes or damp surfaces.

Stock up on some warm fleece blankets. Ideal for guests who might feel a little chilly.

Communicate an "in case of rain" plan. If things are really looking torrential and/or rain drastically impacts a major part of your wedding such as where your ceremony and/or reception might be or where people can park, let your guests know. Email, a wedding website, texts to your closest friends with directions to spread the word — all work wonders to help guests prepare.
ON THE WEDDING DAY
And sometimes? Well, sometimes it just rains. My best advice is to remember that there are going to be things that happen on your wedding day that are out of your control, and that is OKAY. The only thing that needs to happen on your wedding day is saying "I do" to your love. Everything else is icing on the cake.
As for your guests, they're there to support you and your marriage. They understand that you can't control the weather. If possible, it's helpful to have some sort of protection from the elements that can accommodate older, younger, and/or immune-compromised guests but beyond that?
If you're willing to get a little dirty and brave a little rain, a whole new world of adventure opens up to you! Wear boots with your wedding outfit and get 'em muddy! Rediscover your childhood joy of jumping in puddles. Dance in the rain with your love.
The weather is temporary, but the memories and photos of that experience will stay with you.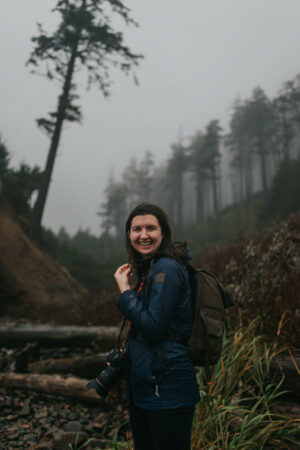 WHATEVER THE WEATHER
See that waterlogged lady? That's me, having the time of my life on the Oregon Coast. I was soaked through but I didn't care. I'm happy to photograph your love no matter the forecast (it's why I weather-seal my gear, too).
So whatever the weather, let's talk.
I want to help you have a wedding day that's special, rain or shine.
Written by Marissa Solini
I'm a wedding and elopement photographer who believes in equity, justice, and love stories for all. As a wedding industry disruptor I want to see to it that all couples feel welcome, all body shapes are celebrated and that couples know they can plan their big day however they want. 5% of all wedding, elopement, and session bookings will go towards a select group of non-profit organizations that align with my mission. Non-profits I support include: The Trevor Project, Equitable Giving Circle, National Forest Foundation, Womenspace, Adelante Mujeres, and The Xerces Society for Invertebrate Conservation. When you sign a contract with me – you get to choose which of these non-profits to donate to! I'm always open to travel and can't wait to document and help celebrate your unique love story!