Just across the Ohio River from where Paige proposed to Bri, Bethaney Danné Photography captured this glowing couple in the city where they soon plan to move to start their new life together. "Cincinnati holds a dear spot in our hearts, and the riverfront has always been my favorite view," Bri says. Although engagements are supposed to be a happy time, the announcement of their engagement brought just as many joyful tears as it did painful tears as not everyone in their lives has been accepting of their relationship. But the brides-to-be are not letting that affect their happily ever after. "Our story is one in hundreds, but our love is one-of-a-kind," Bri says.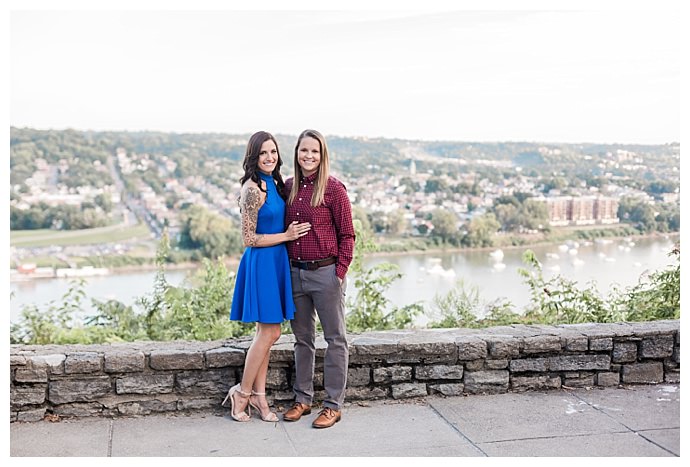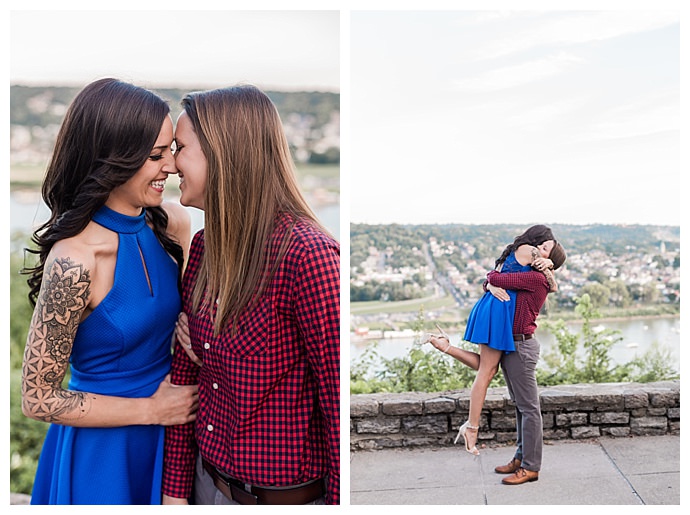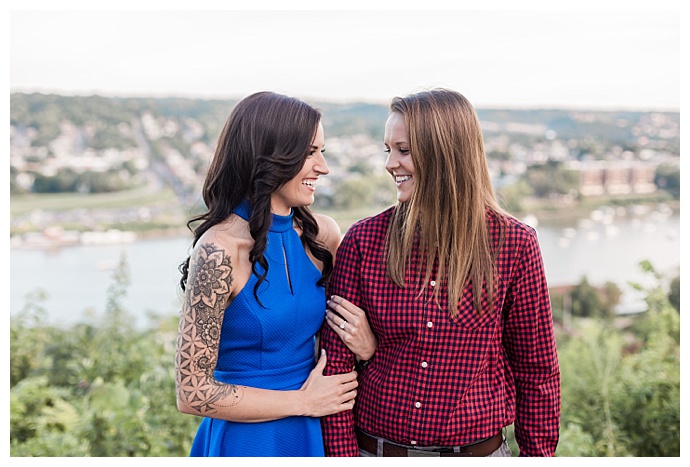 The Love Story
Paige and Bri grew up in small neighboring towns in eastern Kentucky, their paths often crossing throughout the years since they were both actively involved in sports. They attended the same college but at different times, and they had many mutual friends between them, so it was only a matter of time before they were formally introduced. One night when Bri was visiting the town where she went to college, where Paige was attending at the time, Bri bumped into an old friend at a karaoke bar. That friend quickly played matchmaker and convinced Paige to join them at the bar so she could introduce them, knowing they'd hit it off. And she was right. They stayed up the whole night and into the early-morning hours talking "Before we knew it, it was 8:30 a.m.," Bri says. "We've been inseparable ever since."
When Bri and Paige found each other, the stars seemed to align. "The day I met Paige, my anxiety completely disappeared, and I found myself telling her things that I had never even said out loud to my closest, lifelong friends," Bri says. "Within the first month of knowing her, she saw me at my complete lowest point in my life and she stayed. Paige was all of the things that I never knew I needed." Paige says that before they started dating, they were best friends, something that strengthened the bond between them. "Every day I spend with her, I continue to fall more in love with her," she says. "To me, there was never a question of if she was the one. I already knew she was."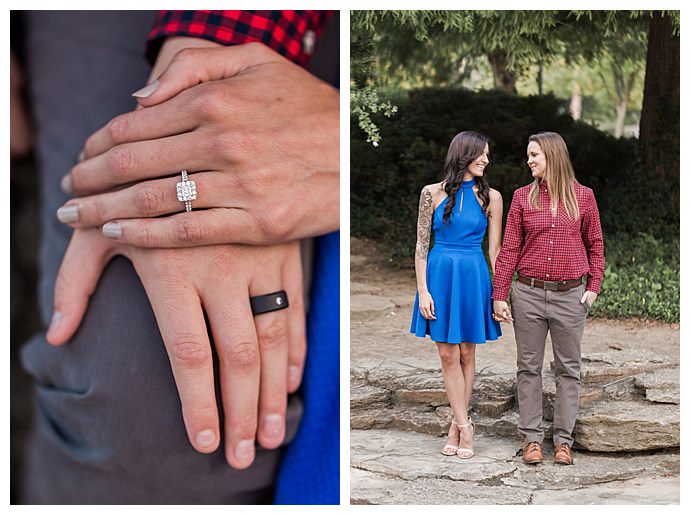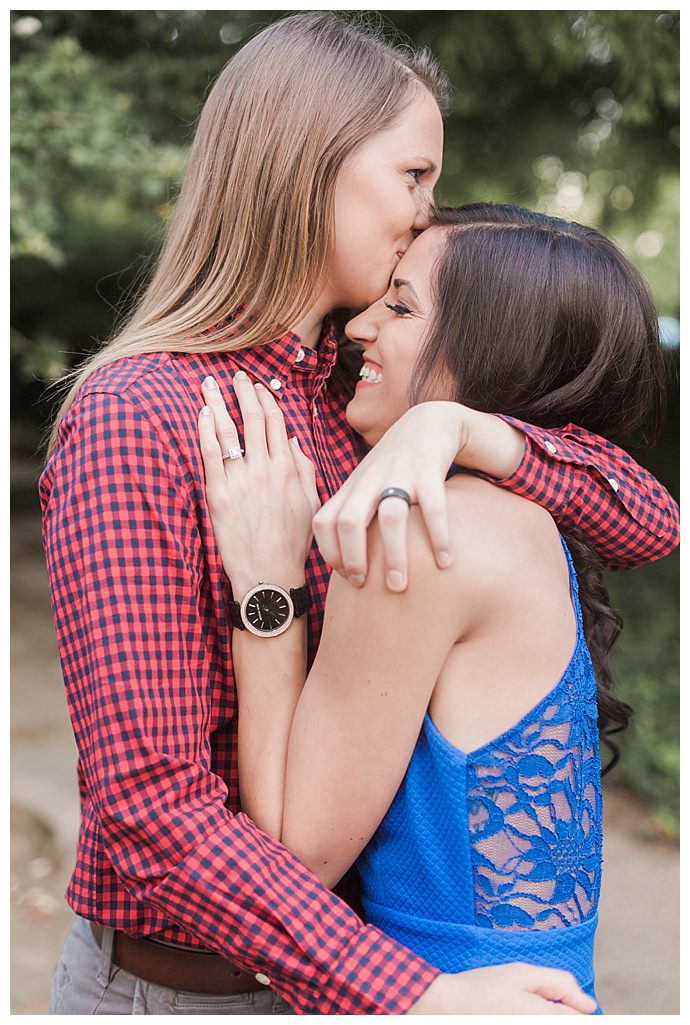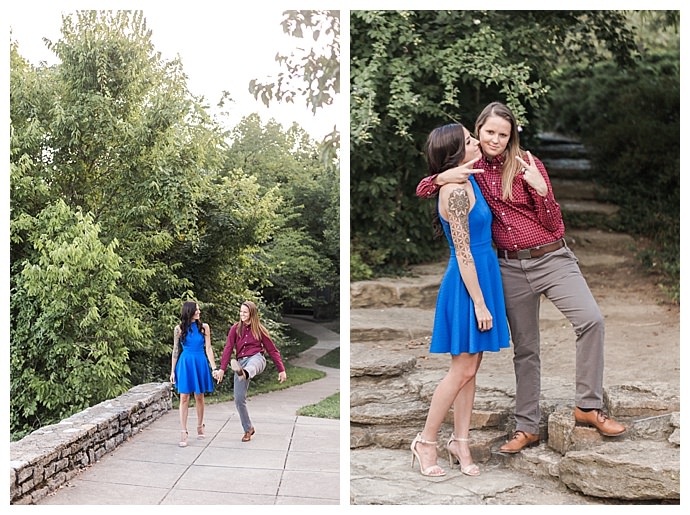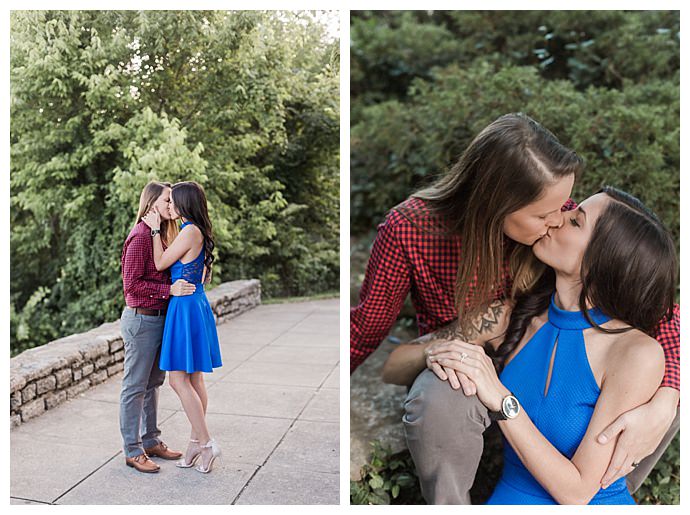 The Proposal
On the day that Paige planned to propose to Bri, things didn't exactly go as planned. They were supposed to meet a group of friends at the Newport Aquarium in Cincinnati, but half of the group was running late. "The plan was for all of us to go through the exhibits and when we got to pet the penguins, which are Bri's favorite animal at the aquarium and she's wanted to do it for years, I was going to ask her there," Paige says. Some friends went in to investigate while they waited for everyone else to arrive, and they discovered that proposing inside the penguin exhibit was going to be tricky. Paige started to panic. Meanwhile, Bri could tell something was up. "I was getting really frustrated because Paige would barely say more than one word to me, and I didn't understand why we were rushing through everything and not waiting on the others," she says. "Every time I walked near Paige, she would jet away and dodge me."
When the rest of the group finally arrived, everyone went back to the entrance to meet them. "I was already panicking with some of our friends being late, and I could tell Bri was getting irritated, so I just decided to do it immediately," Paige says. "I couldn't keep it from her any longer." Outside, one of their friends suggested they walk down to the levee to check out the Cincinnati skyline, confusing and frustrating Bri even more. As they walked down the path, Bri reached for Paige's hand. Paige, who was holding the ring in that hand, had no choice but to pull away from her. And at that moment, she knew it was time. She asked Bri if she wanted to take a picture, signaling to all their friends that she was about to get down on one knee. "Before the word picture came out of her mouth, every one of our friends turned around with their phones out ready to be our paparazzi," Bri says. Paige started telling Bri how much she loved her and how she wanted to spend the rest of her life with her, meanwhile, Bri was in shock. "I kept saying, what you are doing? You are making me so nervous," she says. "She was kneeling on one knee and she finally asked, 'Will you marry me?'"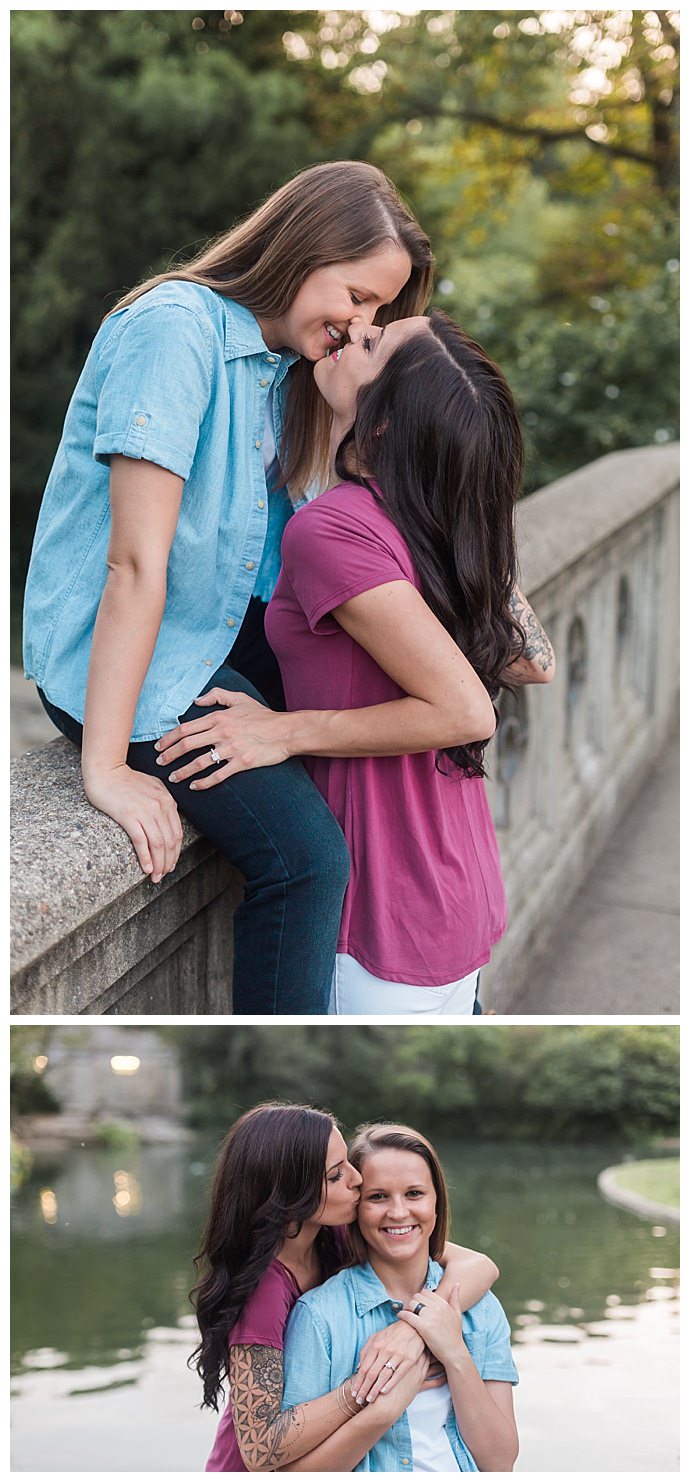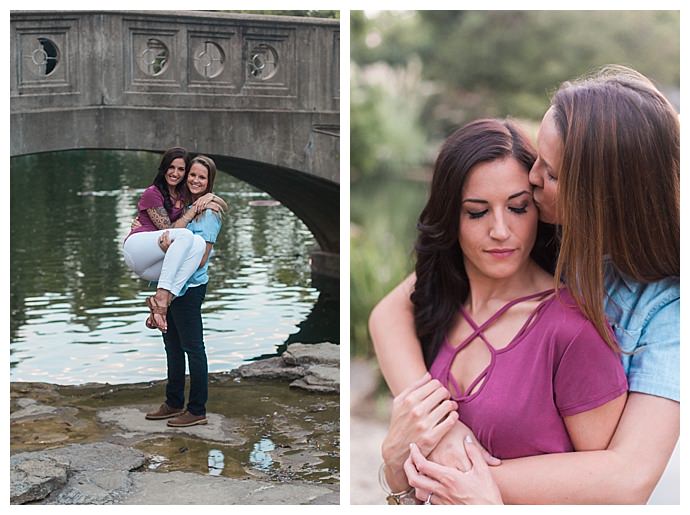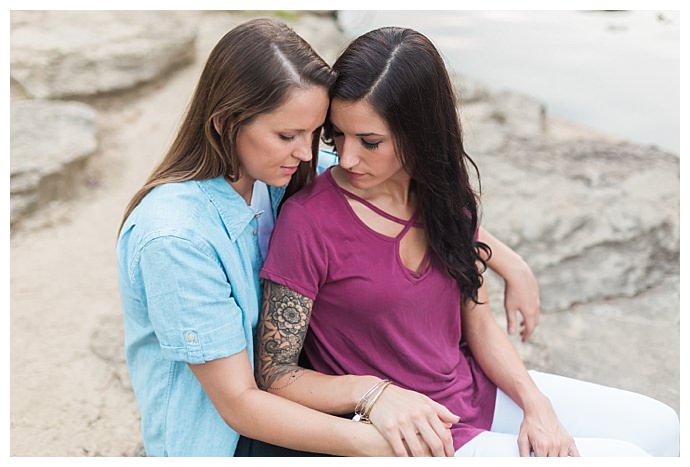 The Rings
Paige proposed to Bri with a princess-cut center stone ring surrounded by a halo of cushion-cut diamonds, with diamonds cascading halfway around the band. And a month after the proposal, Bri gave Paige a ring. The band is made of black crushed diamonds and features a single center diamond stone.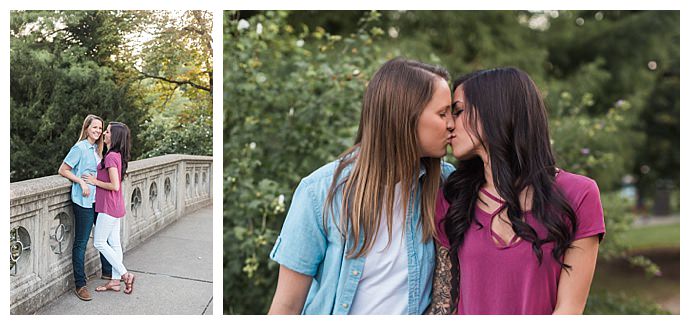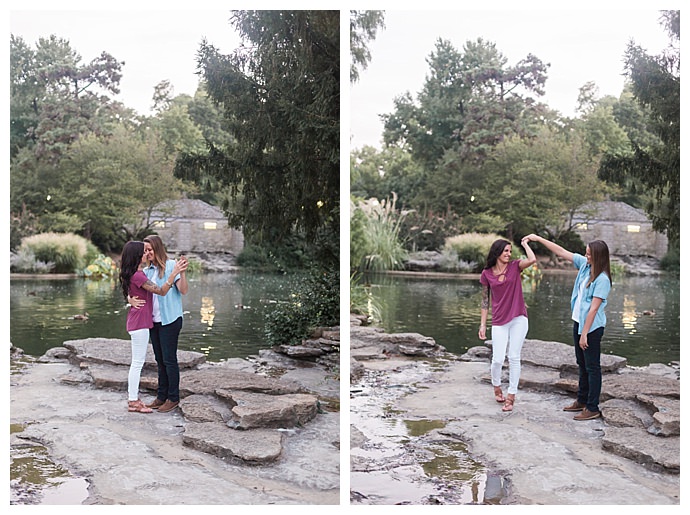 Memorable Moment
"It was her face, her reaction as soon as I kneeled down to ask her. I can still see it now. I will never forget that look," Paige says.