By Shannen Hofheimer | Photography by Villetto Photography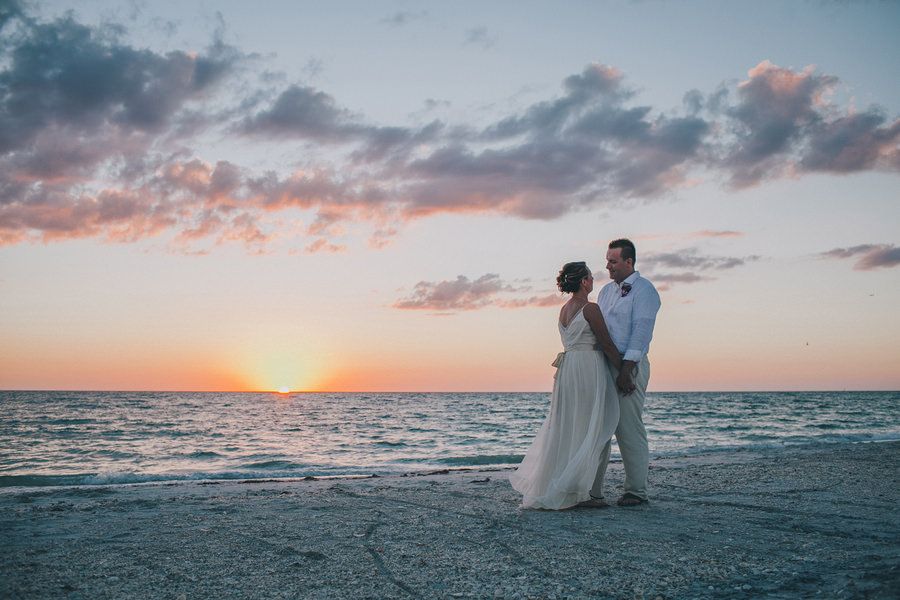 As soon as Mallory emphatically agreed to spend the rest of her life with her true love, the couple immediately knew where they would exchange their "I dos." Held at the Palm Island Resort in Cape Haze, Fla., Villetto Photography did a stunning job of capturing the elegant simplicity, sentimentality and natural wonders of the couple's intimate seaside wedding. "Everyone has an opinion about what a wedding should be — style, formality, everything," Mallory tells us. "I think the hardest part is finding a balance. I was definitely a low-key bride, and I knew I wanted everything to be simple and relaxed. But that isn't exactly feasible when planning a wedding because there are so many moving parts. Luckily, I have some amazing people in my life who helped me. Without them, I would've been lost." The ever-changing colors of the sky in the Sunshine State served as a serene backdrop for Mallory and Justin's special day, which, with the help of family and friends, gloriously came together like the ease of an ocean breeze.
The Love Story
Although Mallory and Justin (who Mallory knew through her friend's older brother) went to high school together, they would hardly consider themselves "high school sweethearts." As a matter of fact, the two had about as much chemistry as oil and water (and we all know those don't mix). Fast forward seven years, throw in a little rekindling via social media and voila! Mallory and Justin enjoyed their first date together watching a basketball game and have been together ever since.
Four-and-a-half years into their relationship, Justin knew he wanted to make Mallory his bride. "Justin waited until I went out of town to travel three hours to Boston to design a ring for me. I have very small fingers, so it had to be custom made in Europe and took several months for completion." Several months is a long time to wait to propose, especially when you can't wait to begin forever with the love of your life. Luckily, the day it was done, Justin's mother drove the ring from Boston to Connecticut, delivering the final product to the antsy groom-to-be. "He was going to wait until the following weekend — which was Memorial Day — get a limo, take me out to a nice dinner, all the bells and whistles. But as soon as he had the ring in his hands, he couldn't wait any longer. He picked me up from work and told me he was taking me to lunch and for a walk on the beach in our hometown. I love the beach, so I didn't think much of it. We were sitting on a jetty and talking when he got down on one knee, told me he wanted to make me happy for the rest of our lives and then asked me to marry him! It was just the two of us and it was perfect."
The Venue
The beautiful couple held their wedding and reception at the Palm Island Resort in Cape Haze, Fla., a destination that had always been a family tradition for Mallory. "I have been going to Palm Island since I was a baby," Mallory shares with us. "The resort is the perfect paradise. No cars are allowed so all traffic is by foot, bike or golf cart. Every single unit is on the Gulf of Mexico and has the most amazing views. We knew we wanted to have a destination wedding because we wanted to keep it small, so sharing this place that is so special to us was really amazing."
The Ceremony
"Our wedding ceremony was non-denominational. Neither of us is religious, so it was important to us that it was just centered around love and having fun. Our justice of the peace, Grace Felice, was amazing and she really got to know us, telling jokes and making it so incredibly fun. We had a wine ceremony which we had a lot of fun with as well!" Being that Mallory and Justin value familial support, it was only natural that relatives would play a huge part in the ceremony. Readings were recited by Mallory's cousins and Justin's aunts in addition to Justin's stepfather, a professional musician, providing oceanside music on the keyboard. "It took place right on the beach facing the ocean under a chuppah that was decorated with flowing white fabric. It seriously looked like a movie the way it danced in the wind. It was so crazy gorgeous!"
The Fashion
"My dress was designed and purchased at SAJA Wedding in New York City. I stumbled across them in an article about wedding dresses for offbeat brides. I knew I didn't want a big gown — I wanted something light, airy, cool and comfortable, and their dresses fit the bill.  From the minute I walked into their tiny little shop I knew I would buy my dress there. It was perfect!" Justin and his best man truly embraced the laid-back, beachy style, looking relaxed and comfortable in their linen blend ensembles and flip flops from Tommy Bahama.
The Inspiration
Staying close to her beach paradise theme, Mallory found that the best decor was in the natural surroundings. "I figured when getting married in such an amazing place, why mess with perfection?" Not only did the couple refrain from tampering with the natural beauty of the beach, but they infused its elements, as is, into their reception decor. "For the centerpieces, we used driftwood, pillar candles and sea fans, but the best part was the pieces of white coral intermingled in them. My mom found each piece of coral on the beach at Palm Island, so we truly brought the beach into the wedding." Mallory and Justin also managed to infuse the decor with their own touch of personal DIY details, but not without a little creative help from the family. "For the escort cards, we used little glass bottles and made them look like messages in a bottle. My sister went around to different flea markets and hand selected every single one, then one of my good friends hand wrote all of the names on hanging tags." Accessorizing the dreamy setting with some bright tropical flowers, strung lights and the (very addictive) game of corn hole, Mallory and Justin truly allowed the setting to speak for itself.
The Party
It's pretty difficult to have a seaside wedding and not crave incredible seafood and what Mallory and Justin served did not disappoint. Bacon-wrapped shrimp, crab wontons with orange chili sauce and sashimi tuna was passed around during the cocktail hour and were quickly devoured. If the guests had reached their quota of seafood intake, they needn't worry: they had prime rib and chicken cordon bleu to look forward to as entrees (and mahi mahi for those who just couldn't get enough of the delectable ocean fare). For dessert, guests and the happy couple enjoyed a two-tiered cake, along with four dozen cupcakes of assorted flavors and decorations.
The night was spun by the fantastic DJ Fitz Otis, who kept guests on the dance floor all night long. "He took the time to get to know us and our style. Seriously, every time he played a song, I got so excited because I loved each and every one of them! He played family-friendly versions without me even having to ask, which was great because there were some kids present. Our first dance was to 'I Don't Dance' by Lee Brice. Justin picked it and it was perfect!"
Guests received some tokens from the newlyweds that would forever ensure that the memory of their special day would not be washed away as easily as footprints in the sand. "Our favors were little boxes with some Key lime flavored salt water taffy, but the guests also got to take home the bottles from their escort cards. We also gave each party a welcome basket, which was actually a sand pail with things like snacks, bottles of water, sunscreen and koozies customized with our wedding date."
Memorable Moment
"Everything was so amazing and fun, but being out on the dance floor with all of our guests celebrating our love was so special. We couldn't try to pick one moment that was better than the others if we tried."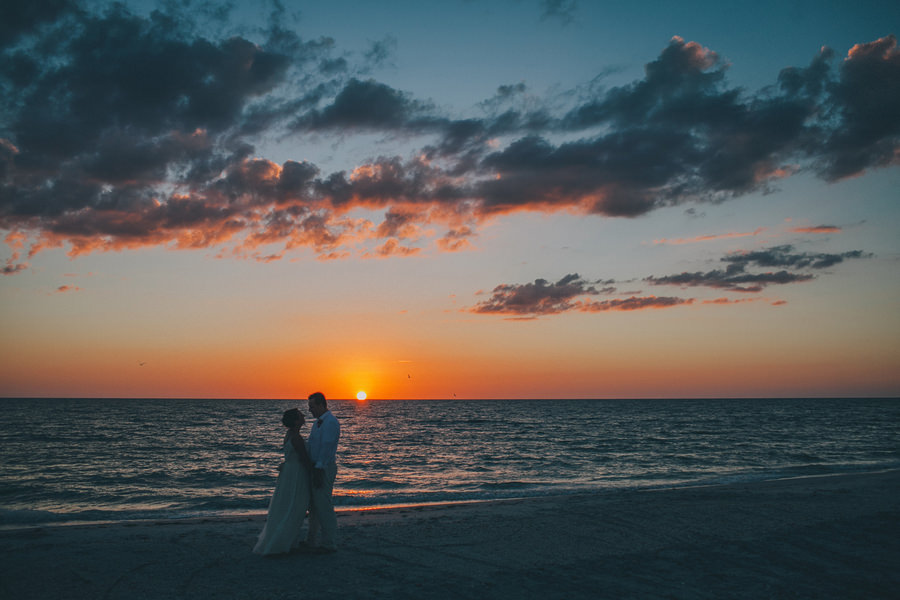 Wedding Vendors:
Photographer: Villetto Photography
Venue: Palm Island Resort
DJ/Band: DJ Fitz Otis
Officiant: Grace Felice, A Wedding With Grace