Velas Resorts' Casa Velas in Puerto Vallarta and Grand Velas Riviera Nayarit both offer incredible all-inclusive honeymoon itineraries whether you are seeking relaxation, activities, or great food.
There's a reason they call that feeling of newlywed bliss the honeymoon stage. It's fun, passionate and exciting, all the things your honeymoon should be. Traveling after the wedding is a time to enjoy each other's company, try new experiences, go on dates and relax after all the work that went into planning that once-in-a-lifetime celebration. 
Having a honeymoon as the kick-off to your marriage not only helps to ease your post-wedding blues, it helps you connect to your partner and kick-off your marriage with memories you'll hold onto for a lifetime. And if the thought of warm weather, beautiful beaches, and spending uninterrupted time soaking in all that just married bliss sounds like a dream come true, we're here to tell you that it's real, and you can experience it for yourself.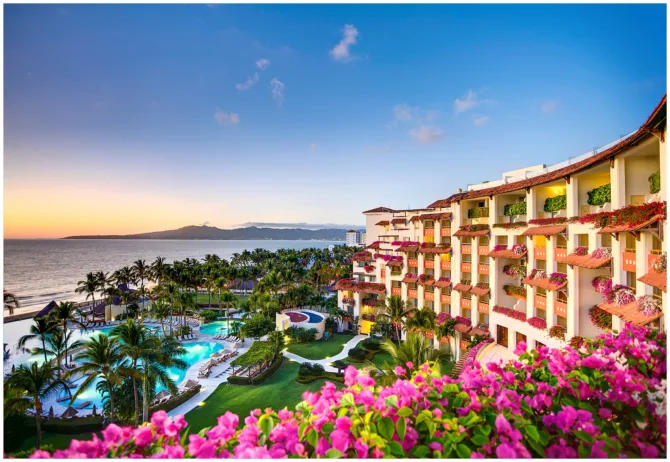 I spent five days and four nights living the life of a honeymooner at Velas Resorts and if you're considering celebrating in Mexico (or haven't even ventured down the rabbit hole of choosing a honeymoon destination yet), I recommend you look no further. 
Honeymoon at Velas Resorts
Velas Resorts is a luxury resort collection made up of seven gorgeous all-inclusive properties and boutique hotels located along the coast of Mexico. My honeymoon-inspired all-inclusive experience included two nights at Casa Velas in Puerto Vallarta and two nights at Grand Velas Riviera Nayarit. 
Honeymoons look different for every couple. Maybe you and your spouse want a secluded getaway where you can lounge together in a spacious suite. Or perhaps you're an active couple that loves going on new adventures. Whether your honeymoon priorities include spa treatments, poolside cocktails, watersports or trying new cuisines at top-rated restaurants, Velas Resorts has it all.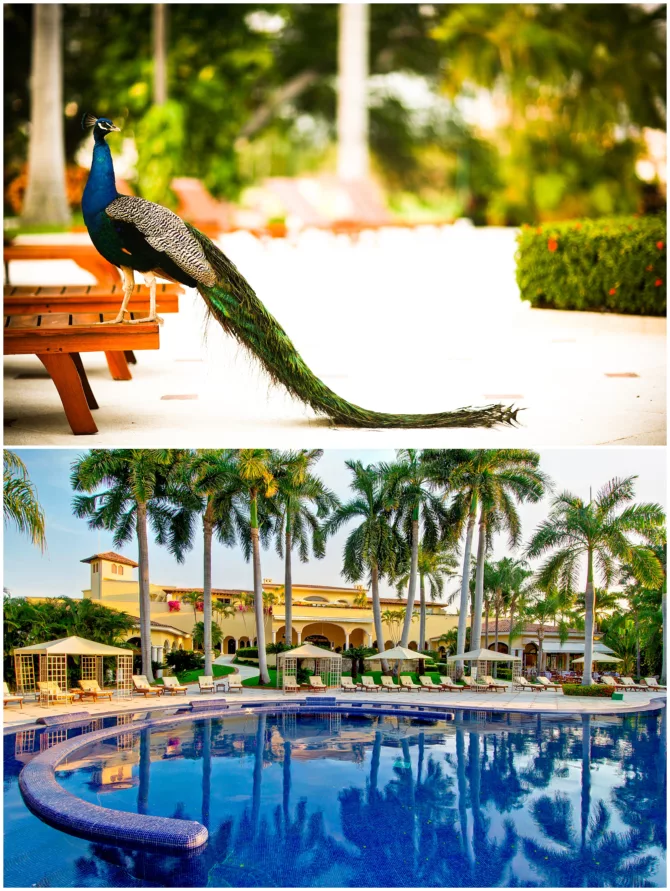 An Intimate Getaway at Casa Velas in Puerto Vallarta, Mexico
Start an anniversary tradition with a honeymoon at Casa Velas. After spending two nights here, it was easy to see why 60 percent of guests return to Casa Velas for a future stay. Tucked away on a golf course away from the bustle of the city, this luxury property gives you the opportunity to connect with your partner and spend time with each other. One look around the resort and you'll find everyone from newlyweds to couples who have been married for decades. I encountered multiple returning couples who were happy to meet new people and share their relationship stories from over the years.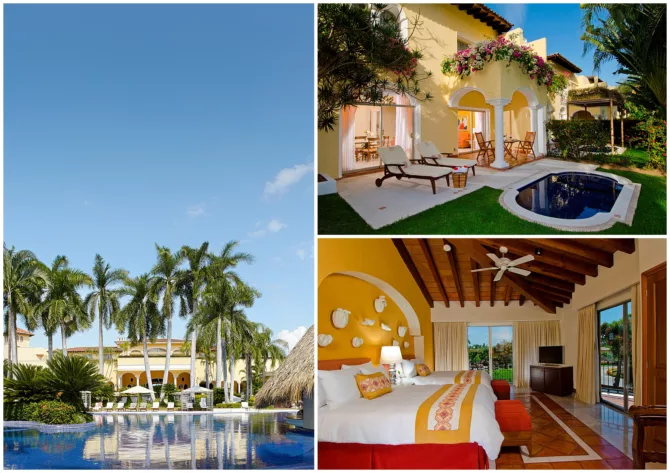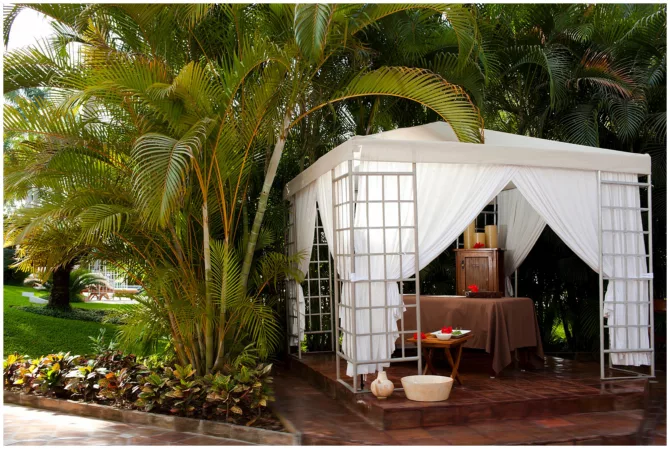 Ease yourself into complete honeymoon relaxation by kicking off your trip with a couple's massage or spa treatment. My massage was so stress-reducing that I have a feeling you'll book a visit back to the spa again before you head home. 
Keep that feeling of calm going throughout your stay with the help of morning yoga outside in the resort's botanical garden. There was something so peaceful about starting the day listening to the birds chirping and feeling the gentle breeze as we got in touch with our bodies during the guided class.
Once you're feeling zen, lounge poolside with a good book, cuddle up with your partner in your own cabana and have food and beverages delivered to you as you enjoy a relaxing day. Take a dip in the pool and enjoy your favorite frozen cocktails from the swim-up bar (don't forget, it's all-inclusive).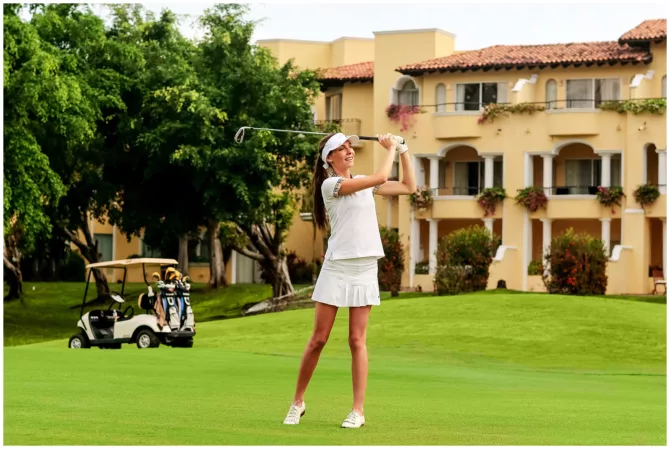 Looking to incorporate some leisurely activities into your stay? Enjoy a round of golf (or several) at the two award-winning golf courses, pick up a new skill with your partner during an on-site salsa class or enjoy a tequila tasting led by an expert who will walk you through the different varieties of tequila, how they're made and what to look for when purchasing an authentic tequila (there really is a reason why tequila tastes better in Mexico). 
The on-site AAA Four-Diamond restaurant, Emiliano, offers a delicious breakfast buffet and sit-down lunch and dinner menus where you can dine inside the beautifully designed dining room or out on the patio among the koi ponds. If you're looking for a change of scenery, head to Tau Beach Club, a nearby property of Casa Velas. You'll be shuttled to the beach club where you can enjoy the pool, spend time in the ocean or enjoy an outdoor sunset dinner at the restaurant overlooking the water. You may even get a surprise visit from the Velas Resorts resident magician who will blow your mind (I'm still trying to figure out his sleight of hand trick). Head back to Casa Velas for a nightcap at the patio bar before heading to bed. 
Whether you're only staying for a couple of nights like I did, or spending a week making the most of your stay at Casa Velas, you'll come out of Casa Velas refreshed and ready to start your life back home as a married couple.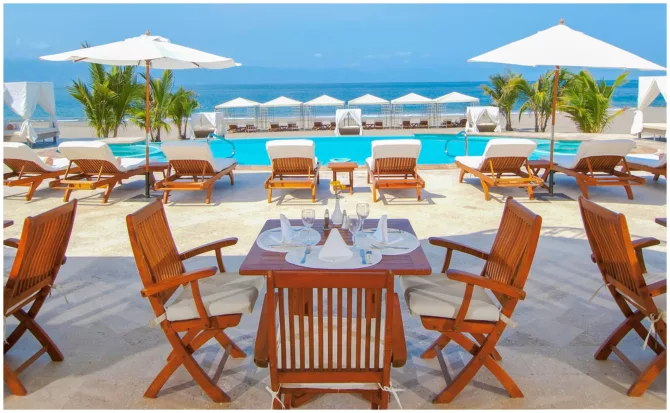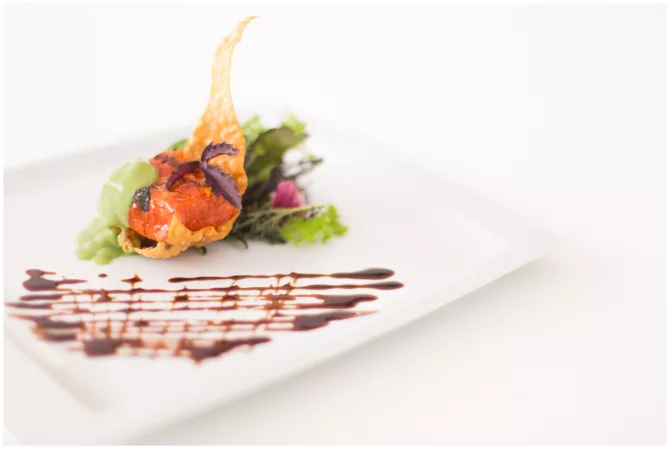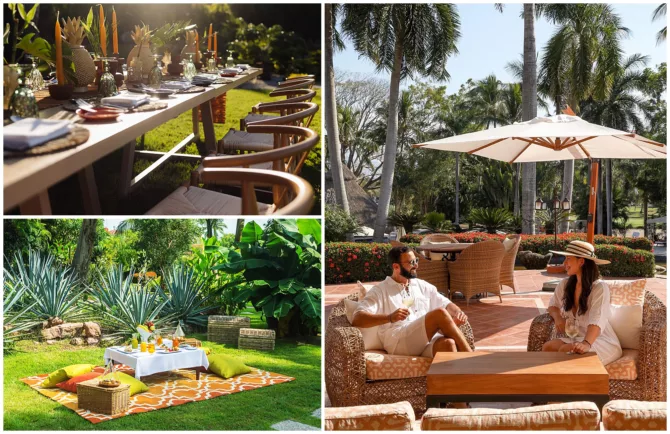 Romantic Oceanfront Adventure at Grand Velas Riviera Nayarit
If you're a fan of reality television you may already recognize this property from Netflix's Love Is Blind (don't worry, you'll have a Cameron and Lauren kind of experience and not end up like Mark and Jessica). There's a reason the couples of season one spent their time at Grand Velas Riviera Nayarit, it's undeniably romantic.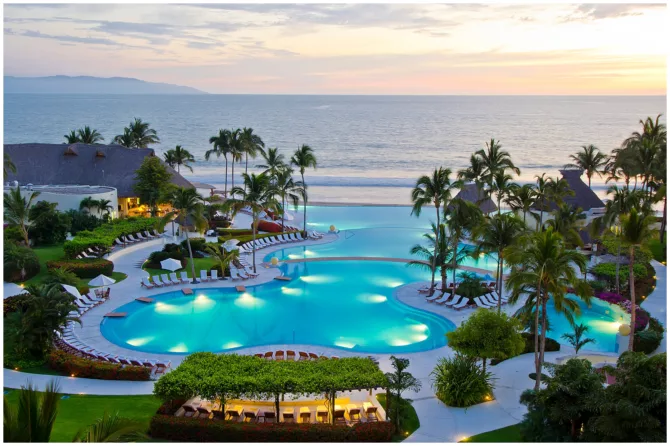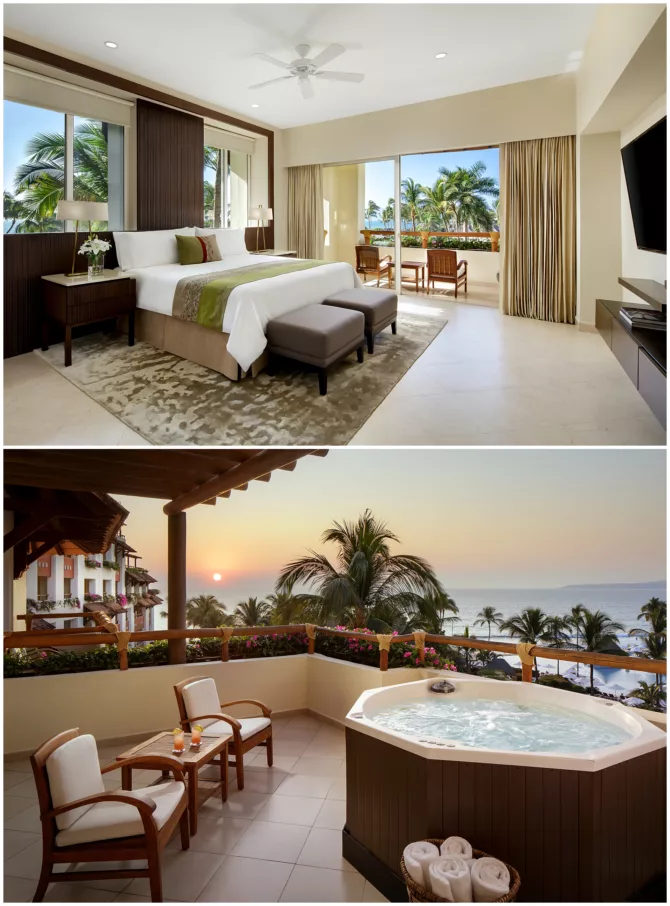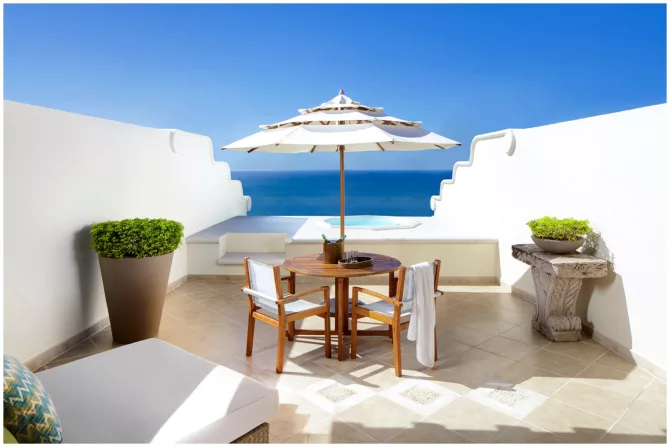 Don't let the romance in the air fool you, this is the place to stay if you want the perfect balance of activity-filled days and romantic nights. Each day the resort puts out a full schedule of activities available as part of your all-inclusive stay from morning kayaking through nighttime musical performances. Pick and choose what you enjoy and create an itinerary all your own. For me, it was a day of riding the ocean waves on a boogie board and playing beach volleyball before heading to Azul, the beachfront terrace restaurant, for their Catch of the Day lunch of fresh fish prepared right in front of you along with a full buffet of international cuisine. A great way to spend the morning before an afternoon of sipping frozen Bahama Mamas in the hot tub while gazing out at the ocean.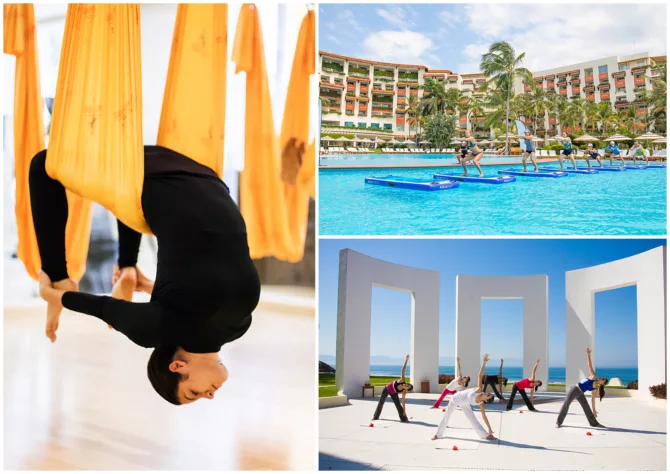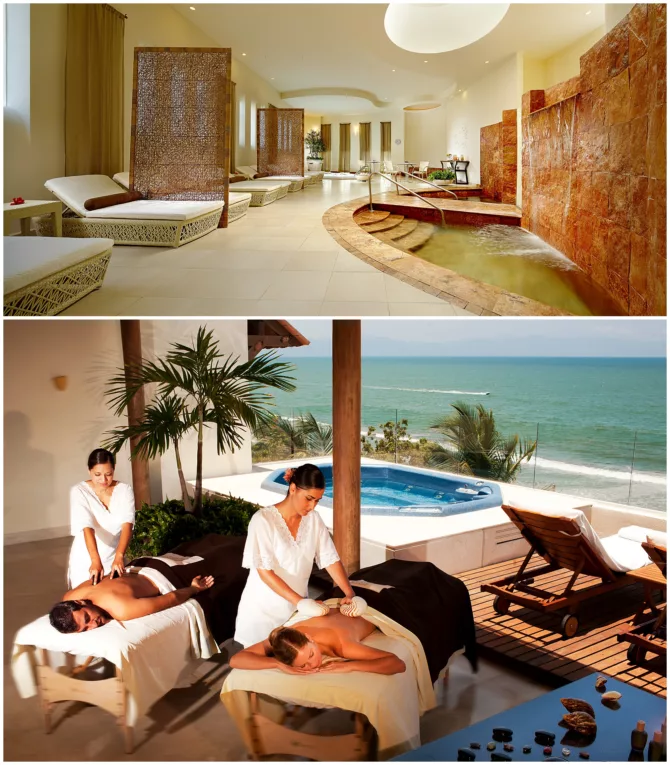 Foodie couples, Grand Velas Riviera Nayarit is your dream come true with seven delectable eateries offering a variety of international dishes. Enjoy haute French cuisine one night at the AAA Four Diamond restaurant Piaf, Asian fusion the next at Sen Lin and end your night with craft cocktails and light bites at Koi Sports Bar. As someone with multiple food allergies, I appreciated the commitment to safety and accommodations at all of the restaurants I ate at across the Velas Resorts properties.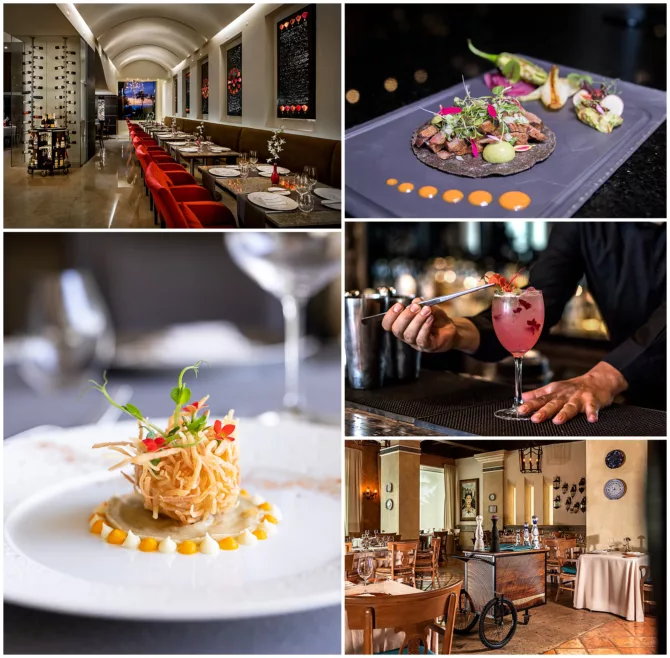 If all of this sounds too good to be true because you couldn't possibly find childcare long enough to go on such an incredible honeymoon, this kid-friendly resort is the ideal honeymoon solution for newlyweds who are struggling with the hurdle of finding childcare so they can getaway. Grand Velas offers a Kids' Club with full babysitting and activities available from 10am to 10:45pm so you can enjoy a stress-free day, just the two of you.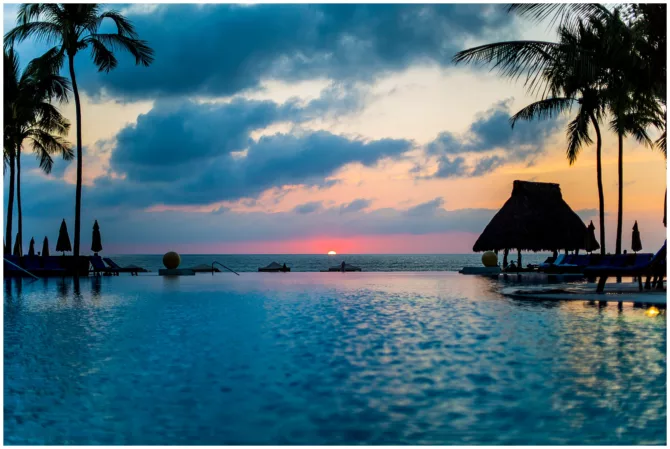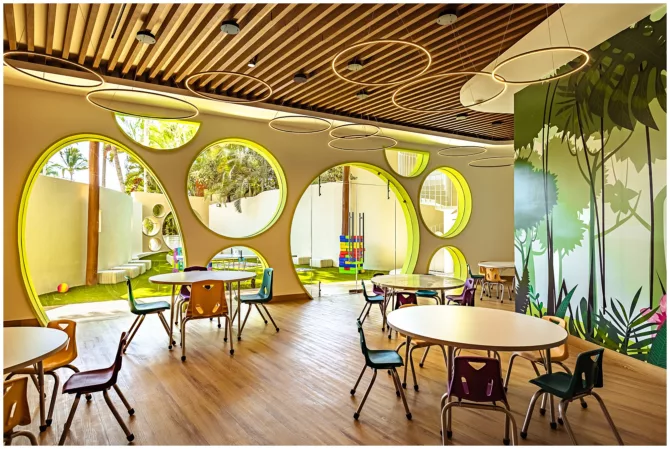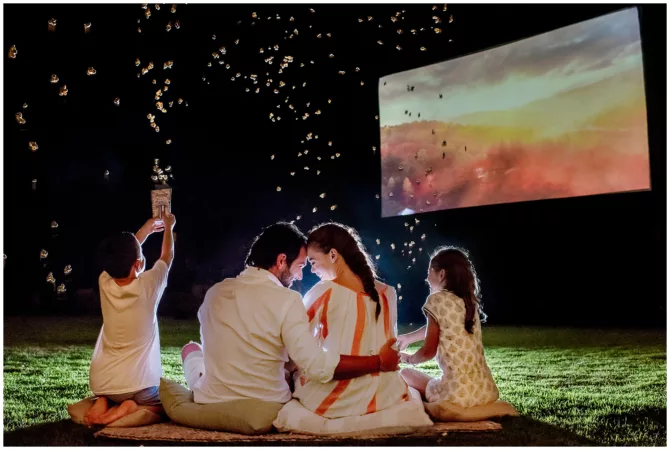 Why We Love Puerto Vallarta
While Casa Velas and Grand Velas Riviera Nayarit are all-inclusive (meaning you can have the time of your life without ever leaving the property), they're also wonderful places to stay if you're looking to experience all that Puerto Vallarta has to offer.
Named one of Mexico's most great-friendly travel cities by numerous travel publications and news outlets including The New York Times, Puerto Vallarta is filled with culture, history and so much to see and do. Catch a ride into town and enjoy a day strolling the Malecón, Puerto Vallarta's mile-long boardwalk lined with shops, restaurants and countless breathtaking sculptures created by renowned Mexican artist Sergio Bustamante. You'll immediately recognize his artistic style from the custom pieces he created that decorate the rooms and lobbies of Velas properties. 
The Malécon turns into a vibrant club scene as night falls, a must-visit if you're a couple who likes to party. Or take a trip to the Zona Rómantica to enjoy the LGBTQ+ bar scene, boutiques, art galleries and more in Puerto Vallarta's romantic zone. There's plenty to see and do when taking an outing away from the resorts.
Your Personalized Honeymoon Itineraries from Velas Resorts
Has planning a wedding caused you to stress out and second guess even taking a honeymoon (because who has time to even plan that, too)? Lack of planning time causes many couples to delay or forgo their honeymoon, but don't let the limited time lead you to missing out on a memorable destination vacation after the wedding. 
Skip the work of organizing and researching a detailed travel itinerary and instead enjoy the Grand Velas Honeymoon Journey, a planned-for-you nine-day honeymoon exploring the Velas properties on what might very well be the most romantic time of your entire life. The experience kicks off with a three-night stay in a Grand Class suite at Grand Velas Los Cabos where experiences will include a private yacht ride, couples massage, and personalized moonlit dinner on the beach prepared by the resort's two Michelin star chef. Travel to Grand Velas Riviera Nayarit and enjoy a three-night stay in an Ambassador Grand Class suite with a sunset flight over the bay, rooftop dinner with gorgeous ocean views and a photo shoot to commemorate your honeymoon. End this incredible itinerary at the Grand Velas Riviera Maya where you'll stay in a Zen suite, enjoy a day out on a yacht while visiting the Underwater Museum of Art and end your honeymoon with a bang, courtesy of a firework spectacular on the beach. Could a honeymoon get any more romantic than that? 
Whether you opt for this luxury package or create your own itinerary at any of the all-inclusive properties, you're guaranteed to have an unforgettable honeymoon at Velas Resorts. 
Written by Emily Rochotte | Photos courtesy of Velas Resorts