Today's wedding is the thing of dreams — rustic dreams, that is! When Kelsey and JP stumbled upon the lovely woodland landscape at the Stables at Hunter Valley Farms in Knoxville, they knew there was no better place to say "I do."
Erin Morrison Photography beautifully captured the breathtaking moments of their rustic and romantic wedding day, including a golden hour portrait session with the most magical lighting. While Kelsey and JP took the time to carefully consider every detail when planning their perfect day, when the night came to an end, they both agreed that officially tying the knot and being able to call each other husband and wife was what mattered to them most.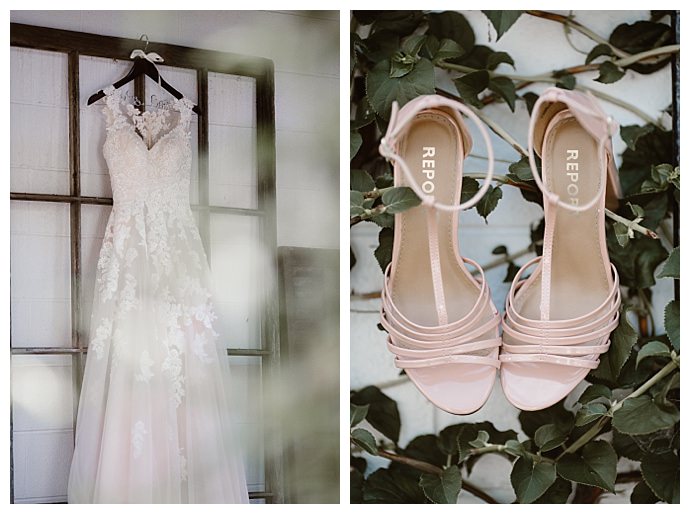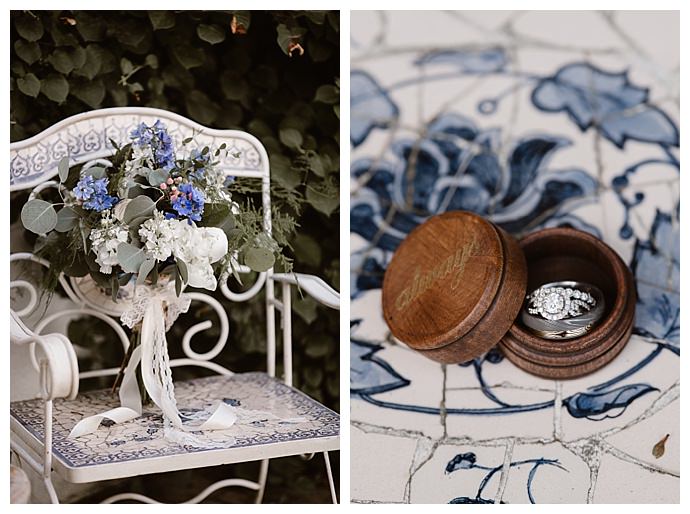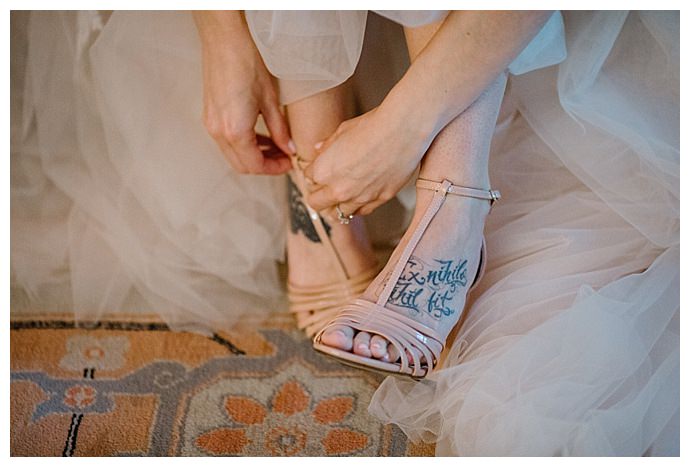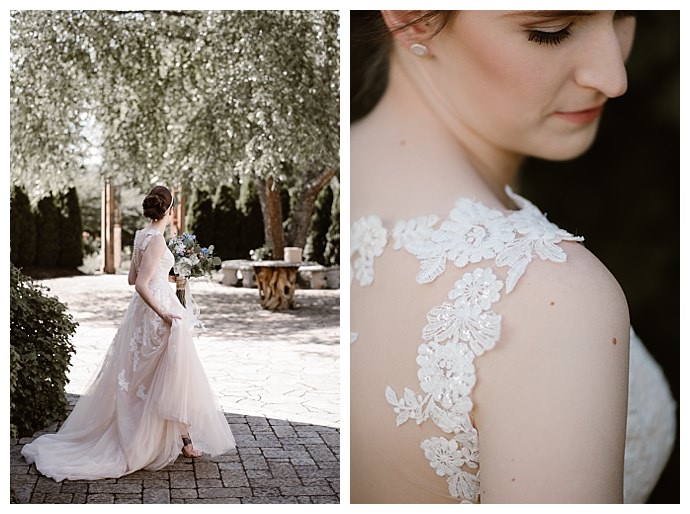 The Love Story
When Kelsey flew to Knoxville for her grandfather's funeral, a family friend, who was close with her grandmother but whom she had never met, picked her up from the airport. It was JP, and as Kelsey says, it was love at first sight. Her trip was short, but after she left town, they stayed in touch, and it wasn't long before Kelsey was visiting JP every weekend until her family eventually moved to Knoxville.
Three years later, Kelsey's mom asked the family to join her at World's Fair Park for a family photo as a Mother's Day present. "So I got all dressed up and was excited to spend time with my mom, dad, brother, and grandmother," Kelsey says. "I remember JP was bummed because all the water was turned off in the fountains and ponds, but that didn't take away from anything for me. World's Fair Park was where we had our first date, so right there under the Sunsphere he got down on one knee in front of my family and asked me to marry him! And, of course, I said yes!"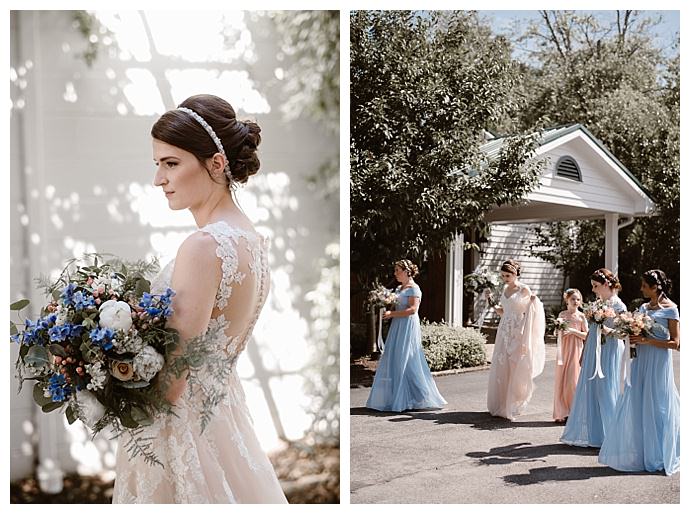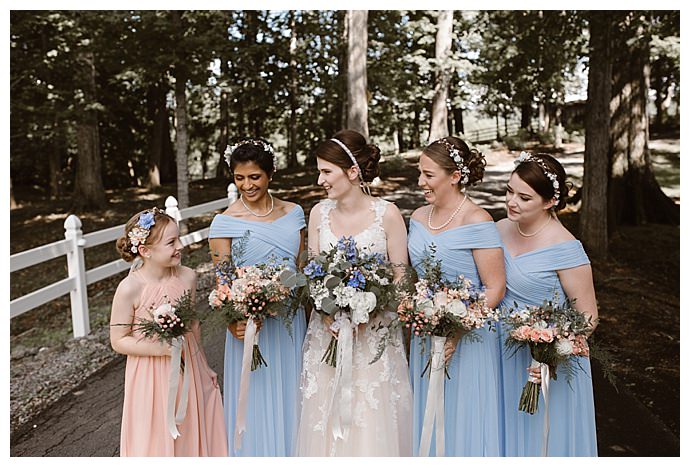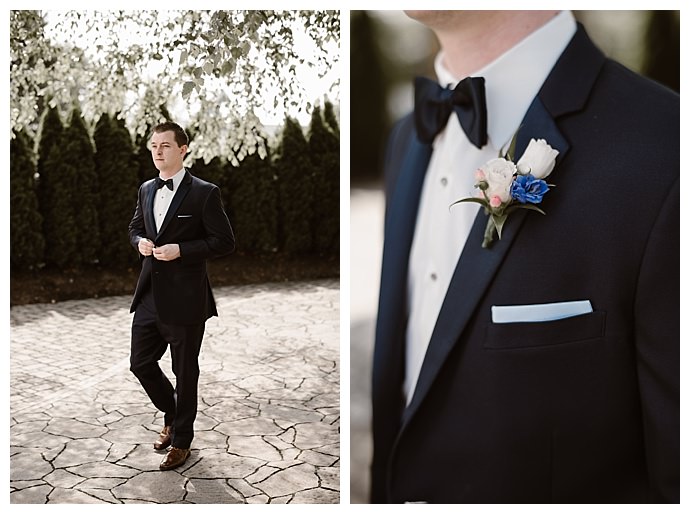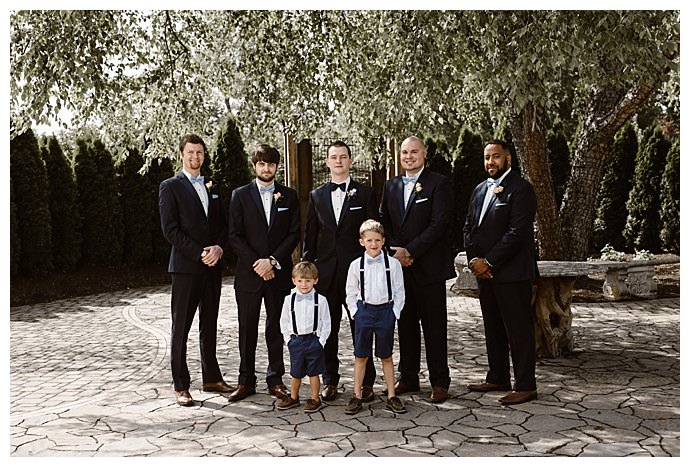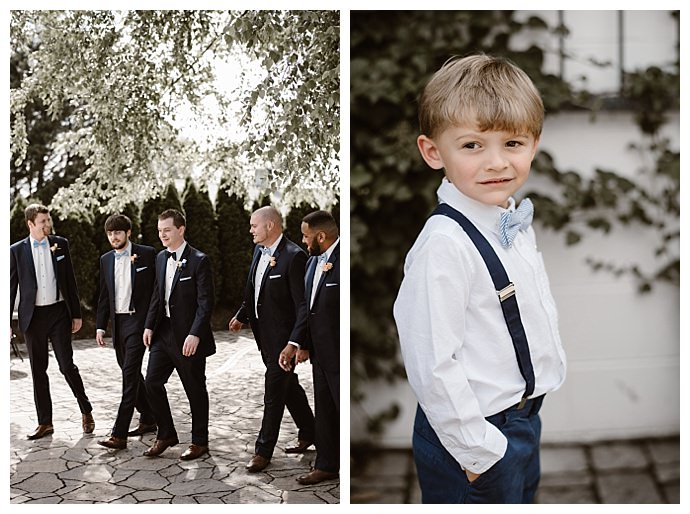 The Ceremony
When Kelsey and JP were venue hunting, an outdoor ceremony location was at the top of their list. "I always knew I wanted an outdoor ceremony, and I immediately fell in love with the Stables at Hunter Valley Farm," Kelsey says. "It had a beautiful, private outdoor ceremony space, and the restored horse stables fit the rustic vision I always had." To complement the natural beauty of the ceremony setting, Kelsey selected off-the-shoulder bridesmaids dresses in soft blue for her bridesmaids, which they paired with ivory floral crowns. "My stepdaughter was a junior bridesmaid, and I wanted her to stand out, so we picked a complementary style for her in a blush color, and she wore a blue and blush flower crown," the bride says. The men wore striking black suits with blue bow ties and a black bow tie for the groom. And the ring bearers looked dapper in navy shorts and suspenders. 
But it was Kelsey who truly stole the show. "My dress was amazing," the bride says. "I fell in love with a blush-colored gown that had an ivory lace overlay. It had these amazing floral lace straps, an open heart-shaped back and button details all down the back — and not to mention it had the perfect amount of subtle sparkle." Along with a custom cathedral veil, Kelsey walked down the aisle with lace from her grandmother's wedding dress wrapped around her bouquet.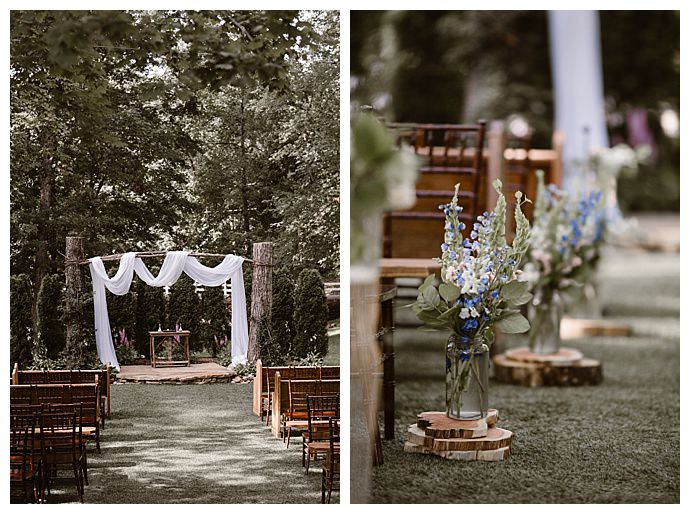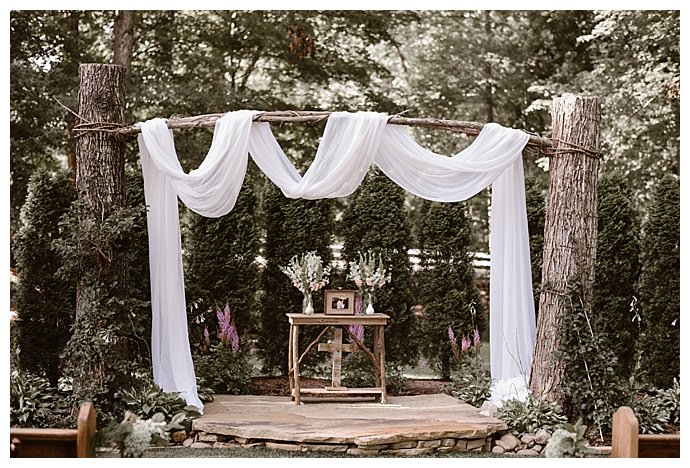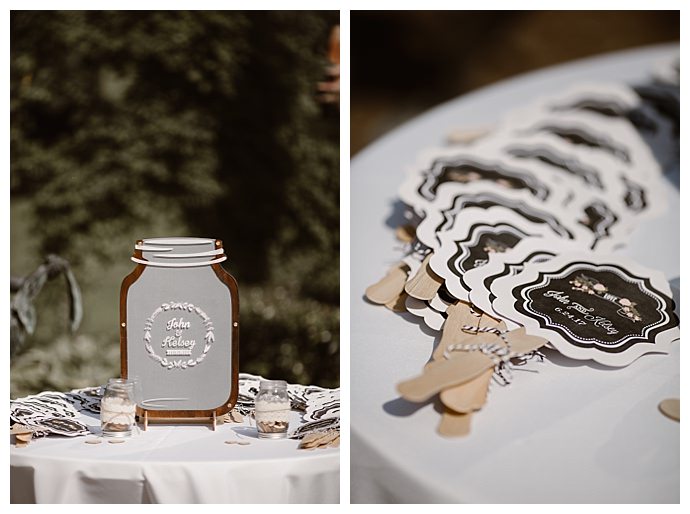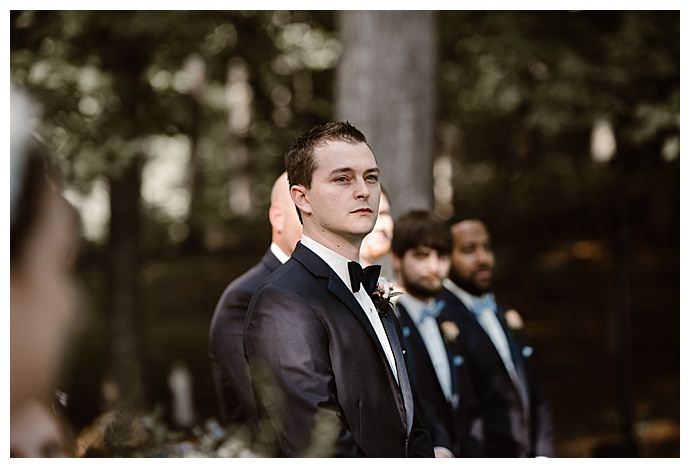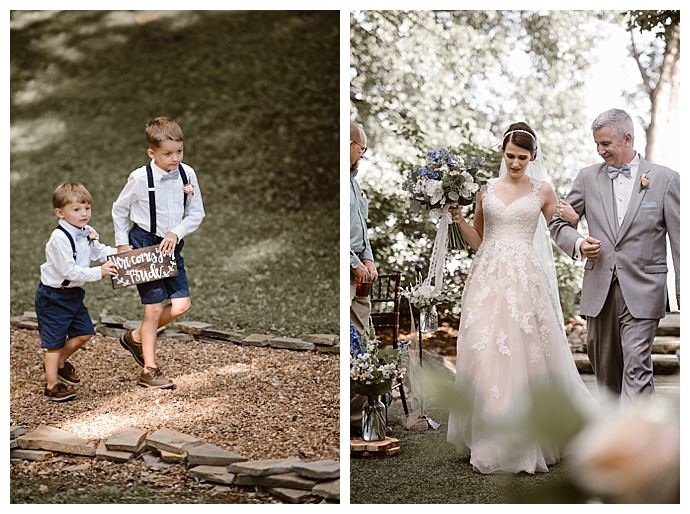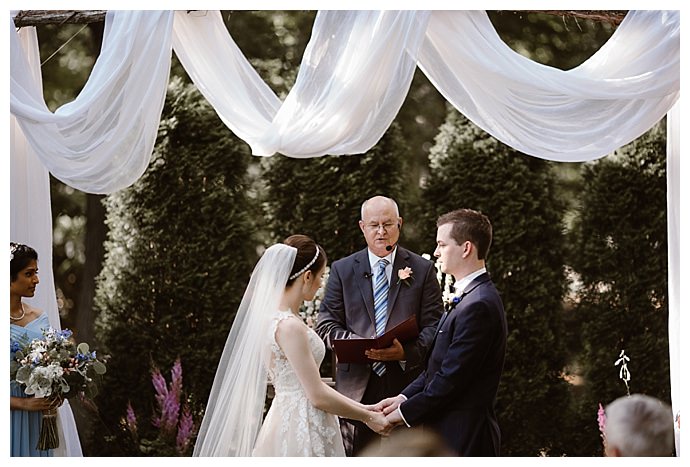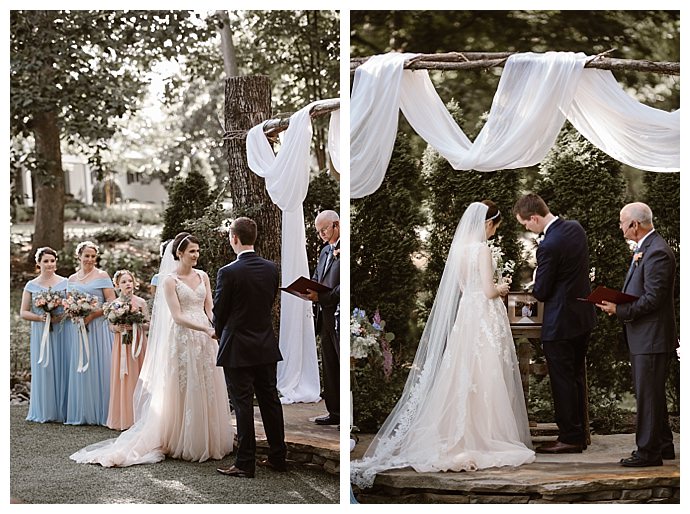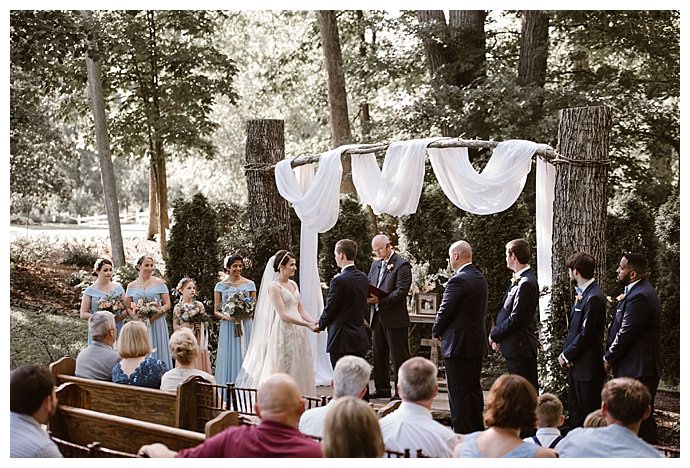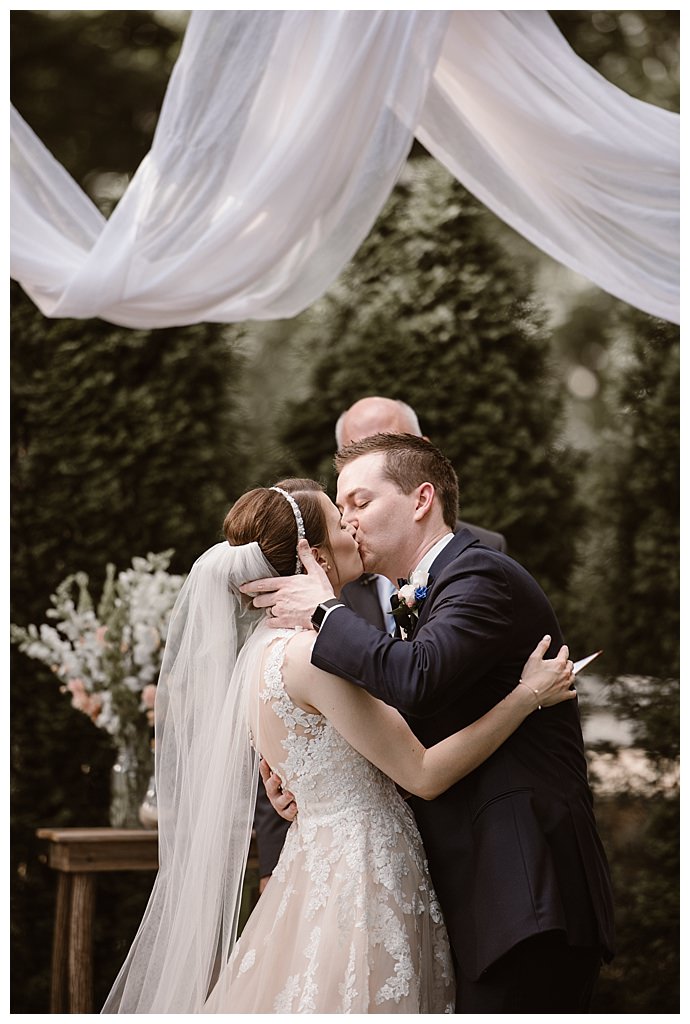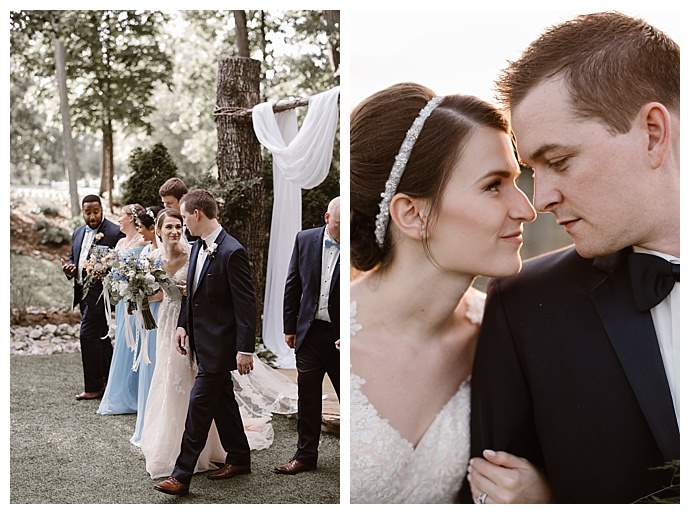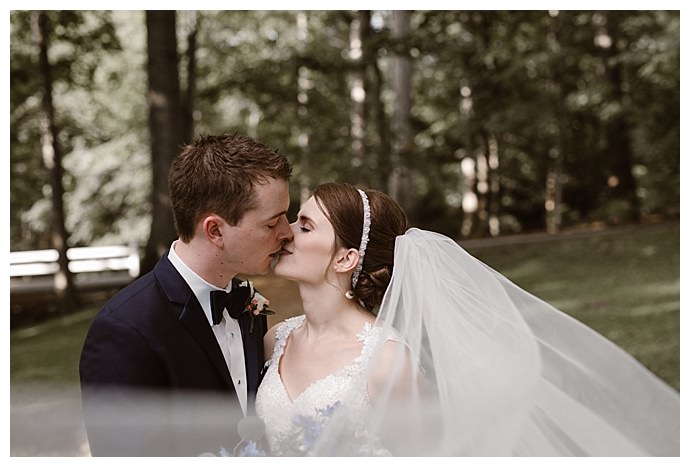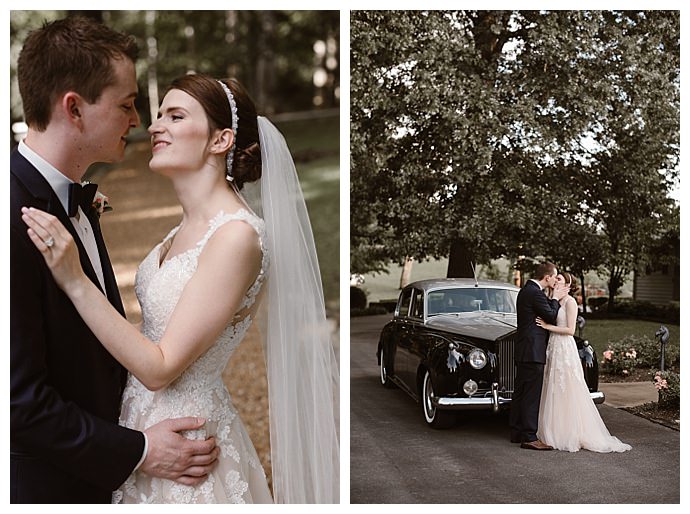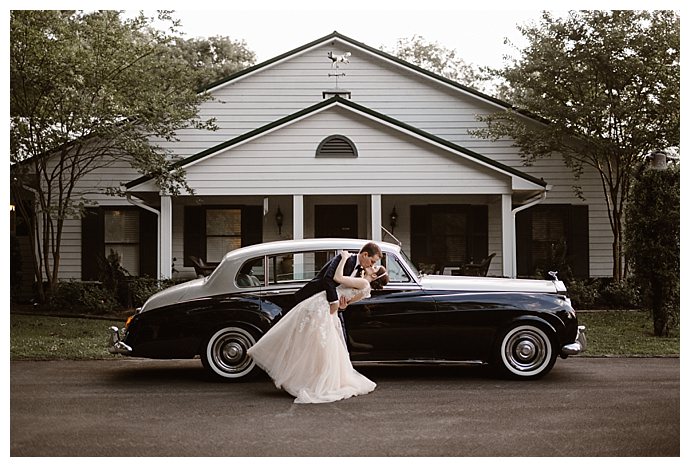 The Party
Inside the wood-lined walls of the stables, Kelsey was eager to fill the room with flowers to brighten it up. "Since the stables were kind of dark and rustic, I wanted to soften it up with a soft blush and blue color theme and lots of flowers," Kelsey says. Tables were topped with lush greenery, blue hydrangeas and pink roses along with lanterns and door knob table numbers that added a vintage touch. For favors, Kelsey and JP personalized mason jars with their names and wedding date, which guests were able to use throughout the night. And before the night came to a close, the newlyweds cut into their white one-tier wedding cake that was beautifully adorned with flowers.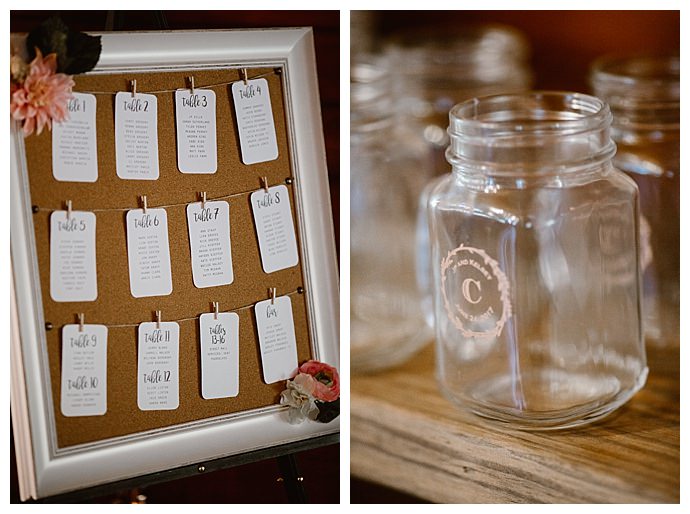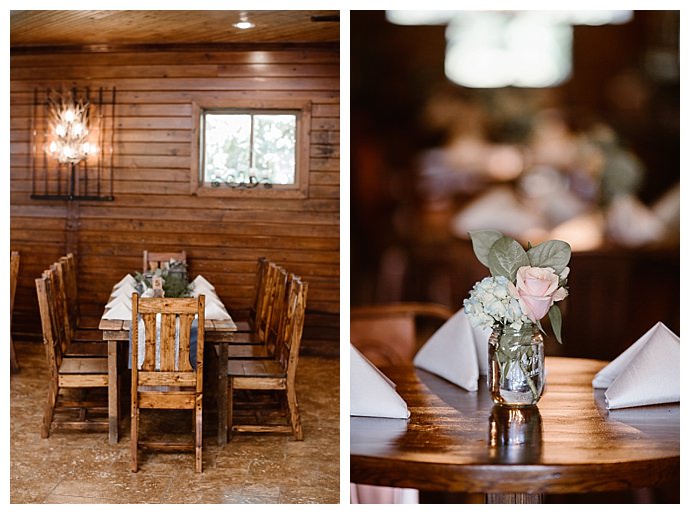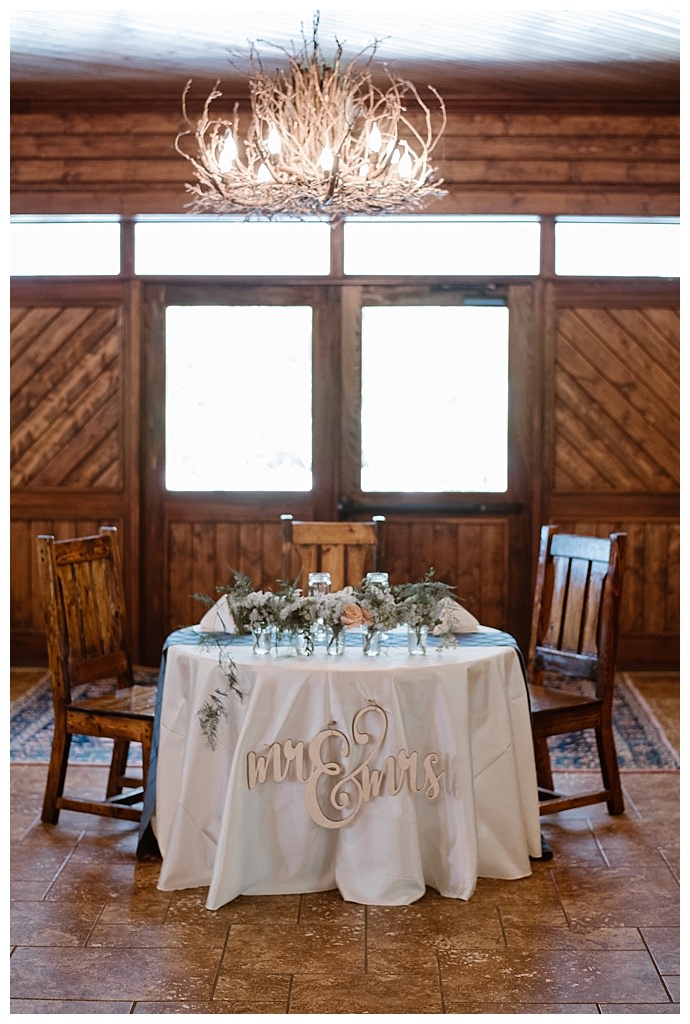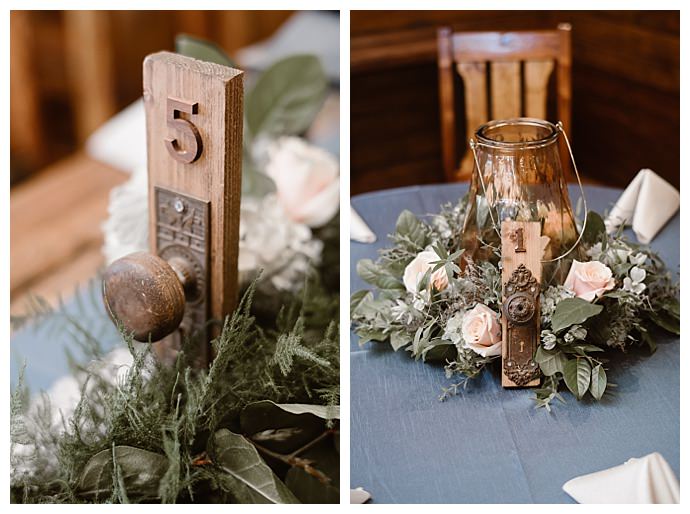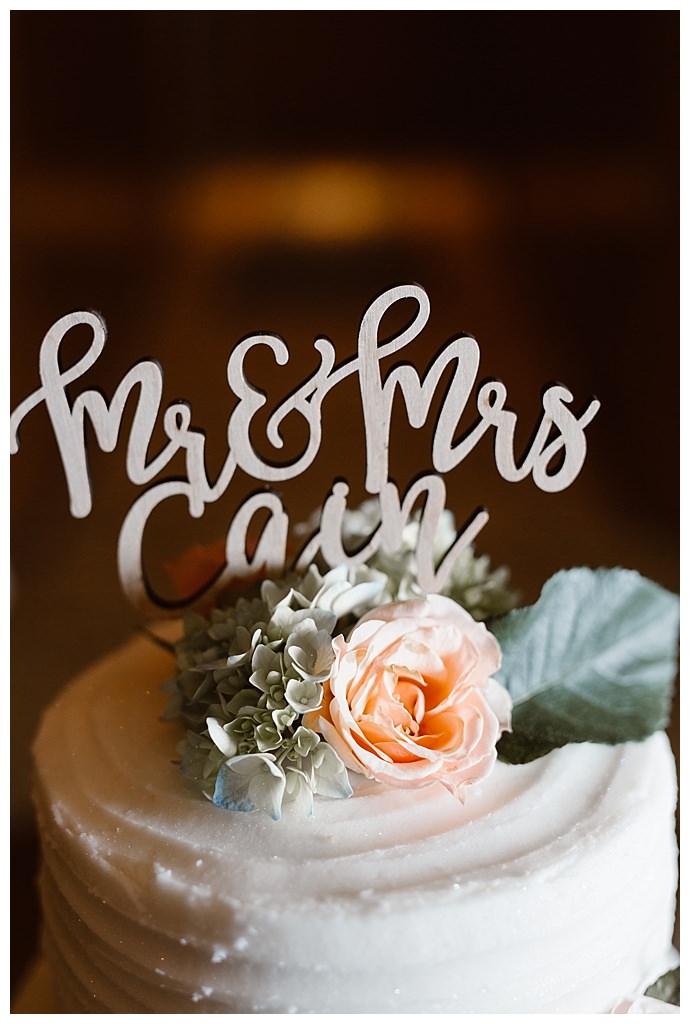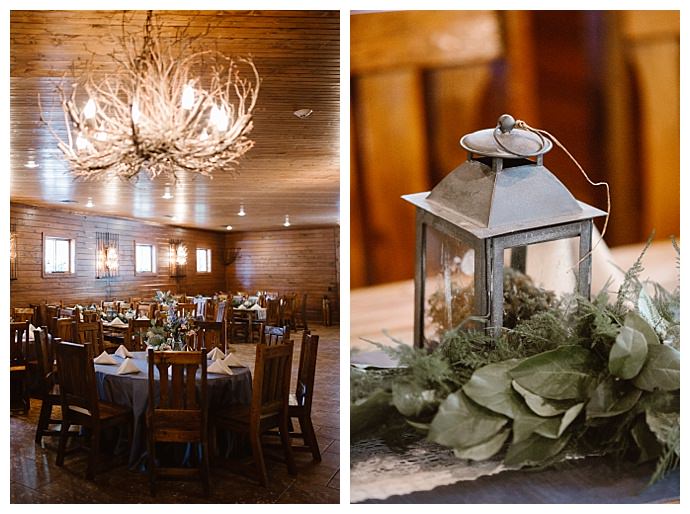 Memorable Moment
"We didn't do a first look, so the best part of the day, for us, was seeing each other for the first time as I walked down the aisle!" Kelsey says. "Also, getting to celebrate with all of our friends and family I know was super special to the both of us."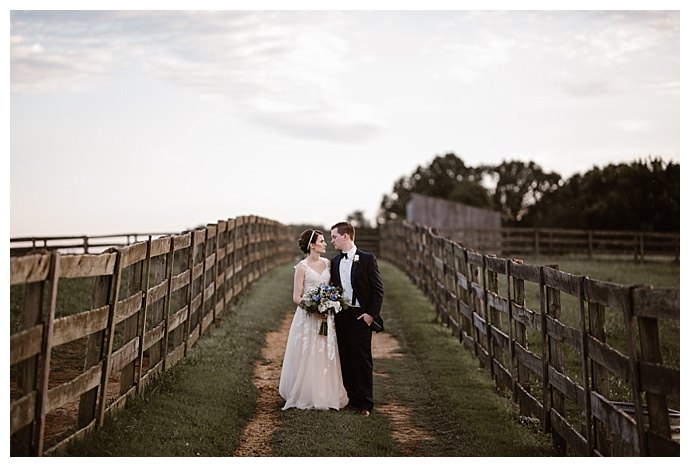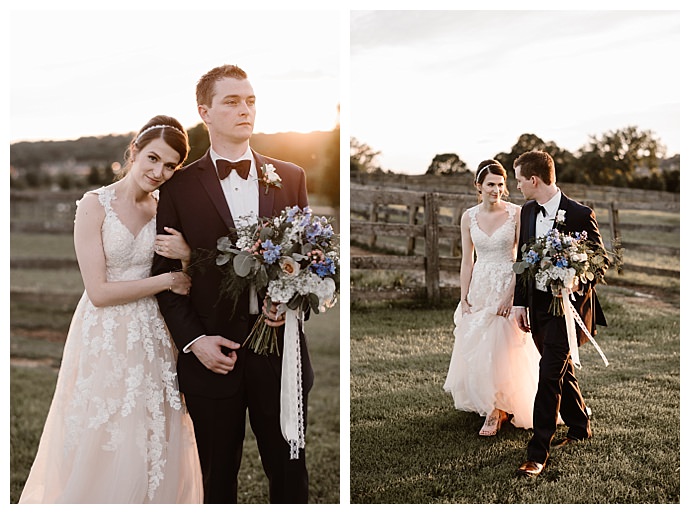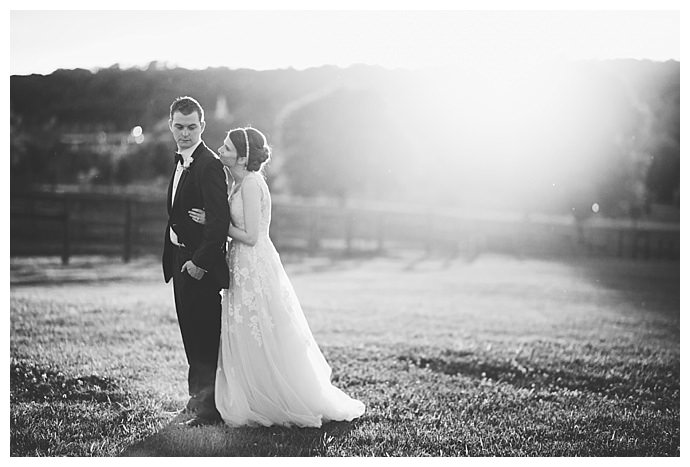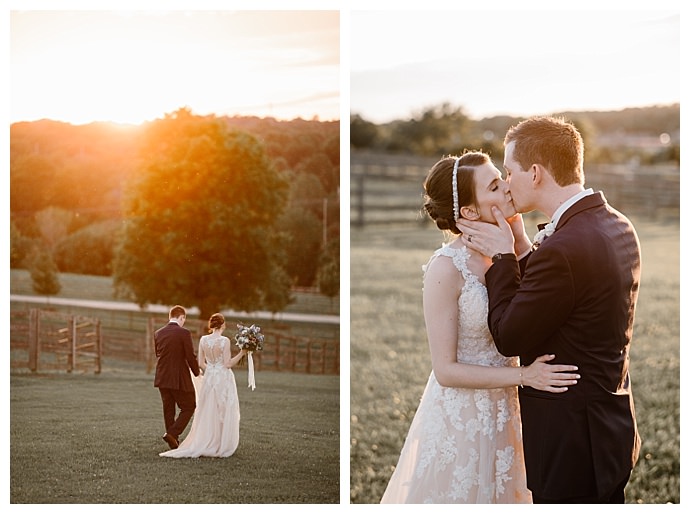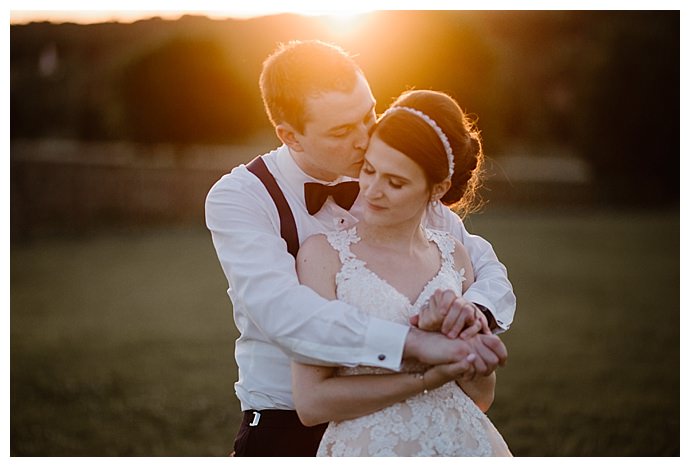 Submitted via Matchology
*Editor's Note: This post contains affiliate links. Each time you purchase an item via our affiliate links, Love Inc. is receiving a small percentage of the sale, thus you are helping our small, equality-minded business grow and allowing us to provide more content for YOU! Isn't that just fantastic?
Written by: