Did you hear the news? Love Inc. magazine has officially hit major retail shelves, which is not only a huge deal for our small business, but also for our LGBTQ+ community to have that representation on store shelves. Certainly worth celebrating to say the least, so that's exactly what we did!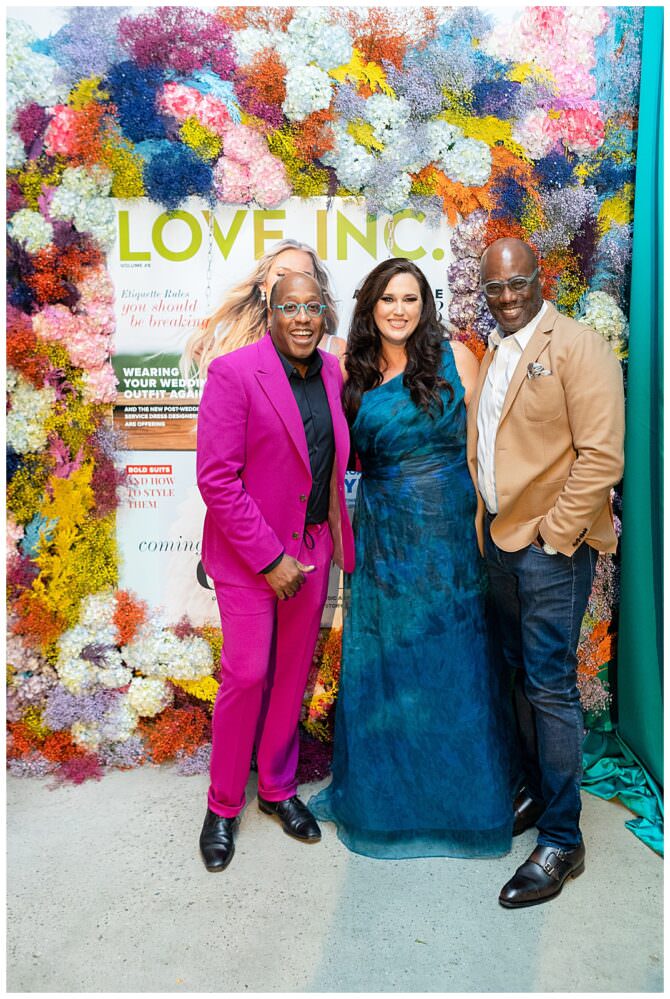 Last month, I partnered with some of the best in the biz to create an evening that celebrated everything Love Inc. stands for — equality, inclusivity, LOVE — with the theme "Love On Top," beautifully captured by Phillip Van Nostrand Photography and NST Pictures. Spearheaded by event planner Brian Green of By Brian Green and floral designer Marc Wilson of The Style Marc, they created an evening that was beyond my wildest dreams, with plenty of eye-candy that is sure to inspire some wedding ideas of your own.
"The inspiration was truly to celebrate this incredible moment in the life of the magazine," says Brian. "To be going national in stores all across the country was such a joy-rising moment that we started saying love is definitely on top … and from there, the concept of 'Love On Top' came to life!"
Chelsea Industrial, a Blace.com venue space in New York City, gave us the perfect blank canvas-backdrop to celebrate. The raw, industrial space is extremely versatile and truly allows every event held within its walls to have its own vision.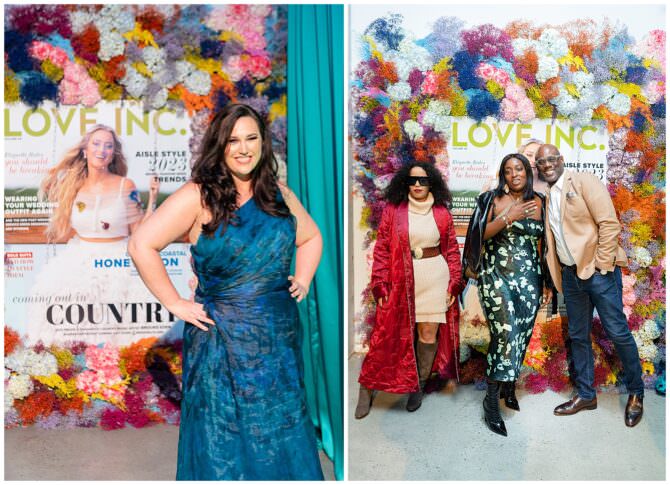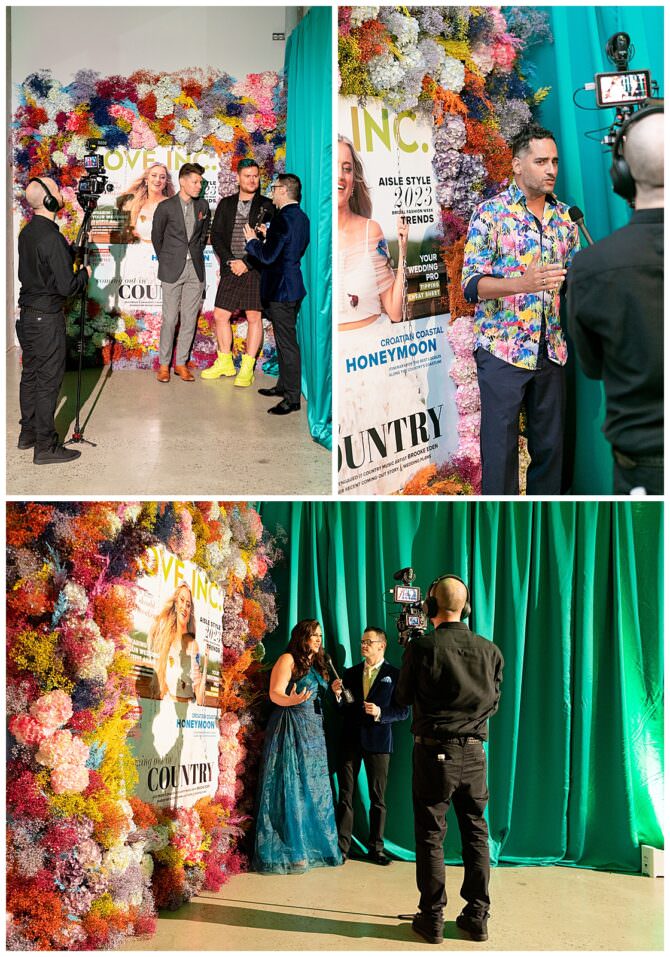 Guests entered the space and was directed through a tunnel of lush drapery, with a blow-up of our V8 issue cover starring LGBTQ+ country music artist Brooke Eden, surrounded by brightly hued florals, greeting them. There, they were interviewed by Artem Lomaz, an amazing wedding and event MC, and we used those testimonials in our event video by NST Pictures (see above), which brought me to absolute tears upon watching it. I love this idea to interview guests, incorporating it into your wedding video or creating a video spin to the traditional wedding guestbook.
The bar had a rainbow floral cloud hanging above with twinkly lights interspersed throughout the blooms that really took the design to next-level. "Creating the multi- colored overhead floral display was a challenge," shares Marc. "Once it was done, we realized it needed something. Even though the house lights looked great, we realized it needed more interior lighting, so we ran out and bought mini LED string lights and wove them within the floral cloud. It made all the difference."
WEDDING IDEA: Add fairy lights to your florals for a romantic, magical vibe.
Our honeymoon feature in our issue was focused on Long Island's North Fork, so we partnered with brewery Greenport Harbor Brewing Co., and LGBTQ-owned winery RGNY, both local to the North Fork (and personal favorites of mine!). Our signature cocktail was a color-changing (delicious!) concoction of Empress Gin, Fever-Tree lemon soda and Pomp & Whimsy liqueur (recipe coming next week!). All three were a hit with guests!
WEDDING IDEA: Offering locally made beer/wine/seltzer/liquor is a great way to bring in a special destination that you share as a couple, whether it's where you met, live or favorite vacation.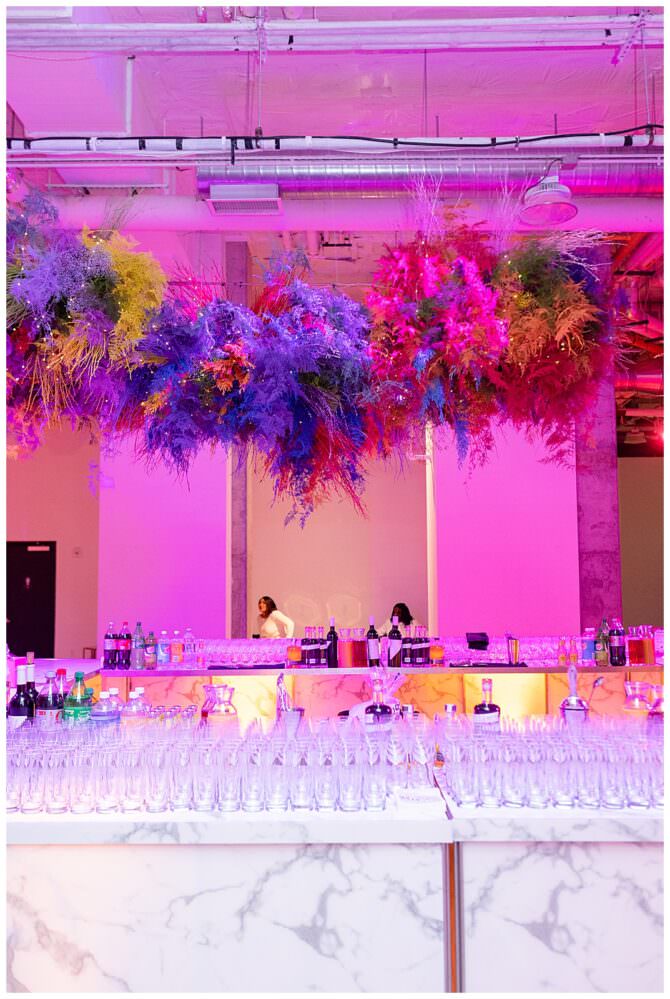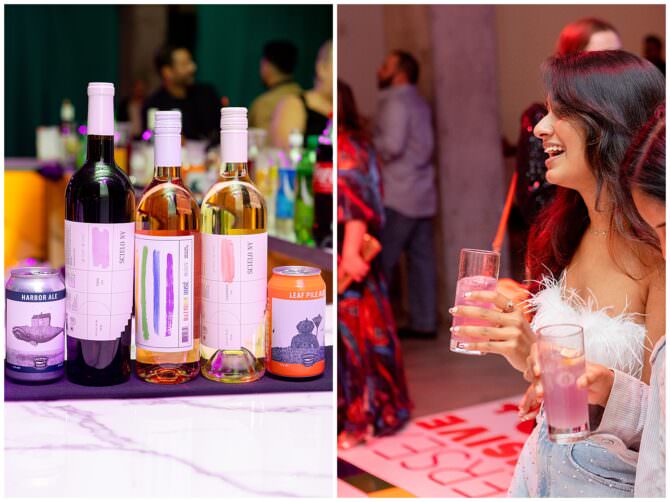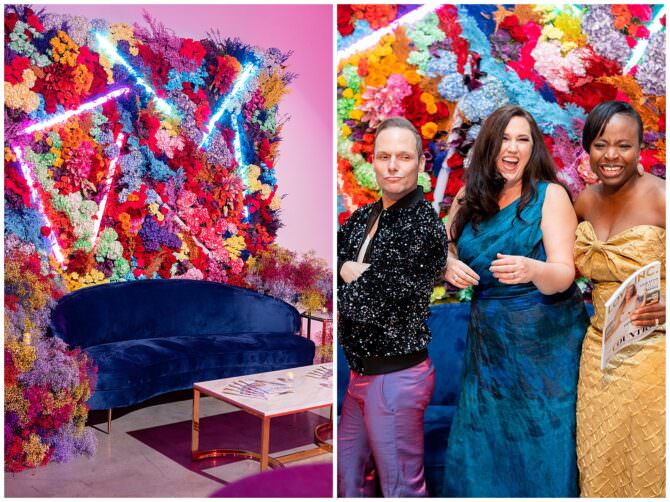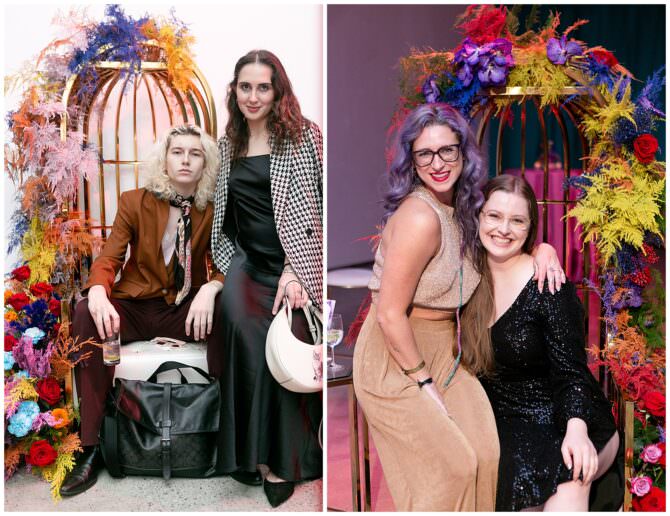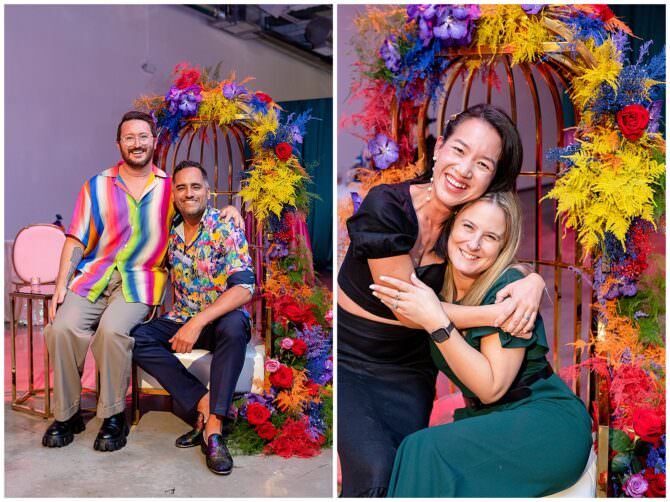 Our Instagram moments doubled as lounge areas, and I simply cannot get enough of this bright and beautiful floral design created by Marc. "This event was all about color so don't be afraid of it. Embrace it," notes Marc. To get the bold hues, Marc and his team even custom spray-painted some of the blooms to get the perfect shade.
"Don't be afraid of color!" exclaims Brian. "So often people feel muted tones are the only way to go, but I am here to tell you that a profusion of color brings joy and happiness, and brings an event to life!"
WEDDING IDEA: I particularly loved how Marc nested tube LED lights into the florals for the lounge backdrop — it gave a fresh take on the floral wall.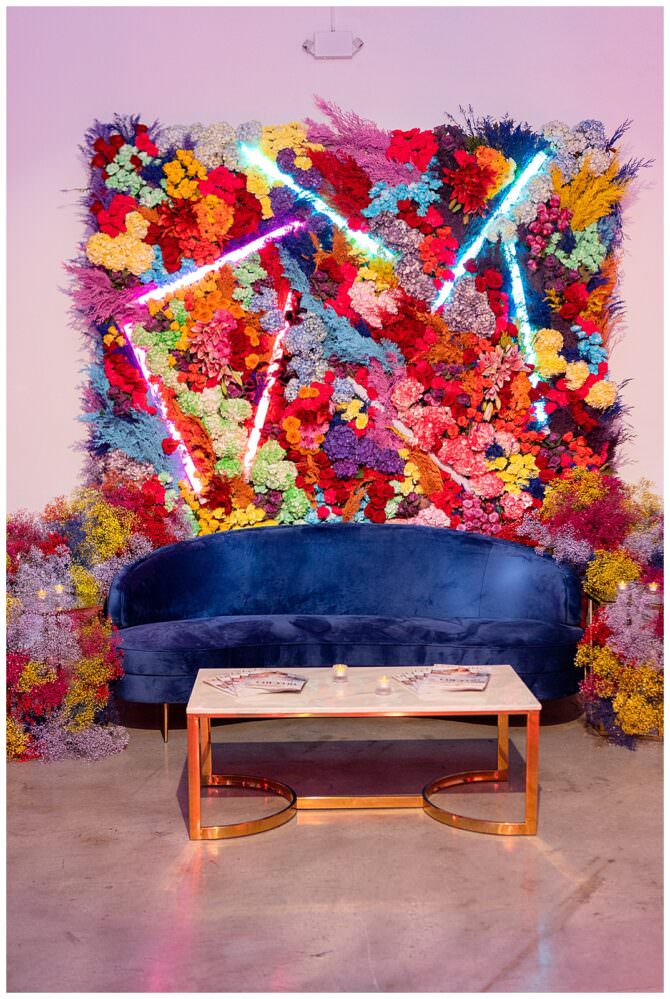 If I could go back in time for my own wedding, I would have allocated more of my budget to the entertainment (my DJ was fine, but I'm definitely Team Band these days!). If you want people on the dance floor, a great band or DJ can truly make or break the party, and that was a high-priority for me for this event. (Brian can tell you how, in our very first planning meeting, one of the first things I said was "We have to have The Eleven for the band!!!") Bandleader Kerry Beach is a gem and her band, The Eleven, is one of my absolute favorites and always gets the party going.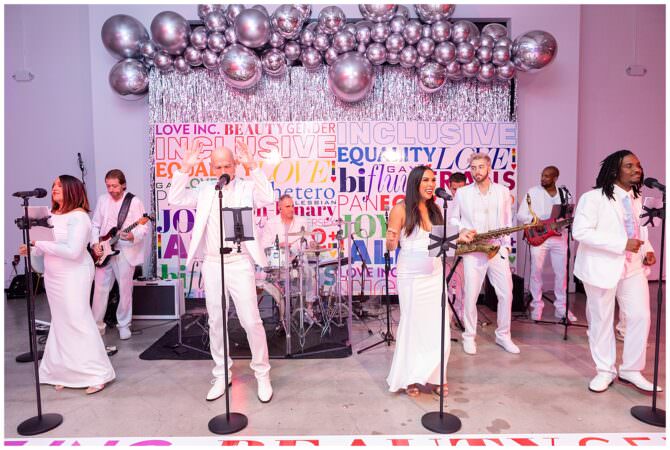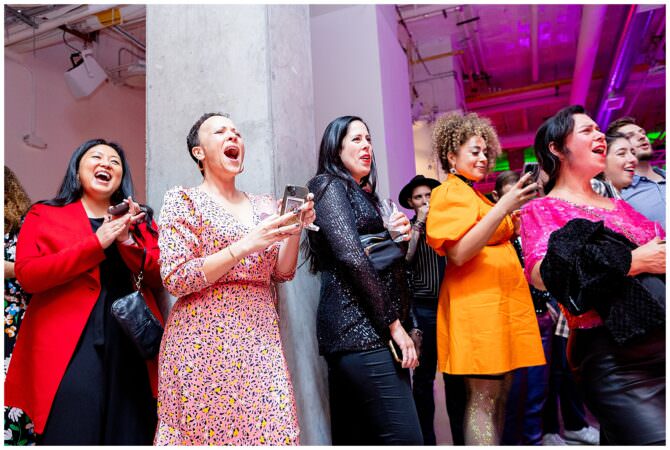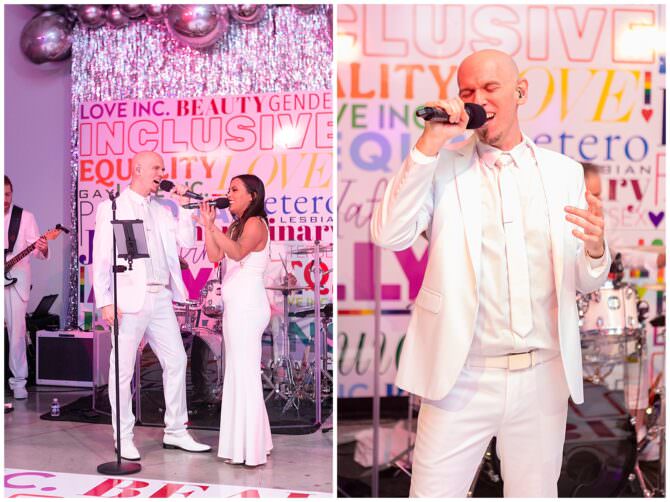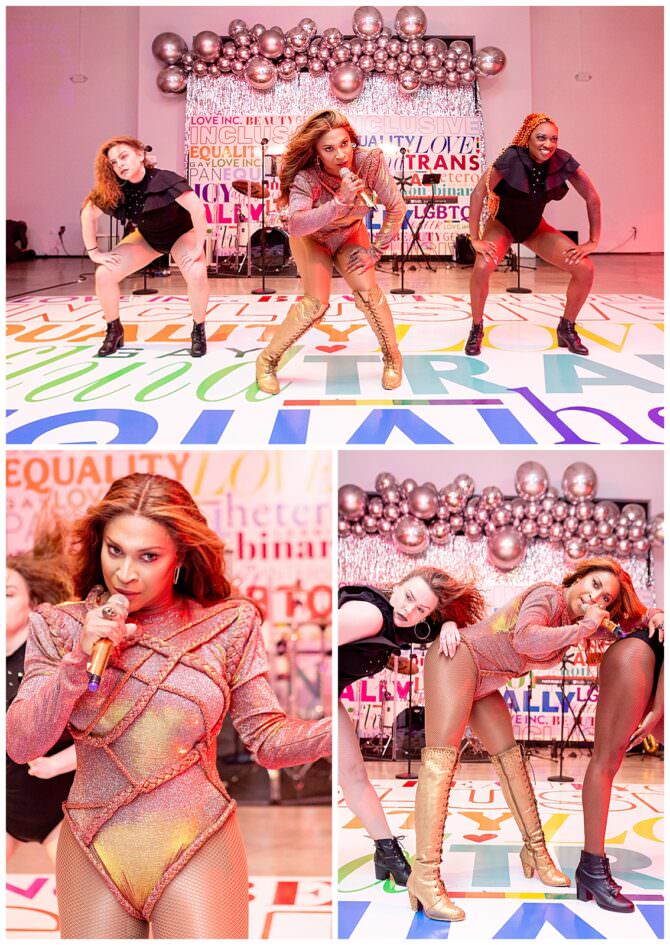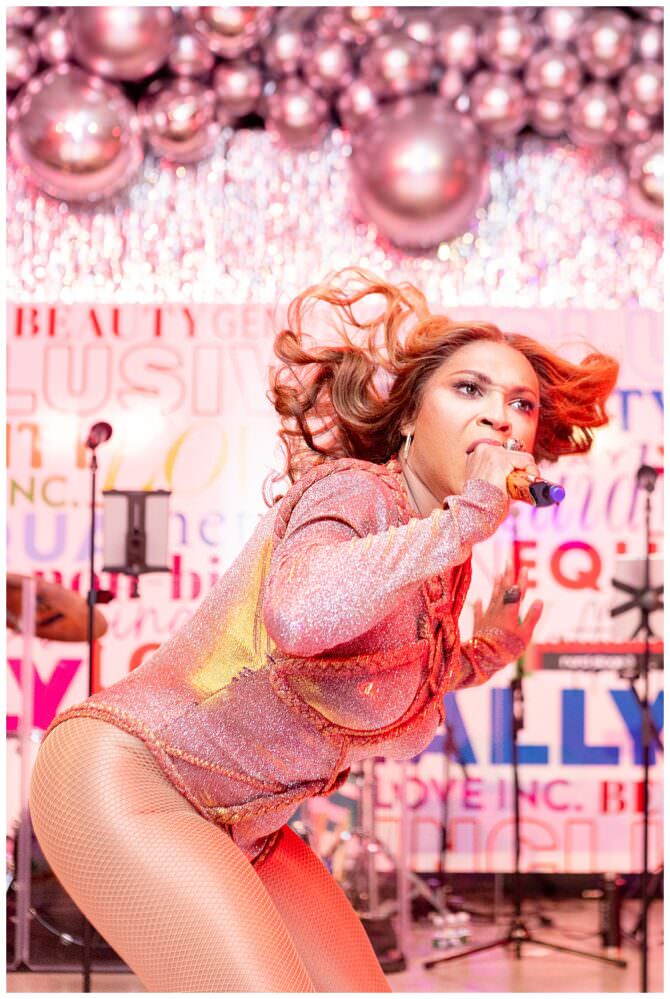 We also had the #1 Beyoncé impersonator in the world, Riley Knoxx, perform a set of Beyoncé hits that brought amazing energy. And can we please talk about the dancefloor? One of my absolute favorite design elements, we created a collage of empowering LGBTQ+ community words that was then used for the dance floor, band backdrop, and details such as cocktail napkins.
WEDDING TIP: One custom design can be used in a variety of details, and can really bring a "branded" experience to your event.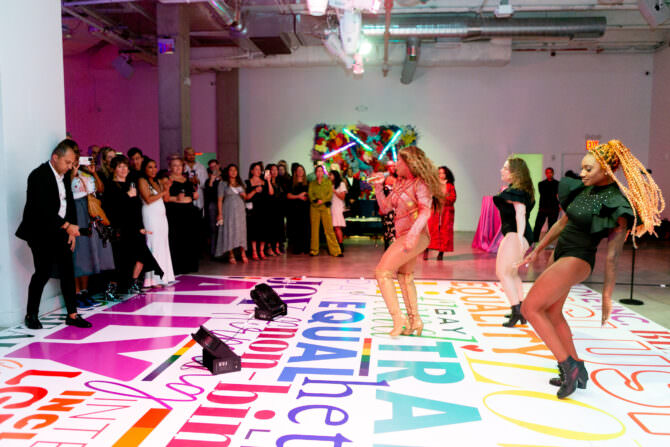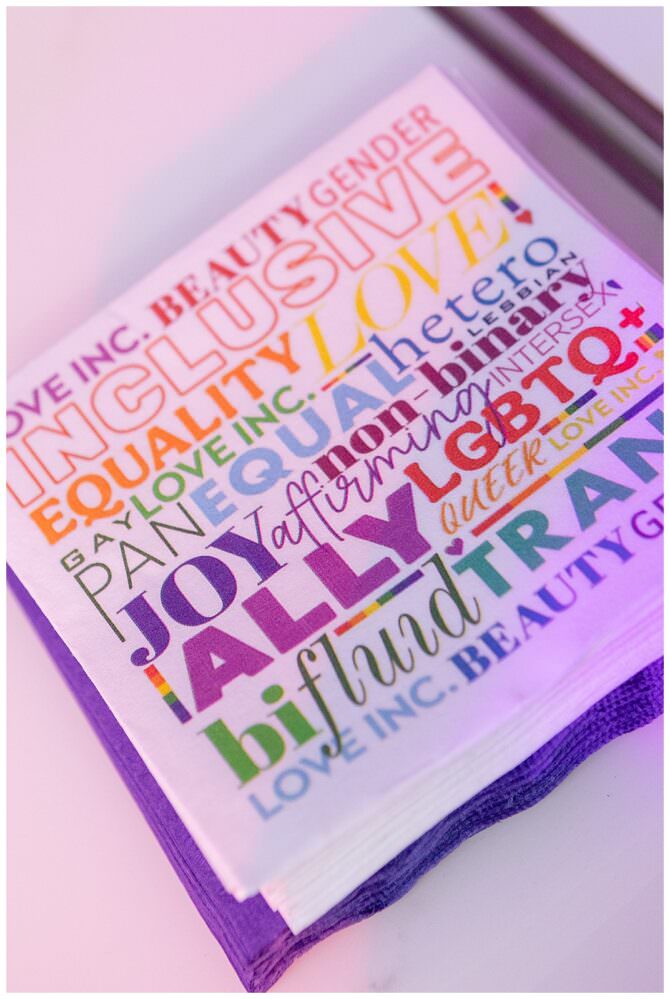 TOP WEDDING TRENDS SPOTTED AT LOVE INC.'S LAUNCH EVENT
Custom dance floor vinyl
Lights embedded into floral installations
Bright and BOLD palette
Specialty acts
Testimonial guestbooks
The evening was a wild success, and perhaps my biggest tip of all for your own wedding day is to surround yourself with quality vendors who you trust. The entire planning experience was amazing because I knew, with Brian and Marc steering the ship, I was in good hands.
I would like to take the opportunity to thank everyone who came out to show their love and support — I felt overwhelmed with gratitude before, during and long after the event. And a huge thank you to our partners: By Brian Green, The Style Marc, Chelsea Industrial (a Blace.com venue), Phillip Van Nostrand Photography, NST Pictures, Artem Lomaz, The Eleven, Laced Vinyl Shoppe, RGNY, Greenport Harbor Brewing Co., Empress Gin, Fever-Tree and Pomp & Whimsy. Dream team for sure!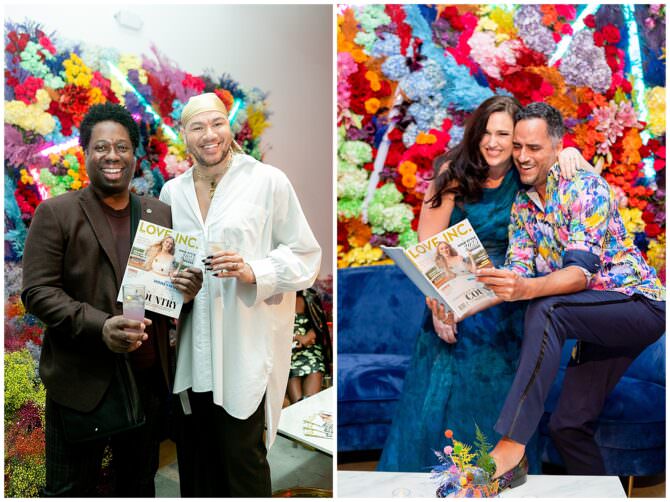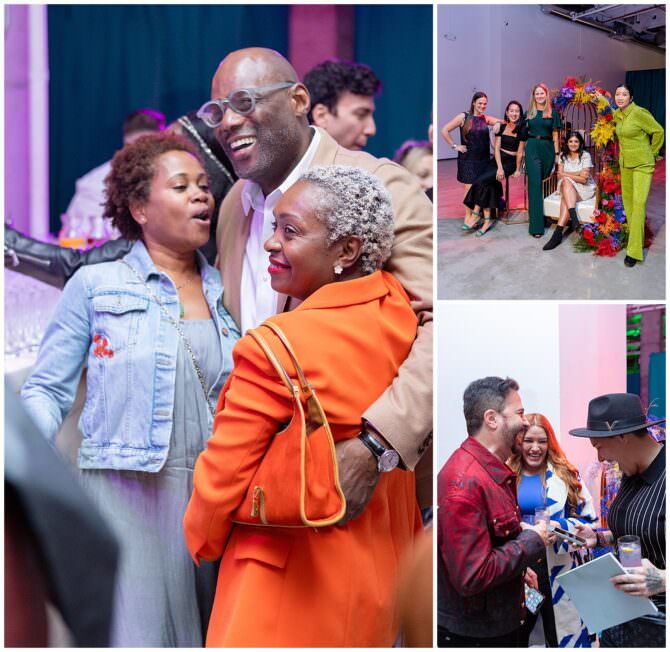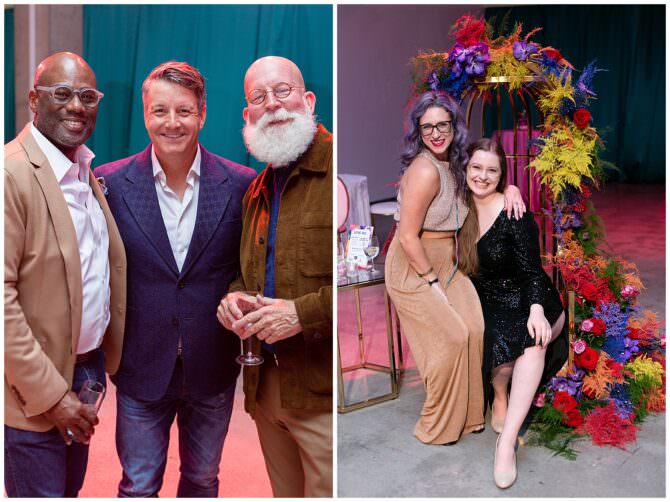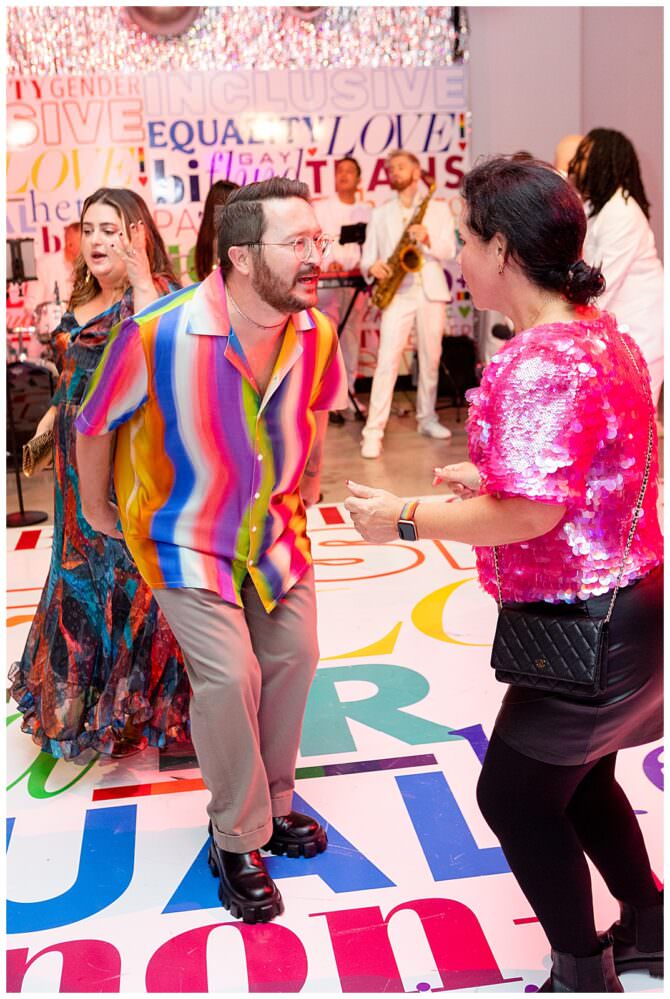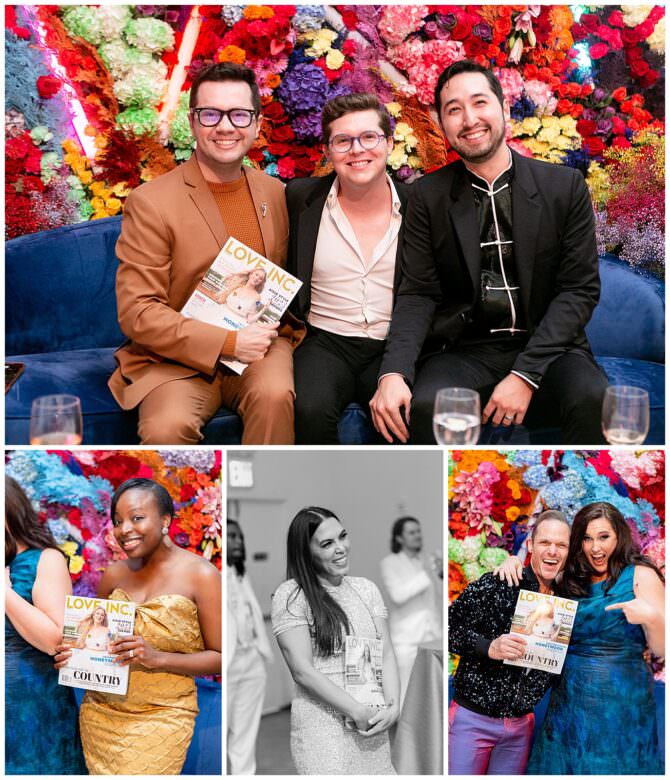 *partnered vendors