Before Erin and Cameron nailed down the guest list for their wedding, they thought a small celebration was what they wanted. But as the guest list grew, they realized that they couldn't imagine saying "I do" without everyone they love being present. So they found the Tampa Garden Club, a stunning venue that accommodated their guest count, and began planning a day that was as special for them as it was for their guests. "Despite our guest count, we wanted our wedding to feel intimate and inviting," Erin says. "We both love living in the Tampa Bay area, so with many of our loved ones traveling from afar to celebrate with us, it was only natural that we would host them here in our hometown."
Rad Red Creative was behind the lens to capture the most beautiful photos of Erin and Cameron's wedding day, which included plenty of lush magnolia leaves, gorgeous gilded details and a loving ode to their fur babies who had to stay at home but are still very much a part of the family. As beautiful as this wedding is, what really takes our breath away is Erin and Cameron, who look positively radiant as they start the beginning of the rest of their lives together.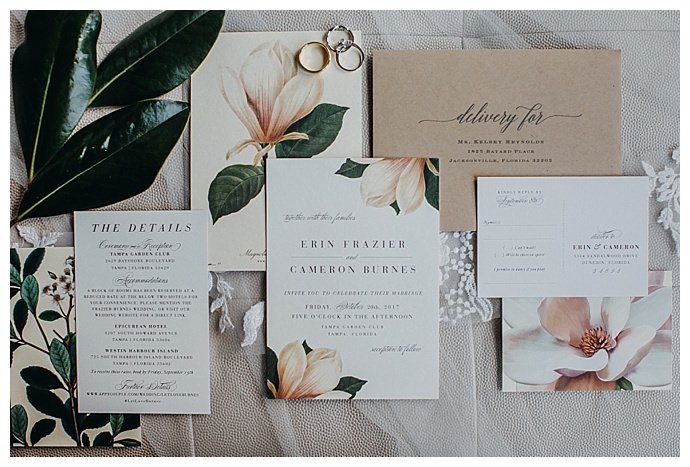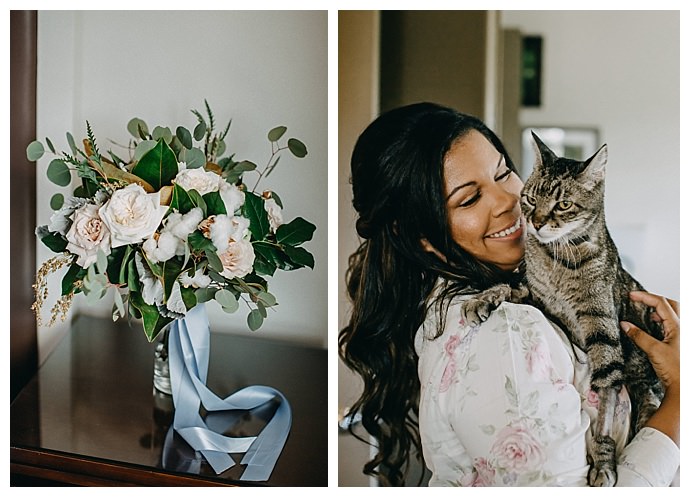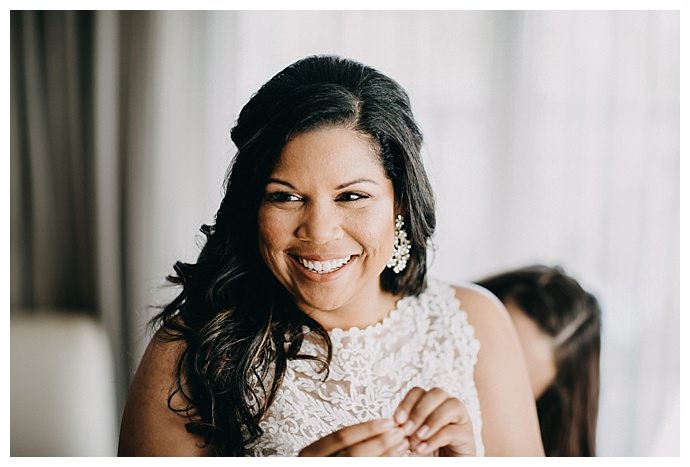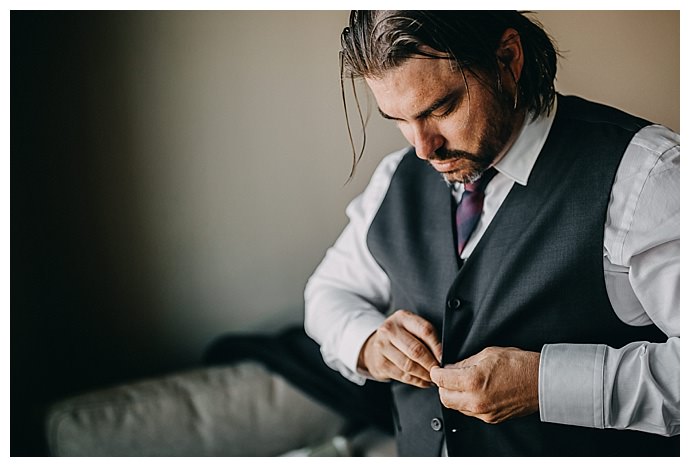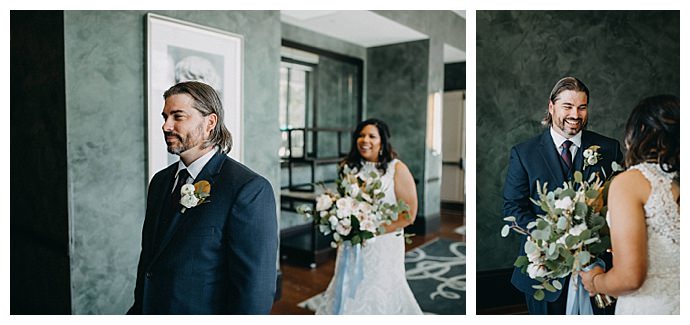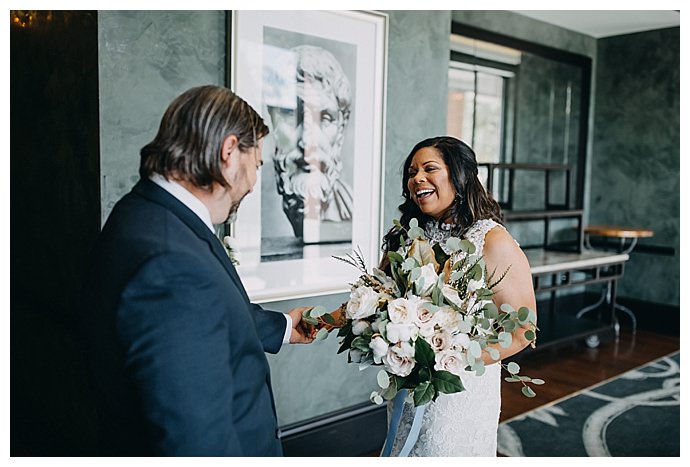 The Love Story
Over the past ten years, Erin and Cameron's paths had crossed a few times, but it wasn't until they were officially introduced at a mutual friend's party that they started to get to know each other. "We hit it off immediately, talking for hours whenever we saw each other," Erin says. "After spending countless weekends hoping to run into one another, he asked me out for dinner — we've been inseparable ever since."
Three years later, it was Christmas morning, and Erin and Cameron were opening presents at Erin's parents' house. When Erin opened Cameron's gift, she was initially unenthused to find a box for a luggage scale. What she didn't know is that Cameron had used a gag box to throw her off course. "Upon unwrapping it, I did not know how to react," Erin says. "Cameron took the gift from me, opened the box, and there he was asking me to marry him. He proceeded to wear a t-shirt I had purchased him earlier in the season, which read: Eggnog Made Me Do It, for the remainder of Christmas Day. The whole experience completely sums up our relationship — full of love and laughter. It was perfect."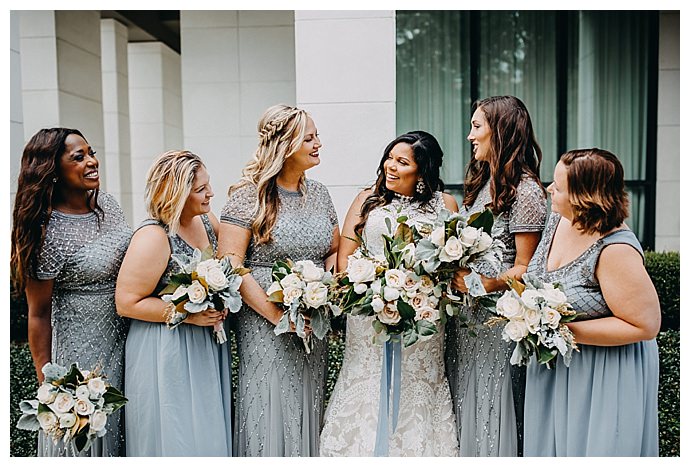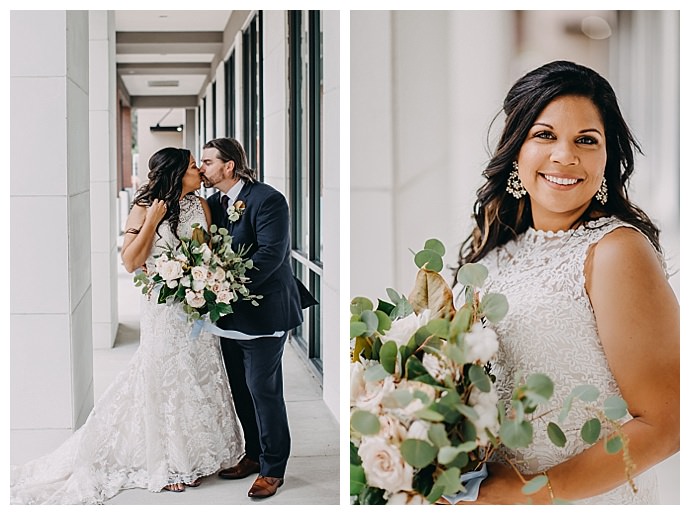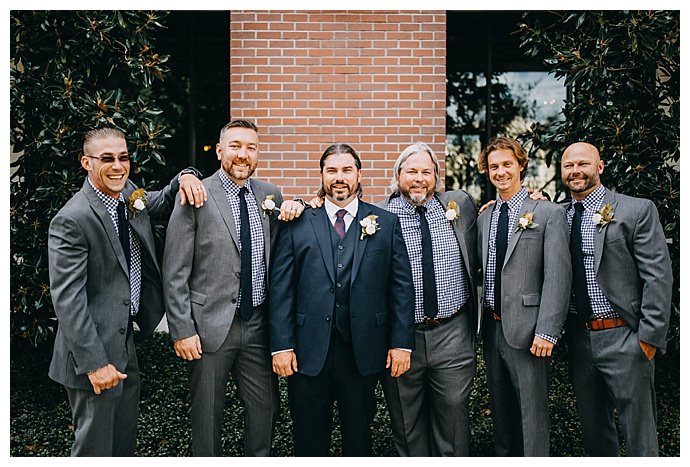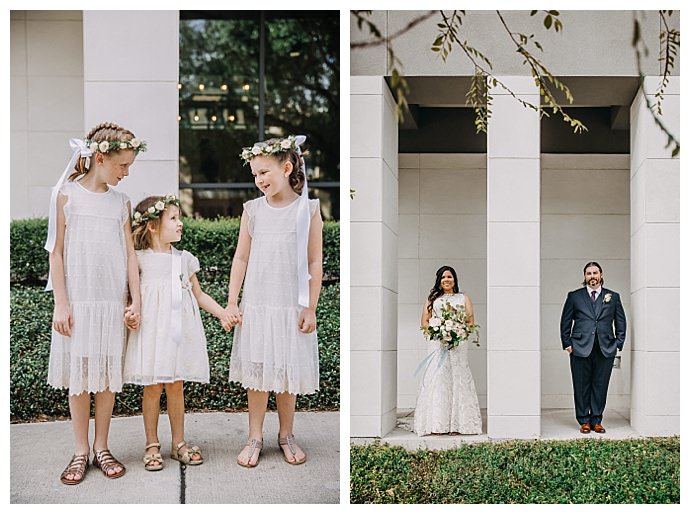 The Ceremony
"Our ceremony itself was so special to us," the bride says. "Walking out and seeing so many people that we love smiling back at us was an experience that is hard to describe." To make the ceremony even more personal, Erin and Cameron's close family friend got ordained for the occasion to officiate the ceremony. "We loved hearing his words, accounts of our relationship and advice as we stood before each other," Erin says. During the ceremony, Cameron's cousin read an E.E. Cummings poem, and Erin's sister sang a song. "Before singing, she asked all of our wedding guests to snap to help her keep the beat," the bride says. "Hearing everyone snap along, engaging in the moment with us, and her belting out the most beautiful version of Al Green's 'Let's Stay Together' we have ever heard, was a memory we will cherish forever."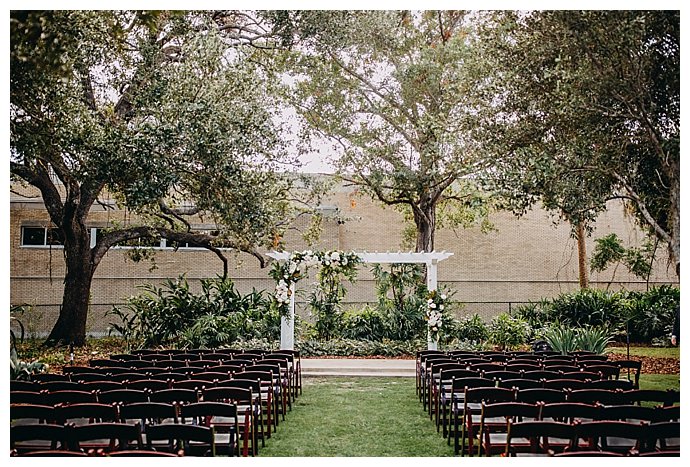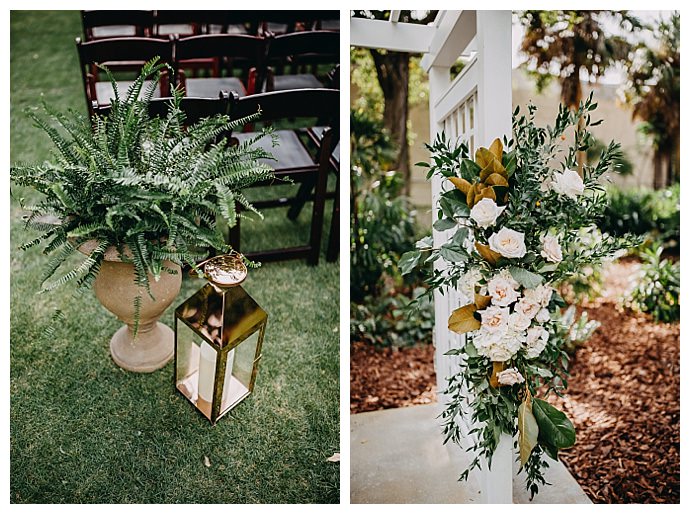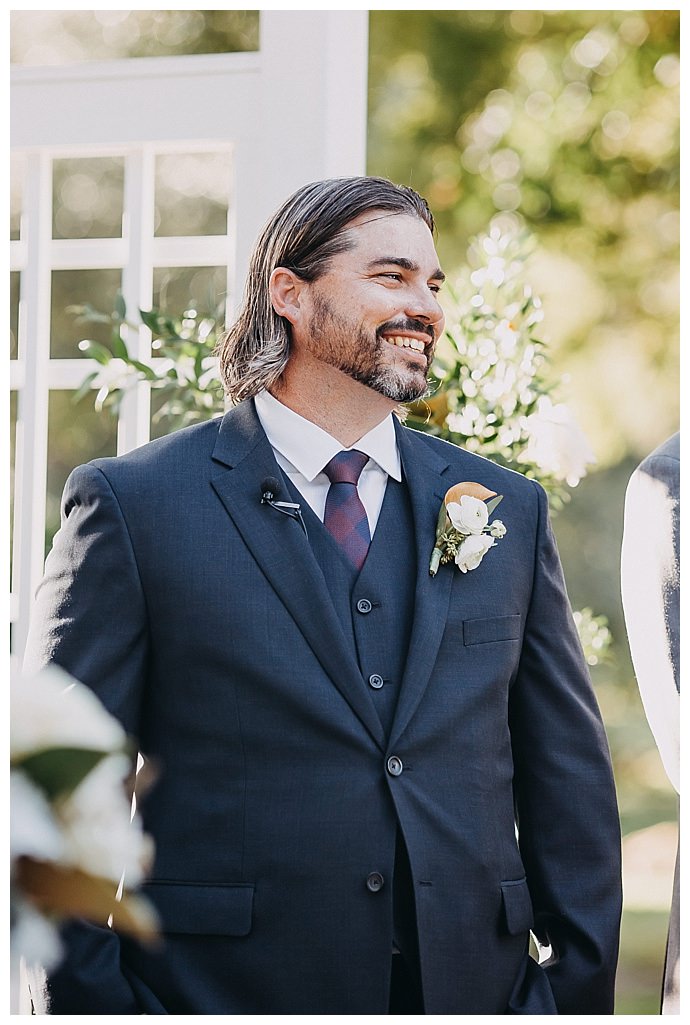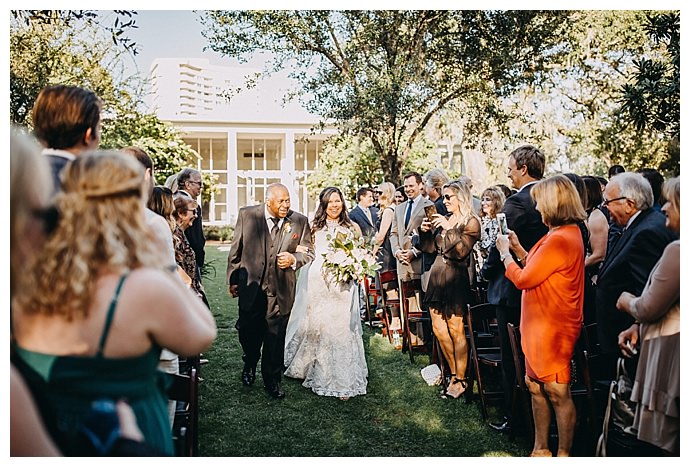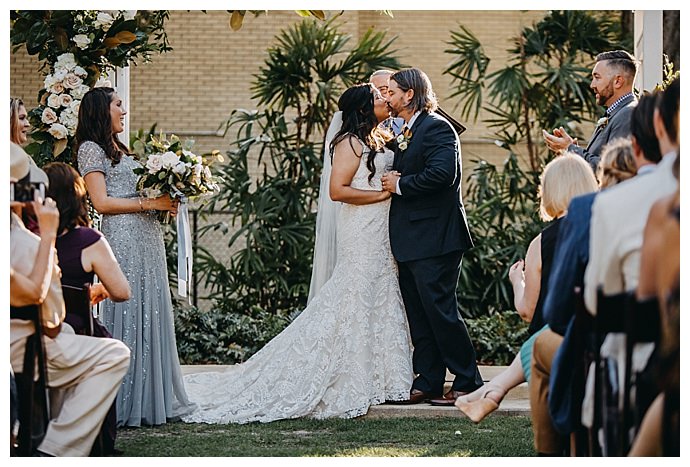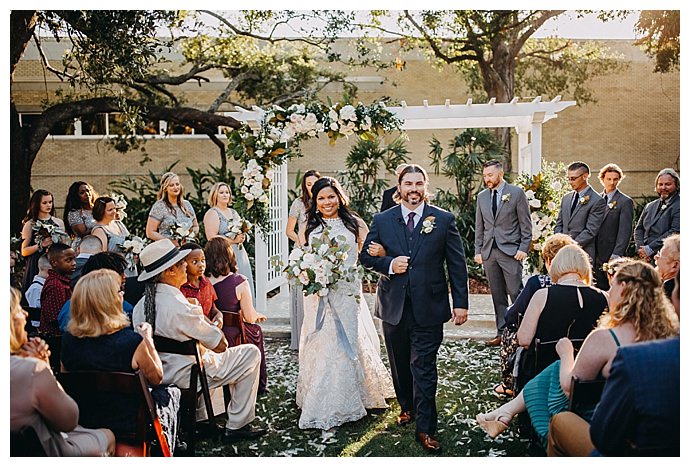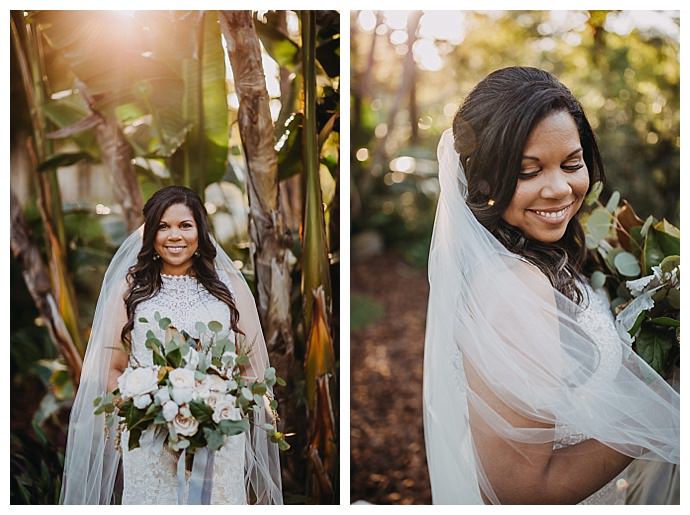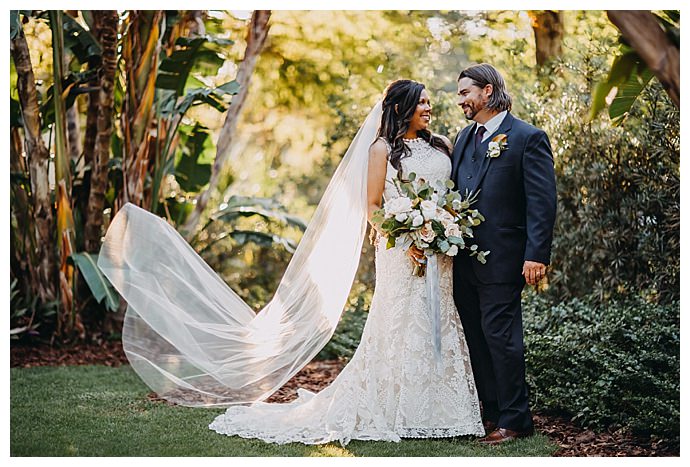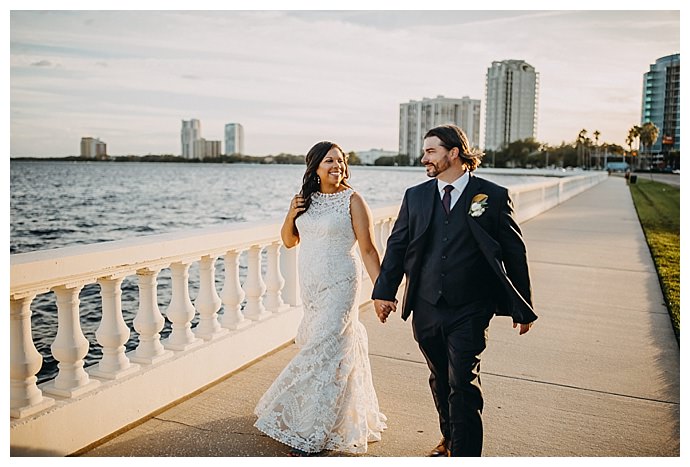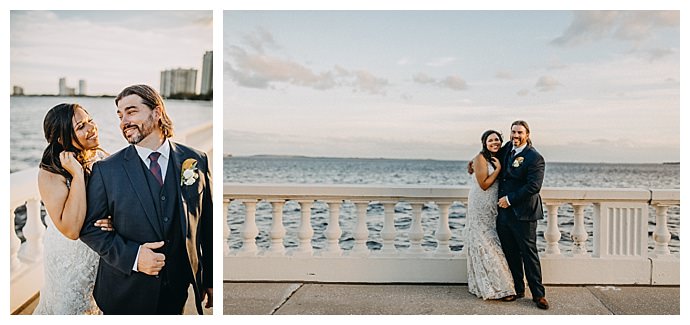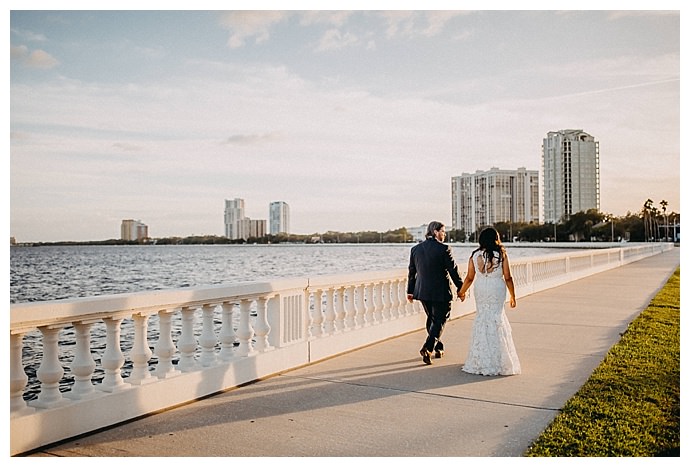 The Party
As Erin and Cameron were planning their wedding, they wanted to incorporate the charm of old Florida into the design of their day. "To us, this meant keeping the overall look very organic and natural," the bride says. "Magnolia leaves and lush, overgrown greenery were a must, as well as exposed elements and a neutral palette of airy florals." Inside the Tampa Bay Garden club, the tables were coated in a beautiful color palette of navy and gold, which complemented the floral design perfectly. And to differentiate each table, the bride and groom found a fun way to include their fur babies who couldn't be there. "We are huge animal lovers," they say. "Our day would not be complete without finding a way to include our furry friends! We had an artist draw our pets, as well as those of our wedding party, and used those drawings in lieu of table numbers. Our guests got a kick out of it, and it really did make us feel like our fur babies were with us."
It was also important to Erin and Cameron to maintain a feeling of intimacy as though they had invited each of their guests into their home. So they enlisted Cater Tampa to create a tasty southern menu, which included fried chicken, pulled pork, Brussels sprouts and corn bread pudding. "People are still raving to us about how good the food was!" Erin says. For dessert, the newlyweds cut into a two tier rum cake with Bacardi infused custard and buttercream icing. And for the guests, they also put out a decadent spread of peanut butter cupcakes, carrot cake cookie sandwiches and donuts in three different flavors from Jupiter Donuts, which was a sweet end to a perfect day.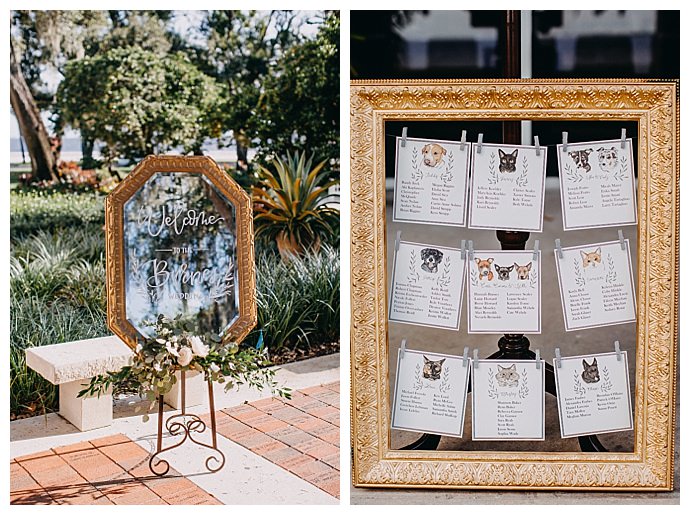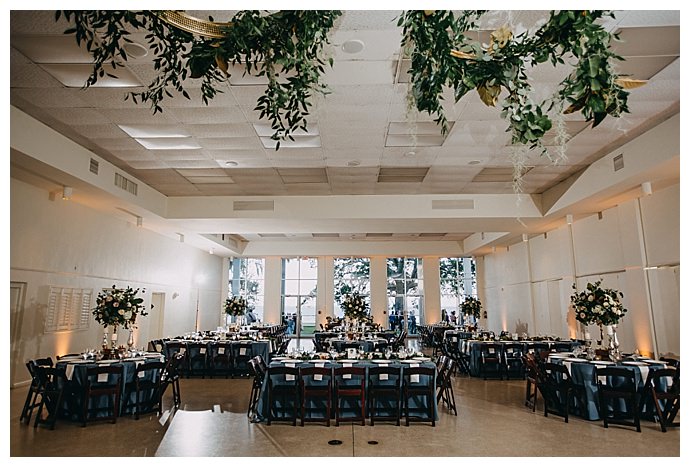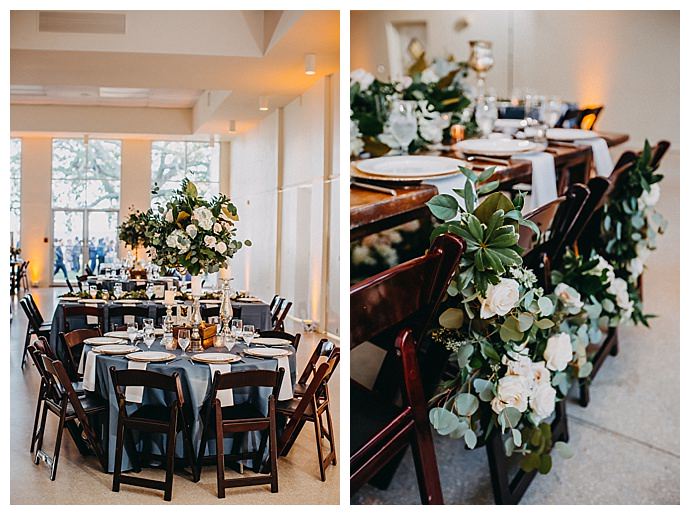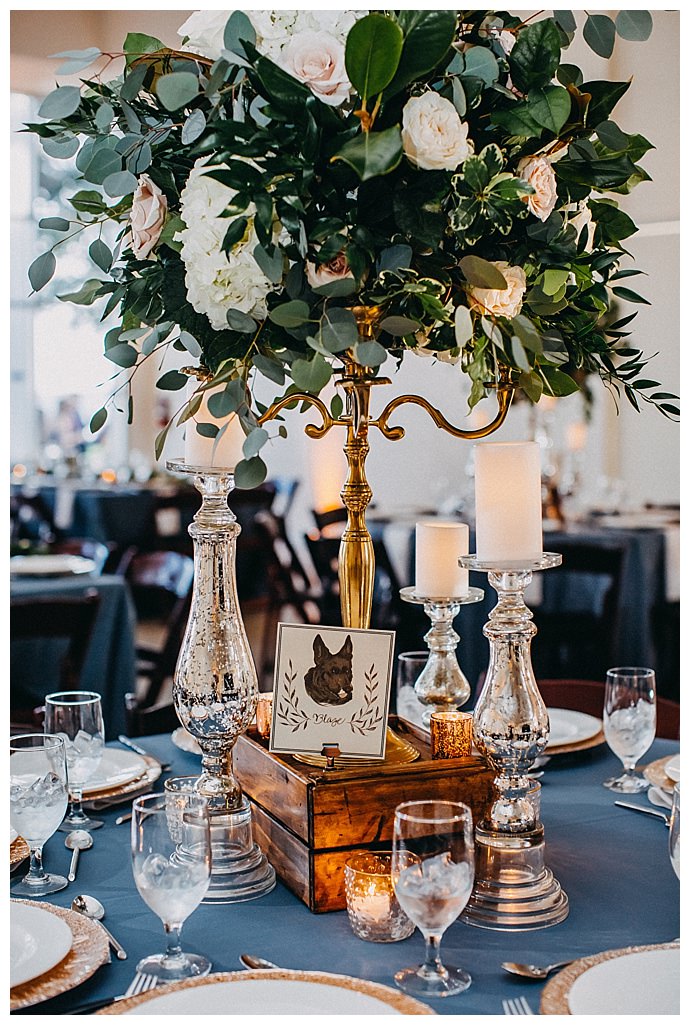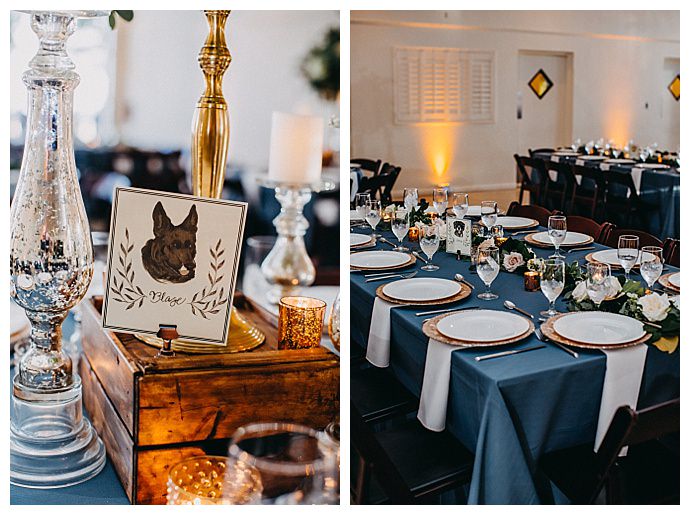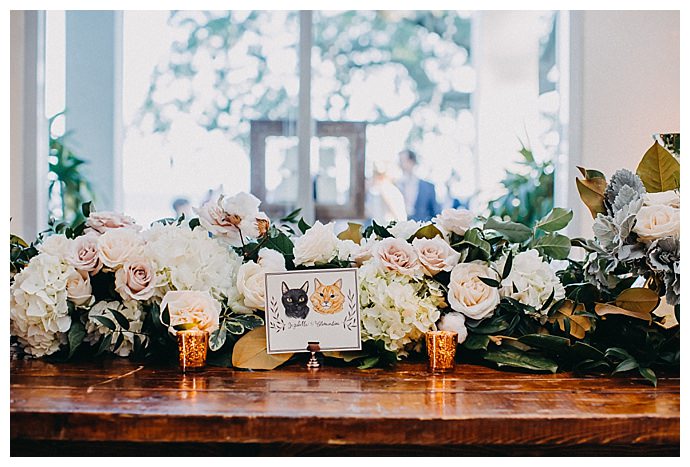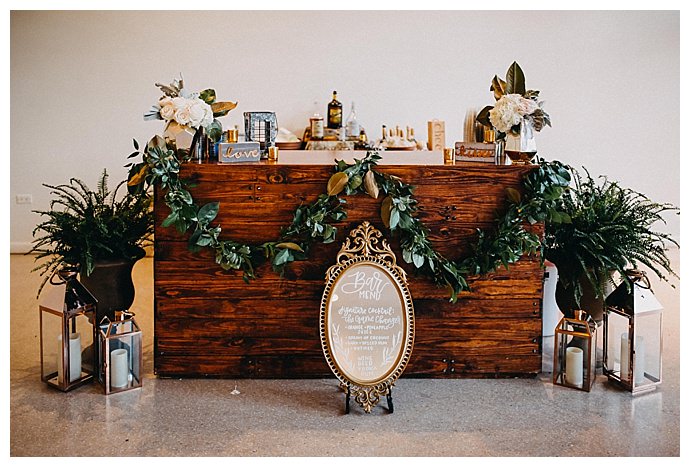 Memorable Moment
"Cameron is a big time UF fan, and I'm a Nole Girl," Erin says. "Later in the night, our DJ played a mash-up of the two university's fight songs. With so many friends and family as alumni from both schools, everyone stormed the dance floor shouting their chant. We both love football, and this was the perfect ode to our rivalry. Seeing our friends and family get into it was a total riot!"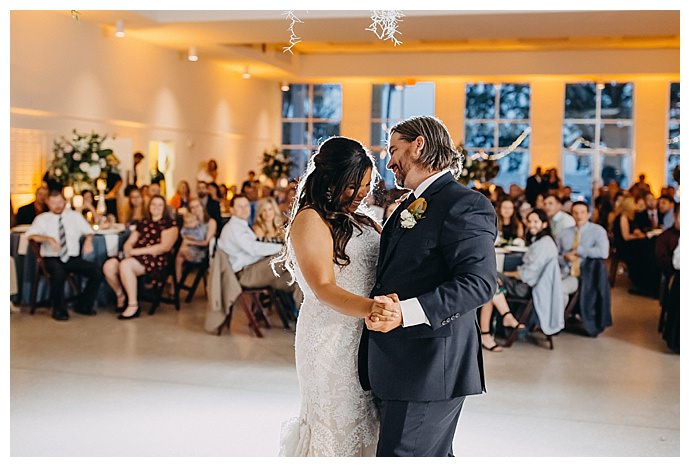 Erin and Cameron's Highlight Video from Brett Rohlfing on Vimeo.
Submitted via Matchology
*Editor's Note: This post contains affiliate links. Each time you purchase an item via our affiliate links, Love Inc. is receiving a small percentage of the sale, thus you are helping our small, EQUALITY-MINDED™ business grow and allowing us to provide more content for YOU! Isn't that just fantastic?
Written by: