To Claire, three and a half years felt like forever. So when Brian attempted the impossible, to surprise the un-surpriseable Claire, he managed to not only pull it off, but also seal it with a ring. Claire and Brian traveled from their home in New Jersey to Lancaster, Penn., to take their engagement photos, documented beautifully by EarthMark Photography. "In the beginning of our relationship, Brian was living in Lancaster, and I was in New Jersey," Claire says. "Every week I would take a two hour drive to visit him and we would spend our days off exploring downtown. It felt right to have our engagement shoot in the little city where we fell in love."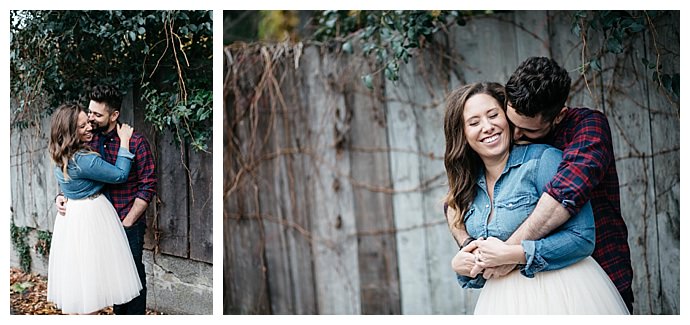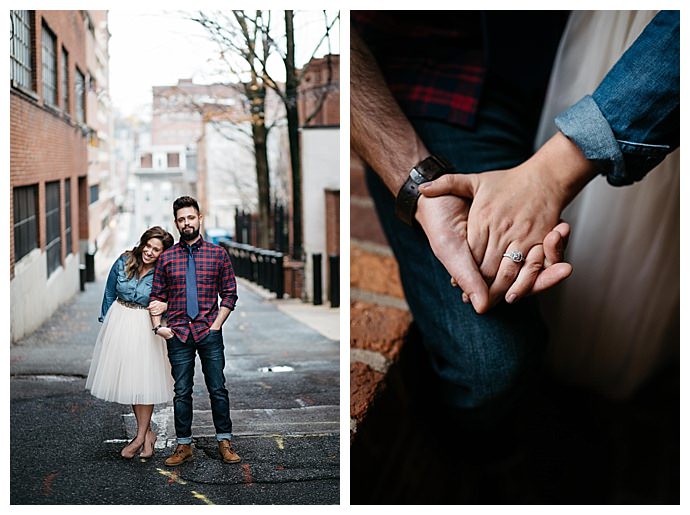 The Love Story
When Claire locked eyes with Brian for the very first time, they were surrounded by rows of brightly colored rubber shoes. In Atlantic City, N.J., Claire was a hopeful new employee of the Crocs store where her good friend had just been hired. But first, she had to meet with the market leader to see if she was a good fit for the job. "I remember being nervous about the interview and even more so once I saw Brian for the first time because it was definitely love at first sight for me," Claire says. "Needless to say, I got the job and spent a year or so convincing the guy from Pennsylvania who hired me to go on a date with me. And fall in love. And have him ask me to marry him."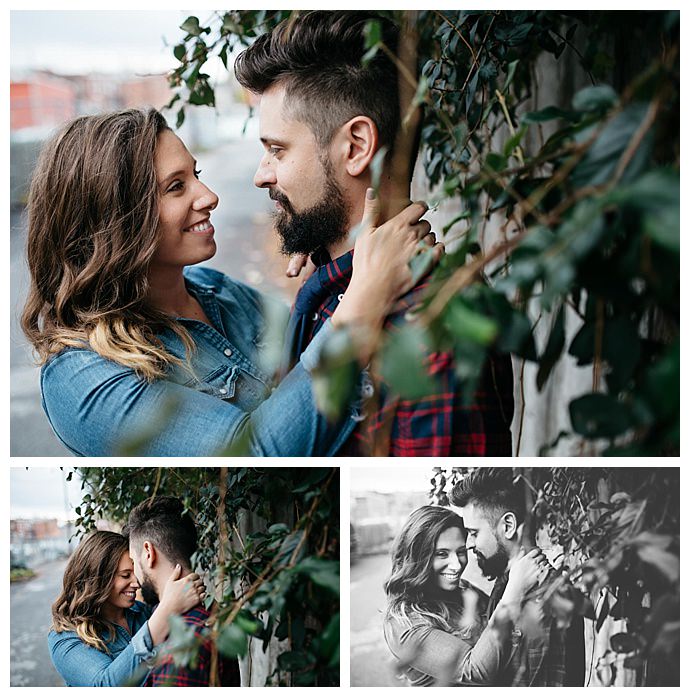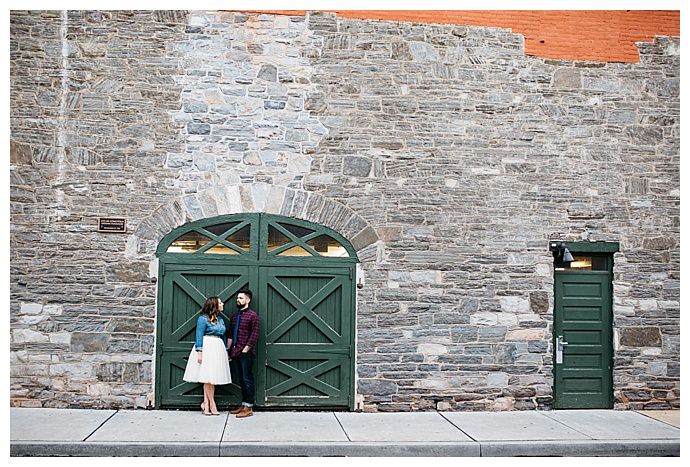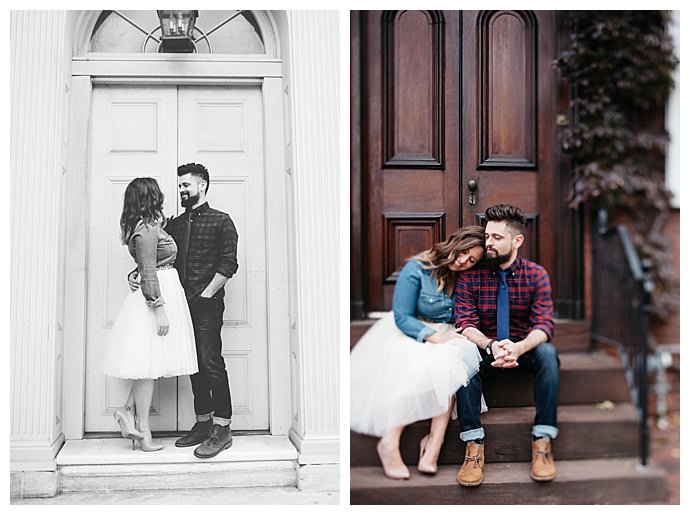 The Proposal
After three and a half years of dating, Claire and Brian were in Philadelphia for a Sturgill Simpson concert. Claire was getting ready for a night of drinks, arcade games, dinner and then an evening filled with music. She wasn't expecting that she'd be showing up to the concert with a sparkly new accessory in tow. "After getting ready for the night, we left the hotel and took a cab to Dave & Buster's, which is a favorite spot of ours," Claire says. "After a couple drinks and some fun playing arcade games, we walked over to Morgan's Pier, which is a nice little open air restaurant that faces out on the water."
As they neared the restaurant, Brian became occupied by the boats in the water and wanted to go look at them. Together, they walked over to lean their elbows against the railing and watch the boats rock slightly from side to side as the water flowed between them. "He started asking me questions about boats, and I remember thinking to myself 'why is this happening right now?'" Claire says. For someone who considers herself impossible to surprise, she nearly caught on to Brian's plan in that moment. But it wasn't until he grabbed her hand that tears started to flow from her eyes as she realized that this was the big moment she had been waiting forever for.
"My mind went blank because I knew what he was going to ask me, and I couldn't believe it was finally happening," Claire says. Brian pulled a ring out of his pocket and asked Claire to marry him. After she said yes, she noticed that the faint click of a camera shutter in the background was her best friend capturing the moment so they could have that memory forever. "We went to eat at Morgan's Pier afterward where I don't remember eating anything, just staring at my new sparkly ring and being overly excited about getting to marry my best friend," Claire says.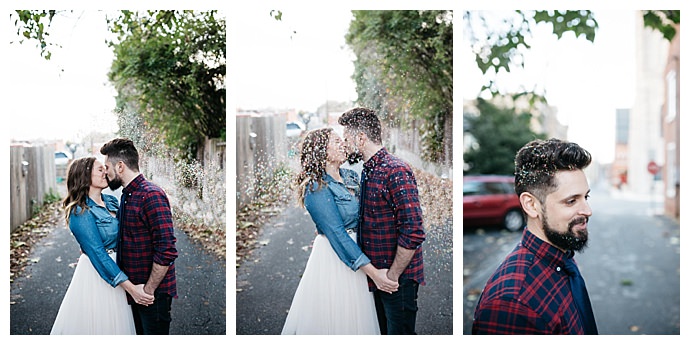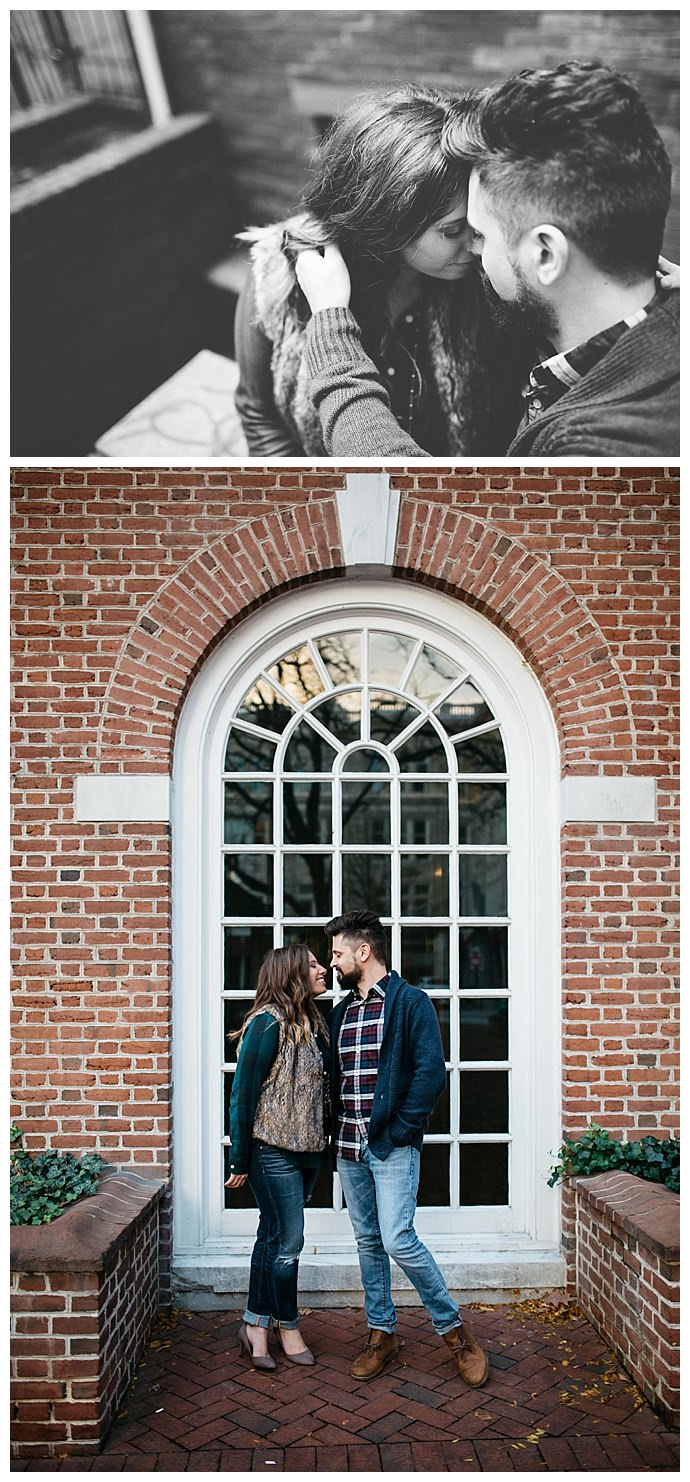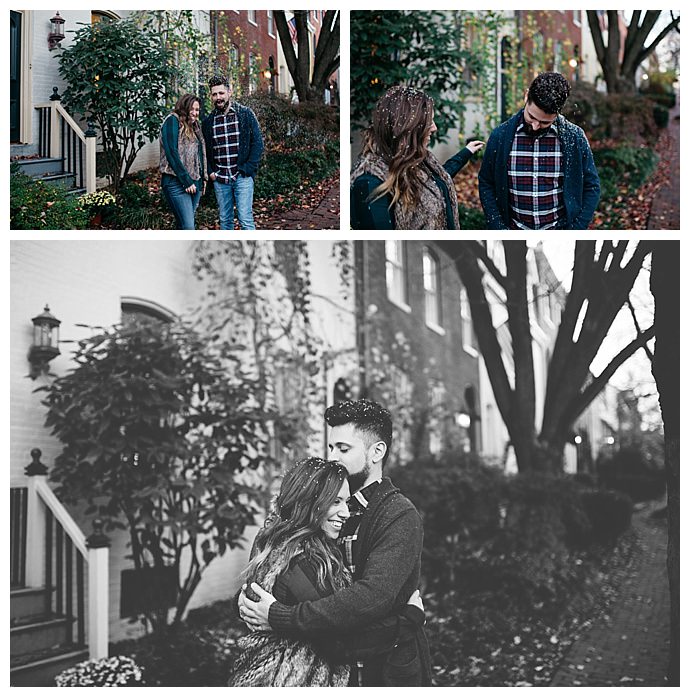 The Ring
"Brian picked the ring out on his own with no help from anyone," Claire says. "It's a princess cut center stone with a double halo on a slight split shank band. It's from the Neil Lane collection at Kay Jewelers."
The Wedding Date: July 2, 2017


*Editor's Note: This post contains affiliate links. Each time you purchase an item via our affiliate links, Love Inc. is receiving a small percentage of the sale, thus you are helping our small, equality-minded business grow and allowing us to provide more content for YOU! Isn't that just fantastic?