With the ultimate love story, Cinderella, hitting the big screen this weekend, our friends at Wedding Paper Divas brought the fairytale wedding to life with some royalty-worthy wedding invitations. And if the party-ending-at-midnight isn't your cup of tea, but say books or a nautical theme is, they've dreamed up options that the rest of the Disney princess gang might pick for their own nuptials.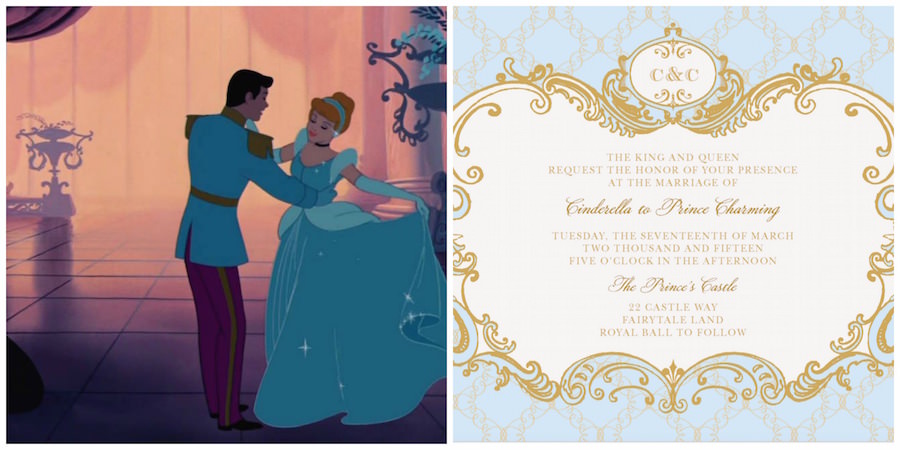 Cinderella: Lavishly Elegant by Elum for Wedding Paper Divas
This classically elegant design is perfect for Cinderella and Prince Charming's royal affair. Not to mention, that pattern bears a striking resemblance to Cinderella's famed pumpkin carriage!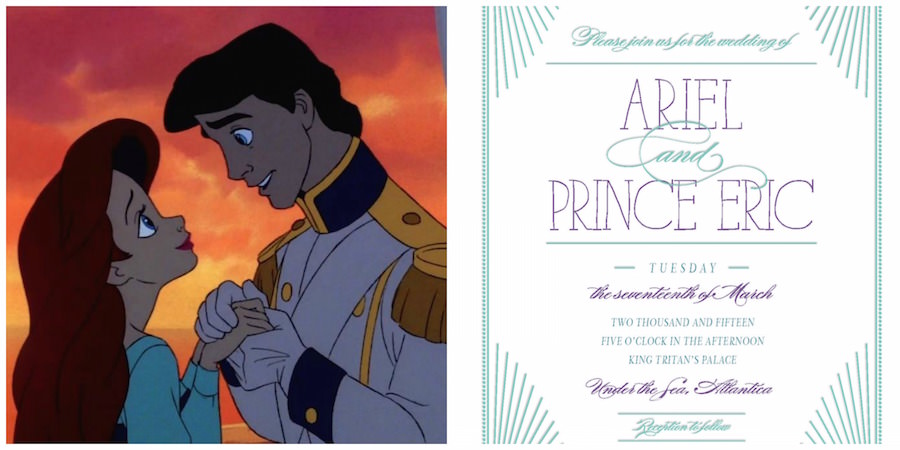 Ariel: Exquisite Endearment by Stacey Day for Wedding Paper Divas
True to her roots, Ariel's wedding invitation would surely incorporate elements of the ocean as shown in this luxurious, yet beachy letterpress design.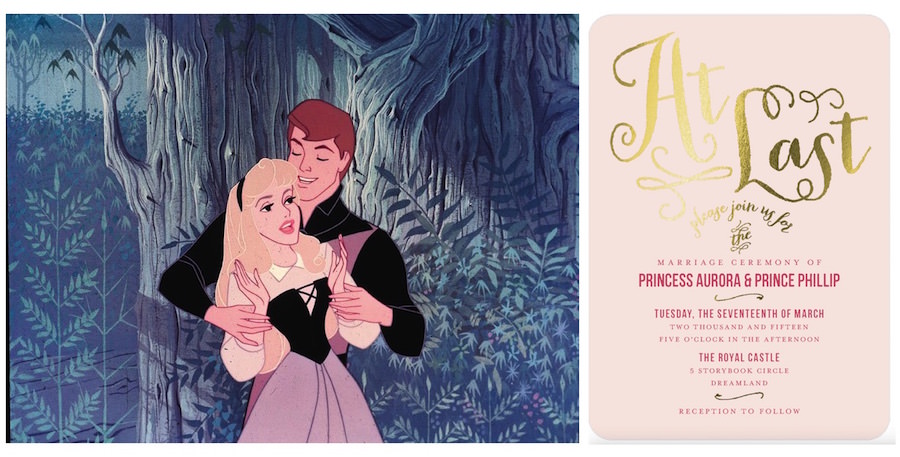 Aurora: At Last by Jenny Romanski for Wedding Paper Divas
When we think of Princess Aurora, we think classic pink. This gorgeous pink color with touches of opulent gold foil is truly fit for a princess.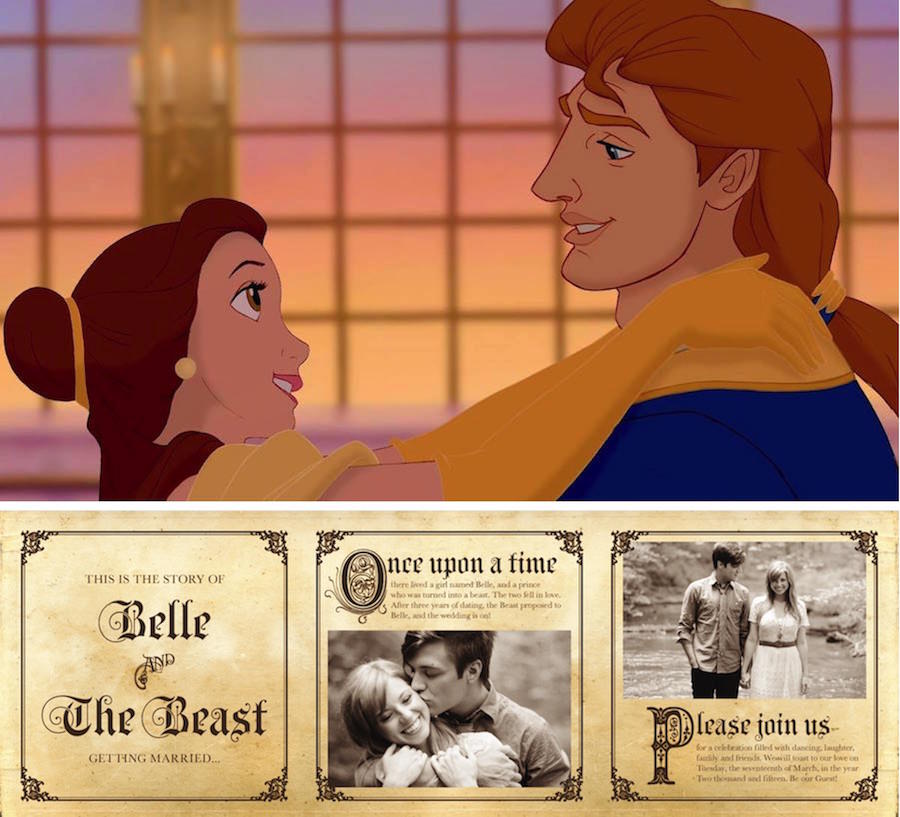 Belle: Long Overdue by Jenny Romanski for Wedding Paper Divas
Belle is not your typical extravagant princess – her wedding to Beast would likely be a simple, but romantic event. With her nose always in a book, Belle would be drawn toward this storybook format that tells the tale of her and Beast's love story.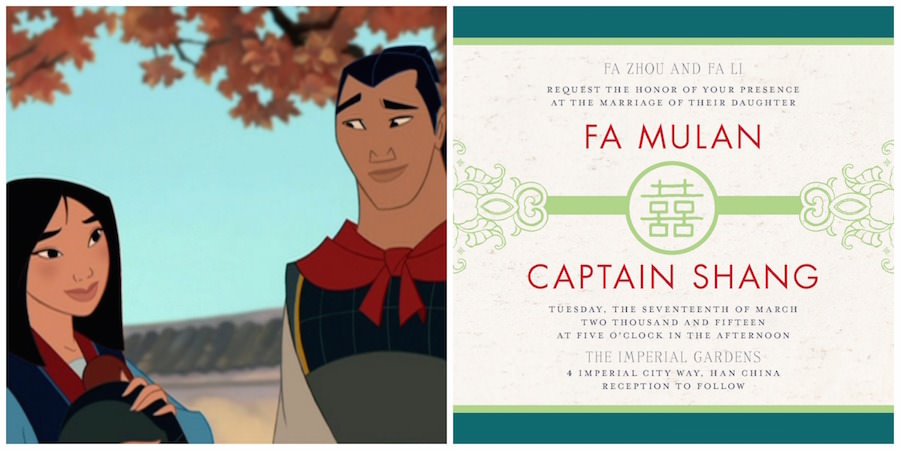 Mulan: Wrapped Happiness by East Six Design for Wedding Paper Divas
Mulan's wedding invitations would hint at her traditional Chinese roots but her rebellious nature would definitely come through with this more modern interpretation incorporating contemporary colors.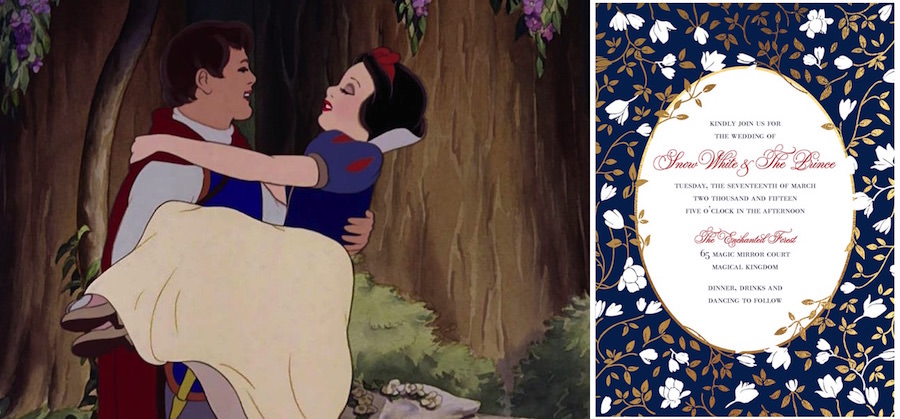 Snow White: Floral Trellis by Mindy Weiss for Wedding Paper Divas
Snow White would lean toward cheerful florals in her wedding stationery in that renowned deep blue, gold and red color palette … complete with bright whites!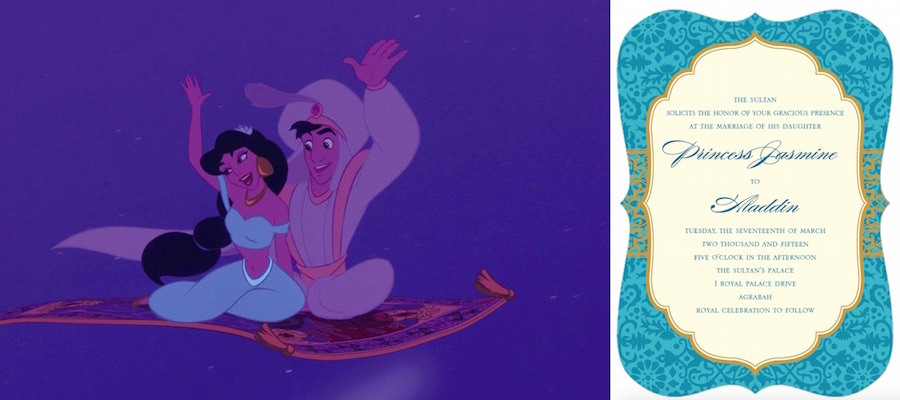 Jasmine: Detailed Ornament by Jenny Romanski for Wedding Paper Divas
Princess Jasmine and Aladdin's wedding would most certainly be as ornate as this design. The shapes and patterns mimic the architecture of Princess Jasmine's royal castle—which is where we think this lavish event would take place!
*Editor's Note: This post contains affiliate links. Each time you purchase an item via our affiliate links, Love Inc. is receiving a small percentage of the sale, thus you are helping our small, equality-minded business grow and allowing us to provide more content for YOU! Isn't that just fantastic?