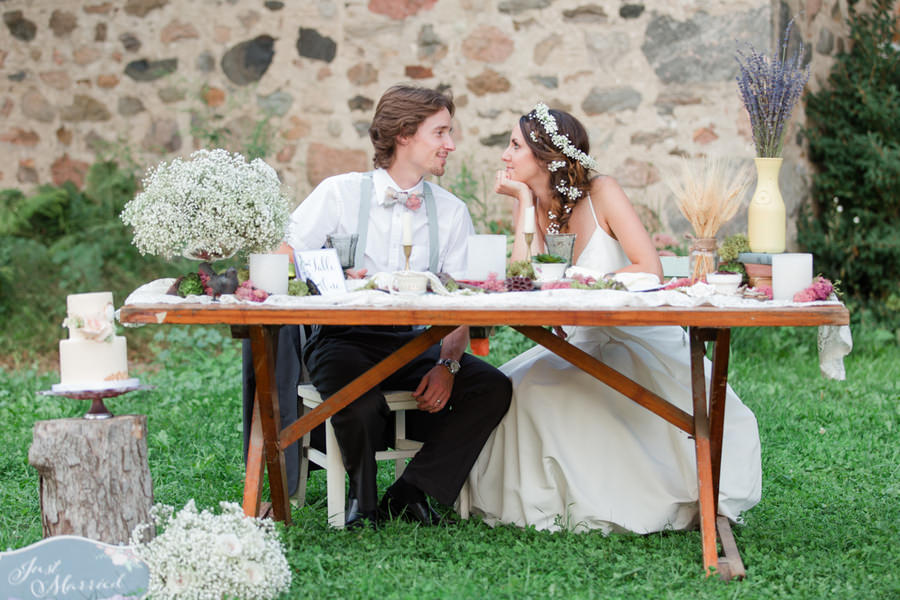 This styled shoot was captured by Jess Collins Photography for her own branding and we're so thrilled that she wanted to share it with us! The table is filled with treasures you'd pick up at your favorite thrift store — pearls, antique keys, lace — and the vintage theme continues throughout with the couple's simplistic style, a pendant-inspired cake and homey florals.

Ideas We Love
Baby's breath in the hair: We raved about this sweet and simple version of a flower crown in our last issue and the model's baby's breath braid is a perfect example of why we love it so.
Wheat Florals: Maybe it stems from my Southern roots, but I always get happy seeing flora such as wheat and cotton used in floral designs. The wheat's wispy texture is perfect standing alone or as an additive in arrangements.
Vintage Cake: The cake design looks as if it was pulled straight from my grandmother's jewelry box. I love the idea of incorporating a similar design using your own family heirloom!
Floral Tie: Don't be afraid of florals, boys! This bow tie paired with sea-foam green suspenders gets two thumbs up.
Team of Talents
 Photography: Jess Collins Photography
Planning: High Gloss Weddings
Beauty: Peachy Keen Studio
Cake: Too Nice to Slice
Florals: La Petite Fleur
Hair: Chanel Brieanne Hair
Venue: Steckle Heritage Farm