For LGBTQ+ couples and those who want to work exclusively with equality-minded™ wedding pros, the search for your dream team of vendors can be challenging, and if you are LGBTQ+, it can often feel like you're having to come out all over again, unsure of what the response will be. The conversation of "oh, by the way, I'm a girl, marrying a girl, are you okay with that?" can feel awkward at best, and is the number one concern of LGBTQ+ couples during the wedding planning process for good reason.
It's easy to think, it's 2019 … is this really still an issue? Yes, it absolutely is. Here at Love Inc. HQ, we confirm with literally every single vendor featured on our site that they're equality-minded, and this process has proven to me just how many are not — even in progressive cities like New York and San Francisco. It's one of the many reasons why I started Love Inc., and five years later, it is (sadly) still very much an issue. But, the good news is, there are some ways to gauge a vendor's equality-mindedness even before you send your inquiry.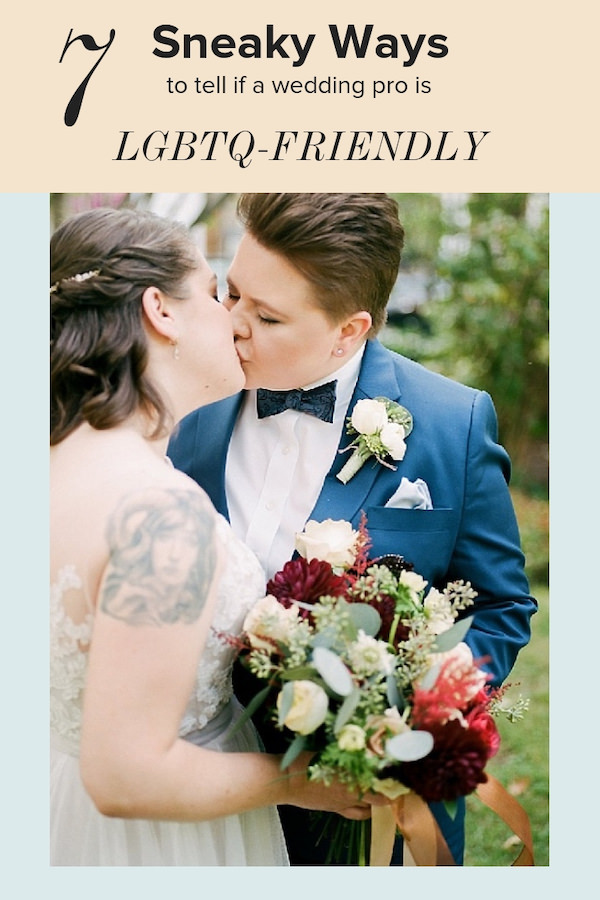 1. Browse Their Galleries: Check their website and portfolio galleries to see if they have wedding images of previous clients' who happen to be same-sex.
2. Read Their Testimonials: Most wedding pros will have client testimonials on their site — investigate to see if any of those clients' names are two men or two women.
3. Evaluate Their Language: In their About Me section, are they talking to brides about their grooms? If they have a form for you to fill out, does it give gender-neutral options or do one of you have to volunteer to be the bride? The language they use will tell you a lot about the type of clients they're trying to attract. Granted, the wedding world is still extremely heteronormative, so it's not necessarily a red flag that they're anti-LGBTQ+ but if they do make the effort to speak to all couples, it shows that they've made the effort to be equality-minded.
4. Browse Love Inc.! I take pride knowing that every single vendor featured has been vouched for by our team. And our Love List is filled with talented pros across the country who are equality cheerleaders.
5. Check Out Their Badges: When a wedding pro gets featured on a publication, they often receive a Featured In badge that they proudly share on their site. Look to see if any of your favorite LGBTQ+ and inclusive wedding blogs like Love Inc., H&H Weddings, Catalyst and Offbeat Bride are on there. Additionally, all wedding pros who are a part of our equality-minded vendor guide receive a Love List badge, and that's a sure sign that they're eager to work with all couples.
6. Are They Certified? Along with creating content here at Love Inc., I educate wedding pros on making their business more equality-minded and encourage all my clients to share on their About page that they've invested in my consultation. Another fantastic certification to look for is from the Gay Wedding Institute.
7. Stalk Their Social Media: Not every wedding they work on makes it into a vendor's website portfolio, but their Instagram grids and Stories can provide you with a broader glimpse into the weddings they're currently working on. Be on the lookout not only for LGBTQ+ clients, but details such as a "Mr. and Mr." cake topper or "Mrs. and Mrs." chair signage. And if you really feel like digging, visit their June 2015 posts—if they're for same-sex marriage, they likely posted a celebratory status when the Supreme Court ruled in favor of marriage equality.
Photography credits: Photo 1 by Kim C. Villa Photography; Photo 2 by Lissa Ryan Photography
Written By: