I always like to channel Martha Stewart when it comes to hosting and her top three entertaining tips are: 1. Pay attention to your guests. 2. Interact with them. 3. Feed them fine food and wine. Wise words. Simply put, people want to be thought-of and feel pampered, and I try my best to succeed at both when I have guests stay over at my home … and it starts with the guest room decor.
Guest rooms are often overlooked — they are typically where old blankets and random artwork go to die. But it's actually the perfect opportunity to wow your guests with little to no effort. It's also a chance to have a little fun with your decor and infuse your personality into the details.
I teamed up with Society6, an online decor boutique home to thousands of creative artists, to share my own tips for creating a warm and inviting guest room that visitors will love. Warning: they may never want to leave!
Create a toiletries station. My guests never have to worry if they forget their toothbrush, because I always have extras at the ready, along with toothpaste, Advil, face cleanser, cotton balls, shampoo/conditioner, fresh loofahs, lint remover, bottled water and more. Keep it minimally sized by using travel-sized products and use a tray and a cute container or two to keep it pretty and organized. Add a scented candle and coffee mug that they can use throughout their stay for the finishing touch.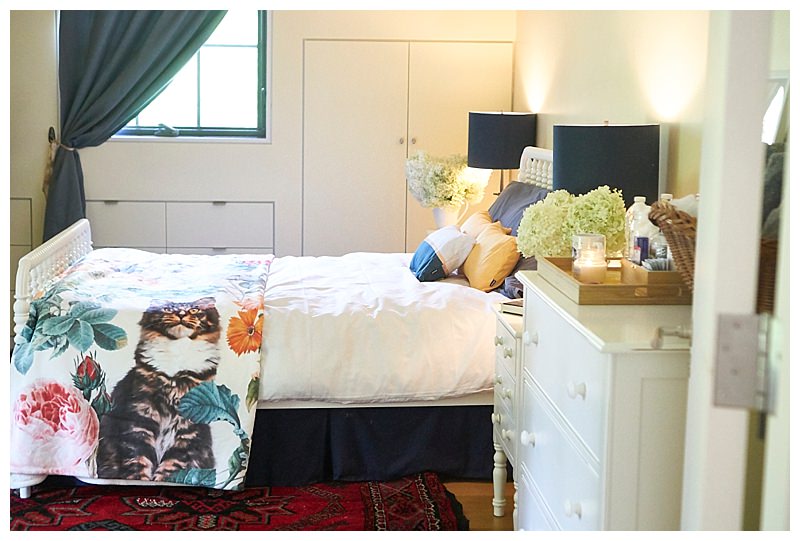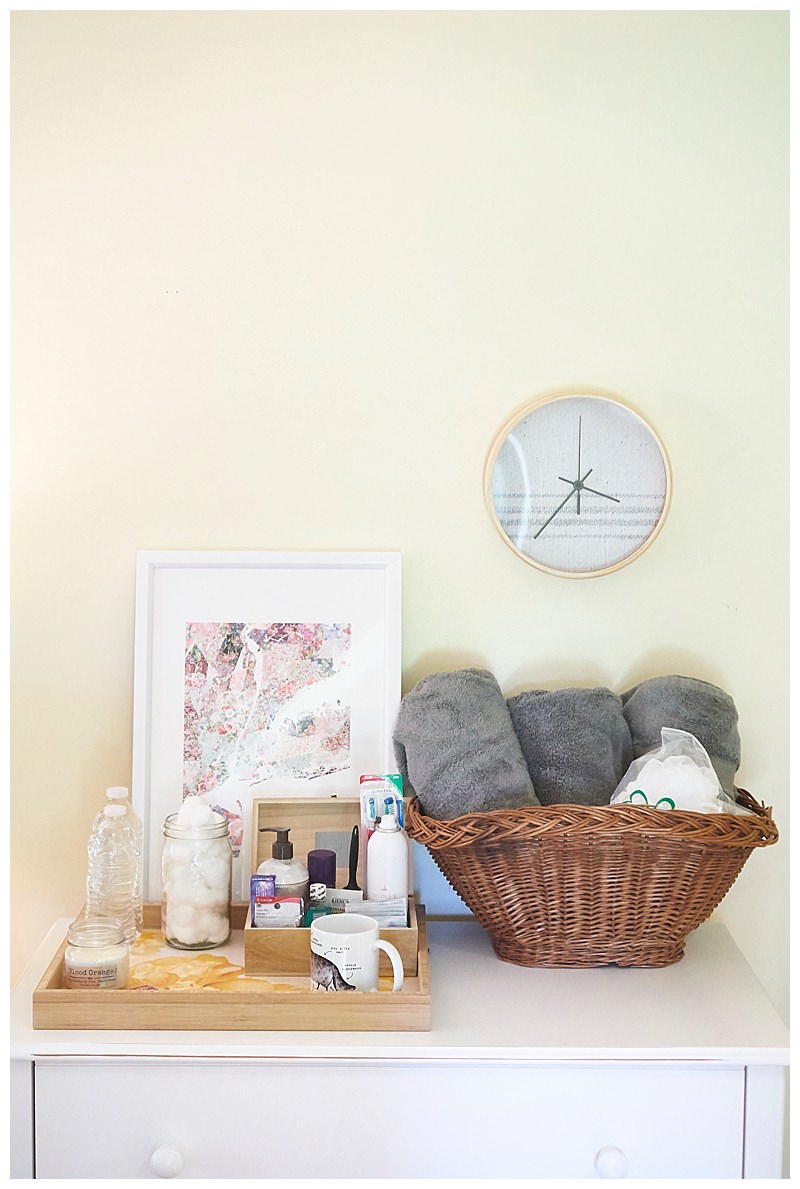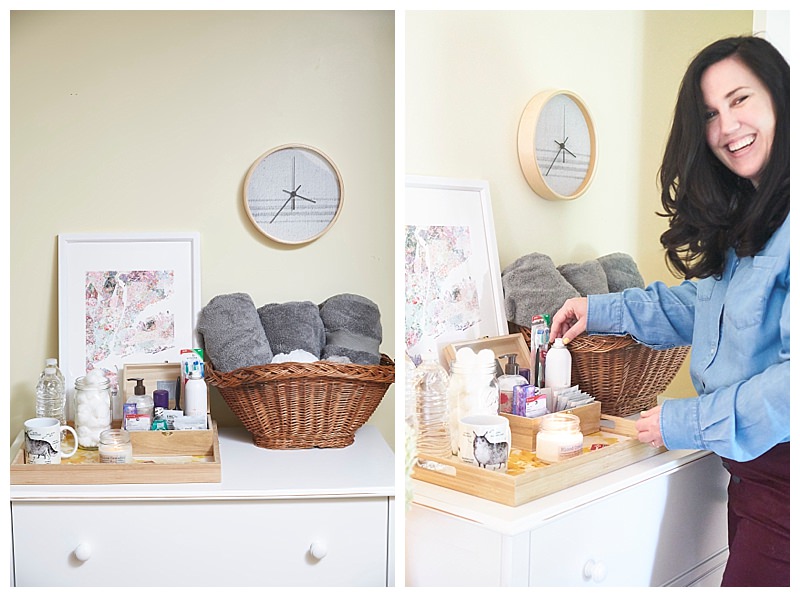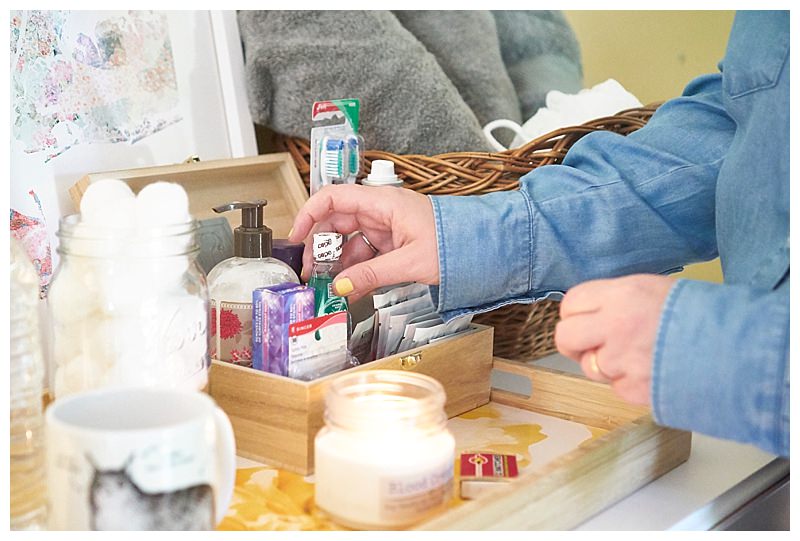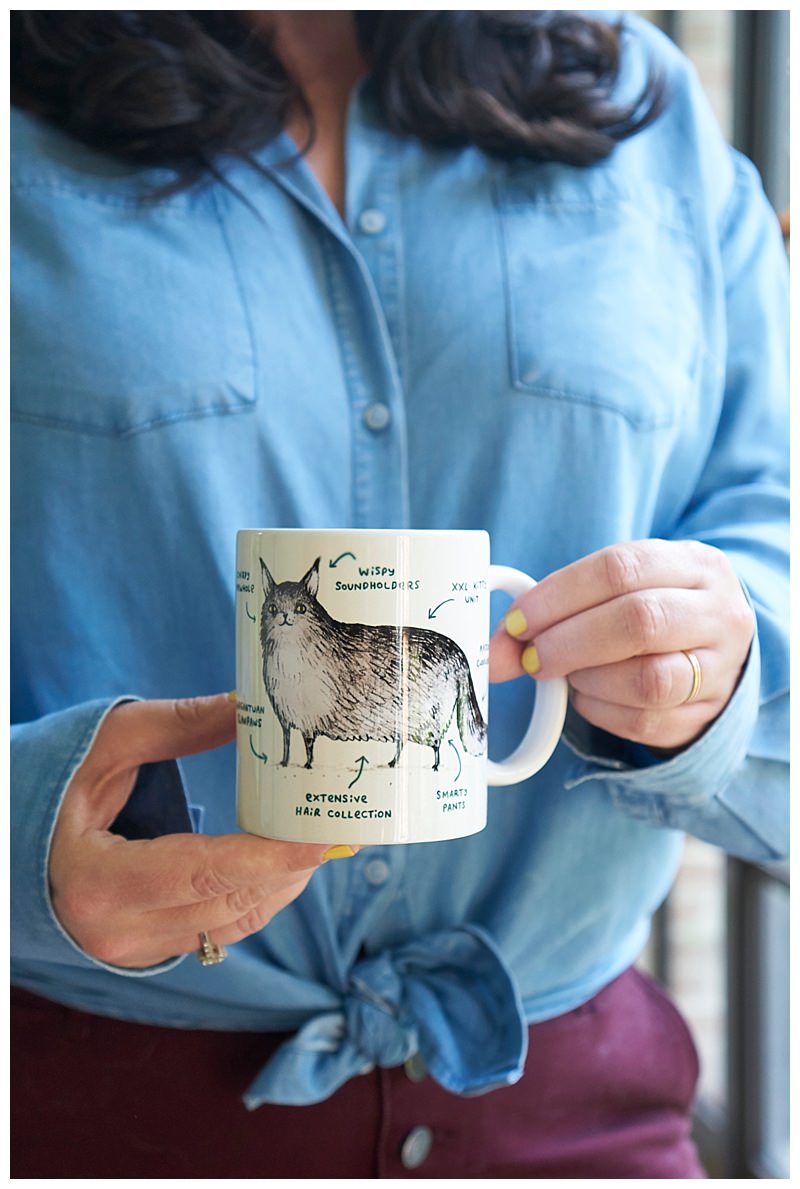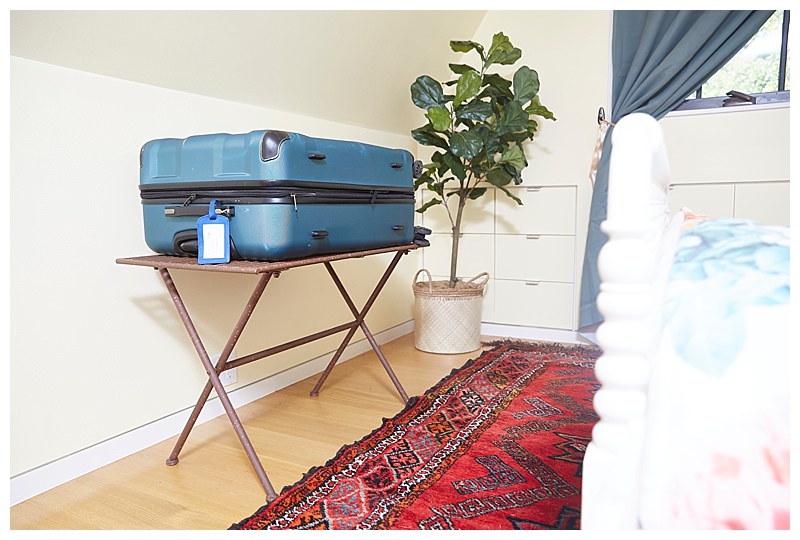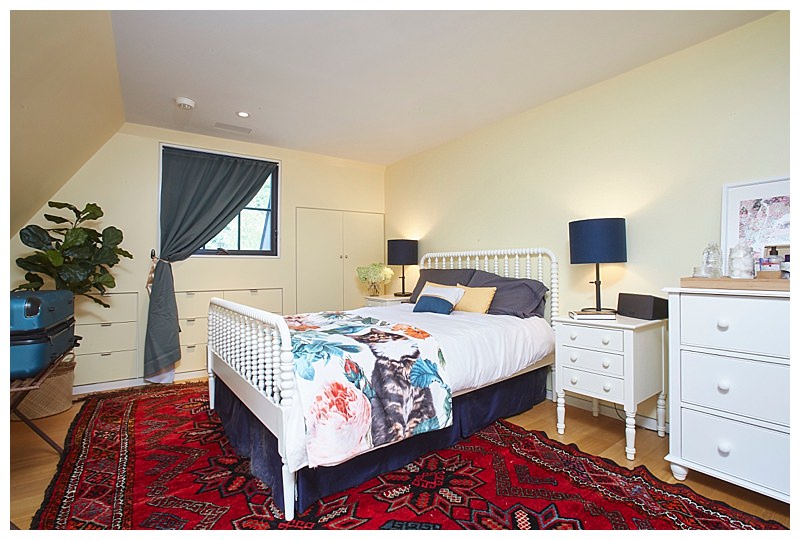 Have somewhere for them to put their luggage. I don't know about you, but feeling organized puts me in a relaxed state so when I arrive in my hotel rooms, I go into instant unpacking mode. I wanted to bring that same experience to my guest room so I turned a little iron patio table into the perfect place to set a suitcase.
Show off your personality. This room is usually going to be occupied by close friends and family, people who you can hopefully be yourself — your weird, quirky self — around. By putting your personality into the decor, the room immediately feels more warm and inviting. For us, that meant a bunch of cat decor (#noshame) with an accent pillow and a cat blanket from Society6 (literally the softest blanket I've ever touched). They have a ton of hundreds of styles to fit your personality, whether it's snarky, hip, artsy, modern, whimsical — they seriously have something for everyone! Throw a Rosé All Day pillow on the bed, hang a tapestry with a Jim Halpert quote or get snarky on mugs.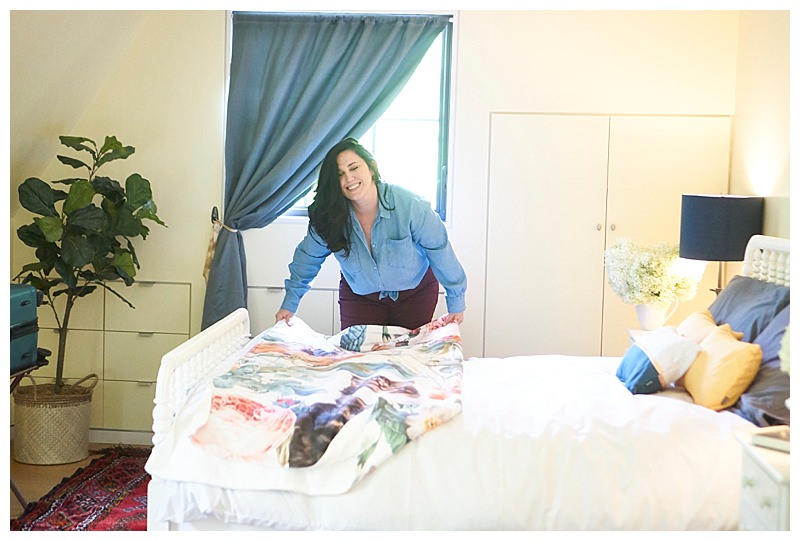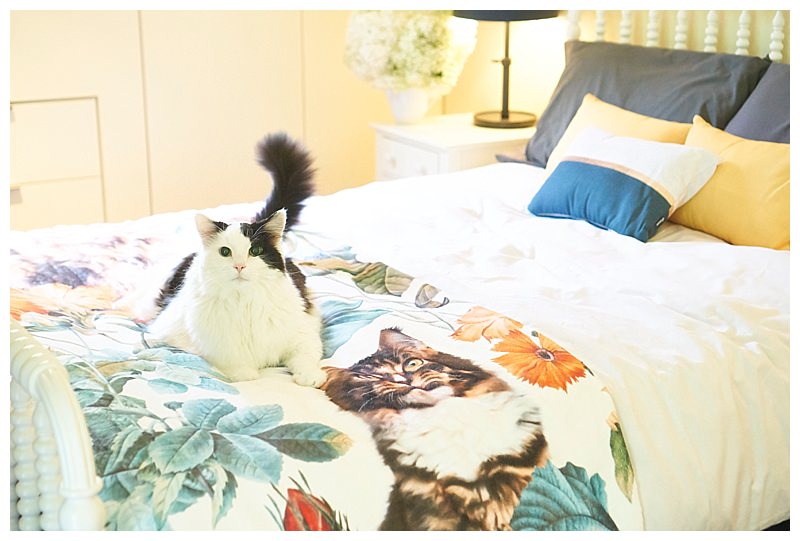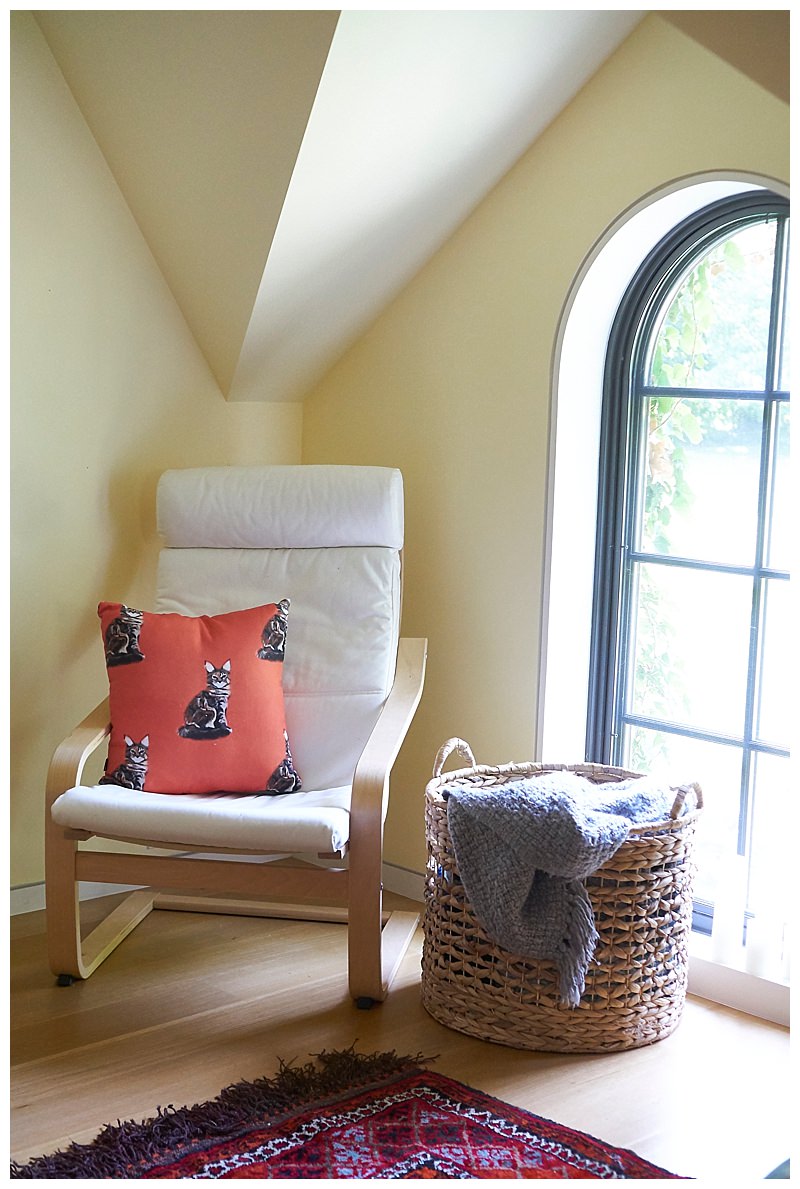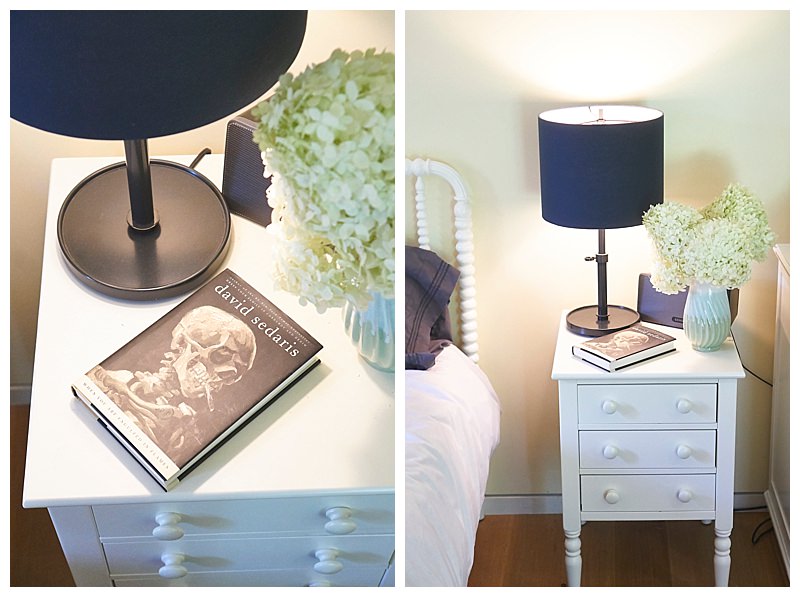 Personalized touches. My husband and I have a pretty extensive library, so whenever we have someone stay, I pick out a book from our shelves that I think they'll enjoy, should they want to unwind with a good hardback in their room during their stay. I turned our last guest onto the master of satire, David Sedaris!
Create a cozy nook. Is there anything better than curling up in chair with a soft blanket and a glass of wine? If you have the space, add a chair in a corner with a basket of soft blankets to encourage the cozy.
Intentional artwork. Every piece of art in my home is intentional, and the ones in my guest room are no different. Whether it's depicting your location (we have one featuring our old Manhattan neighborhood and a graphical print of where we live now on Long Island), showcasing a favorite quote, or illustrating your love of animals, use artwork to share your story with your guests.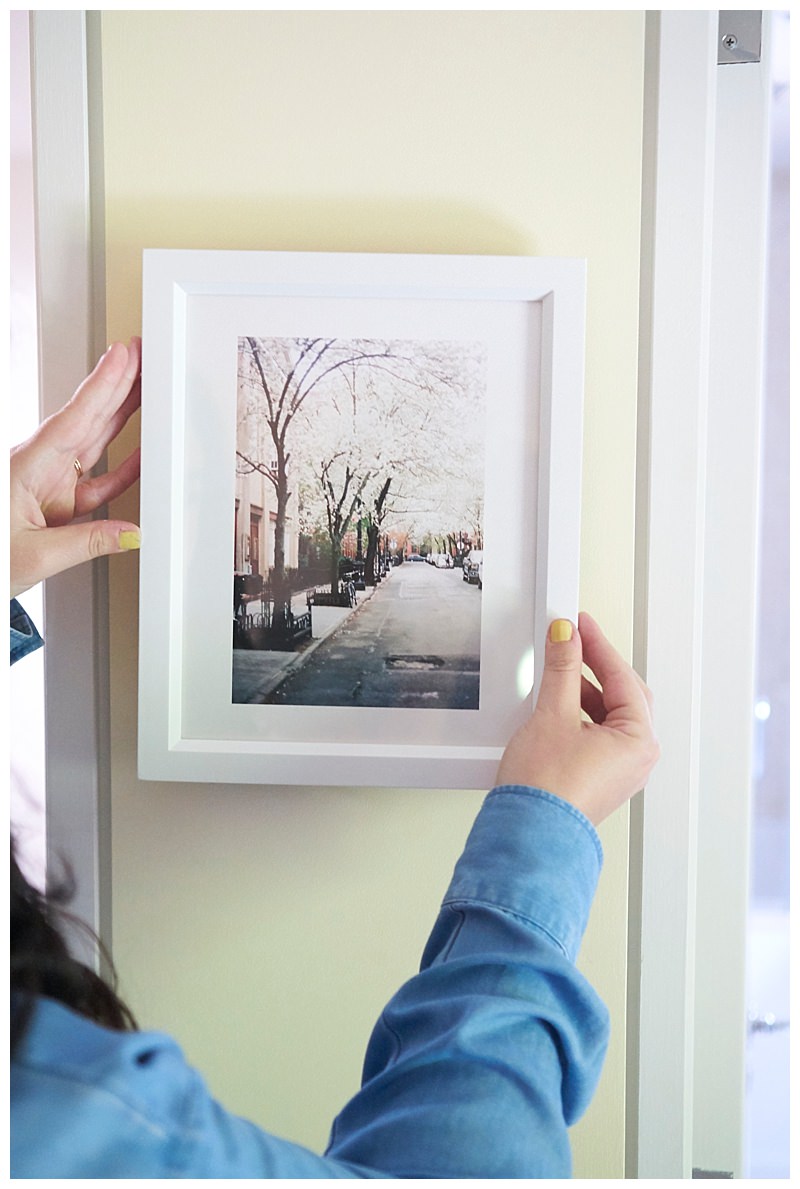 Shop the Space

What are some ways that you've decorated for your guests?
Photos by JJ Ignotz Photography
*Editor's Note: This post contains affiliate links. Each time you purchase an item via our affiliate links, Love Inc. is receiving a small percentage of the sale, thus you are helping our small, EQUALITY-MINDED™ business grow and allowing us to provide more content for YOU! Isn't that just fantastic?