Come On Barbie, Let's Go Party: A bach party rental guide for every type of Barbie.
Barbiecore is everywhere this summer, and we're not complaining—especially when it comes to planning epic Barbie Dream Bach parties!
Every Barbie deserves a weekend as unique as they are. Fortunately, the boom in the pink rental market means there's a rental for every kind of Barbie—whether you want to relax poolside, hit the clubs, or get some sun on the beach.
From SoCal luxury, to a wild night in Vegas, to Dolly Parton-inspired glam, to midwestern lake life, we gathered up all the pink, sparkly, TikTok-worthy places to stay to get your started planning your own dream weekend getaway.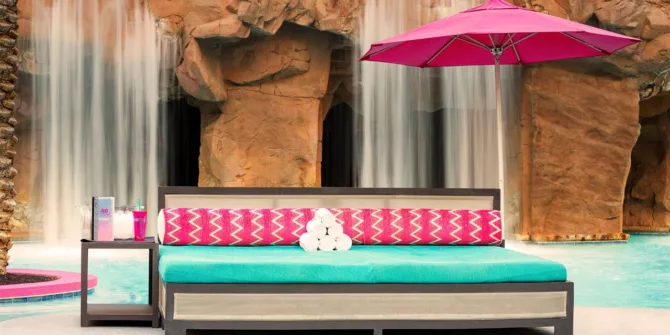 A short trip from Malibu, Las Vegas is a perfect trip for any Bach Barbie. There's no shortage of fabulous pink places to stay, but we like the iconic Flamingo Las Vegas, and obviously a stop in at RuPaul's Werk Room is a must and drinks at The Chandelier!
Influencer Barbie, Philadelphia
Start your night in Philly by booking this amazing little apartment. Complete with ball pit, swing, props and every pink thing you need for an epic photoshoot.
Like something out of a movie, this Indian Canyons property on Millionaire's Row is on another level. The retro-chic pink aesthetic is as stunning as the mountain views and spectacular pool with an integrated waterfall.
Storybook Barbie, Elicottville, NY
Not every Barbie wants to celebrate poolside—some want to hit the slopes. This adorable pink ski chalet is like something out of a picture book. Eight minutes from the slopes, and close to relaxing spas, this is a great place to get cozy with your pals in front of a fire.
We cannot get over the cool, maximalist vibe in this New Orleans house. Chandeliers, every shade of pink imaginable, Champagne wall, gold swings, Ms. Pacman, and Nikki Minaj all combine to make this rental in the Big Easy unbelievable.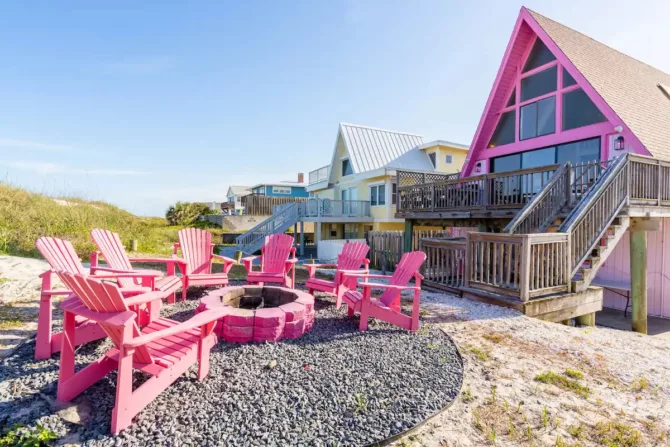 Beachfront Barbie, St. Augustine, FL
It's impossible to look at pictures of this bright, airy, A-frame house and not feel happy. The beachfront house sleeps 13, features an amazing balcony with beautiful views of the ocean, and is even complete with a pink fire pit!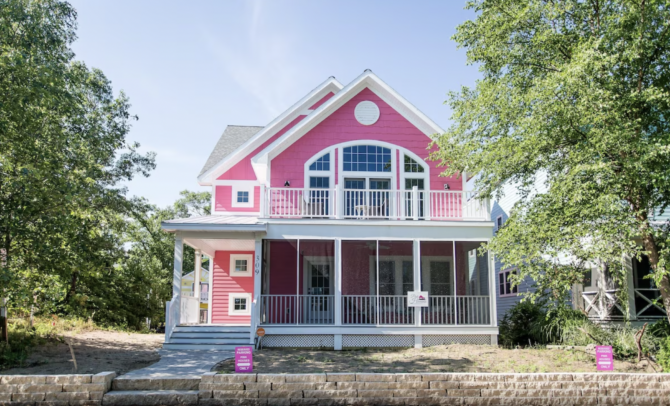 Lake Life Barbie, Michigan City, IN
About an hour east of Chicago sits this beautiful pink dream lake house. With an impressive six bedrooms this pink Lake Michigan rental has everything you can want for a perfect weekend including a hot tub, stand up paddleboarding, bar, golf cart, gym, fireplaces, kayaking, firepit, and more.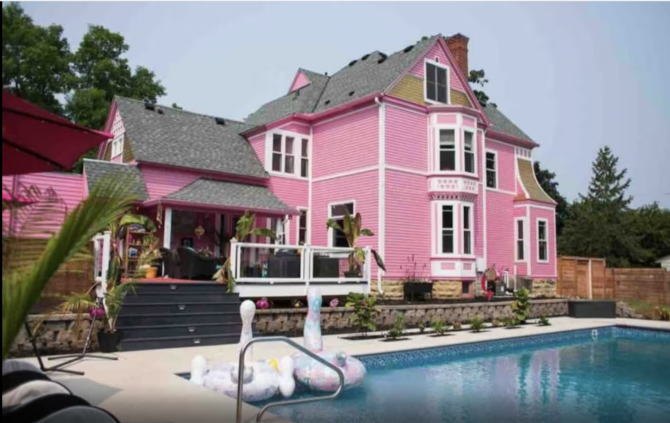 Every room of this massive five bedroom, five bath "Pink Castle" is completely over the top, in the best way possible. We can't get over the en suite jacuzzi tub, hot pink glitter walls, zebra staircase, pool, hot tub, ornate furniture, and is that a pole in the living room we see?
Cheesecake on the Lanai Barbie, Anna Maria, FL
This sweet, pink three-bedroom house gives equal parts Barbie and Golden Girls, and we're here for it. Perfect for the soonlywed looking for a quiet place to relax and recharge with friends before the big day. An ankle-deep path connects the private pool to the hot tub, and it is a five-minute walk to the sandy beach.
Slumber Party Barbie, Charleston, SC
Each bubble-gum pink detail in this Charleston house makes us want to have a slumber party with our besties! Every spot in this house is a photo-op, from the party room to the pink velvet couch, to the bunkbeds.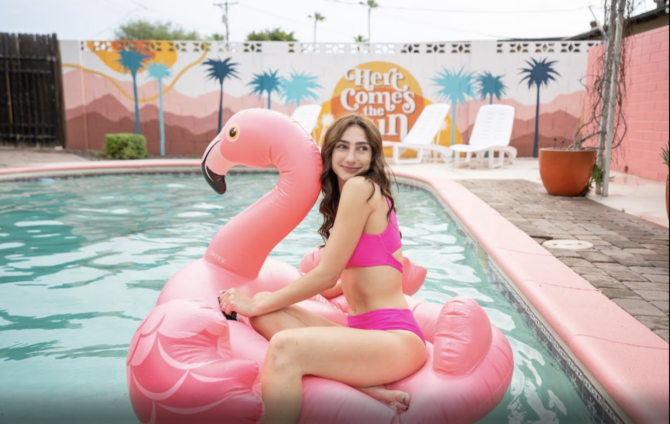 Desert Paradise Barbie, Scottsdale, AZ
Barbies traveling to Scottsdale to celebrate their upcoming weddings have to check out "Barbie's Bachelorette Dreamhouse." Fully stocked with everything to make your weekend amazing, this five-bedroom house features a pink in the ground pool, pink BBQ area, hot tub, and firepit.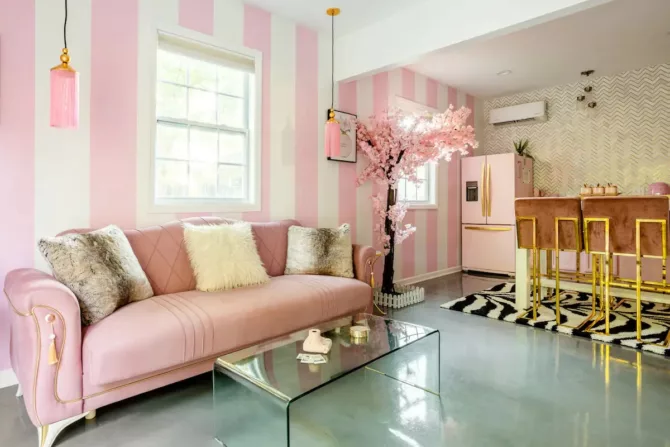 Country Music Barbie, Nashville
It's no secret Nashville is a great party city—the music, food, and the nightlife can't be beat. But even so, it's going to be hard to leave this amazing two-bedroom pink dream for a night out! Complete with a wood-fire pizza oven, outdoor movie projector, and the prettiest pink and gold rooms, this place is seriously perfect for any County Music Barbie.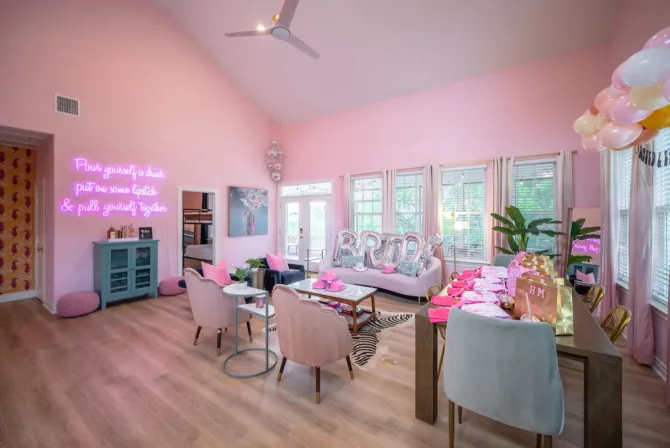 We can't pick our favorite part of this pretty pink Austin house that sleeps 12 comfortably. Is it the views? The heated pool and hot tub? The deck? The huge porch? The walk-in shower? The design? The proximity to all the great things in Austin? All of it. We love all of it!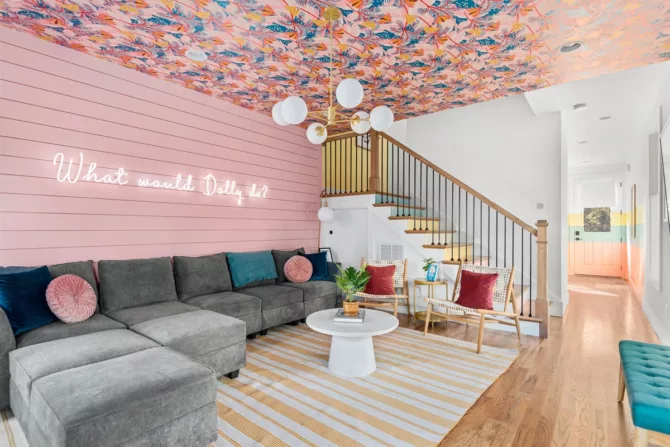 Barbie and Dolly have a lot in common—the style, the confidence, the many careers! Unleash your inner Barbie and Dolly in this amazing Dreamhouse and Champagne Bar! This house is fun, sleeps 12, has an amazing view of the Nashville skyline, and is just minutes from nightlife.
Mountain view? Yes. Lake view from every room? Yes. Infinity pool? Yes. Luxe patio lounge area? Yes. Balcony? Yes. Room for all your friends? Yes! This Cali dream house has everything you need for an amazing getaway with your best friends.
Written by Erin Sernoffsky