Wedding traditions have changed drastically over the ages, mainly for the better, but there are still some worth celebrating. One specific, age-old tradition worth honoring is the ketubah at Jewish weddings. Ketubahs have evolved a bit over time, as they're no longer just a contract for the groom to the bride but a commitment of loyalty to each other. And since this commitment will be displayed in your home, it's important to find a design that best fits you and your partner's style. Below, we've rounded up unique and creative ketubahs that serve as a symbol of your love for one another but are also impressive pieces of artwork.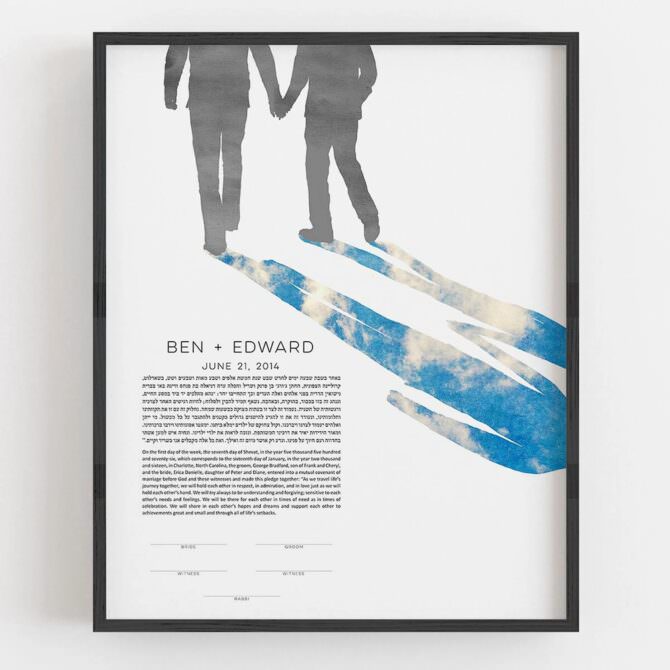 Simple silhouettes with shadows reminiscent of the sky add intrigue and visual interest to this unique ketubah. You can personalize this one-of-a-kind piece with the text of your choice. The seller is also open to custom designs so you can create the perfect symbol of your love for one another.
Modern Holding Hands Ketubah by inkwithintent, prices starting at $293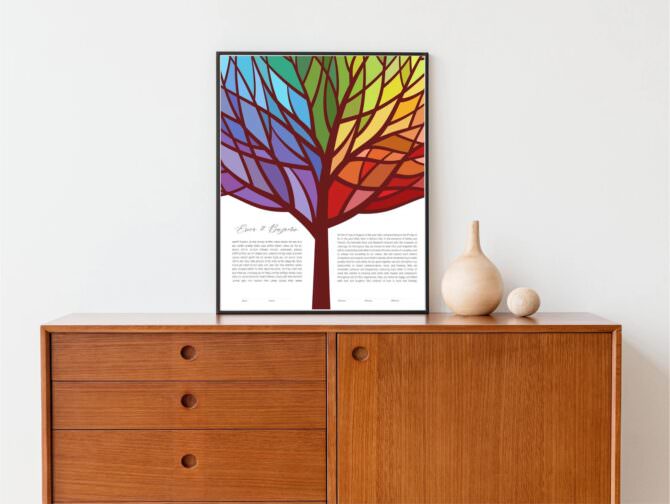 Using modern and traditional Jewish inspirations, this ketubah features a gorgeous rainbow Tree of Life. The designer worked with a rabbi to find a text that would work for reform, interfaith, LGBTQ+, and secular couples. However, they can also use custom text if you prefer.
Stained Glass Rainbow Tree of Life by beketubah, prices starting at $175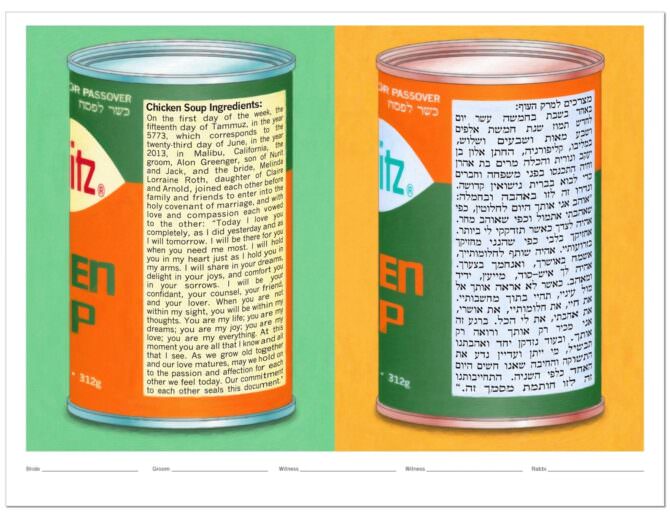 If you're looking for a style that's really unique, look no further than these Warhol-inspired soup cans. The pop-art style is definitely not something you see every day in a ketubah. It comes with a personalization form to easily make it all your own.
Chicken Soup for the Soulmates by KetabuhStudios, prices starting at $234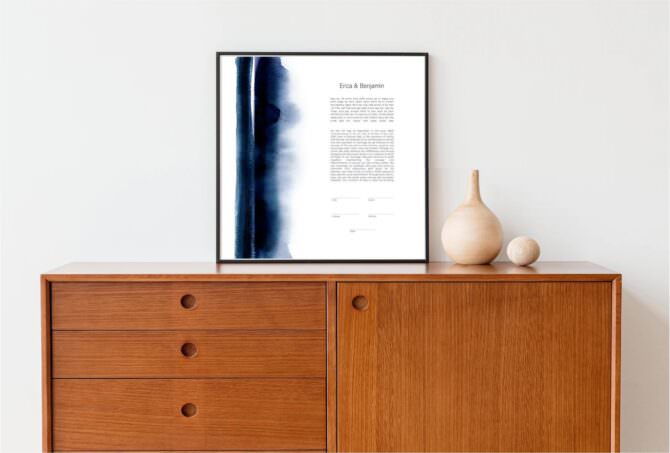 With just a navy watercolor stripe, this ketubah is simple in its elegance. The beautiful design is printed on 100% cotton paper that has a slight texture for some added detail. Message the seller to personalize the text as much as you'd like.
Modern Navy Blue Watercolor Ketabuh by beketubah, prices starting at $160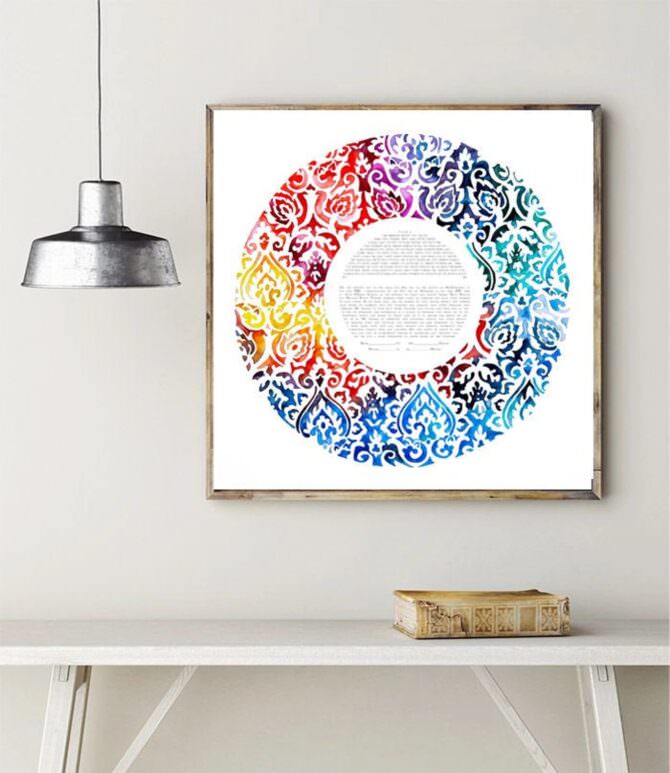 A gorgeous rainbow pattern sets the ketubah apart. The intricate handmade watercolor design will add a beautiful pop of color to your home with a subtle nod to the pride flag. You can also add gold foil to this ketubah for an extra fee.
Modern Rainbow Watercolor Ketabuh by KetubaHome, prices starting at $206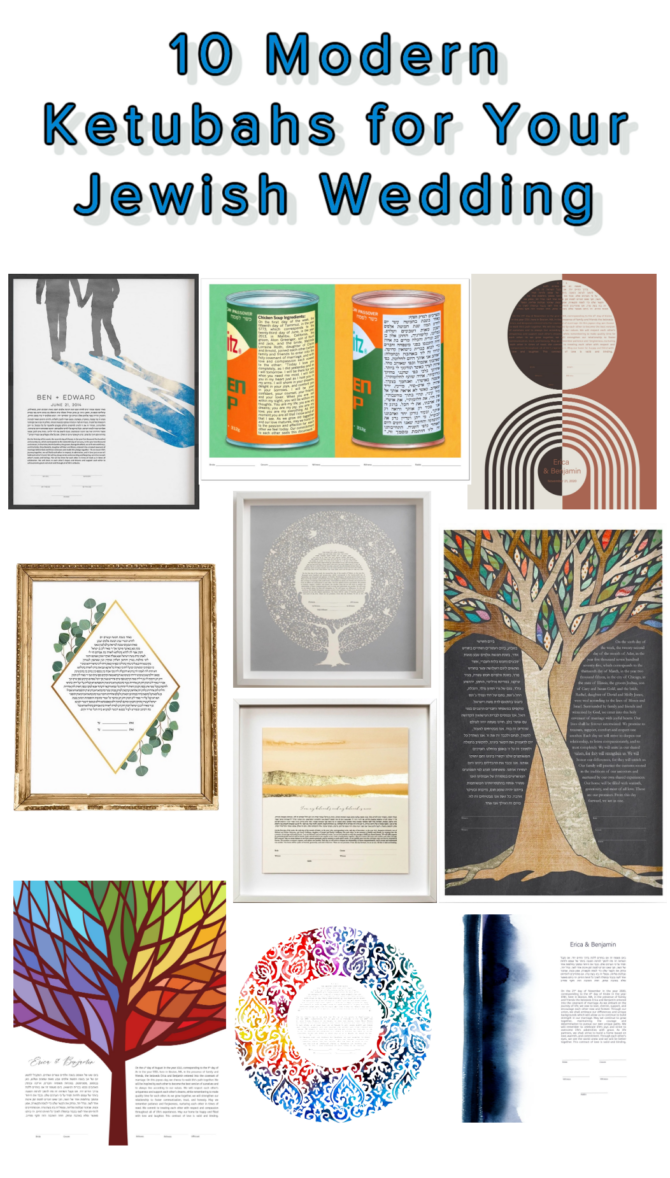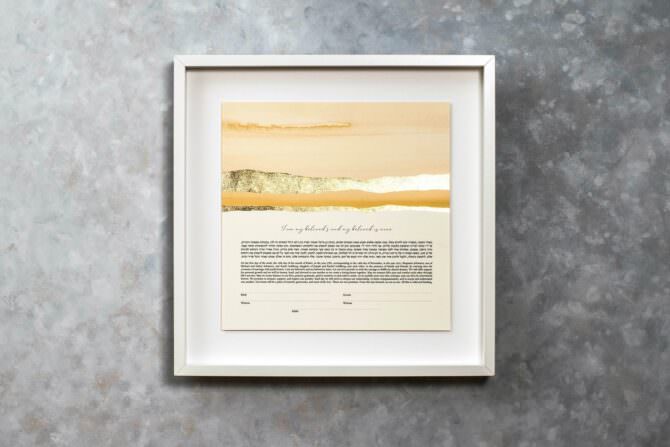 Shimmering gold leaf takes the abstract art on the ketubah to the next level. Warm colors in this stunning print create a peaceful and intriguing piece of art that will fit into any home. The top of the print uses the popular verse, "I am my beloved and my beloved is mine."
Custom Gold Leaf Ketabuh by HAPPYprojectSHOP, prices starting at $204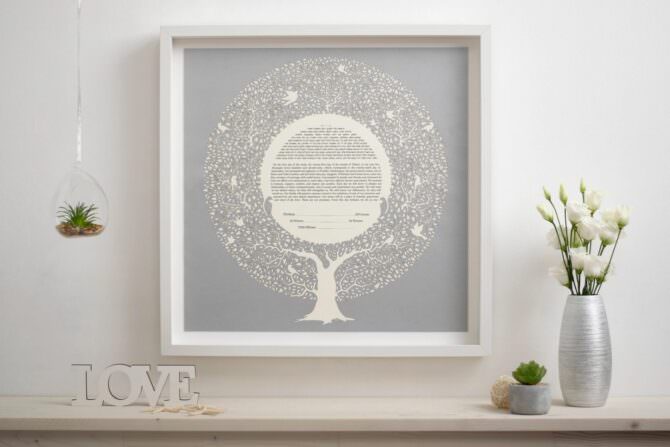 This isn't just a stylish print of the Tree of Life, it's actually an intricate cut-out that gives added texture and layers to the ketubah. Metallic silver is laser cut to create a gorgeous composition against high-quality paper. It stands out from other ketubahs that are painted rather than etched.
Metallic Silver Tree Ketubah by HAPPYprojectSHOP, prices starting at $247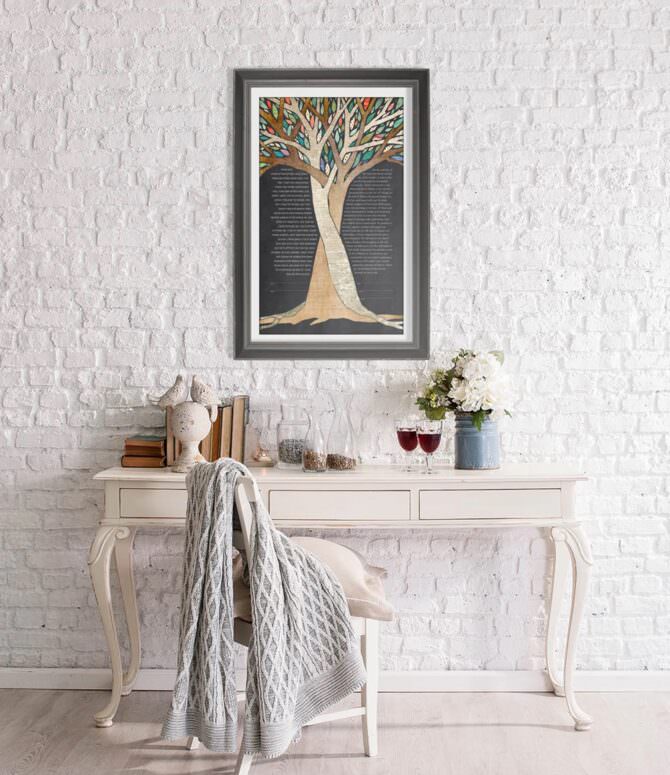 Your lives will be intertwined, just like the gorgeous trees in this piece of art. The leaves of the tree are hand painted and then made into a digital print for a unique and statement-making ketubah. Depending on your preference, you can choose a white or black background.
Intertwined Trees Ketubah by inkwithintent, prices starting at $293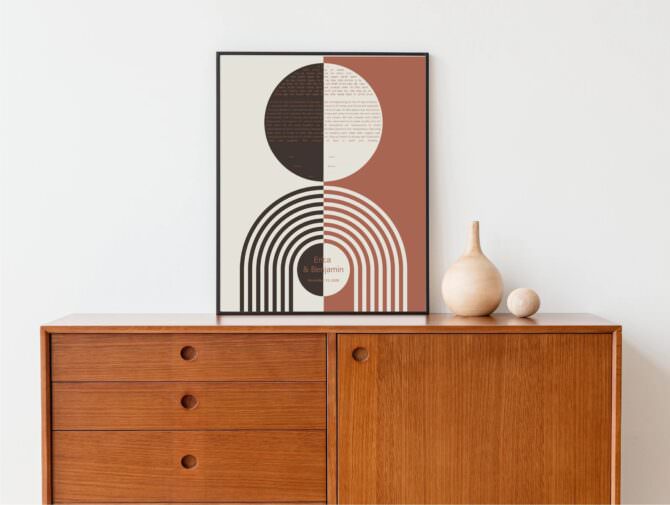 If you love mid-century modern designs, this is the ketubah for you. The geometric artwork using browns and black creates a piece that looks like it's been transported from the 1950s. You can choose from three different fonts when customizing this ketubah.
Mid Century Moder Ketubah by beketubah, prices starting at $175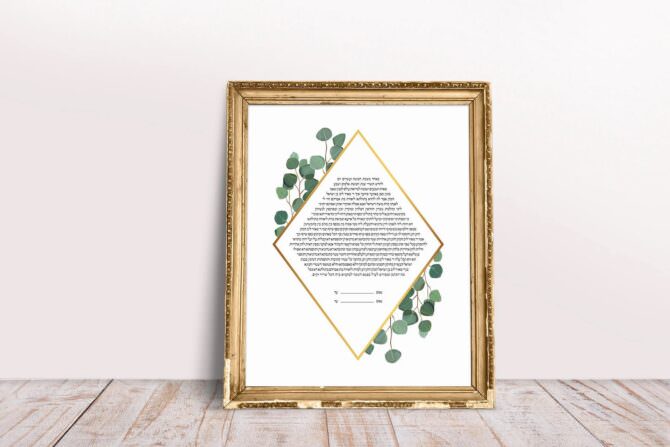 Eucalyptus surrounds a gold rhombus in this ketubah, making it a sophisticated and elegant piece of artwork. It comes in three different sizes, so you can choose which one will best fit your space. Eucalyptus Rhombus Ketubah by Ketubata, prices starting at $140
Editor's note: Some of these links are affiliate-based, which means we earn a small commission when you purchase from these links (and helps our small business keep providing free equality-minded® wedding content to you!)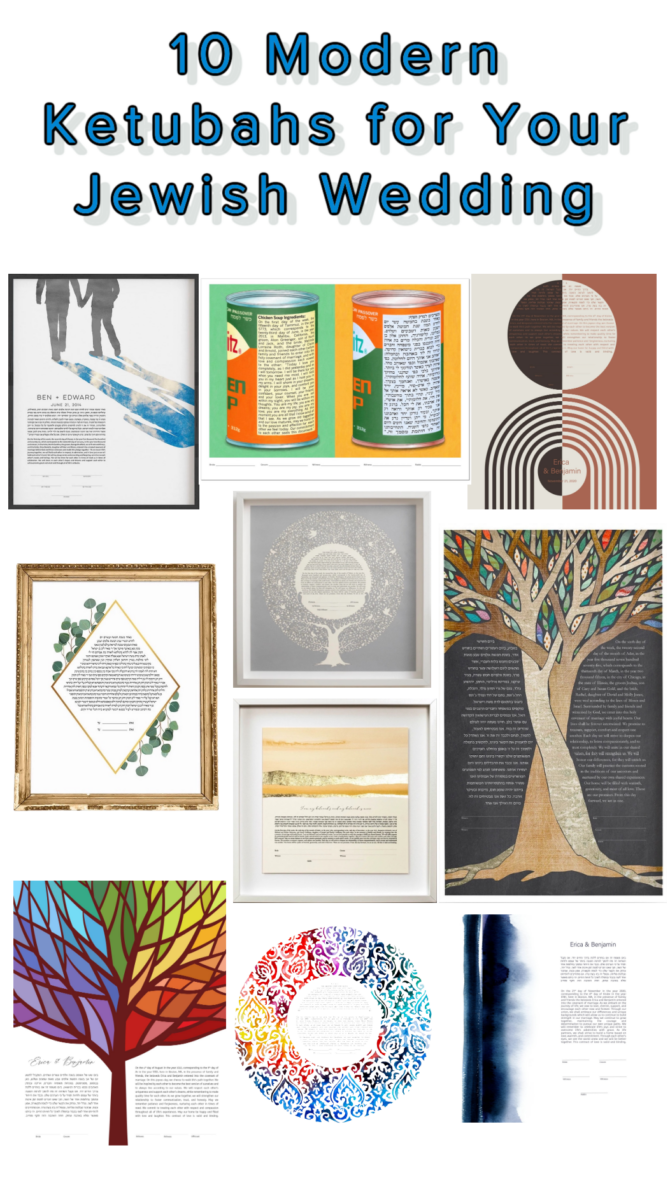 Written by Rebecca Rovenstine | Cover photo by Kathryn Cooper Weddings from Cassy and Bailey's Fall Brunch Wedding