These five swoon-worthy conservatory wedding venues offer the beauty of Mother Nature without the rain risk.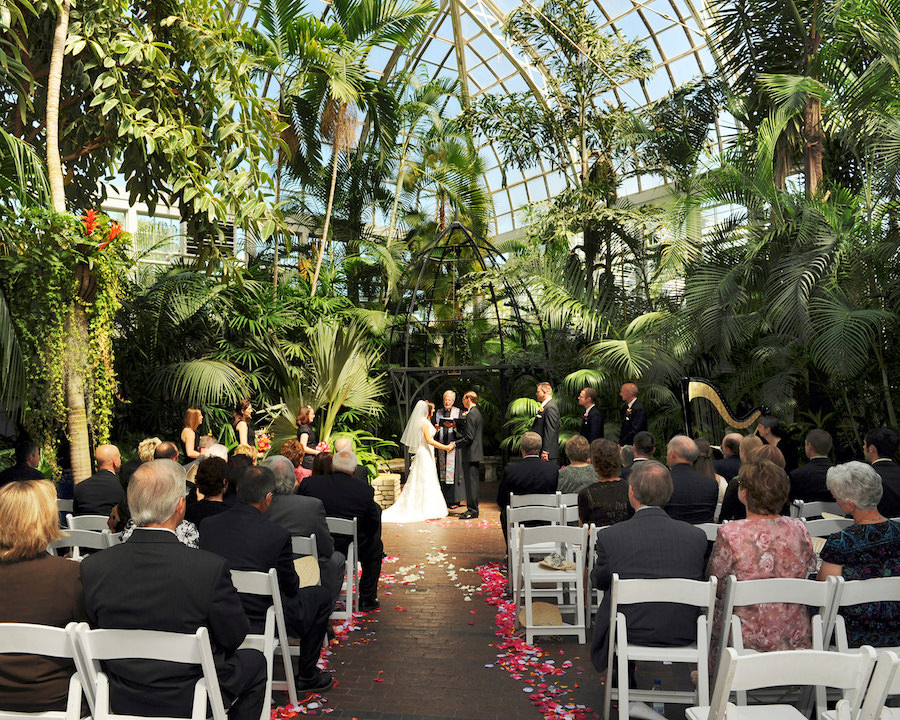 Franklin Park Conservatory in Columbus, Ohio
Capacity: Seated dinner 170, Cocktail 250
The Victorian-styled John F. Wolfe Palm House in intimidatingly gorgeous. Natural light floors the space and a double staircase and indoor fountain are just two of the many architectural elements that are perfect for photo ops. Inside the greenhouse, you'll be married amongst lush greenery framing you and your spouse, and at night, the LED installation from artist James Turrell gives you and your guests a truly one-of-kind experience.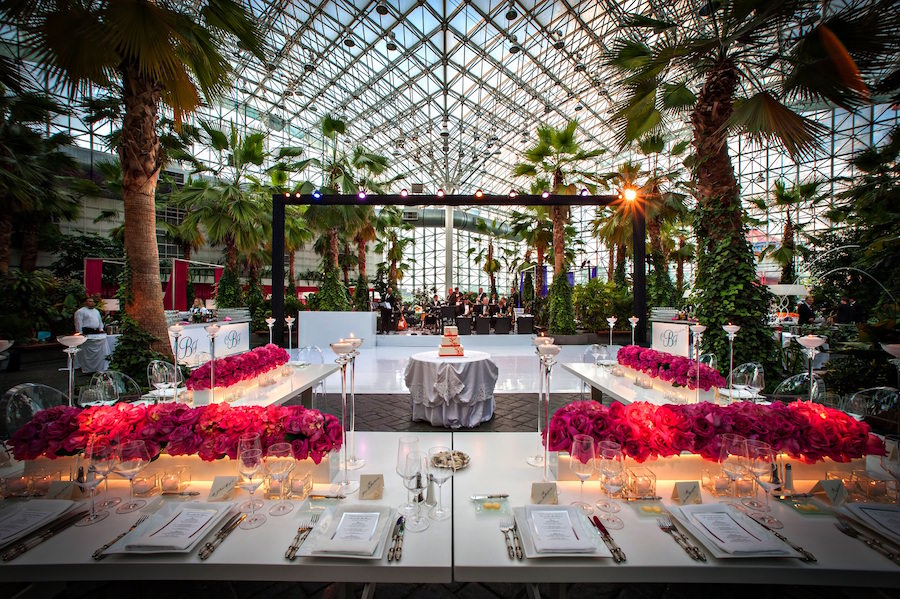 Crystal Gardens in Chicago
Capacity: Seated dinner 525, Cocktail 1,000
The Crystal Gardens has one of the most impressive indoor gardens available for weddings — no decor required! — thanks to the sheer intensity of the plants and dramatic six-story glass arched atrium. The myriad of greenery is brightened with soft, intimate lighting, creating an enchanting experience.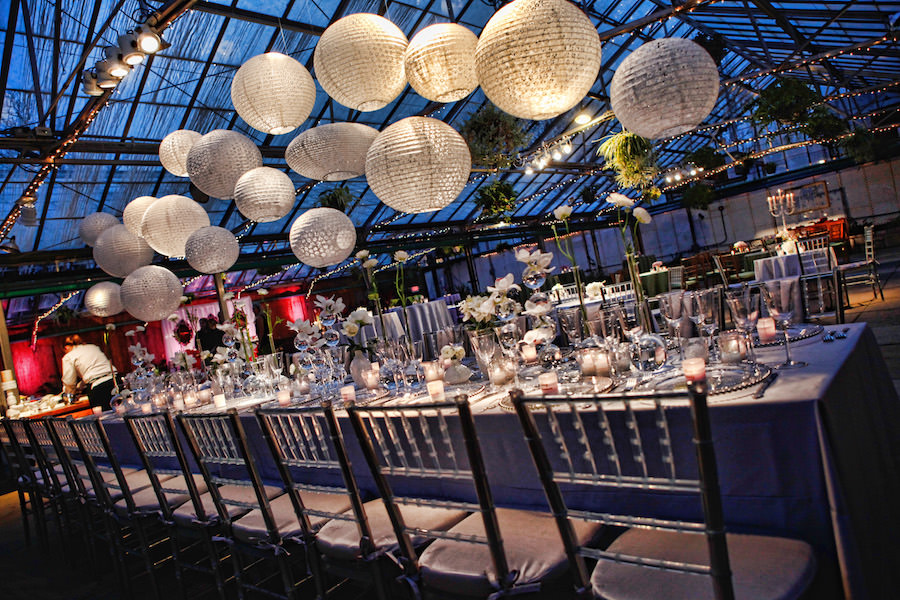 Horticulture Center in Philadelphia
Capacity: Seated dinner 300, Cocktail 500
This working greenhouse is laden with statues, fountains and a network of pathways winding through the tropical plant life. Bonus: the food is guaranteed to be exquisite thanks to their exclusive partnership with renowned restauranteur Stephen Starr of Starr Events.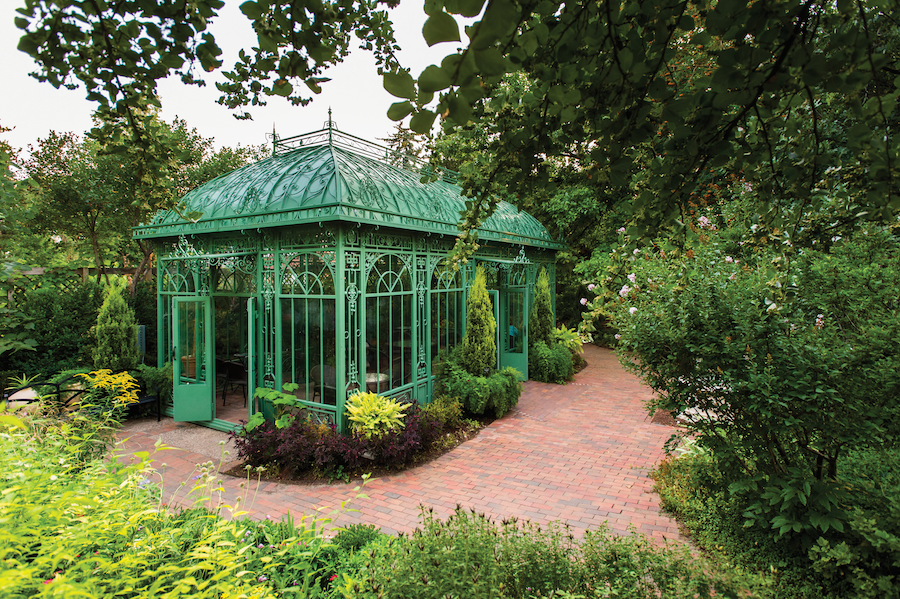 Woodland Mosaic Garden Solarium at the Denver Botanic Gardens in Denver, Co.
Capacity: Seated dinner 30, Cocktail 50
Sleeping Beauty's cottage in the woods has nothing on Denver Botanic Gardens' Solarium. The gardens surround the small, rustic venue and natural light streams in from every surface, making this space absolutely enchanting for an intimate wedding.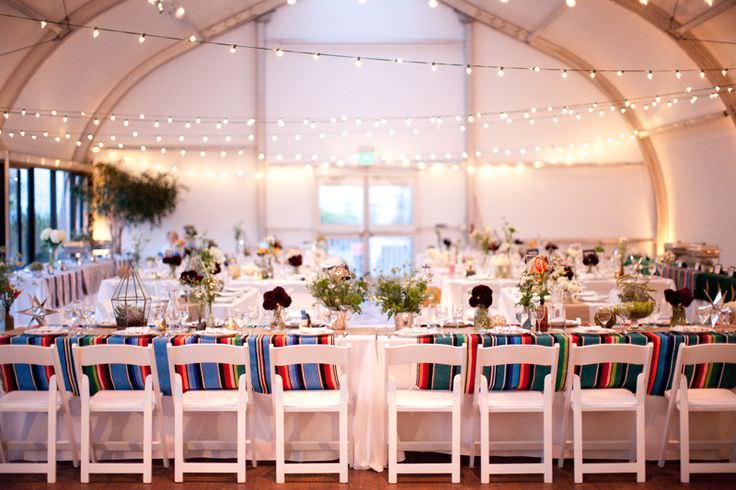 Conservatory of Flowers Orchid Gallery in San Francisco
Capacity: Seated dinner 165, Cocktail 200
This San Francisco space is simple, elegant and boasts unique plants, custom metal work and architectural beauty. The conservatory has suffered a fury of fires, earthquakes and windstorms throughout its 130 years of existence, yet it still stands strong. Not bad symbolism to begin a marriage!
Photo credits: Lambert Photographs; Phil Farber Photo Images; Marie Labbancz Photography; Denver Botanic Garden; Nancy Neil Photography; Richard Bell Photography
Editor's Note: This feature originally appeared in Love Inc. V3
By Meghan Kennedy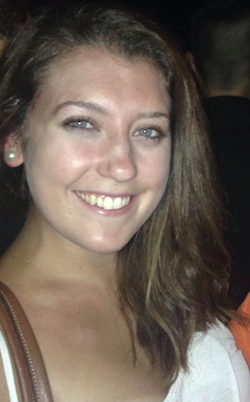 Meghan is a recent graduate of SUNY Geneseo with a degree in Personal and Professional Communication. You can find her at the nearest Chipotle tweeting about Drake, her sorority little and Project Runway.