Once the question is popped, newly engaged couples enter a flurry of excitement filled with eager anticipation and lots of decisions. For most, it's easy enough to find a checklist of things to do when newly engaged — discuss your budget, browse Pinterest, research vendors, and so on.
However, besides those big-picture tasks, there are many smaller to-dos to check off early to save time, money, and headaches throughout the planning process.
As you tackle the first steps of your planning checklist, be sure to make time for these seven tasks as well!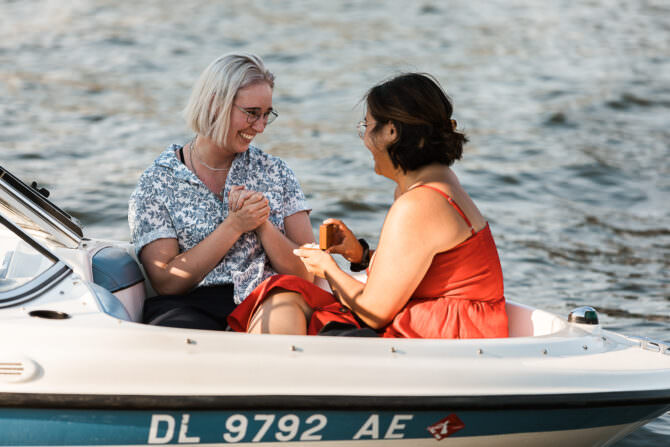 Tell your loved ones first.
While the excitement of saying "yes!" may be overwhelming, allow your closest friends and family to hear the news from you directly. The rest of the world can wait!
Jaclyn Watson of Jaclyn Watson Events elaborates, explaining: "Something not to do that is often seen is when engaged couples are so excited that they post on social media before telling the most important people: their parents. Remember social media will wait, don't let your parents find out from an Instagram peep."
Get your addresses in order.
Whether you rely on your smartphone contacts or a good, old-fashioned Rolodex, this period is the perfect time to start collecting addresses and putting them into a reliable system for future use.
"Whether you are using Google Contacts or Postable, now is the time to merge your contact lists, check your spellings, and institute habits to keep your address book up to date," encourages Janice Carnevale of Bellwether Events. "Later in life, you'll be sending out holiday cards, moving announcements, and more, and putting in the time to get organized will make it much easier!"
Put a pause on wedding party invites.
It's easy to get caught up in the feels and jump right into asking loves ones to join your wedding party — but wait!
Rather than jump the gun, take a slower approach as Nora Sheils of Bridal Bliss and Rock Paper Coin suggests: "Wait a while to ask your nearest and dearest to be a part of your wedding party. Excitement can lead to over-asking and it's hard to take that back! Let the dust settle, really think about your decision, and then ask away."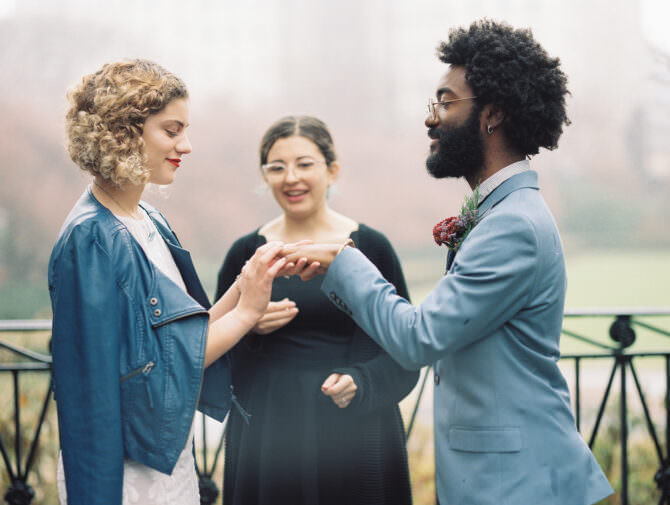 Revisit your insurance policies.
If you have a shiny new accessory to insure, it's a good time to check in on all of your policies to confirm you and your soon-to-be spouse are adequately covered.
"Insuring any new items you might have at the start of your engagement is a popular to-do list item, and now is a good time to make sure you have all of your insurance policies up to date," Carnevale agrees. "This can include your homeowners' or renters' policy, but also now might be the time to research and possibly take out life insurance policies. You can also take this time to update your emergency contact info with your job, your health insurance, etc."
Pick out thank you cards.
Rather than wait for gifts to start showing up, getting some beautiful thank you cards ahead of time will save you the trouble of rushing to a store to buy a last-minute pack. Jamie Chang of Mango Muse Events recommends it: "Purchase some thank you cards if you don't have some already! You may get gifts early to celebrate your engagement or along the way due to showers, bach parties, or early wedding gifts."
"It's a good idea to send those thank yous out soon after you receive the gift to show your appreciation," Chang adds. "Since most people don't have thank you cards readily available, do yourself a favor and get some early so that you're prepared."
Ask for help before you need it.
As you embark on a lifelong journey with your partner, Marissa MacLeod of The Treasury on the Plaza encourages taking the time to seek marriage advice and support: "Two words: premarital counseling. In today's world that is so focused on mental health and personal well-being, it's shocking that so few couples are talking about premarital counseling."
MacLeod continues, adding: "Counseling and couple's therapy can help you talk through essential and challenging topics like finances, conflict resolution, family dynamics, and so much more. From online platforms like BetterHelp and Talkspace to faith-based organizations to in-person sessions with a therapist in your area, there is a wide range of resources available for couples to take advantage of premarital counseling."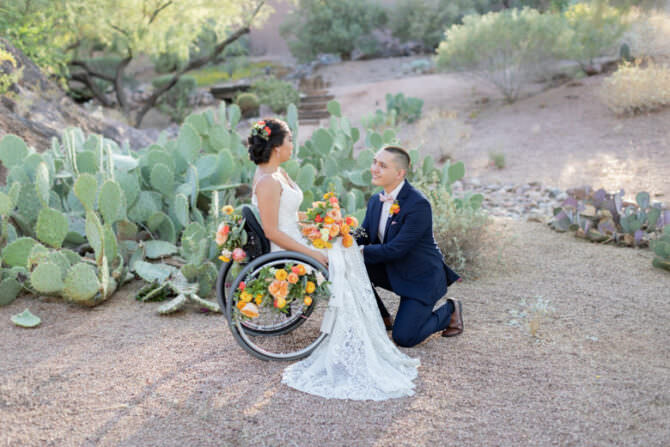 Reserve your hotel room block.
If you have a lot of guests visiting from out-of-town or you've got your eye on a small boutique hotel, it's best to jump on a room block as early as possible. Your guests will be grateful to know they can start making plans right away!
"Do yourself and your guests a huge service and book your room block a year out or as soon as possible," suggests Laura Maddox of Magnolia Celebrates. "Most hotels will not give rates until 12 months out, however, rates will continue to go up as the wedding comes closer due to the hotel's occupancy rate rising naturally as dates move closer. The sooner you book your block, the better!"
Maddox adds: "Also, remember to always request a courtesy block — this means you are not financially responsible for any unbooked rooms. If the hotel does not have a courtesy block, either move on to another hotel or consult your planner on the best strategy."
So there you have it — a whole collection of small-but-significant wedding planning to-dos you won't find on your average checklist! While the bigger tasks are certainly top priority, it's the little details that will ensure your path to "I do" is as smooth and seamless as possible.
Written By: Meghan Ely
Meghan Ely is the owner of wedding PR and wedding marketing firm OFD Consulting. Ely is a sought-after speaker, adjunct professor in the field of public relations, and a self-professed royal wedding enthusiast.
Photo Credits: Todd Danforth Photography; Lindsay King Photography; Judson Rappaport Photography; Ash Simmons Photography