Today's a big day — I am so excited to unveil our V6 issue! This issue is particularly special to me because it includes features that I've been working on for quite some time (research for the the LGBTQ Caribbean resorts was particularly challenging) or have had the vision in my head but haven't been able to execute (namely our gender fluid fashion feature). Seeing these features — and more! — come to life makes me so happy, but it makes me straight up proud to be able to share content like this within the wedding space — an industry that is extremely heteronormative and cisgender-driven.
It's also our first double-cover issue and, due to increasing demand … *drumroll please* … for the first time ever, we will be offering PRINT copies. Cue the confetti! I'm trying my hardest to find a route that doesn't force me to charge $15/copy, and just need to finalize a few more details, so bear with me. But if you want to get on our list for the first-ever PRINT edition, sign up for our newsletter to stay updated.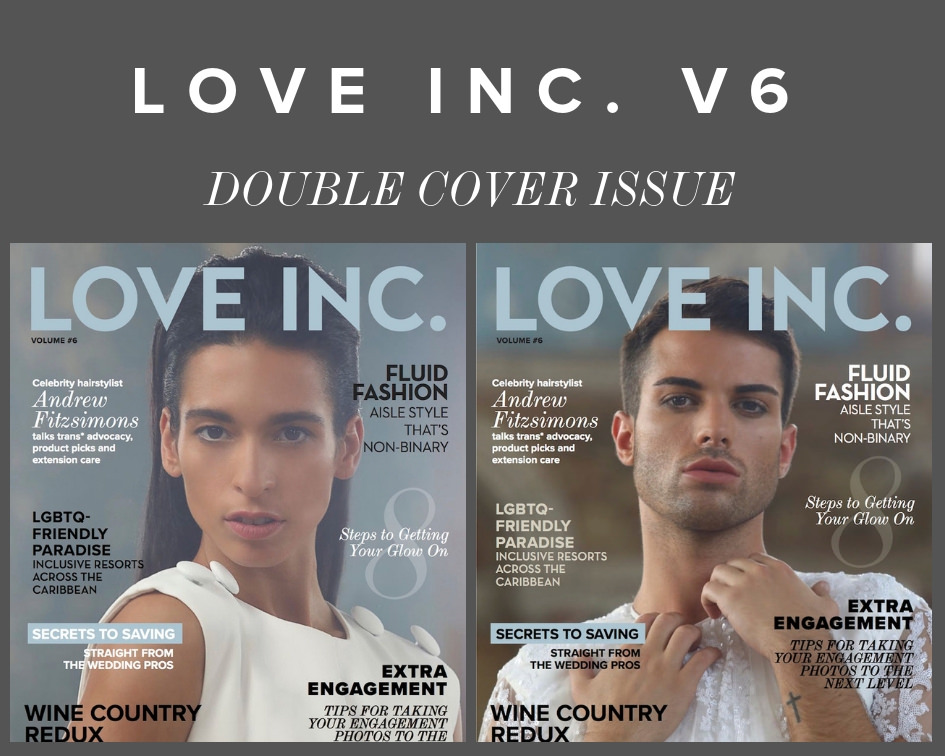 I am so extremely grateful to the insanely talented creatives who played a role in producing photo shoot magic, to the experts we featured for sharing their expertise, to the couples who shared their love stories and to the Love Inc. team who helped me bring this to life. The content between these pages is the result of hard, hard work by many, many people.
I'll be sharing more about each of the features over the next few weeks, but if you're eager to dive in, you can read it online here:
And please, tell me what you think! Tag us on Instagram (@loveincmag), email me — share your thoughts and feelings. I would love love love to hear from you!
Written by: