Love is in the air, and in less than a month, it'll be the most romantic day of the year: Valentine's Day. You don't have to worry about Cupid because love's arrow has already hit you, but now there's the added pressure of finding that perfect V-Day gift for your special someone.
Elevate the standard chocolate-and-roses gift to something that really wows, like chocolate diamonds and rose gold bands (see what we did there?). We've searched the web for the best jewelry featuring stunning chocolate diamonds in a variety of styles so you can really nail your gift-giving game this Valentine's Day.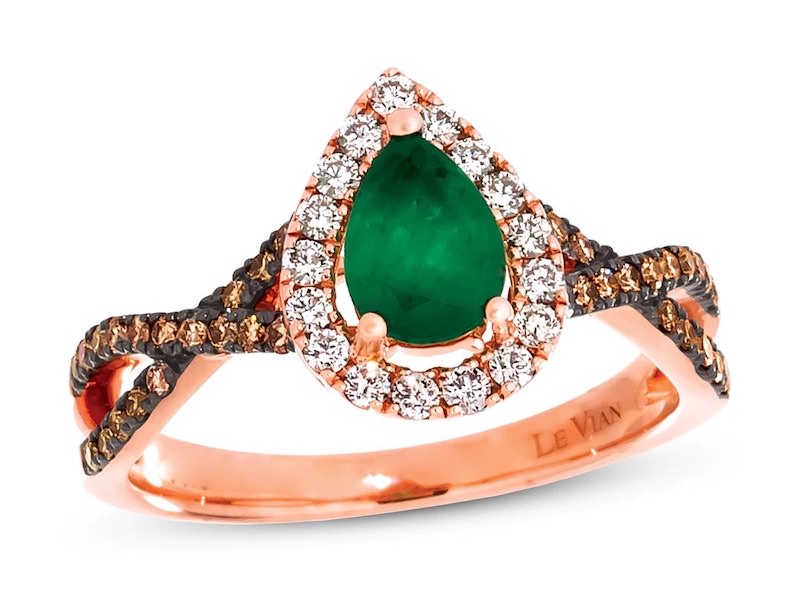 While you could give the most romantic V-Day gift out there, an engagement ring, this ring also makes an excellent gift for married couples. The chocolate diamonds around the band are contrasted by the bright dazzling emerald, really making it sparkle and shine. Emerald Ring with Diamonds 14K Strawberry Gold by Le Vian, $1,399.99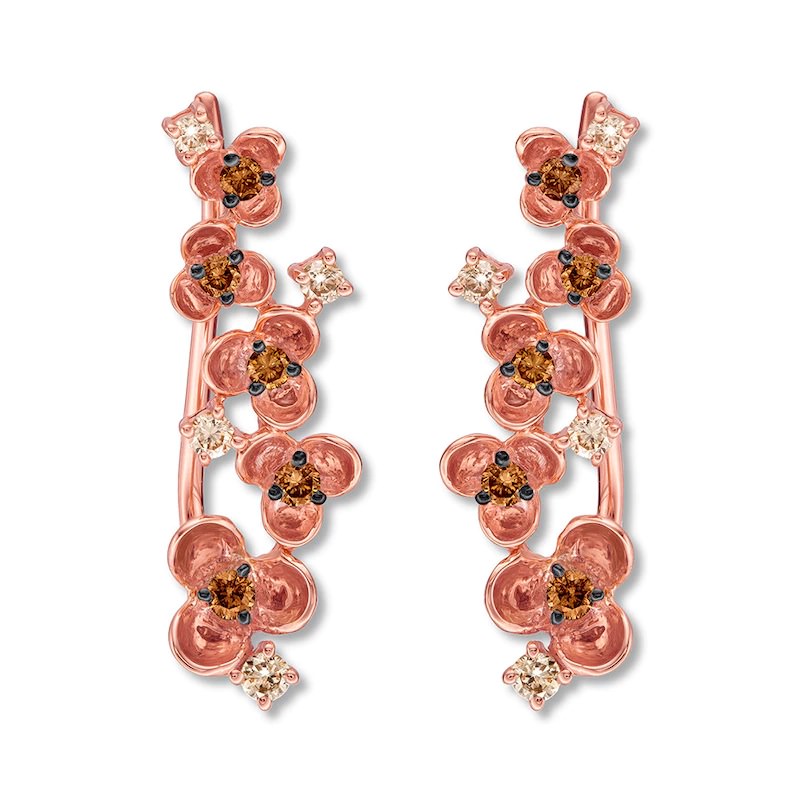 Does your Valentine love the unique and unusual? These climbing earrings will surely be a hit for those that like the unexpected. It's elegant, made with strawberry gold and chocolate diamonds, but edgy with the long design that goes along the earlobe. Chocolate Diamond Earring Climbers by Le Vian, $629.30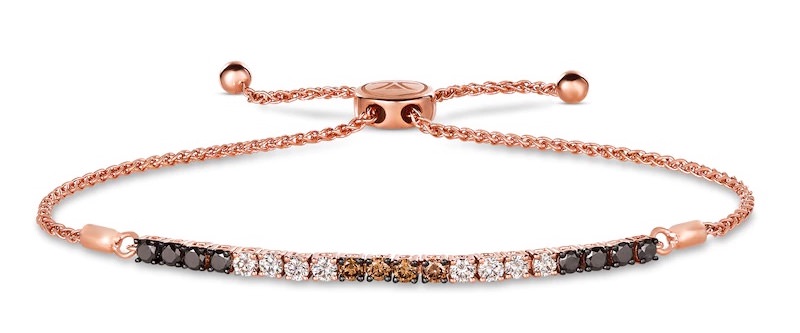 Delicate and dainty, this bracelet is ideal for those that love an understated accent piece. The bolo-style makes it easy to take on and off and adjust to the fit you prefer. The only problem with gifting this strawberry gold bracelet is topping it next year. Strawberry Gold Bolo Bracelet by Le Vian, $2,099.99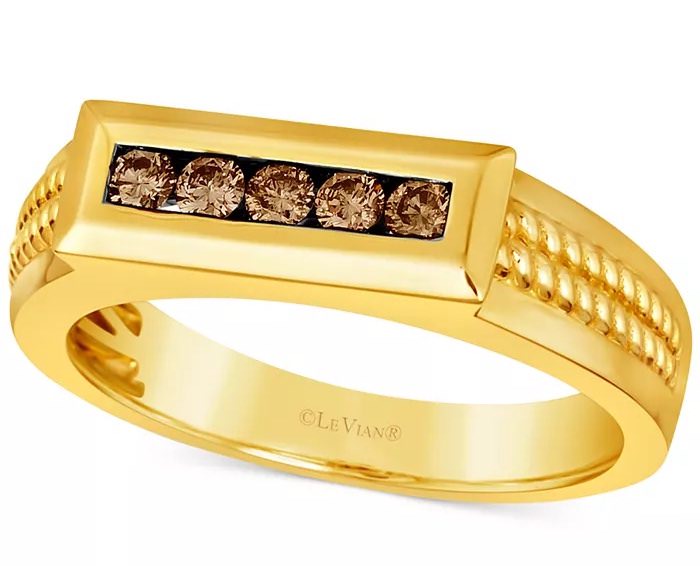 The details on this chocolate diamond ring take it from beautiful to breathtaking. A rope-inspired design flanks the sides of this ring, with five sparkling chocolate diamonds nestled in the middle. If you're planning on getting down on one knee this Valentine's Day, consider this gorgeous gold ring.
Chocolatier Men's Chocolate Diamond Rope Design Ring by Le Vian, $4,000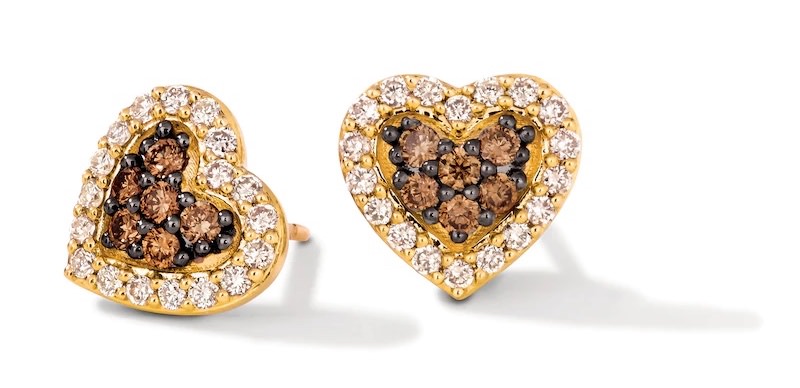 You've given them your heart, now give them earring hearts. These exquisite chocolate diamond heart earrings come in your choice of yellow gold, white gold, and rose gold. The chocolate diamonds have a white diamond border for even more radiance. Diamond Heart Earrings by Le Vian, $1049.99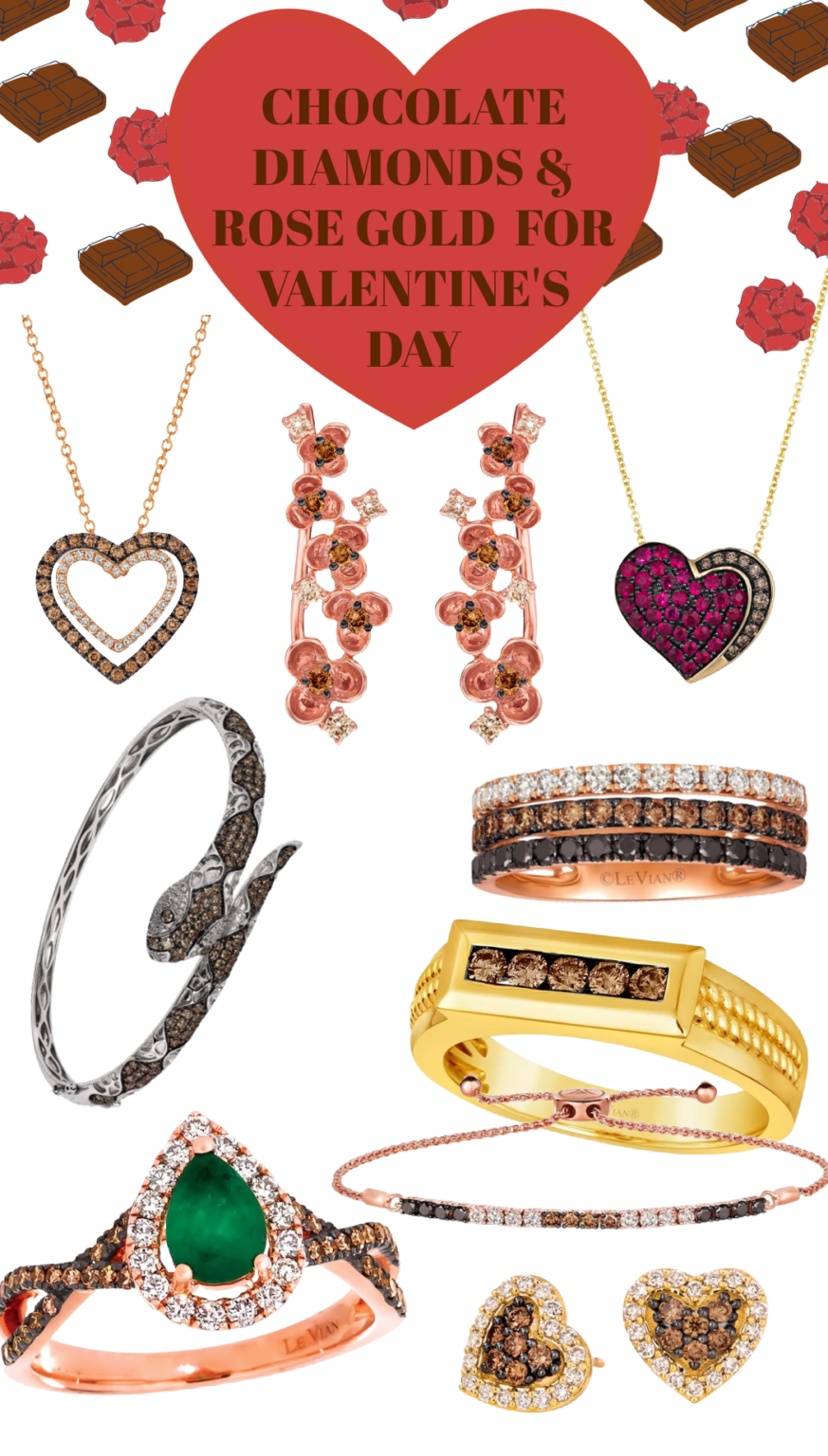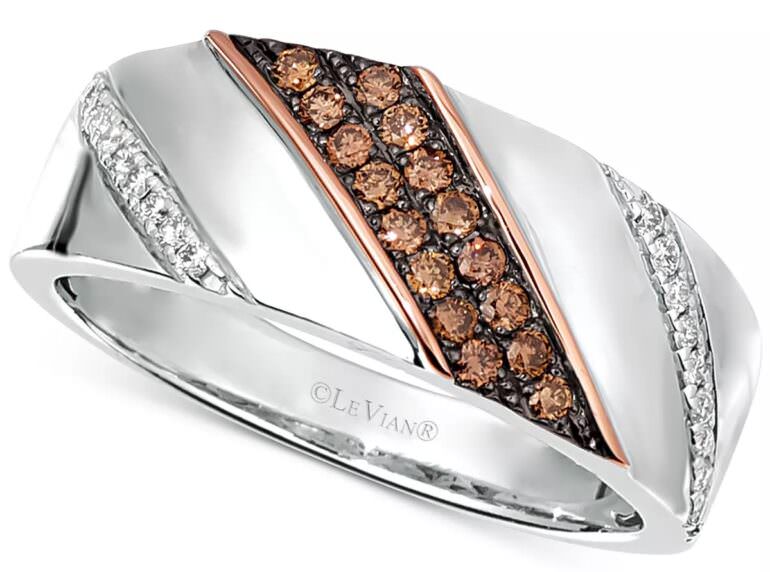 Does your special someone prefer silver to gold? Check out this ring featuring chocolate diamonds on a diagonal. The chocolate gold diamonds are encased by a rose gold edge with white diamonds running across the edges for even more glitz and glam. Chocolatier Men's Diamond Diagonal Diamond Ring by Le Vian, $1,850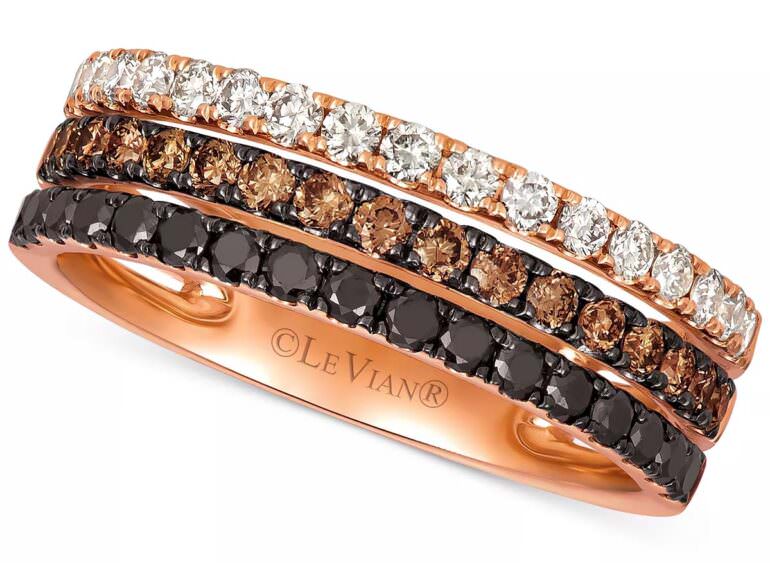 Stackable sets have been a huge trend in jewelry this past year. We love the look of this layered ring with a row of blackberry diamonds, chocolate diamonds, and nude diamonds. The color gradient and neutral tones make this a piece that works with a variety of outfits and occasions. Chocolate Layer Cake Statement Ring by Le Vian, $1,414.50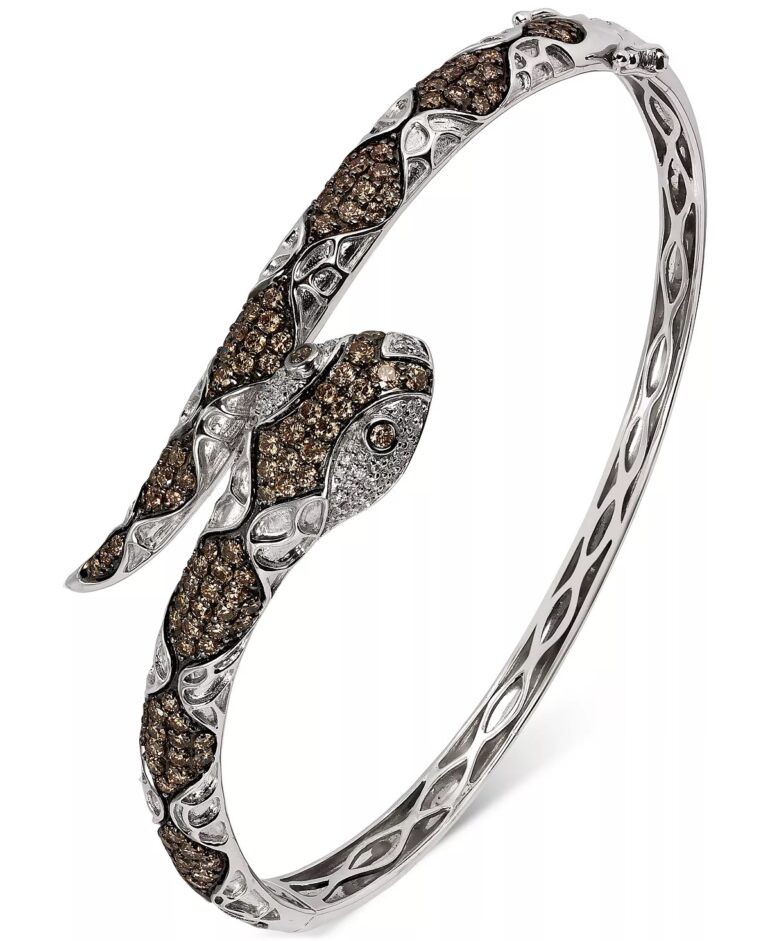 Only the coolest of individuals can pull off this snake bracelet. The bangle can be layered with other bracelets or worn alone; either will make an impactful statement. Dripping with chocolate and vanilla diamonds, this posh bracelet is a stunner. Chocolate Diamond Snake Bangle Bracelet in 14k White Gold by Le Vian, $11,965.50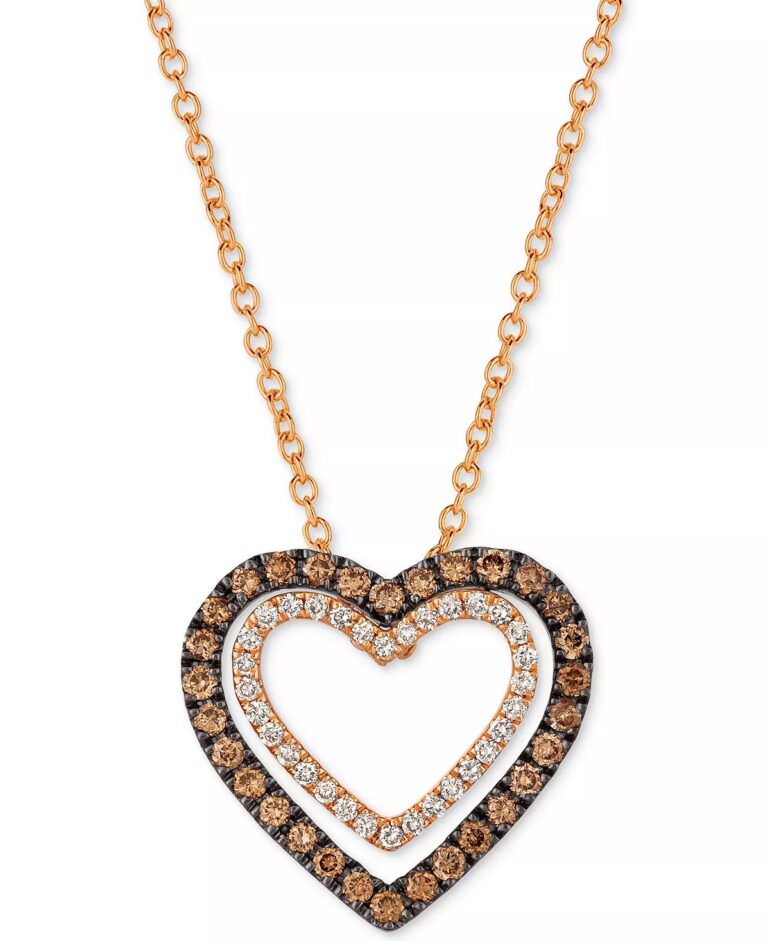 This double chocolate heart pendant is the perfect gift for Valentine's Day. Chocolate diamonds encase the outside heart pendant, and the inner heart is formed with sparkling white diamonds. The necklace is made with brilliant rose gold for an elegant and charming present. Chocolatier Diamond Heart Pendant Necklace by Le Vian, $1,700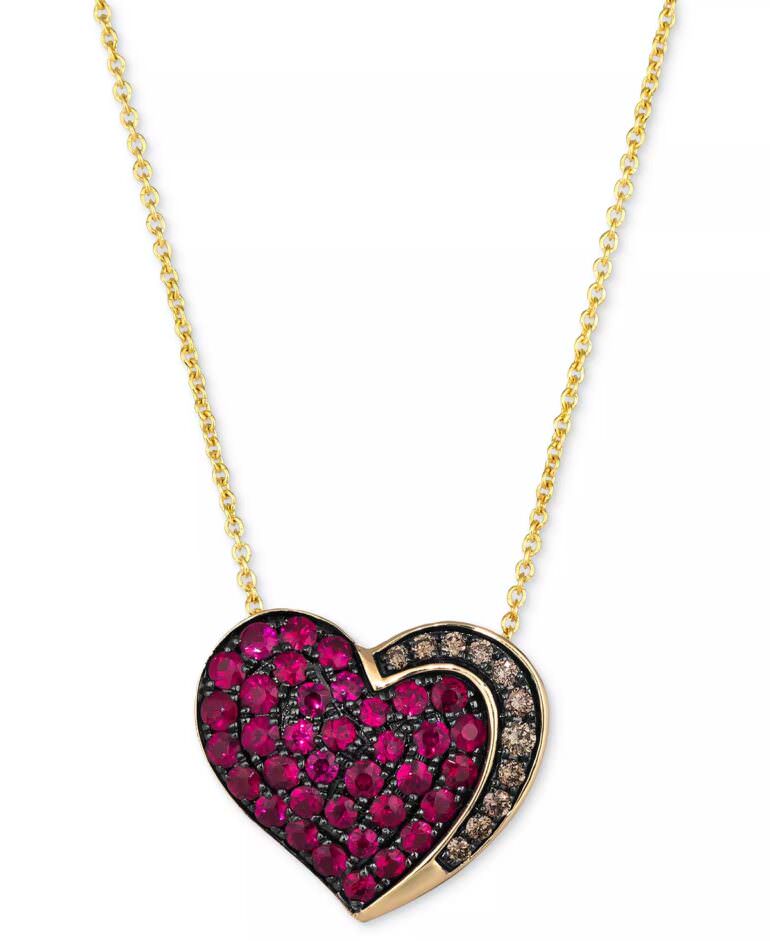 Le Vian partnered with Godiva to make a totally sweet chocolatey pendant. You can't get more on theme for Valentine's Day than Godiva chocolates and heart-shaped jewelry. The red rubies make this heart exude the passion you feel for your partner.Strawberry and Chocolate Heart Pendant Necklace by GODIVA x Le Vian, $2,200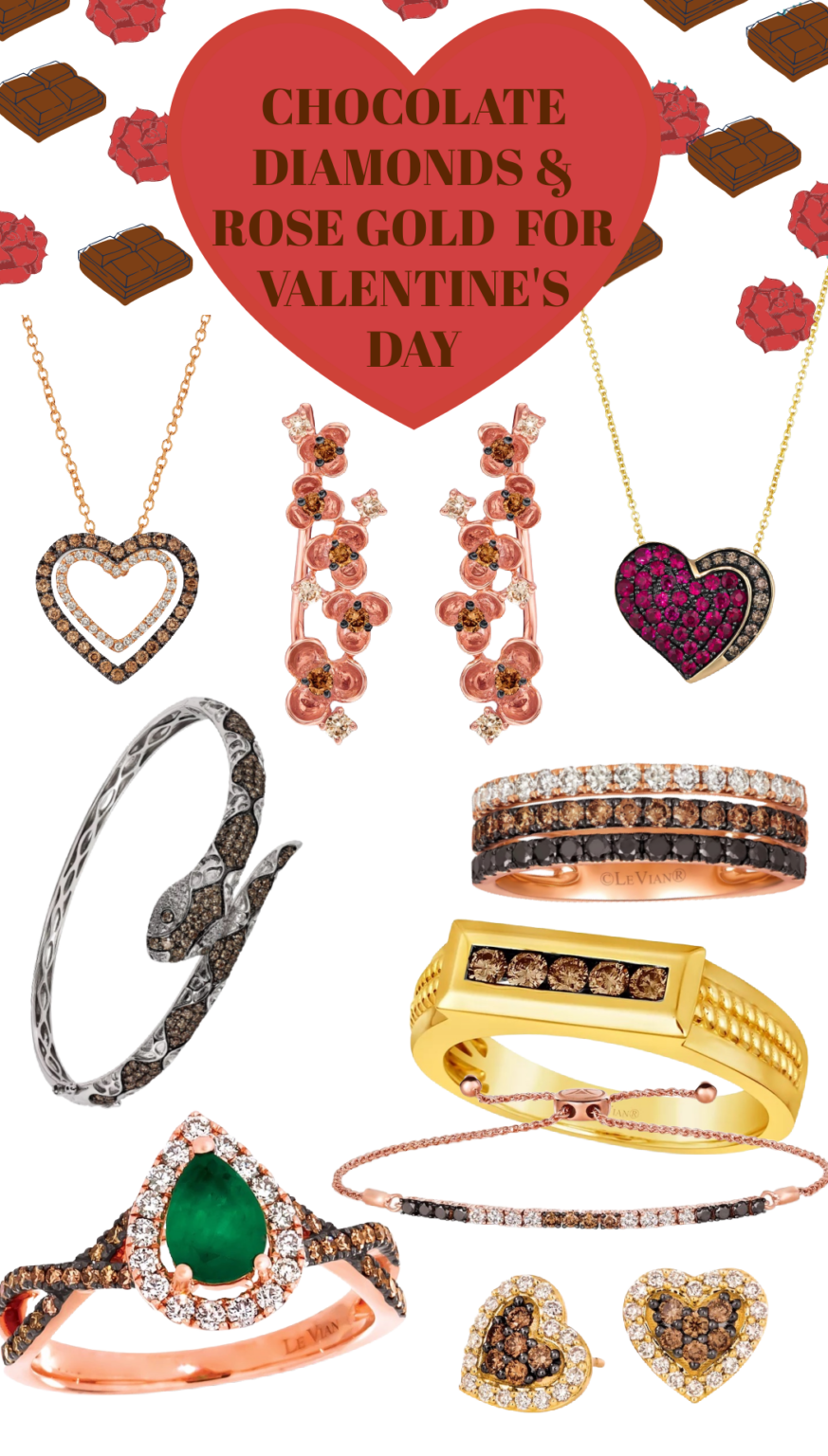 Editor's note: Some of these links are affiliate-based, which means we earn a small commission when you purchase from these links (and helps our small business keep providing free equality-minded® wedding content to you!)
Written by Rebecca Rovenstine | Cover Photo by Ron Lach