By Shannen Hofheimer | Photography by Derek Halkett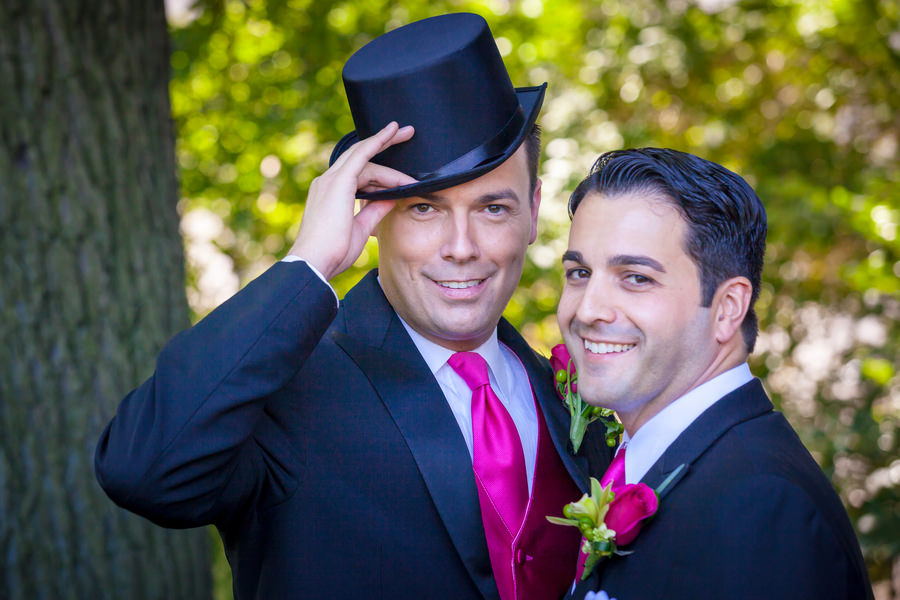 Jason and Michael's wedding day is nothing short of vibrant and it isn't only due to the eye-popping hues of hot pinks and clover greens. Derek Halkett Photography fantastically captured the candid joy and celebration that permeated that special day in Burlington, Mass., for our two handsome grooms. With plenty of room to tear up the dance floor, close friends and family enjoyed a day filled with the light and warmth of love. Despite the impressive color coordination in every facet of the decor from the shoes and socks to the floral arrangements and the cake design, nothing is more astounding than the color and vibrance that these two grooms infuse into one another's lives.
The Love Story
Jason and Michael's saga of love begins when they first started dating way back in 1997 after meeting briefly a few years prior through a mutual employer. Together for 16 years before deciding to tie the knot, soul mates Jason and Michael have been lucky enough to grow and flourish by each other's side. While celebrating the purchase of a summer home in Cape Cod, the happy couple began to talk about plans for making their union more formal, and they are both thrilled that they did.
The Venue
"We wanted a place that was rather small, upscale and intimate," the gushing grooms tell us. "L'Andana is a local restaurant that we frequented quite often. One evening when we were having dinner there, we learned that they had a private function space. Once we looked at the space, we knew it was the place where we wanted to exchange vows in front of our closest family and friends. Not to mention, the food is wonderful!"
The Ceremony
Jason and Michael chose to keep their ceremony beautifully and simply traditional, exchanging rings and selecting vows that resonated with them. "We incorporated our dog, Phineas, in the ceremony, since he could not witness the exchanging of vows of his two dads," the hubbies tell us of their furry baby.
 The Fashion
The ladies in the wedding party looked fabulous in hot pink dresses and clover green shoes, incorporating roaring '20s glam and coordinating their bright, bold look with the groomsmen's socks (who doesn't love crazy fun socks?!?). Our grooms looked dashing in their black tuxedos, adding a pop of color into their look with hot pink vests and ties.
The Inspiration
All the bold, vivacious colors were beautifully tied together by a gorgeous floral design consisting of green hydrangea, willow branches and hot pink roses that matched the girls' dresses perfectly. To add some ambiance, votive candles, dim lighting and hot pink up-lighting created breathtaking splashes of color throughout the venue.
The Party
The scrumptious, multi-tiered lemon cake with raspberry filling was almost too stunning to devour, boasting the same floral design in lemon buttercream that could be found in the grooms' centerpieces. The grooms carefully selected their playlist for the evening, sharing their first dance as husbands to "I'll Always Be Right There" by Bryan Adams. As for favors, the grooms wanted to leave their guests with a "sweet" memory of their special day. "Michael comes from a large Portuguese family, so we asked his mom to make us some traditional Portuguese desserts that we had dyed to match the color of our wedding," Jason tells us. "This way, our guests could enjoy a sweet snack and remember the great time that they had celebrating with us."
Memorable Moment
Being that our grooms love to bond with each other and their families through dance, nothing about the day was sweeter than those magical shared moments on the dance floor. "It's a toss up between our first dance as husbands and our individual dances with our moms."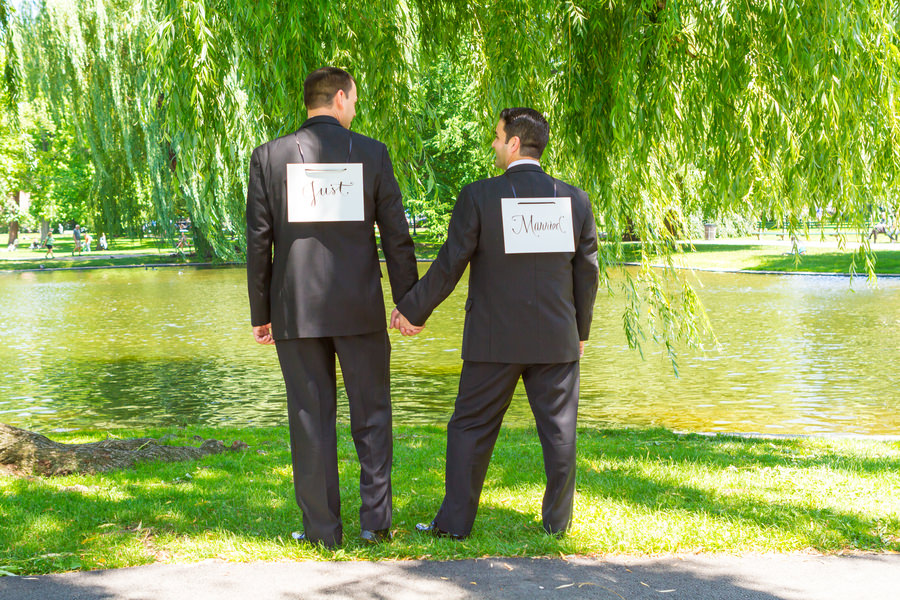 Wedding Vendors:
Venue/Cake Designer/Catering: L'Andana
Photographer: Derek Halkett Photography
Florist: Michele Bernard
DJ/Band: Modern Entertainment
Makeup/Hairstylist: Hair by Nicole