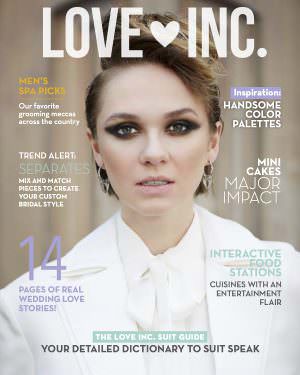 A new year means a new issue version of Love Inc.! Our team has spent countless hours putting together high-quality content and we can't wait to share it with you. On January 15, we'll be launching our third issue filled with inspiration, tips and trends that celebrate all love, with original inclusive content that spans across the spectrum … something we take great pride in.
And while it's filled with eye candy for couples, it's also a terrific opportunity for vendors to showcase their excitement to work with all soonlyweds, regardless of orientation. Love is love!
Because we make the effort to personally review each vendor and company that graces our pages, our readers can feel confident when working with any advertiser. Remember, just because a marriage equality law has been put into effect, it doesn't automatically wipe away the bigotry! For couples who want to work with equality-minded companies, it can be an emotional trial-and-error, even in states that have passed legislation … unless they're reading Love Inc. magazine, of course.
We have a wide variety of options to put your name in front of potential clients and customers (for the couples reading, feel free to let your eyes glaze over at this point). Since we're a small biz, too, we know it can be tough getting your name out there, so we made our advertising options start at the low price of $25 so those tiny but talented teams are able to be showcased and for those with a bigger budget to play with, we have truly great ways to get the most bang for your buck.
So if your interest is piqued, shoot our team an email at [email protected] to get the scoop. But hurry, the ad purchase close date is January 1st!