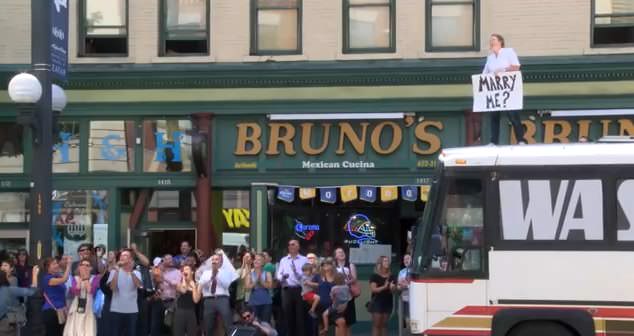 This amazing proposal video that was uploaded back in August is making the Internet rounds today (thanks Upworthy!) and I'm so glad it is because everyone can learn a lil' somethin' about love from it.
July 30 was just another work day in Seattle for Alissa Haslam until she was coaxed out of a meeting due to a "disturbance" on the street. "When I got to my office window, I saw my girlfriend standing on a bus across the street. What came next was the most genuine, funny, heartfelt marriage proposal," Haslam wrote in the video caption.
Her girlfriend Jeanne enlisted in the help of 60 of their friends and Washington Bus, a nonprofit where Haslam serves as a board member that played a major role in the passage of Referendum 74 (R74) which passed marriage equality in the state last year.
"Just the night before, we were talking about romance and I pretty much told her she wasn't romantic," continued Haslam. "I am eating crow … and will be for a long time."
(Don't worry, Alissa, we hear it tastes better with ketchup.)
Now grab some tissues and watch this totally heart-melting proposal that will teach you a lesson in romance, love and living happily ever after. Also to never doubt the romance capabilities of your significant other—they may just surprise you.