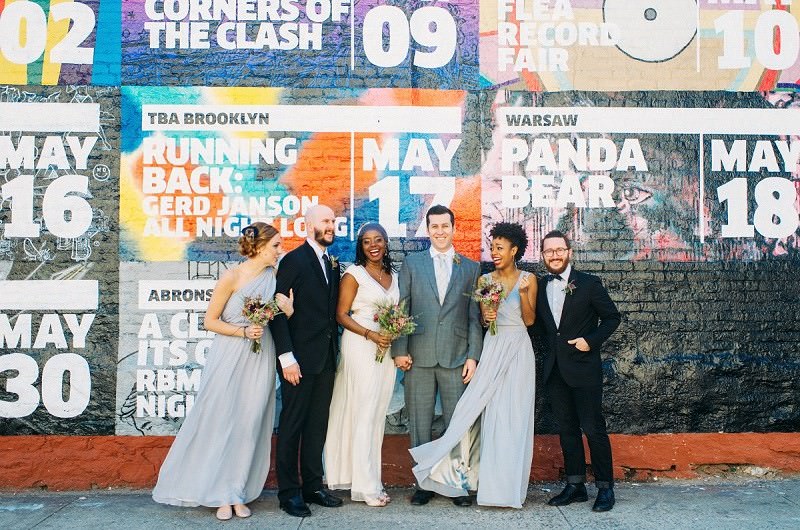 The 2nd New York City NotWedding Recap (Get Ready to Go Pin Crazy)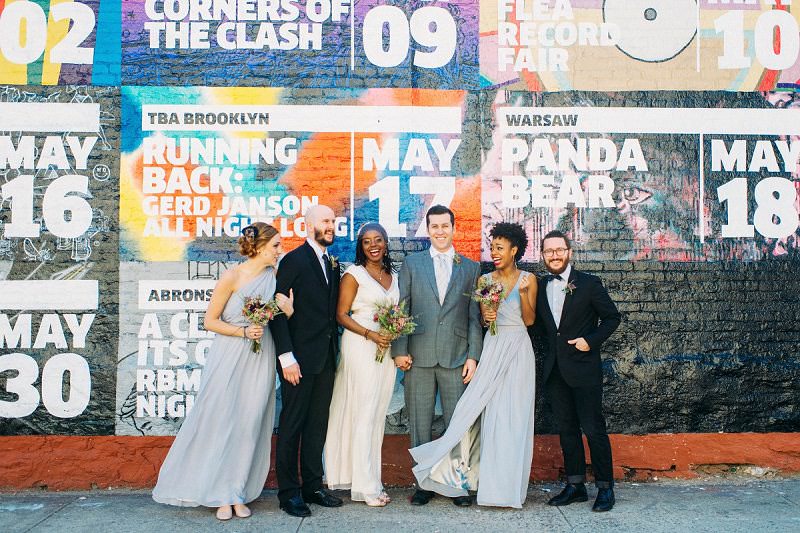 One of the coolest alternative wedding shows in the country made its way back to the good ol' Big Apple for the second time and flooded TheWythe Hotel in Brooklyn with inspiration thanks to some seriously talented vendors. The NotWedding team asked participating New York wedding planners, floral designers and stationers to influence their work with the natural beauty of blending colors and uniqueness of marble to create the faux wedding ceremony and reception. The vendors tapped into Mother Nature to create designs topped with geode table numbers, marbleized stationery suites, rock candy stirrers, moss-covered vessels and galactic-toned linens. And it was all beautifully captured by Jessica Oh, Martina Micko and Tami Melissa.
Love Inc. was one of the proud media partners so we had the opportunity to witness this explosion of awesomeness firsthand, so believe me when I tell ya to get ready to pin because the 2nd New York NotWedding is filled with ideas and eye candy.
Photos by Jessica Oh Photography
[gallery type="rectangular" link="none" ids="6122,6117,6111,6115,6107,6110"]
[gallery type="rectangular" link="none" ids="6106,6112,6119,6105,6113"]
[gallery type="rectangular" link="none" ids="6121,6120,6118,6114,6109,6108"]
Photos by
Martina Micko Photography
[gallery type="rectangular" link="none" ids="6131,6132,6133,6134,6135,6137,6138,6139,6140,6141"]
[gallery type="rectangular" link="none" ids="6142,6143,6144,6145,6146"]
[gallery type="rectangular" link="none" ids="6147,6151,6150,6149,6148"]
Photos by Tami Melissa Photography
[gallery type="rectangular" link="none" ids="6168,6180,6160,6170,6164,6161,6179,6169"]
[gallery type="rectangular" link="none" ids="6165,6167,6166,6162,6173,6174"]
[gallery type="rectangular" link="none" ids="6178,6175,6171,6176,6177,6172,6163"]
And Kiss the Bride recapped the entire event through stunning videography:
Special applause to the contributing vendors:
Day-Of Coordination: Color Pop Events | Event Design: Tables 1, 6 and Head Table: Gilded Lilly Events, Tables 3, 5 and Ceremony Backdrop: Experience Events, Tables 2, 8, Bar and Entry Decor: Lollipops And Lemondrops, Tables 4, 7, and Personal Flowers: Rose Red and Lavender | Venue, Catering and Wedding Cake: Wythe Hotel | Wedding Dress: Saja Wedding | Jewelry: Vena Amoris Jewelry | Hair Accessories: Tiane Novati Modiste | Bridesmaid Attire: Little Borrowed Dress | Videographer: Kiss The Bride Films | National Linen Vendor: Linen Tablecloth | Photobooth: Magnolia Photo Booth Company | Invitations and Paper Accents: Makr | Invitations and Menus: Mia Maria Design | Invitations and Programs: Art Paper Scissors | String Quartet: New York Virtuosi | Wedding Website Builder: Squarespace | DJ: Superlative Staff Events DJ Fataah | Poetry Booth: The Haiku Guys | Ice Cream Bar: Ben & Jerry's Scoop Shop