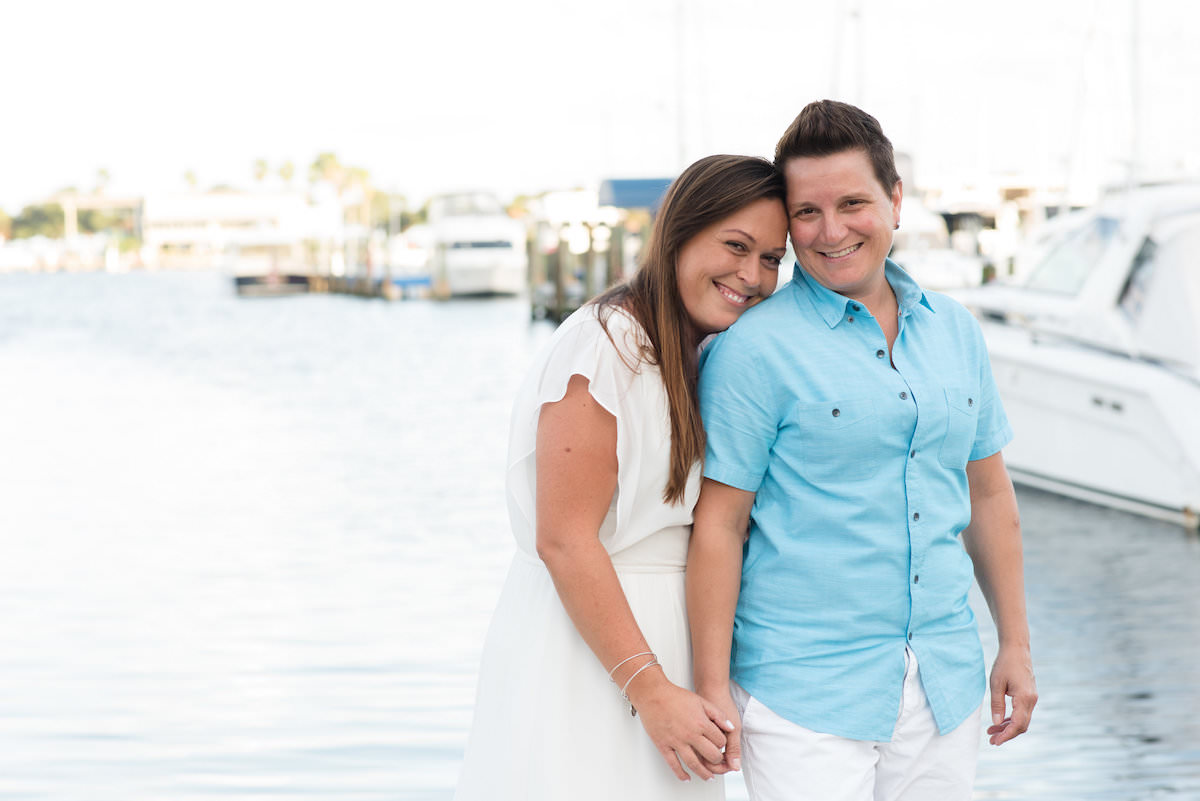 We love when unexpected encounters turn into thriving love stories. This beautiful engagement session by Caroline & Evan Photography is filled with the laid back vibes, smiles and fun that made Teresa and Michelle fall in love. We also love that their favorite four-legged friend snuck his way into their e-sesh, who is clearly ready for them to put a ring on it.
The Love Story
When you move to a new city, making friends is difficult. Teresa had this in mind the first time she met Michelle, who was in town for job interviews before moving from Pennsylvania to Florida. "Michelle and I met while we were out one night," Teresa says. "She was with some people I knew, so I went over to say hi to them and decided to introduce myself to her. I knew it could be difficult meeting people in our community, so I reached out the following day."
Teresa and Michelle started off as friends, talking on the phone and spending time together whenever Michelle was back in town. But everything changed the weekend Teresa went to visit. "We had so much fun that week I didn't want to leave her," Teresa says. "I knew that this was the girl I wanted to spend the rest of my life with." And it wasn't long after that they moved to St. Pete, Fla., and started living together.
The Proposal
Michelle's greatest weapon as she planned a surprise proposal was that Teresa considers herself the planner in their relationship. One April evening, just as the Florida sky was being enveloped in pink and purple hues, Teresa was snapping pictures of dolphins as they swam to the surface, surrounding the boat where Michelle and some of their closest friends were in on the secret. Alison Krauss' "When You Say Nothing At All" started flowing through the speakers, and Michelle had to distract Teresa from her picture-taking by taking her into her arms for a dance to their song.
Still oblivious, Teresa listened as Michelle poured her heart out, telling Teresa how much she loved and cared for her. To which Teresa responded, "Yeah, I know; so why is it taking so long for you to marry me?" Michelle laughed, registering the irony and holding back joyful tears as she dropped to one knee. "I had no clue at that moment that was her plan," Teresa says. "I was so surprised; it was a perfect evening!"
The Ring
"The ring is an antique style with small diamonds and baguettes throughout," Teresa says. "The main diamond is my grandmother's that she handed down to me, and it has a beautiful inlay as you look sideways at the ring."
Wedding Date: October 7, 2016