As the weather turns cold, you may be less motivated to bundle up and head out the door for date night, but that doesn't mean you have to nix the romance! Instead of Netflixing, plan for a whiskey (or your bev of choice) tasting, right in the comfort of your own home.
You can make it feel special with specialty glassware and vessels from Waterford, like their Connoisseur Collection, that was specifically designed to appreciate the appearance, aroma, taste and finish for your whiskey tasting.
Newlyweds Margot and Nathan share how they do just that, using wedding gifts that they registered for when they got married last year. "When we use more luxury products, like Waterford, it makes casual nights at home feel more meaningful. Drinking together is such a different experience when you make a cocktail and drink out of nice glasses, versus taking whatever glass or mug you can find. It's those small details really do make a difference in making your house feel more like a home."
Your wedding registry is the perfect opportunity to upgrade your glassware. "Our priority was to add items that would help us now and also in the future. We tried to avoid little things that were easily replaceable," shares Margot, who met her now-husband, Nathan, while she was studying abroad in Paris. "Our favorite Waterford products are the whiskey glasses! We are full-on adulting when we use these, especially with our guests. We always get complimented and love how timeless they look and feel."
ELEVATING IDEA: TASTING DATE NIGHT AT HOME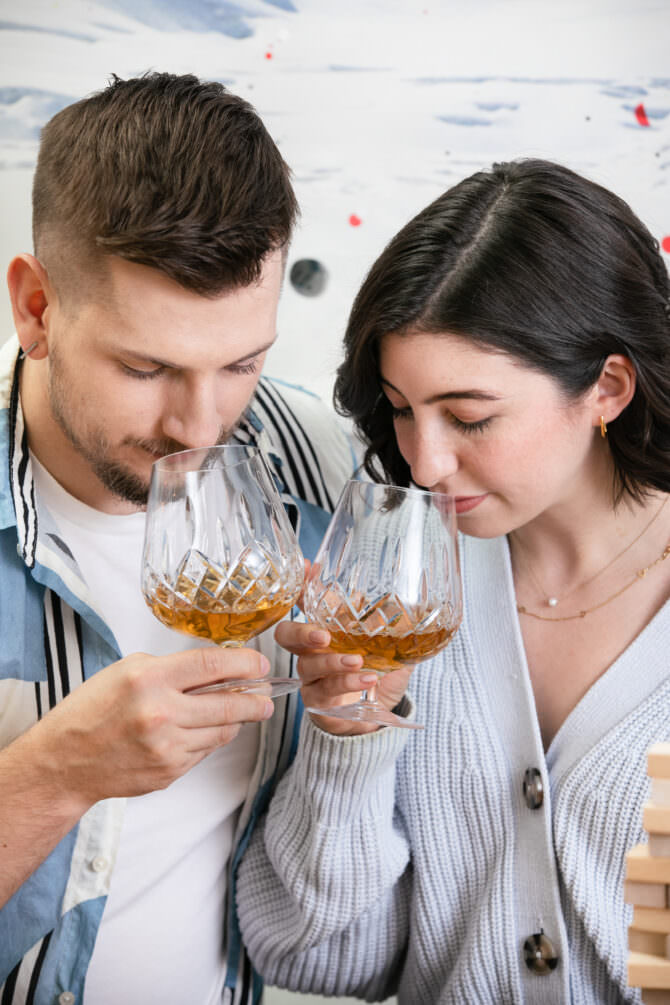 To elevate your tasting experience and make you feel like a true spirit aficionado, register for items such as the Connoisseur Lismore Collection Rum Snifter and Tasting Cap, Lismore Connoisseur Heritage Tumbler Set, and the Lismore Decanter. No matter your tipple-of-choice, Waterford has crafted a specialty glasses that beautifully complement each specific spirit, enriching the bouquet and enhancing the taste, to create a luxury tasting experience in the comfort of your own home. Don't forget to pour your favorite snacks into crystal bowls and break out the board games for extra fun.
"Look for items that you can see yourself owning 10+ years from now," Margot advises soonlyweds who are curating their wedding registry. "Keep things classic, not trendy. Simplistic and good quality is something you'll always be using forever."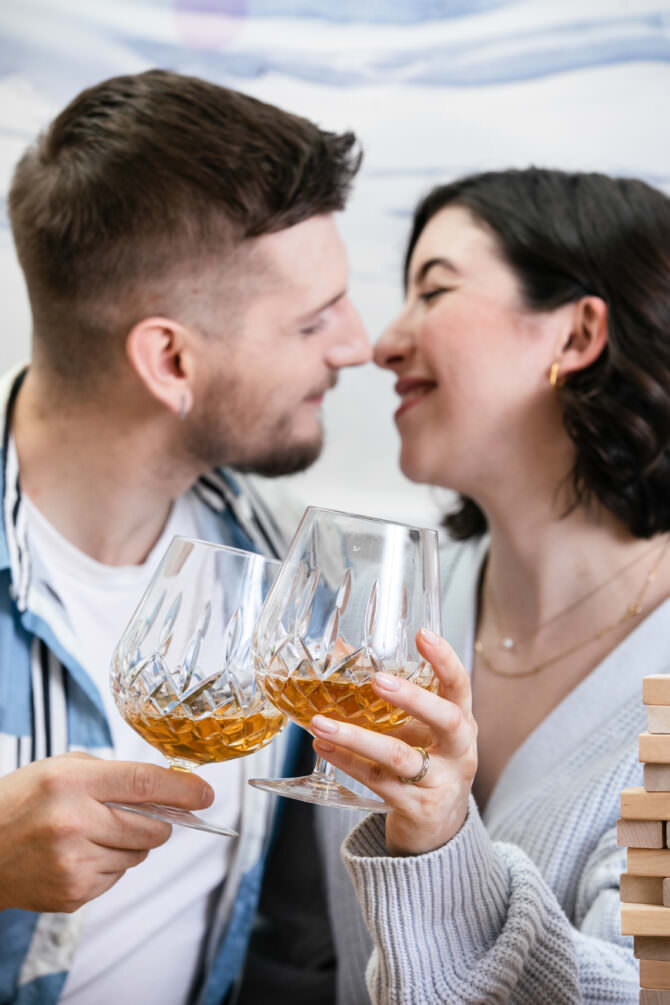 See how other IRL couples are elevating their everyday with Waterford!
GABI & SHANNA
KEVIN & NICK
MARGOT & NATHAN
REGISTER FOR AT-HOME TASTING EXPERIENCE
Connoisseur Lismore Brandy Balloon Set of 2, $200: Ensure that your tasting experience is top-notch with specialty glassware that is specifically made to enhance the spirit's aroma and taste.
Lismore Black Decorative Plate, $575: Serve up snacks in style with Waterford's decorate bowls and platters, such as this one from their modern Lismore Black Collection.
Lismore Connoisseur Heritage Straight Sided Tumblers Set of 6, $450: This set of crystal tumblers features patterns from Waterford's most timeless collections, and is a keepsake to enjoy for generations.
Connoisseur Lismore Rum Snifter and Tasting Cap Set of 2, $200: Perfect for aged spirits like rums, whiskies and cognacs, the tasting cap traps aroma within the easy-sipping shape, allowing it to intensify and develop between sips.
Elegance Lager Glass Pair, $100: The sleek shape will not only look handsome on your shelf but captures carbonation and helps maintain a proper head for the perfect pint.
Mixology Circon Cocktail Shaker, $225: Every home bar needs a proper cocktail shaker and this gorgeous Waterford crystal shaker features linear cuts that echo sugar cane with a lid that doubles as a measuring cup. You can also have it engraved, making it an extra special registry gift item.
Lismore 26oz Square Decanter, $375: Beautifully embellished with their famous Lismore pattern, this timeless decanter will bring style and sophistication to any whiskey tasting. Engrave it as a special add-on for a wedding gift.
Gin Journeys Balloon Wine Glasses (set of 4), $400 and Aras Ice Bucket with Scoop, $395: This gift box set features four striking patterns from the Waterford portfolio, and the expertly crafted round bowl traps aromas inside the glass while allowing the spirit to breathe — perfect for gins with a high alcohol content. Pair with the Aras Ice Bucket for a truly luxurious tasting experience.
Photography by JJ Ignotz Photography
[EDITOR NOTE] This is a sponsored post. We only partner and recommend brands that value inclusivity and offer products that we genuinely love and would recommend to our friends! Interested in having your brand spotlighted to our engaged-couple audience? Send us an email at [email protected]